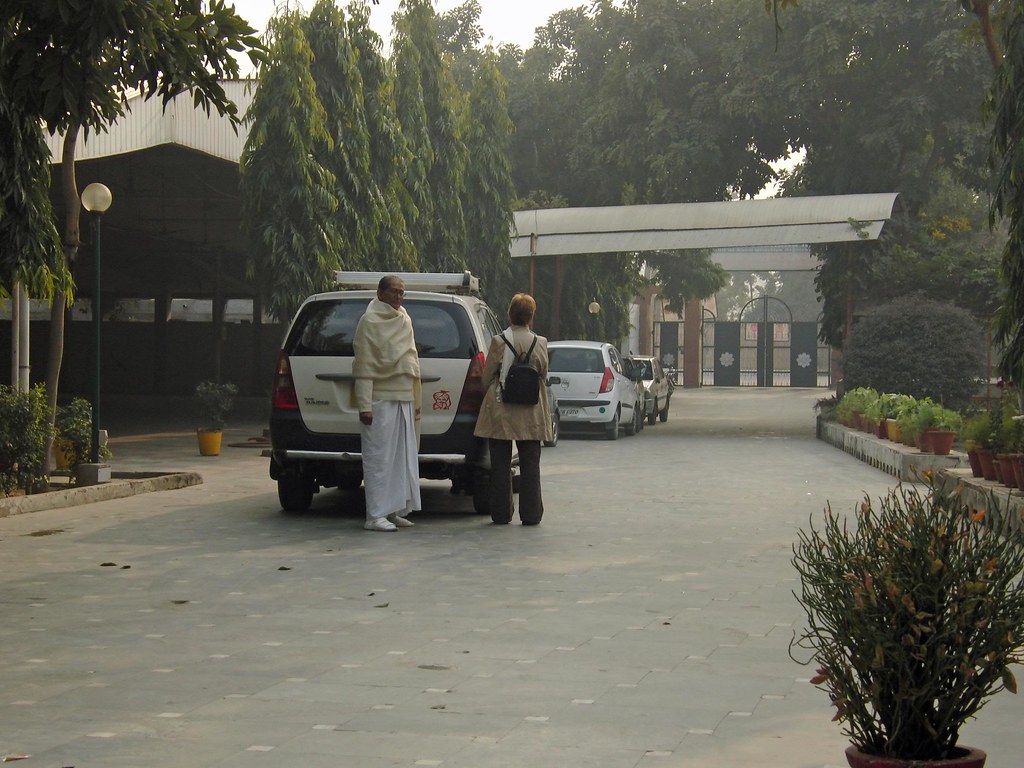 Swami Dharmanandji & HereNow4U editor Carla-Karuna Jain (Geerdes)ready for tour to the saints
The afternoon was left for program in Delhi. Departure to SriDungangarh was scheduled for next morning. We wanted to be there the last day of Maryada Mahotsav, one day after our anticipated arrival. So like the years before, our friend Swami Dharmananda ji had foreseen visits to Sadhvis and Munis actually staying in Delhi. This in fact was the best we could make out of this foggy day in Delhi. A group of 5 Sadhvis was accommodated in an apartment situated in one of the demanded areas of the Indian capital so rapidly changing face.
The taxi arrived at the appointed hour. We again were impressed how precise the schedule was kept, and had to wait only for those who were not ready sharp. Our friend Conrad had taken a nap, and delighted us with a little music performance when he arrived. His African instrument attracted everyone' attention because of combining simplicity with nice sound.
Delhi traffic was not too heavy when we started, and we reached our first destination about 16:00. We halted in front of an attractive newly constructed building with obviously costly flats. When we left the lift and entered a sparely furnished room we did not notice anything special in it. We saw a wooden chair and somebody rushed in with a big carpet and signalled us to sit down. Like in many Indian dwellings, here also was a polished stone floor. Rather cold for sitting on it in the wintry season. Until morning it had been a very foggy day, and the sun had not succeeded in dissolving it. So we gratefully sat down on the big green carpet, but nevertheless froze.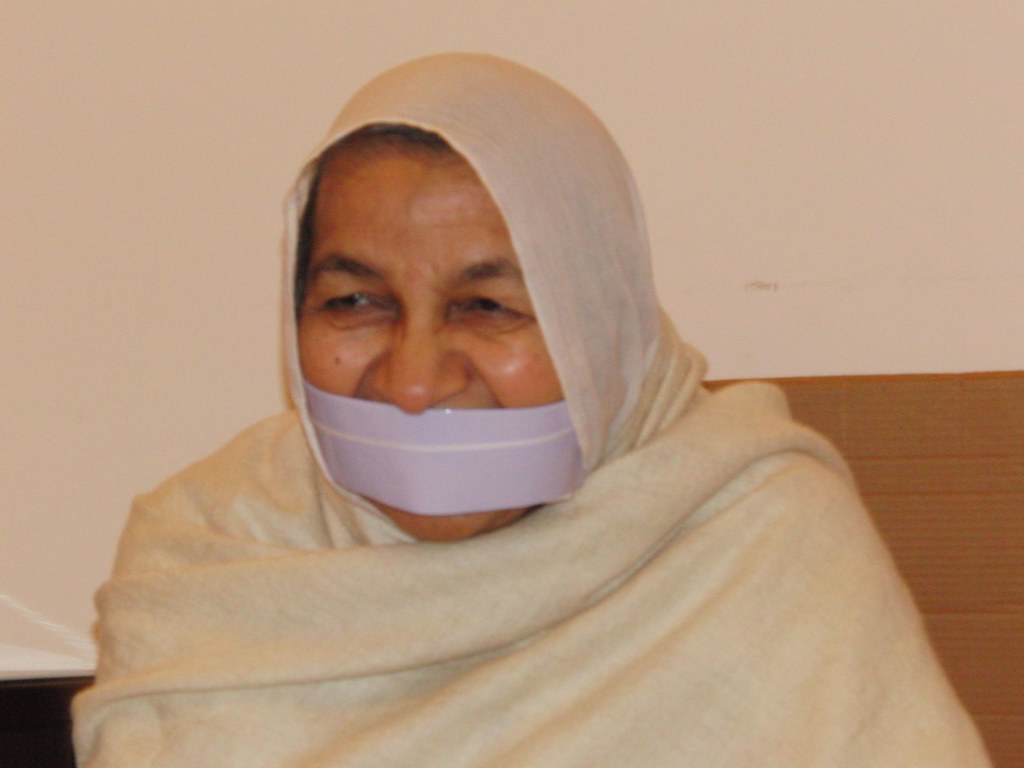 Jain Terapanth Sadhvishree Yashodharaji, leader of the group of 5 Sadhvishrees, staying in Delhi in January 2010
Sadhvi Yashodhara ji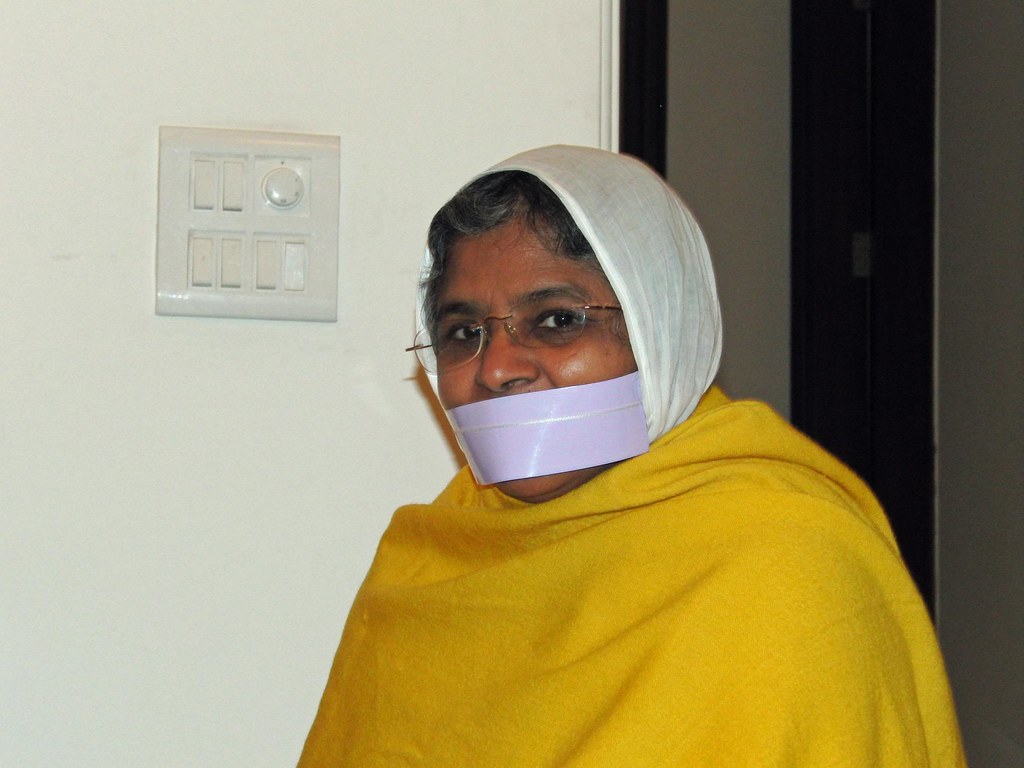 Jain Terapanth Sadhvi (nun) Rijujesher ji
Sadhvi Rijujesher ji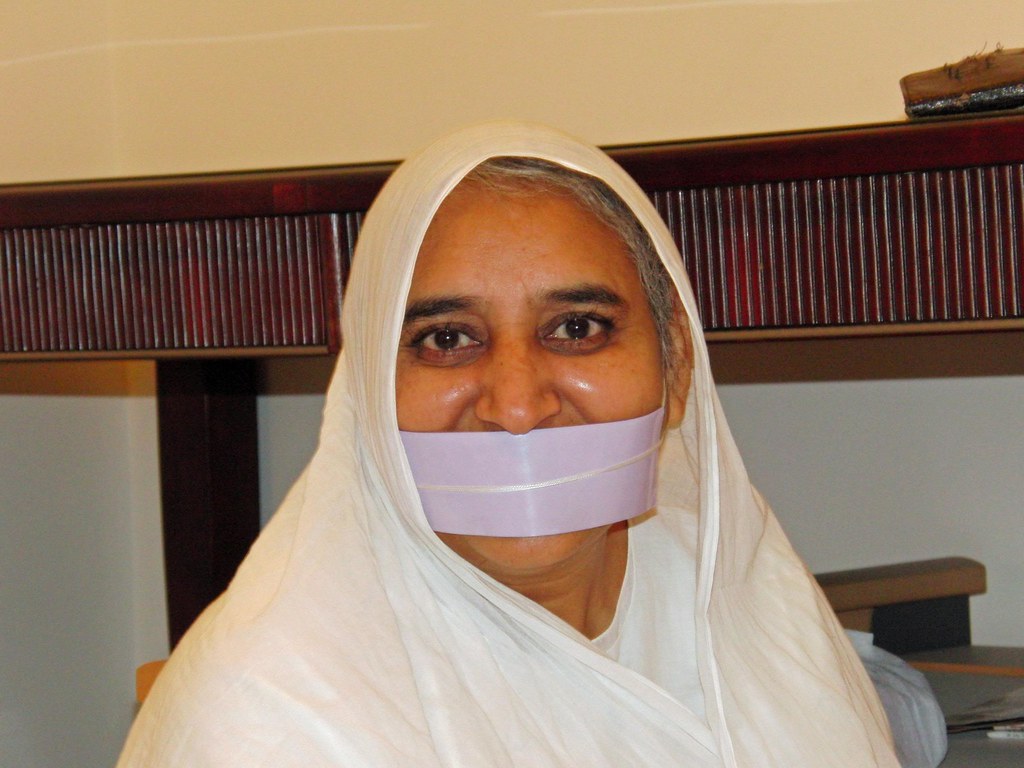 Jain Terapanth Sadhvi (nun)Ananda Prabha
Sadhvi Ananda Prabha
When Sadhvi Yashodhara ji came in, accompanied by Sadhvi Rijujesher ji, and cross-legged sat on the wooden chair, the atmosphere did change. Sadhvi Ananda Prabha ji entered, and Swami Dharmanandji introduced us to Sadhvishrees. They looked at and talked to us, as if we were long-time friends, although this was our first encounter. There was so much friendship and understanding in their eyes, and so much loving awareness, one rarely has the honour to experience with people, even when very close. At least in the west. We experienced a warming feeling of being welcomed and accepted as friends. It was as if earthiness had been replaced by airy lightness. The words we exchanged did not matter that much, what mattered was communication. Communication in the sense of consciously participating in a common reality and sharing the awareness thereof.
Sadhvishree Nitishree came in, and shortly thereafter Swami Dharmanandji remembered the next appointment to us. So we were leaving for Anuvrat Bhawan when Sadhvishree Tarunyasha ji entered the room. She is the youngest in the group and had some work to finish before welcoming us.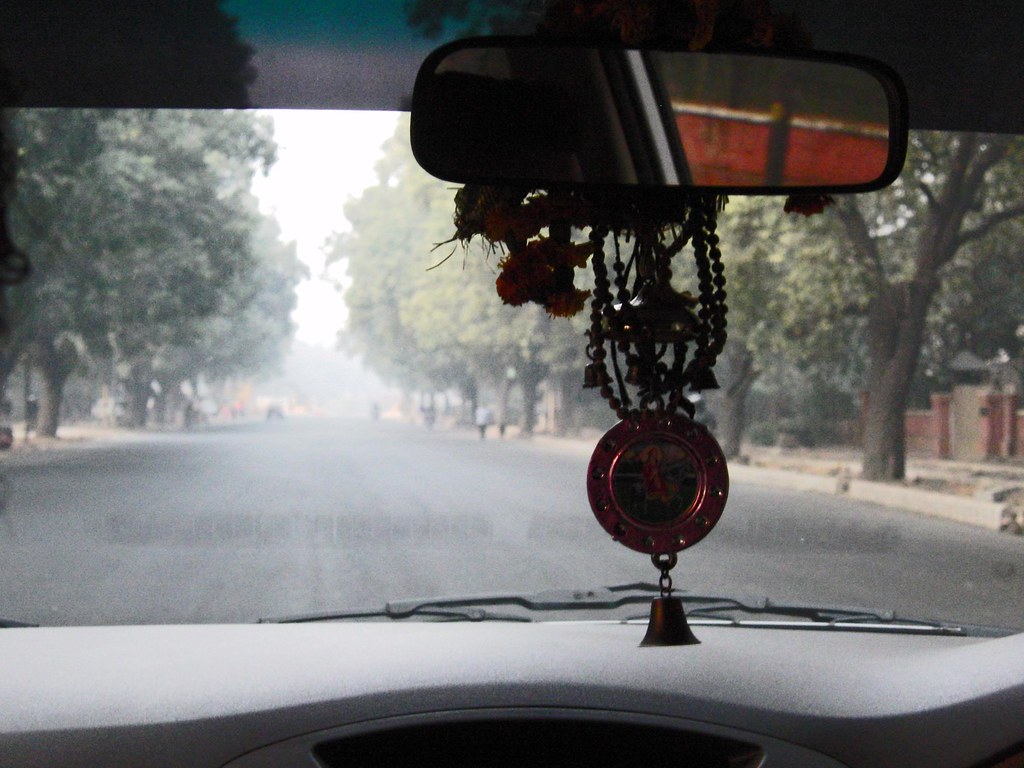 Foggy afternoon in Delhi in January 2010, seen from taxi window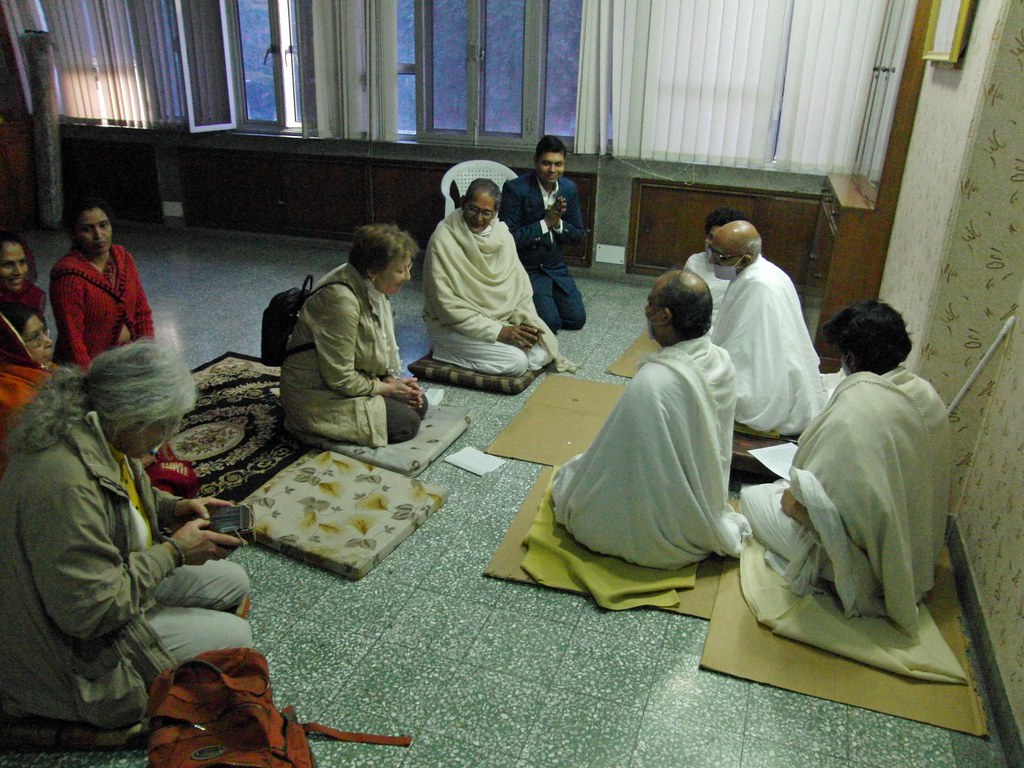 Munishree Shashan Gauray Tarachandji, Muni Sumat Kumar (r, front) and Muni Devarya Kumar at Anuvrat Bhawan Delhi with HereNow4U editor Carla-Karuna Jain (Geerdes)
After only ten minutes we reached Anuvrat Bhawan, without getting trapped in a traffic jam! Muni Tarachand ji stayed there with his group. Muni Tarachand ji has been awarded with the title of "Shashan Gauray" (guardian of knowledge) from H.H. Acharya Mahapragya ji. It was our special pleasure to meet this learned monk and his group. And to my great delight the monks reminded me that we had already met two and a half years ago in Ladnun, [German Language Course At JVBI - [06] - Visit to the Monks]. I was very happy that they remembered me. The distance they had conquered by walking barefoot was displayed on my inner eye when I thought of my trip from Delhi to Ladnun two and a half years ago in a car.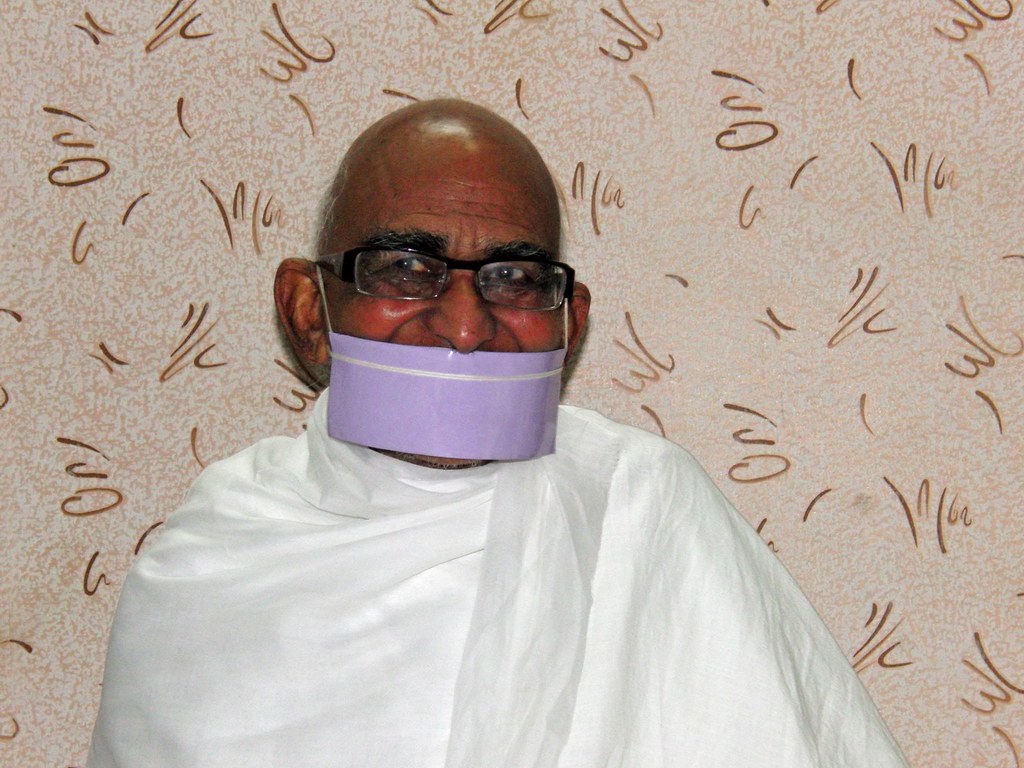 Munishree Shashan Gauray Tarachandji
Muni Tarachand ji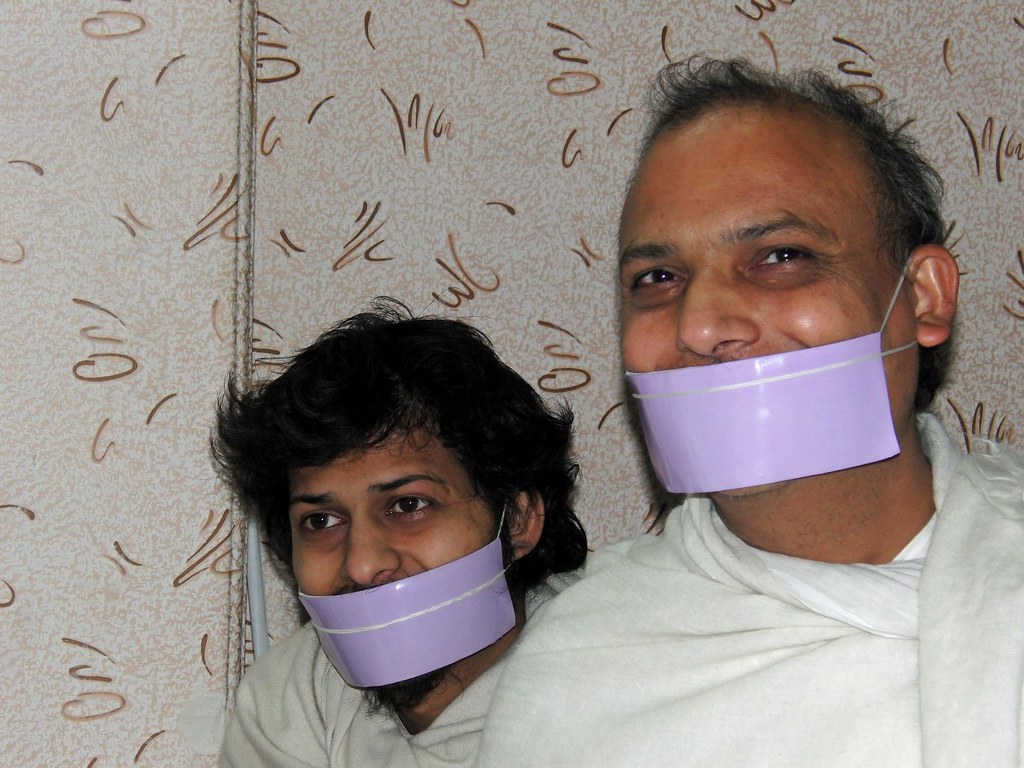 Muni (monk) Sumati Kumar (r) and Muni (monk)Devarya Kumar
Muni Sumati Kumar Muni Devarya Kumar
Muni Tarachandji's sageness matches his kindness, and his eyes are smiling from deep inside directly into one's heart. Whenever I met Jain monks I admired their facility to express their affection and tenderness towards all living beings in their faces and in every gesture. All actions are performed in the kingdom of tenderness. While looking directly into one's eyes they are enhancing one's own capability thereof. In Anuvrat Bhawan Delhi all 4 monks had this open and gleaming glance, and when they spoke, there was a warm and welcoming smile in their face. We felt more than happy for the opportunity to meet them and to take home with us the remembrance of this short, nevertheless remarkable meeting.
When we came out, we wondered how much the fog had increased. When we got into a stand-still traffic jam, we did not know its cause. The next day we read in the newspaper that many accidents had happened because most Delhi drivers were not experienced in driving during heavy fog and had underestimated the distance to the next car.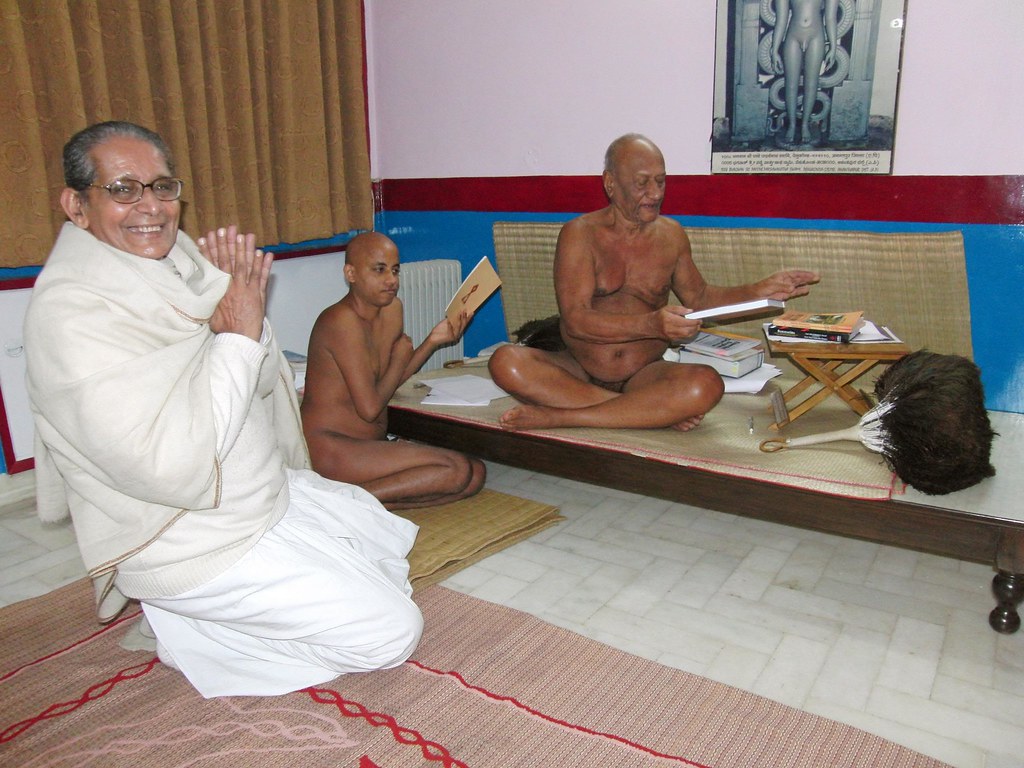 Acharyashree Vidhyanandji with a student, talking to Swami Dharmanandji
Swami Dharmanandji and Acharya Vidhyanadaji witha student
On our more stop, than go, Swami Dharmanandji proposed to visit Acharya Vidhyanand ji as we were very near to Kundakunda Bharati where he stays. We had met him three years ago, [HereNow4U - Living Jainism Tour 2006 - 01.2 New Delhi - First Encounter With Digambara Monks], and were happy for the opportunity to meet him again.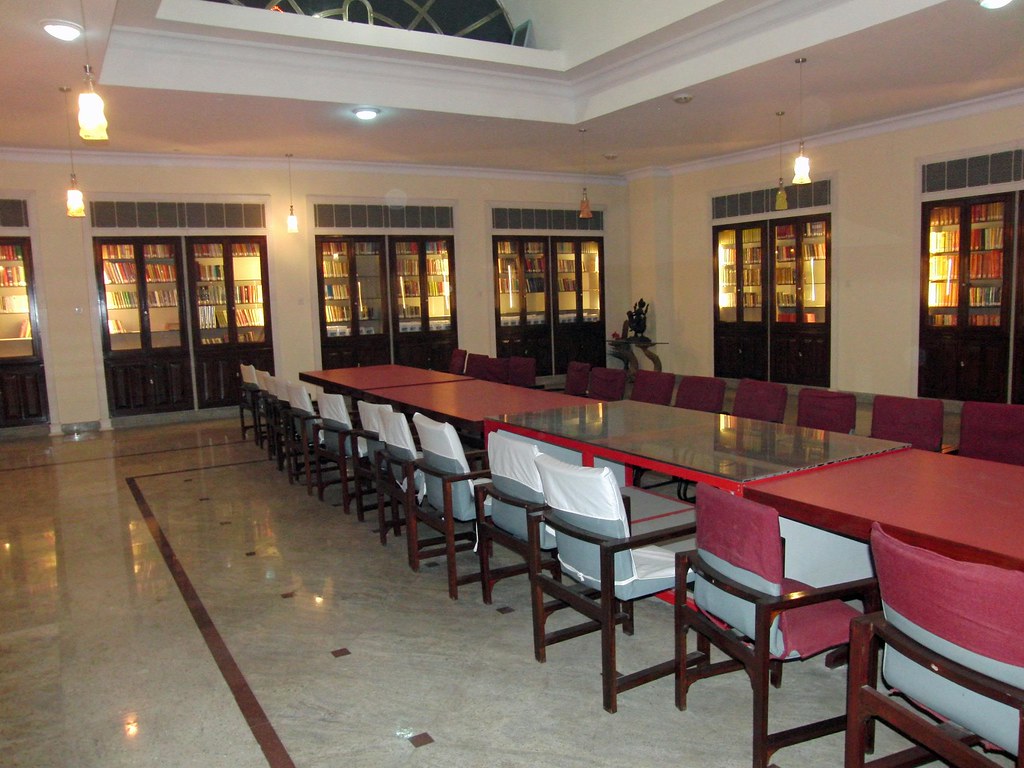 Library
We visited the impressing library and admired the wonderfully exposed manuscripts.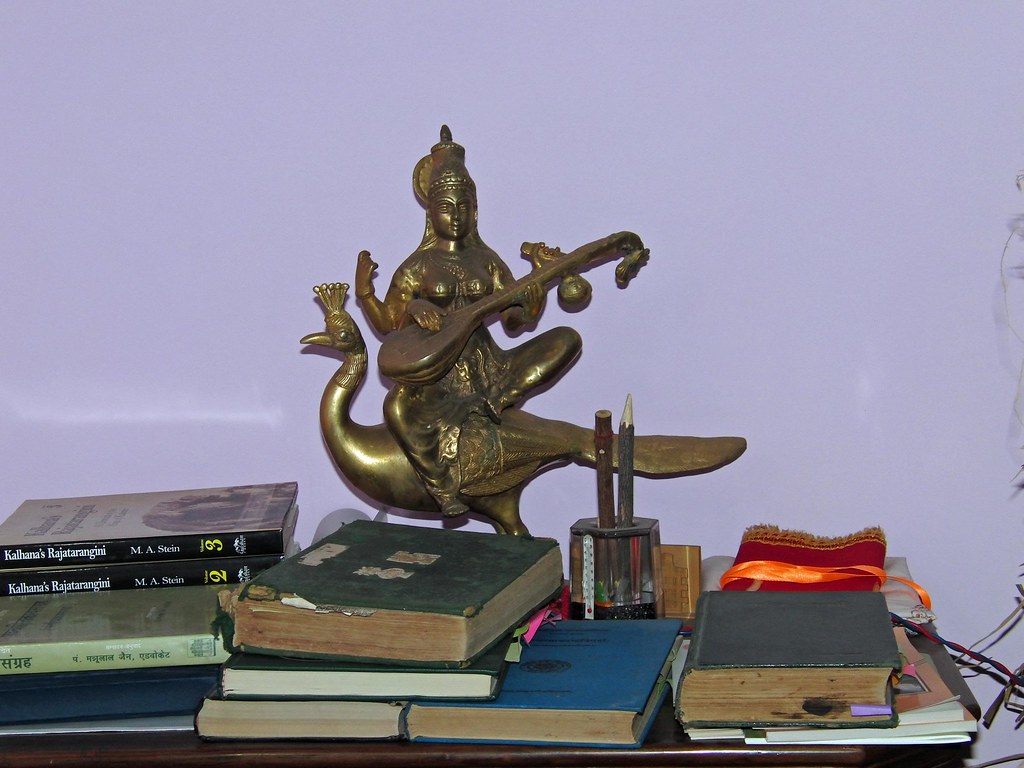 Goddess Sarasvati and books at the table of Acharyashree Vidhyanandji
On Acharyashree Vidhyanandji's table we discovered this beautiful statue of Goddess Saraswati.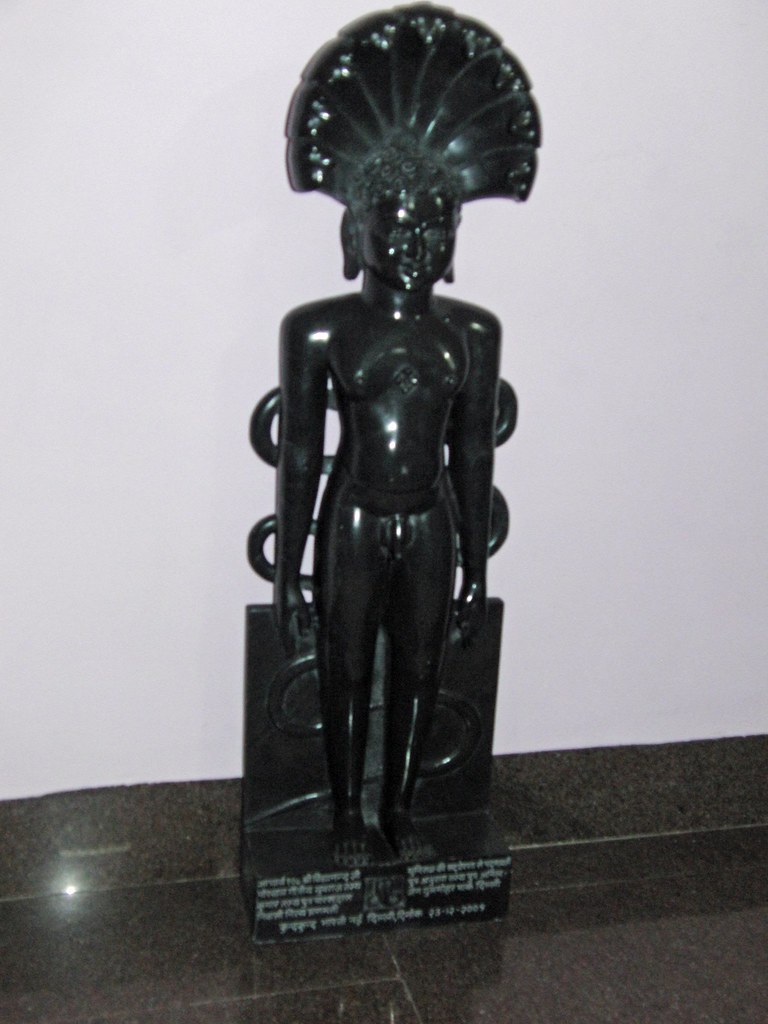 Lord Parshvanath, 23rd Tirthankara
Outside the library this statue of Lord Parshvanath attracted our attention.
It was not very far to Adhyatma Sadhana Kendra, traffic jam had come down to tolerable, and we reached in time for dinner. After eating we prepared ourselves for the trip next morning and went to sleep.