During 3rd IPMC, we had neither time to communicate more than some hasty phrases with the people in the 'Needam', Tulsi Adhyatma Needam, nor to visit Ladnun town. We had to leave early in the morning and came back only at night, except for some minutes of rest during the day. For the washing service, implied by white clothes itself and precisely perceived by the chief of the Needam's administration, he recommended Omar to us. Omar is the Needam's factotum; he arranged the details reliably and punctually. We used to communicate with him in international sign language. Everybody was very friendly and kind, and when we asked where to take our meals, we were heartily welcomed to the Needam's arrangements, breakfast at 8.15 a.m., lunch at 12.15 p.m., dinner at 5.15 p.m.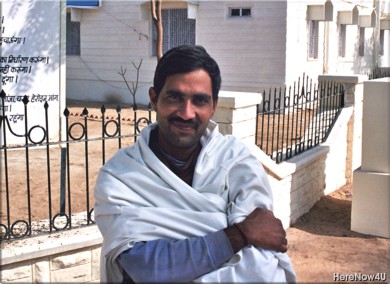 Rakesh, yoga teacher in the Needam and our guide
The first day-off was Sunday, which was also the first day of the Needam people's hospitality. The chief of the Needam's administration himself and Rakesh, yoga teacher in the Needam were serving us for breakfast. After breakfast, we decided to use the opportunity to get an impression of our neighbourhood for the next weeks. When our hosts heard what we intended, they proposed that Rakesh should accompany us, for language and security reasons. Sunday was Rakesh's day-off, so we happily accepted to visit Ladnun together.
About 9 a.m., we left the campus of Jain Vishva Bharati and turned right for town.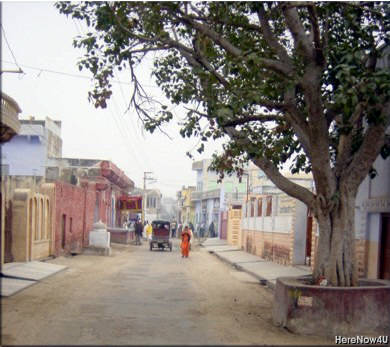 When we had left the stands of Ahimsa Yatra accompanying merchants behind us, this street presented itself with calmness to our eyes, only used by some Sadhvis rushing to Sadhvi Pramukha Kanakprabhaji's quarter, one three wheeler going back to town, and a handful of town people.
Ladnun on Sunday morning seemed as sleepy as Berlin.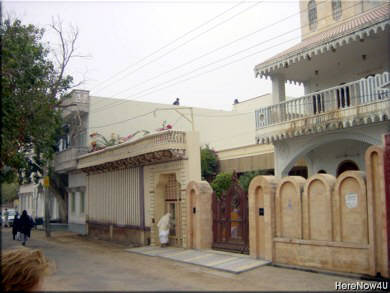 Many houses on the way to the campus of Jain Vishva Bharati are newly built or rather well maintained; many of them were used for Sadhvishree's accommodation. During the year, passing-by relatives of the owners inhabit them. Many people have moved from Ladnun to other parts of the Indian Union for their living.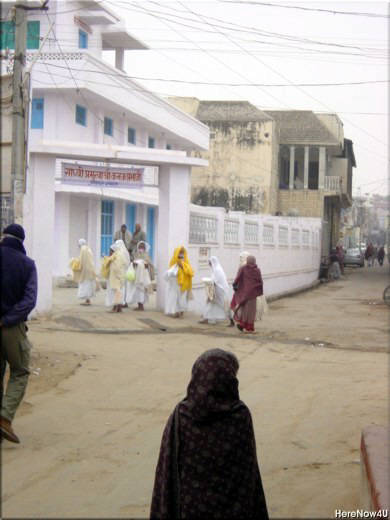 These Sadhvishrees gathered at Sadhvi Pramukha's headquarter to go together for Acharyashree Mahaprajnaji's daily ten-o'clock lecture on the campus of Jain Vishva Bharati.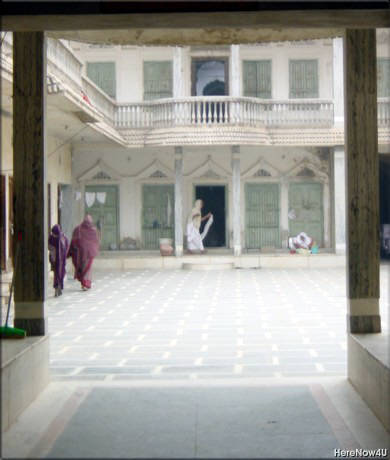 View into the courtyard of Seva Kendra Ladnun, the first one of its type.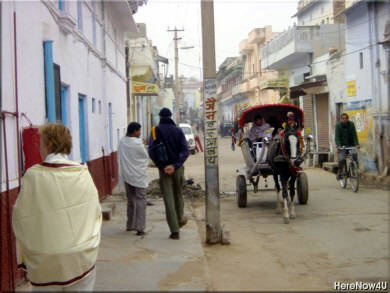 We glimpsed at the scene for checking if someone familiar to us was there and then headed for the city, Karuna's back in front, Paulo's and Rakesh's ahead. On the street a so-called Tonga, horse-driven taxi, is seen. It is still a popular means of transportation in Ladnun. We have seen up to seven persons being transported by one sole horse, succeeding bravely to master the task in spite of its meagerness. Tongas are replaced increasingly by motorised three wheelers nowadays, the number of bicyclists is increasing as well.