Teja leshya, tejolabdhi and tejas-shakti are all synonyms.
The doctrine of Leshya in Jain philosophy is very comprehensive and of far reaching influence.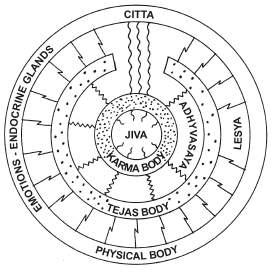 Red Leshya, belongs to Dharma Leshyas. People in this state of mind are very careful about their actions and discriminate between good and evil. They know the difference between what is right and what is wrong. They are kind, benevolent, religious, and lead a harmonious life. If anyone dies in this state of mind, that living being may be reborn as a human being.
Tejoleshya or kundalini is the door to spirituality. Without the awakening and activation of tejoleshya, one cannot enter the field of sadhana. Nor can there be any progress in spirituality. When the vibrations of this leshya arise, they exercise a divine influence upon the mind. The experience of these moments is so beatific that it beggars description.

The function of the red leshya is to make one experience bliss, it is the giver of joy - so joy giving that in the material world there is nothing to compare with it. The joy of the sadhak, who rightly practises red-leshya meditation for a year, goes far beyond the joys afforded by all the gods of universal goodness.