After Mangal and Anand Bhavana,
the participants were joined in for the evening activities of the IPMC: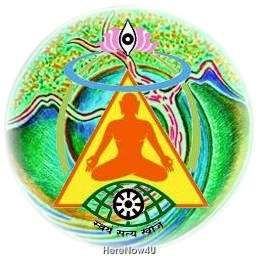 Spiritual talk by H.H. Acharya Mahaprajna and Yuvacharya Mahashraman, objective of Preksha Meditation (PM) by Muni Mahendra Kumar
Discourses on scientific versus spiritual aspects of PM and Anupreksha by Muni Dharmesh Kumar
Questions from the participants, answers by H.H. Acharya Mahaprajna
Discourse on Preksha Meditation and Animesh Preksha with exercises by Muni Kishanlal
Release of the booklet 'Comprehend the Soul - Transform Your Life: Preksha Dhyana, the Unique Tradition of Jain Meditation' by Preksha International
Discourse on Mantra with exercises by Muni Kishanlal, Mantra Meditation by H.H. Acharya Mahaprajna
Farewell function on the last evening of IPMC
16.01.2005
This talk was given by Acharya Mahaprajna, with addendum by Yuvacharya Mahashraman and translated into English language by Muni Dharmesh Kumar: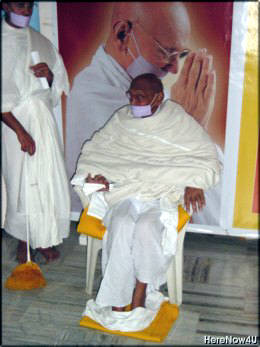 There are four emotional problems: Ego, greed, hatred, anger; ego is the root cause of the other three.
The main purpose of Preksha Meditation is the purification of emotions or rather consciousness. With Preksha Meditation we can grow beyond attachment and aversion, to know and perceive like and dislike, manifested in thoughts, words and actions. When negative emotions are acted out, many problems are created, that's why we should aim to go beyond them.
Purity of emotions and control of desire are very important tools in the system of PM. Purity of emotions is the main criteria for progress, control of desire results in transforming negative emotions, acting upon thinking and attitude.
While meditating, the subconscious emotions are purified and transformation of character is possible. The intensity of experiencing negative emotions differs like lines drawn in water or sand or stone. For a line drawn in water it takes less time for the water to calm down its surface. PM helps to develop emotional intelligence managing negative and positive emotions.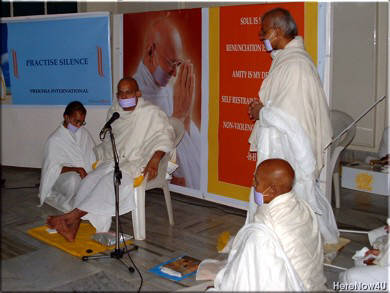 Yuvacharya Mahashraman went on with how to remove attachment and aversion. He strongly holds that only the light of knowledge can remove them. According to him, this knowledge can be acquired through the practice of introspection and Anupreksha, accomplished with strong resolution for a longer period of time. These are the best methods to work it out.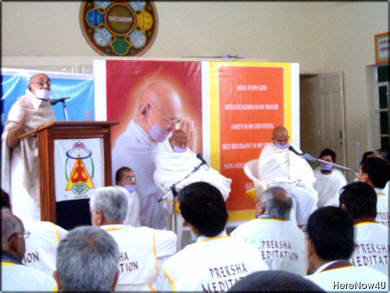 Muni Mahendra Kumar concluded the session with a statement on the objective of Preksha Meditation:
Experience of the self, to trespass our ordinary sensory perception is the main objective of Preksha Meditation.
To enter the inner world, perception of breathing is the bridge between the gross and the most subtle being. Respiration continues as long as we live, mostly without being accompanied by consciousness. When we are alert and conscious, we do not grant room to reactions on outer impulses when they are aroused, but are able to act in harmony with our true nature.