26th November 2006, 06:15 – 09:15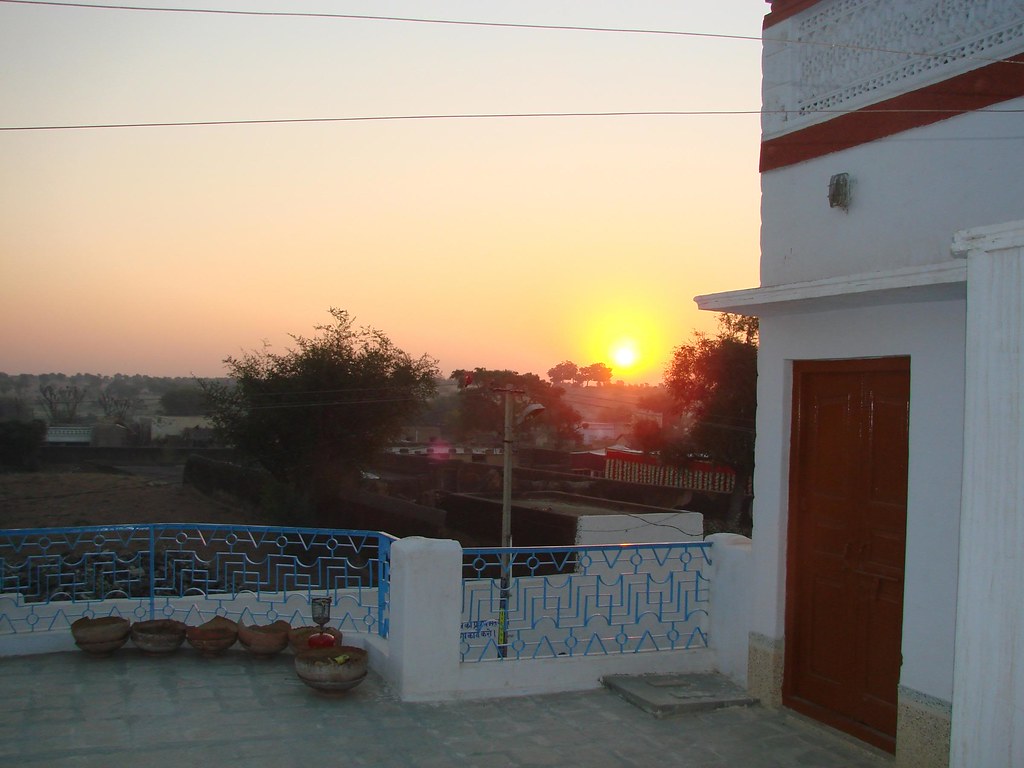 Morning sun
A beautiful Sunday came up in Tamkor. We nevertheless had to leave. When we took farewell, Acharyashree recited Mangal Path, and Yuvacharyashree made us experience the amazing functioning of Terapanth management.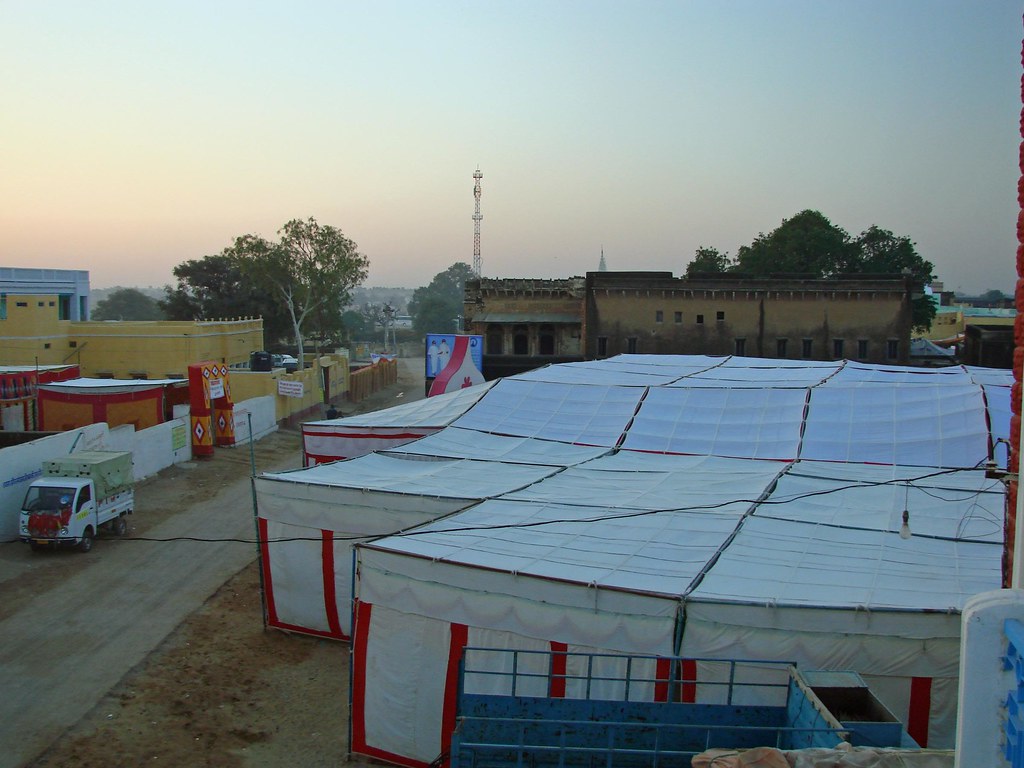 Tamkor main street in early morning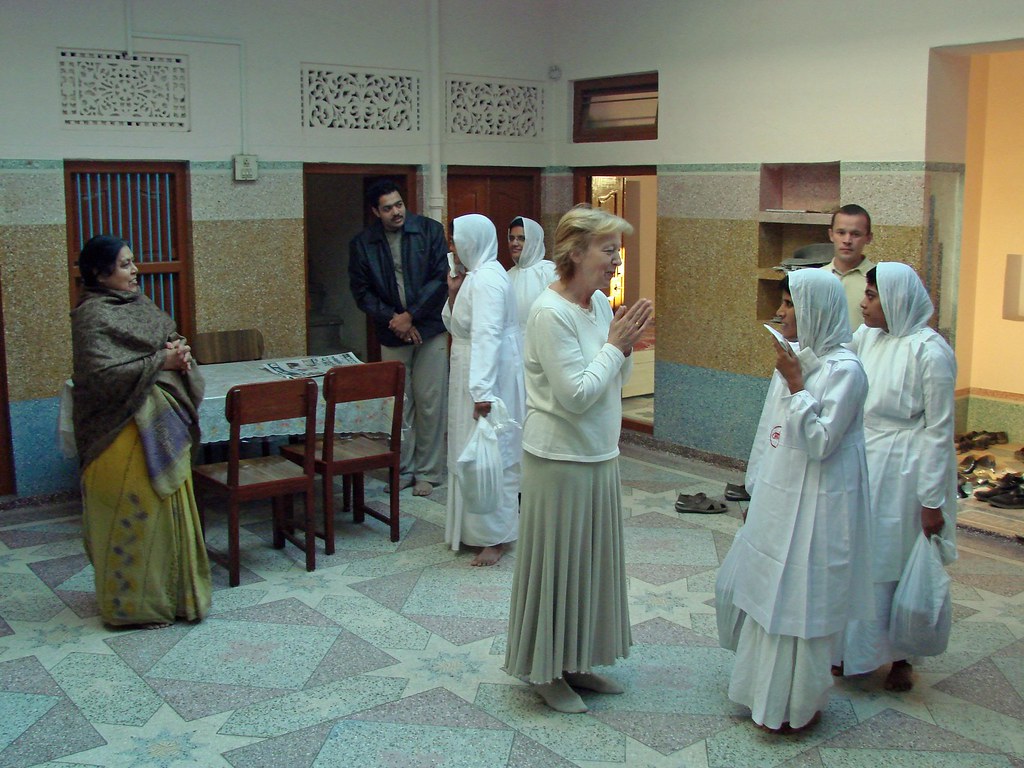 Nuns coming for alms to our host's house
Early in the morning, Samanijis came for Gochari to Ratan Lalji Nahata's house. Among them was also Samani Pratibha Pragyaji, in worldly relations Shri Ratan Lalji's daughter. It was touching to watch how the members of her former family served her. Their attitude towards each other was not different from that of lay followers towards Samanijis and vice versa.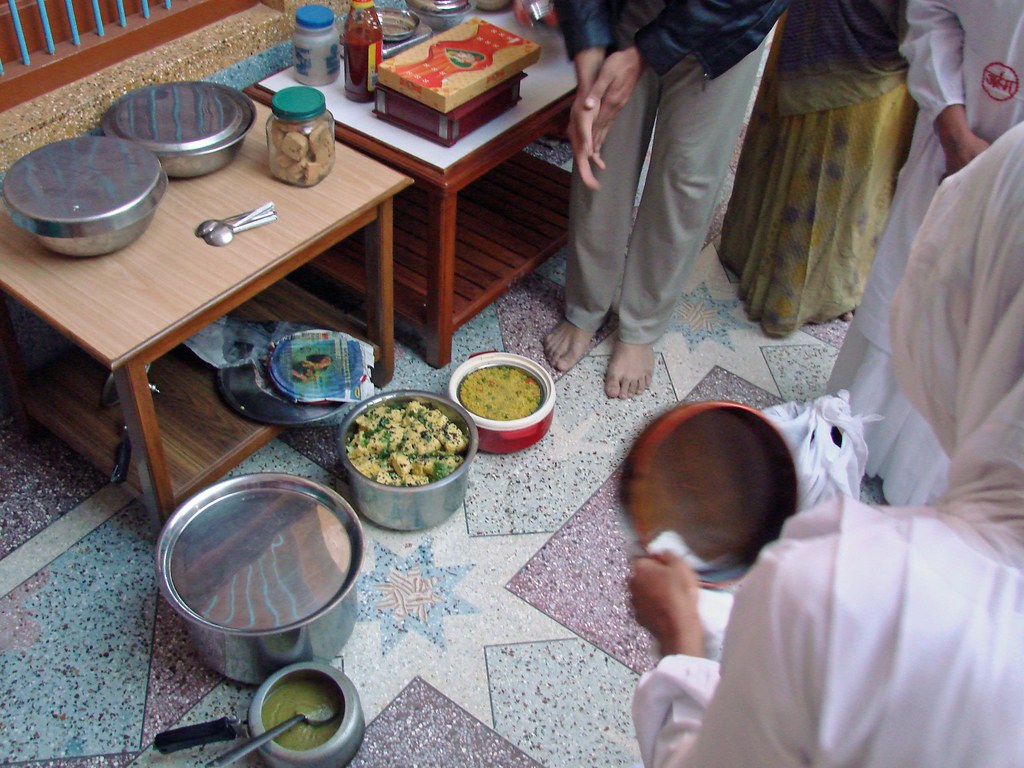 Nuns coming for alms to our host's house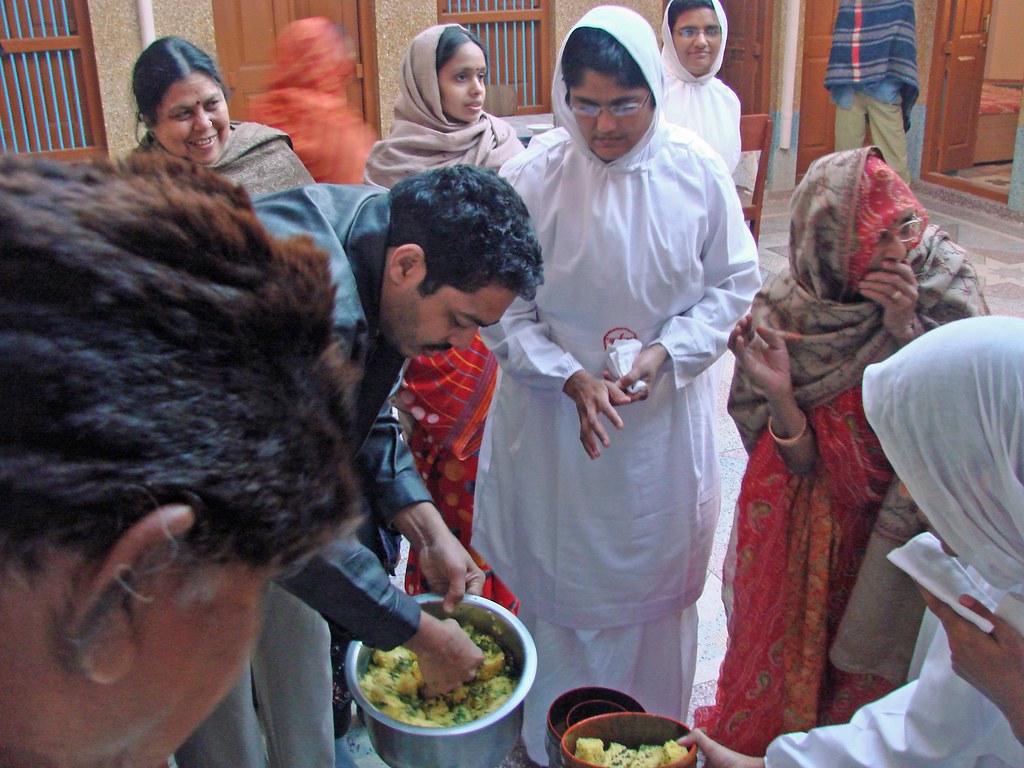 In worldly relations they are sister and brother, their mother beside her daughter who is nun and came with other nuns for alms to her father's house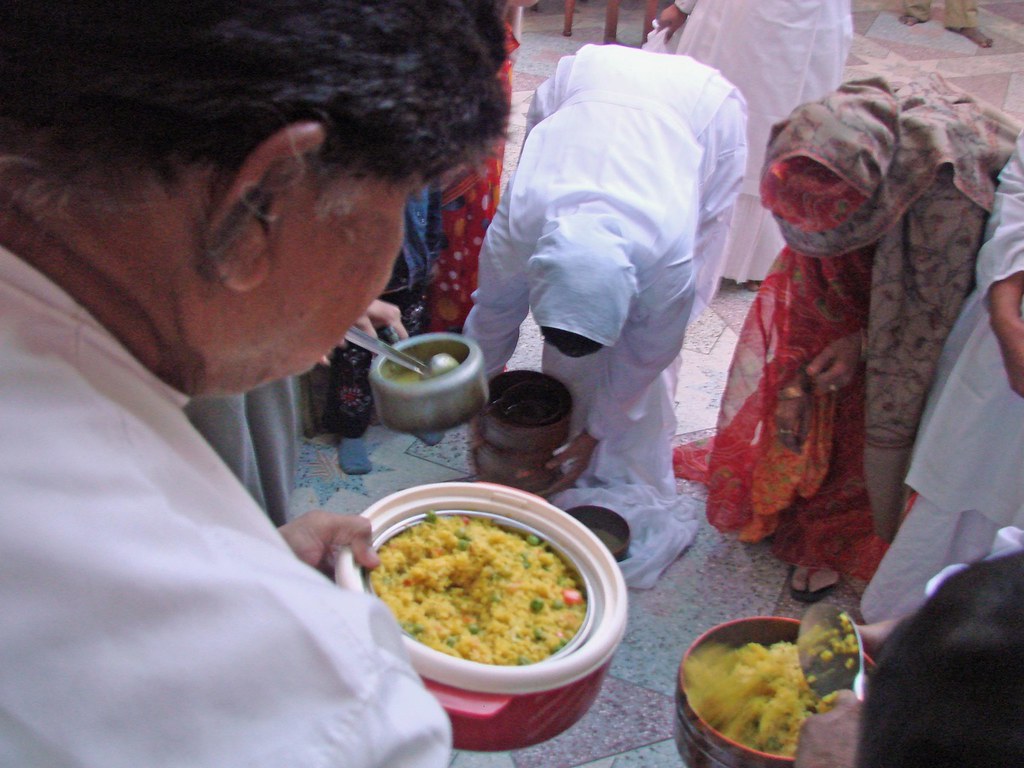 In worldly relations is Shri Ratan Lalji Samani Pratibha Pragyaji's father, her in worldly relations mother at her side
Her - in worldly relations - brother first filled her eating bowl, then her - in worldly relations - parents. All family members had gathered in the big entry hall for this auspicious occasion and were eager to serve the meanwhile six Samanijis present. The children were in a happily excited mood; they highly enjoyed watching their family filling the beautifully manufactured bowls of Samanijis. All of a sudden, the big hall was empty; it was the realisation of 'Carpe Diem (Make use of the day)' in an amazing speed, no waste of words and energy.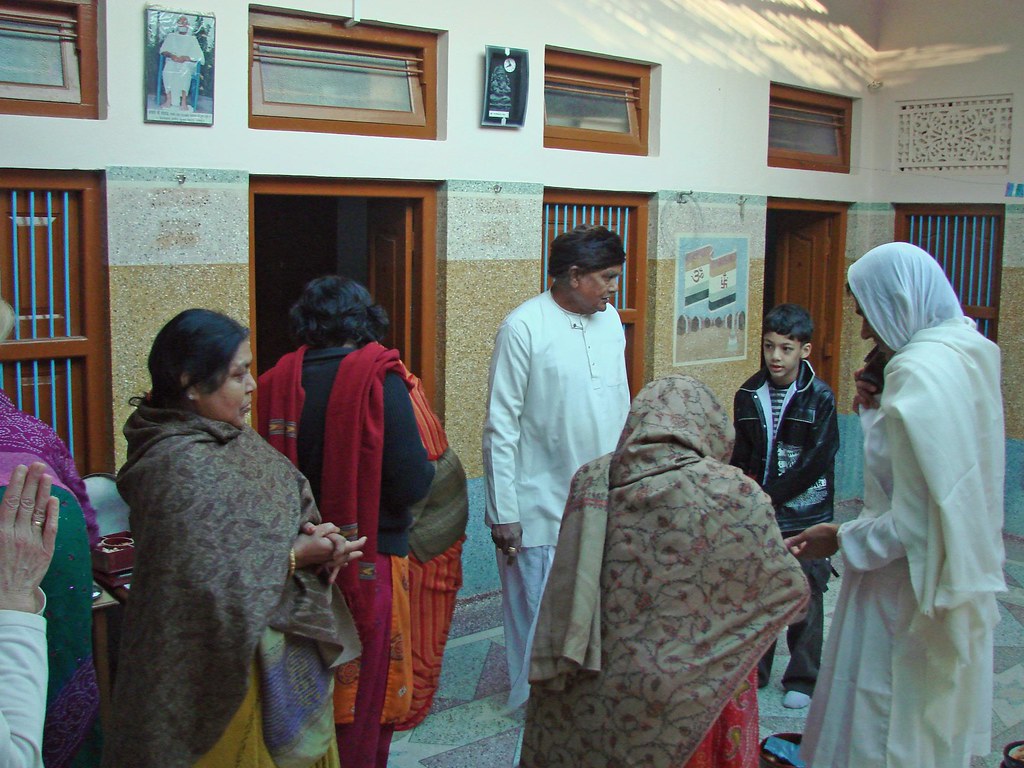 The whole family is giving alms to the nuns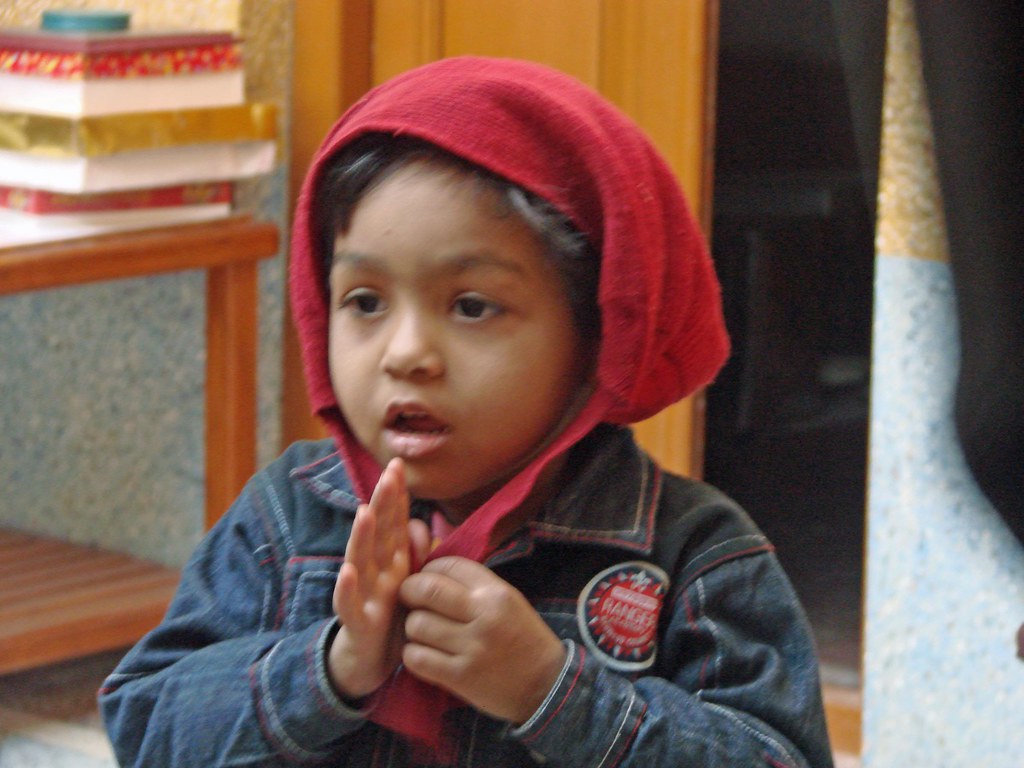 Shri Ratan Lalji's granddaughter made a lot of amazing experiences this morning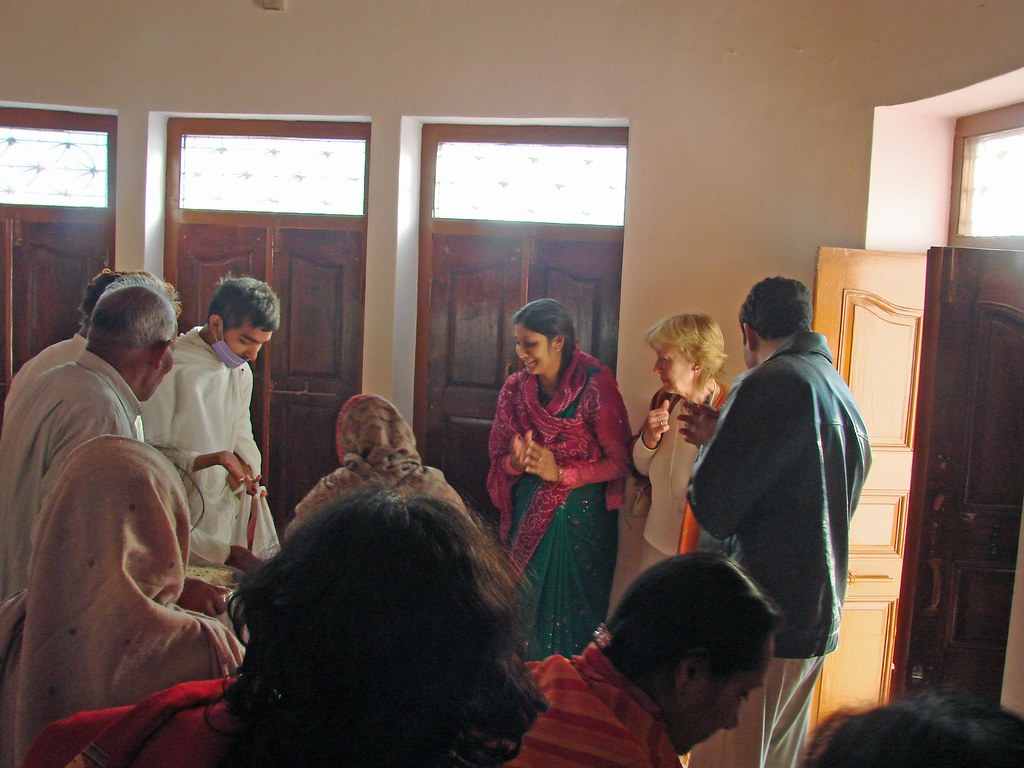 Munishree also came for alms
Then Munishree entered the living room for Gochari. He left shortly thereafter.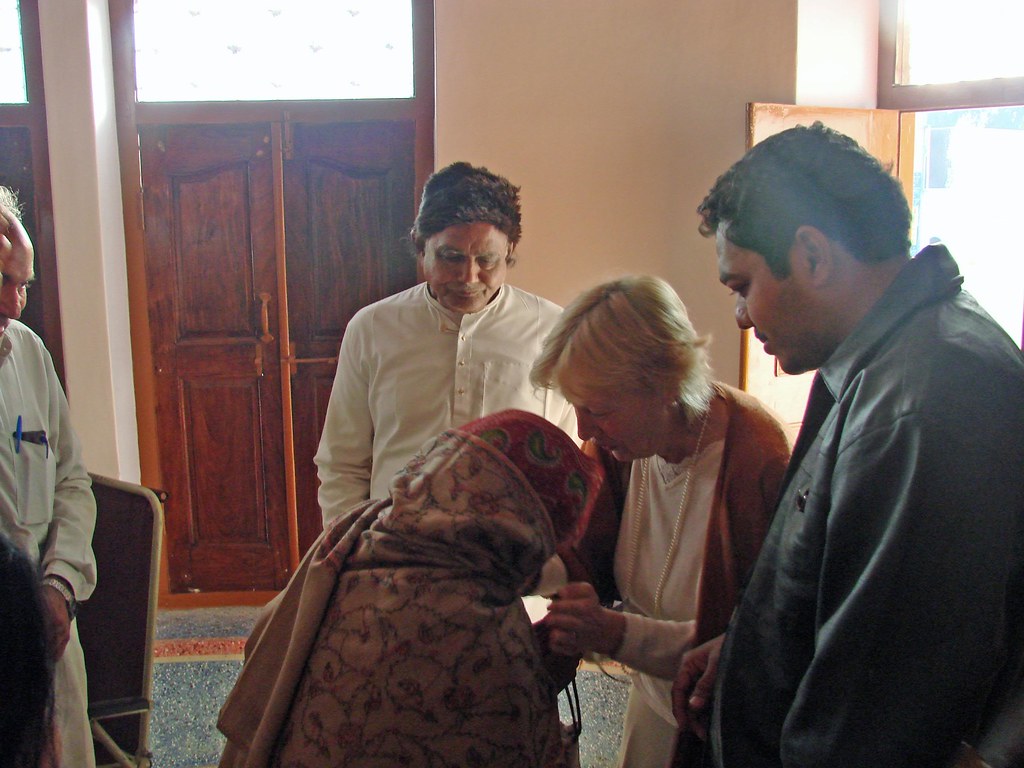 Time to say good-bye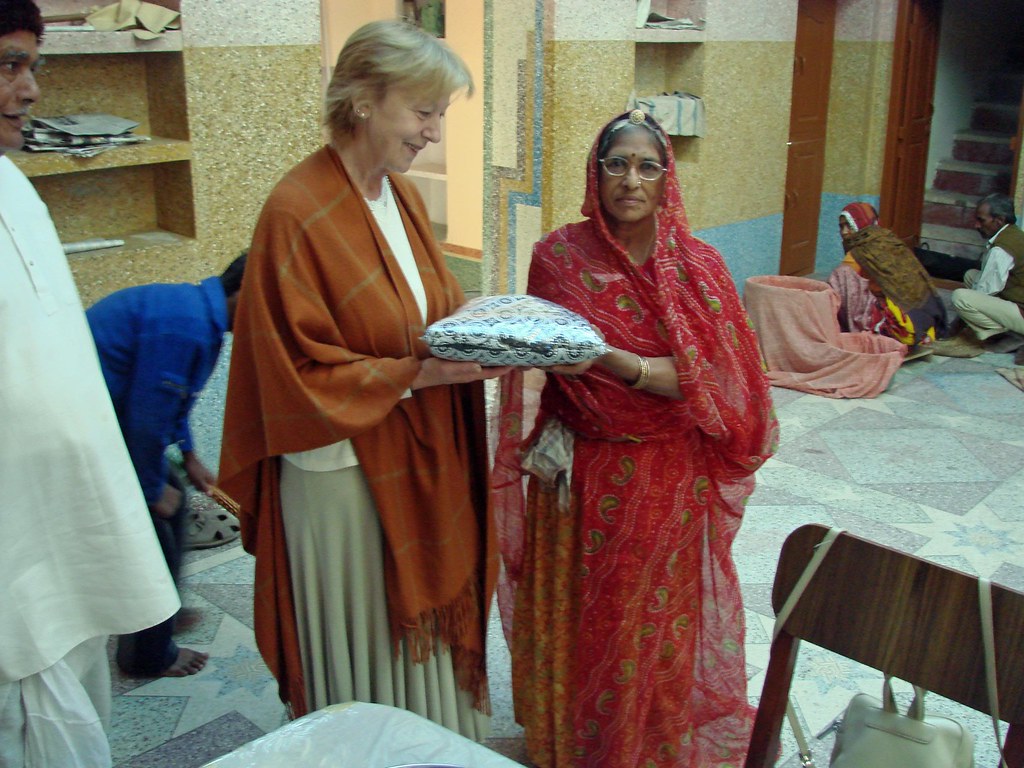 Gifting garment to Karuna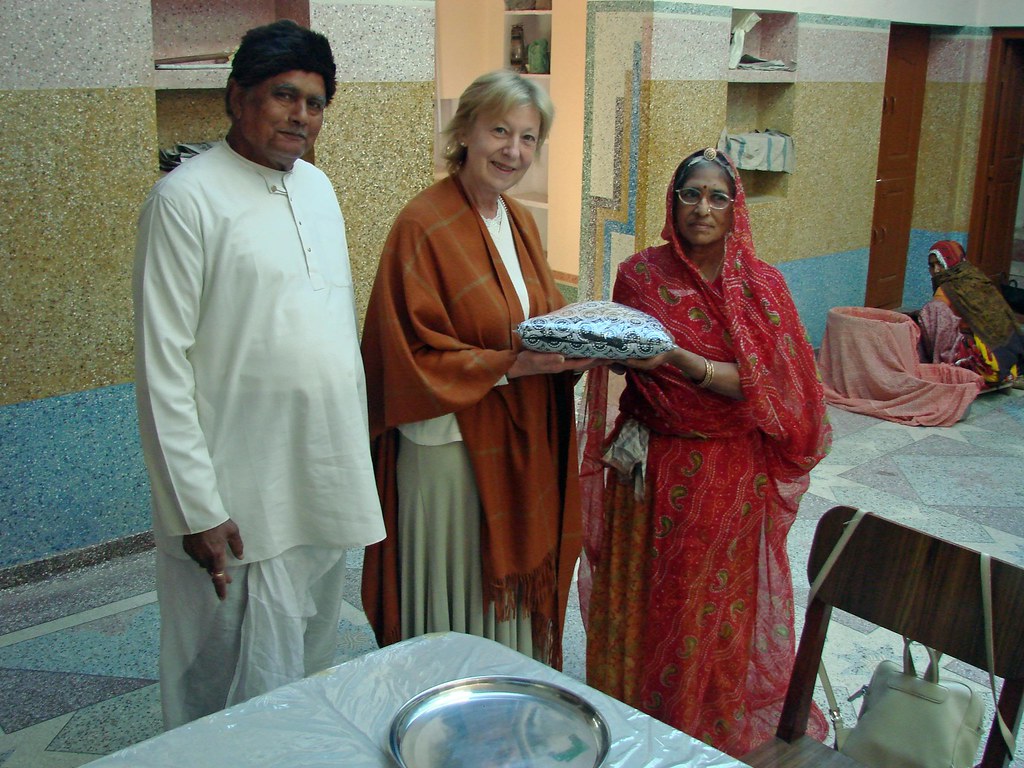 Shri Ratan Lalji, Karuna (they met already at JVB London in 2005), Shri Ratan Lalji's wife
For us now it was time to say good-bye to our wonderful host. They had received us like family members; both of us were only children and enjoyed to be part of a big family.
They offered before we left wonderful gifts to us; a watch to Aparigraha, and material for traditional Rajasthani garment to Karuna. Indian hospitality again dumbfounded us.
We then went to the saints to take farewell. When we arrived at the place where they were accommodated, a big crowd waited for them. We were admitted to Acharyashree; he asked us how we felt after joining Ahimsa Yatra. Our immediately response 'Very happy' made him smile; he then recited Mangal Path to us.
Yuvacharyashree then received us with a wonderful surprise. He asked the Samaniji who had noted his blessings for JVB London and HereNow4U to hand his blessings over to us! We were very impressed, as we had asked for the same two days ago in Hariyal when he gave some time to us. In spite of his straight schedule, he did not forget to respond to our request:
Blessings from Yuvacharyashree for Samanijis at JVB London; original Hindi version kindly translated into English by Samani Prasanna Pragyaji

Arham,
Samani Prasanna Pragyaji and Samani Sambodh Pragyaji,

I hope you stay healthy and happy.
I hope you continue to make good progress in London, England. Besides, your work in JVB London must continue to flourish.
Along with scriptual study, your English must also improve.
Wellwishes,
Tamkor
27.11.2006
Yuvacharya Mahashraman

Blessings from Yuvacharyashree for HereNow4U

Arham,

Karuna and Aparigraha should make spiritual practice and study Jainism, Preksha Meditation, etc. They should propagate Jainism in Berlin and other German cities. I wish them complete success in their work.
Tamkor
27.11.2006
Yuvacharya Mahashraman
We happily went to the car and then realised that again we forgot to take photos, as everything went on in an amazing speed!