23rd November 2006, 15:30 - 16:30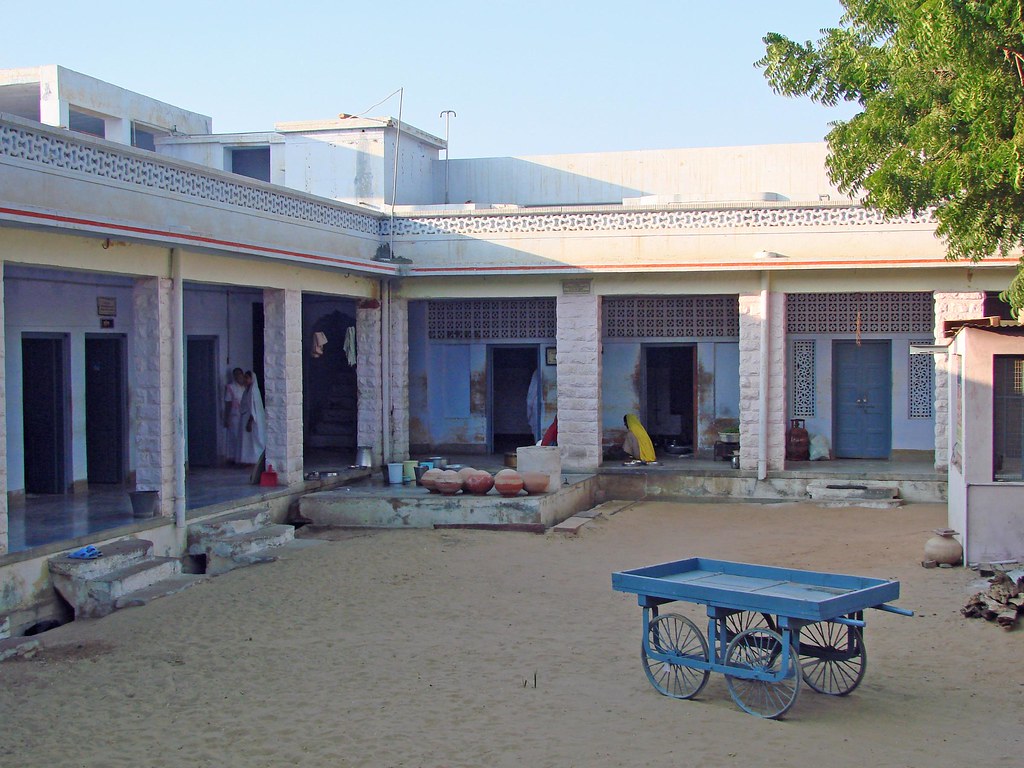 Courtyard in front of kitchen and eating hall
Since 58 years, Sadhvis and Samanis are prepared for their spiritual task in Mumukshu Training Centre Ladnun. It was then, when Acharya Tulsi started to teach them and gave the inspiration for that institution, as he and his predecessor Acharya Mahaprajna held and hold the view that without education initiation is incomplete. Acharya Mahaprajna had deputed Samani Malli Pragyaji to take care for the Mumukshus for one year.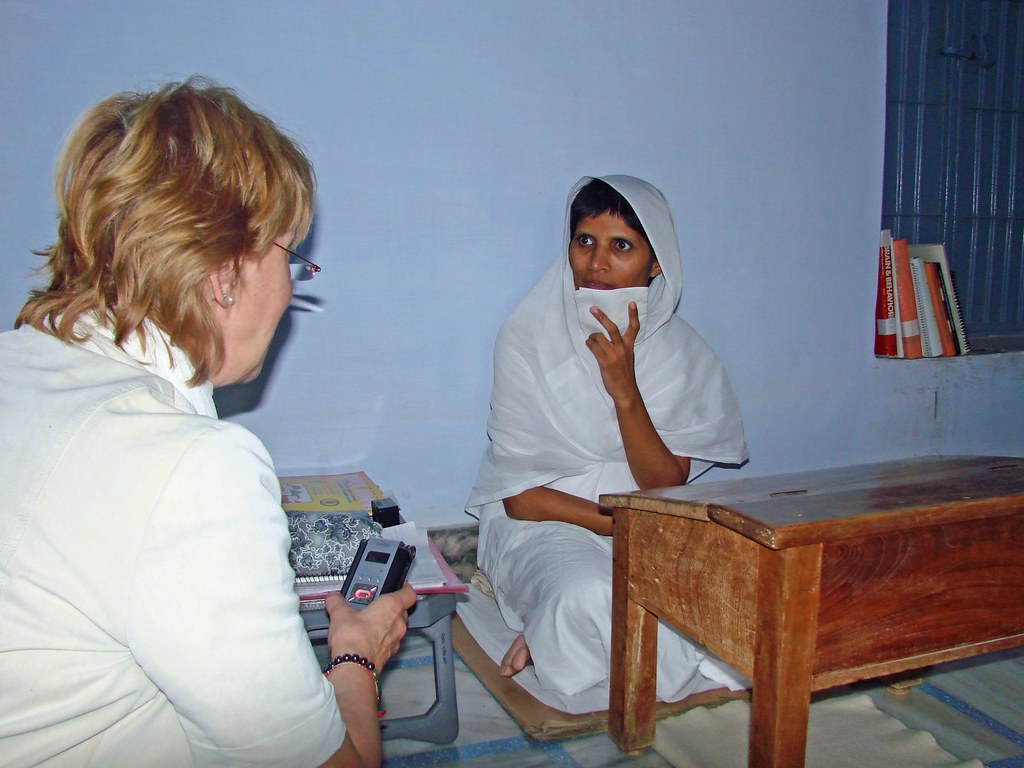 Samani Malli Pragyaji, interviewed by Karuna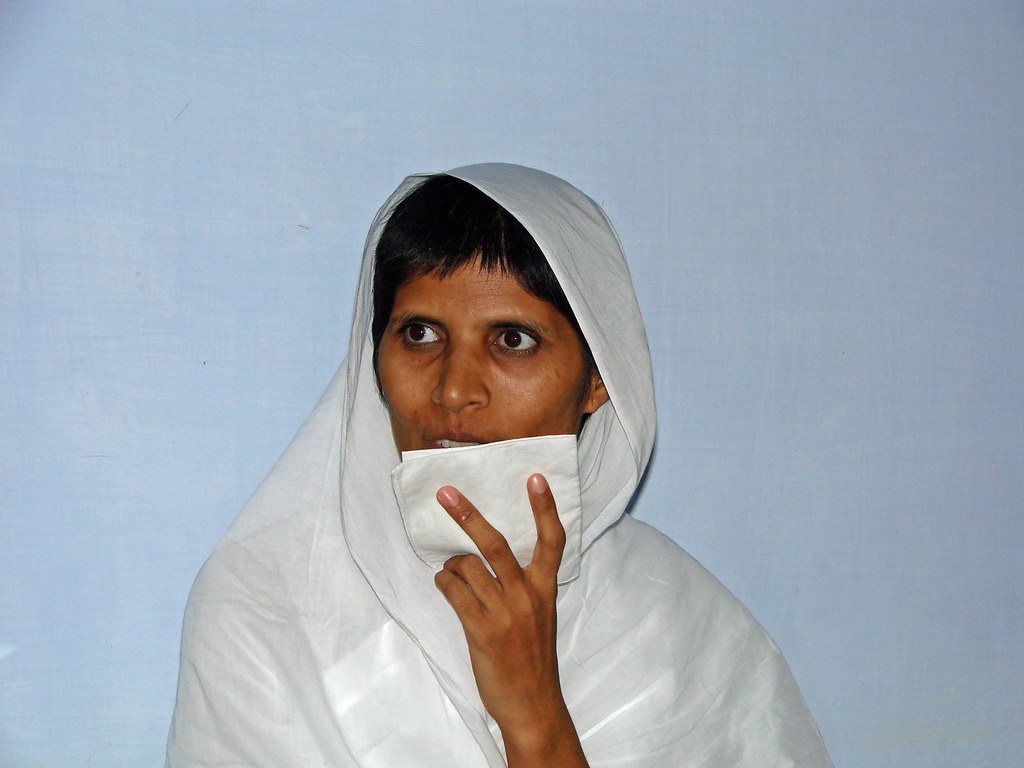 Samani Malli Pragyaji, director of Mumukshu Training Centre, that function is rotated after two years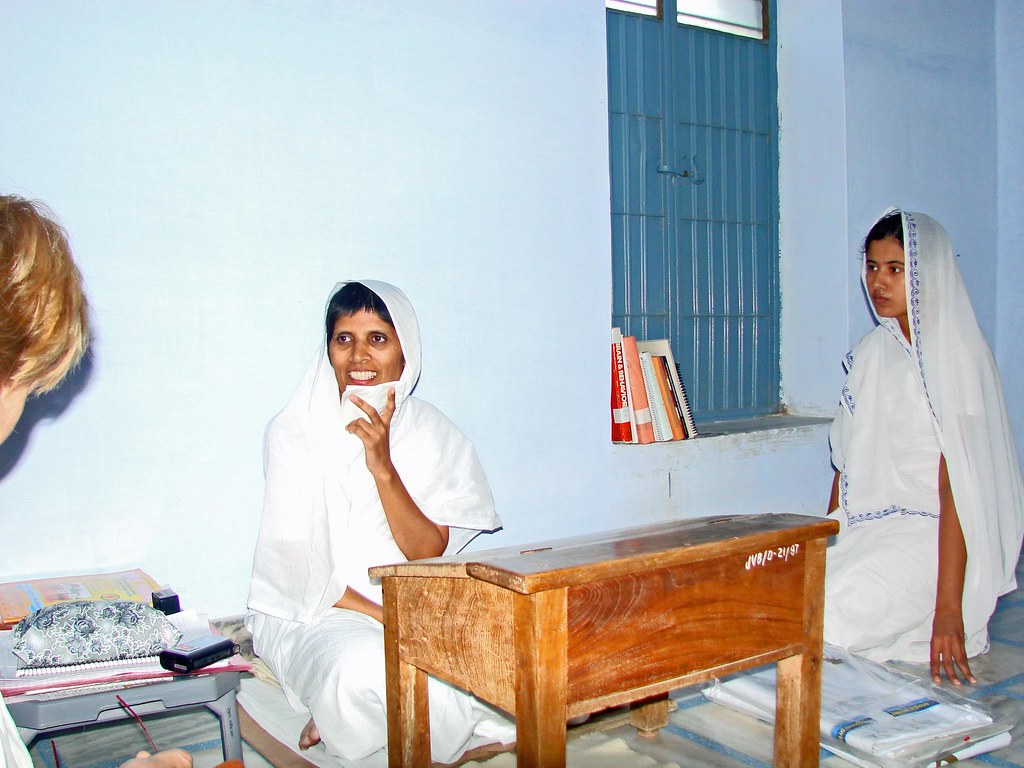 Samani Malli Pragyaji and one Mumukshu sister
Our visit to Mumukshu Training Centre was advertised; Samani Malli Pragyaji awaited us in her office, when we visited Mumukshu Centre in November 2006, her year was nearly complete. She took us around and kindly gave all the informations compiled in this article. The task of the one in charge for the Mumukshu centre consists of guiding and encouraging them in their spiritual, intellectual and practical development. Generally, classes on these aspects are given in the form of one-month-courses. Spiritual and intellectual courses are taught to them in courses at the centre and in seminars at JVBI on the subject of Preksha Meditation, Jeevan Vigyan and Jainology; practical courses are taught in the centre also.
In the centre they are taught how, where and when to speak or not to speak, time management, how to keep a house well - except going to market and cooking - by applying the principle of non-violence, and last not least, how to minimise possession, respectively what is required on the wanderings. Ability to read and write is taken for granted, but would be taught in case of need. The courses are in form of lessons the Mumukshus receive or give themselves. They learn this way how to prepare a lesson and to present it to an audience; every group gets its turn for this.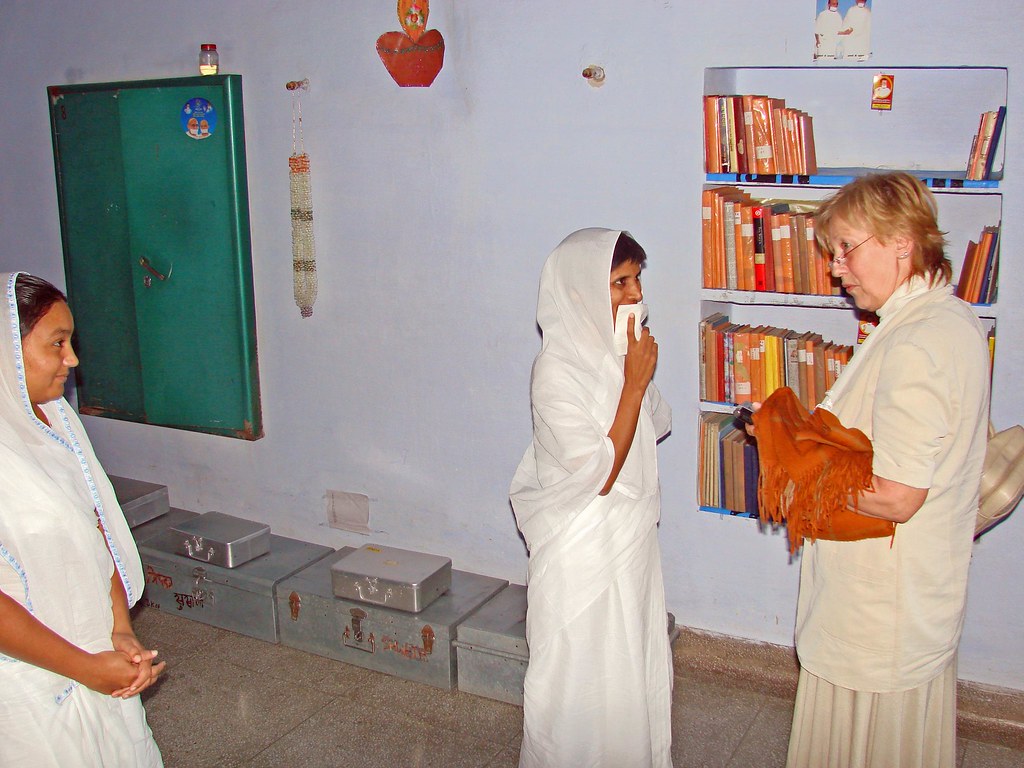 Samani Malli Pragyaji showing the room of one Mumukshu group to Karuna. The groups consist of 5 young women, all they possess is in the suitcases and the bookcase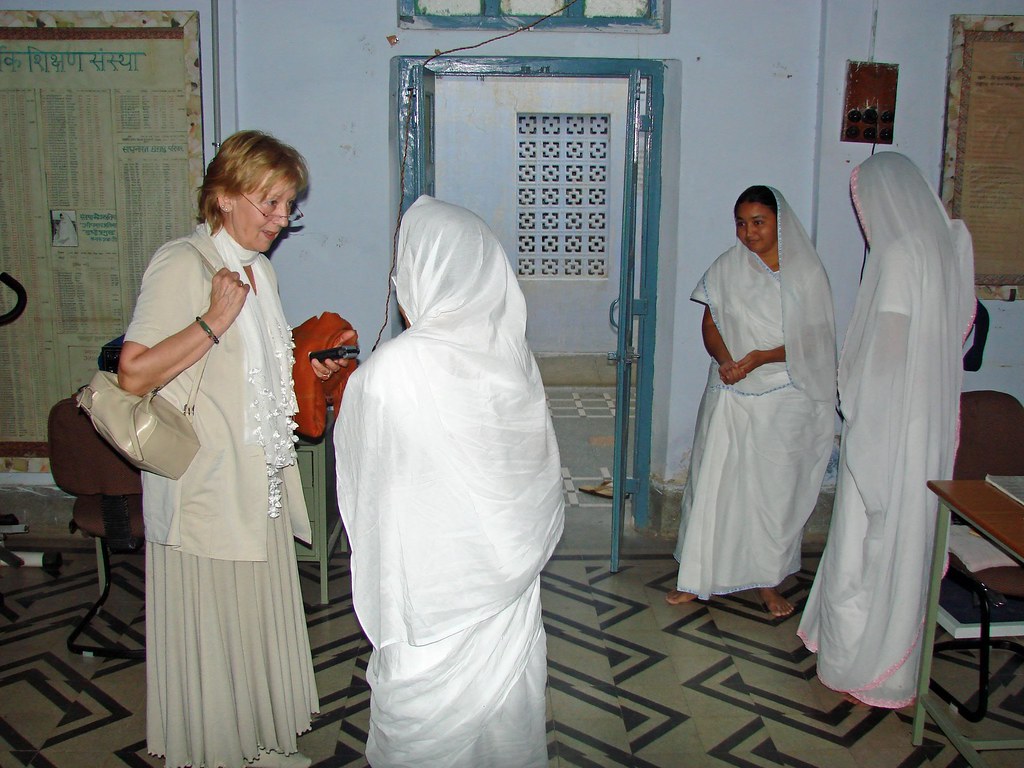 Gym and administration room of Mumukshu Centre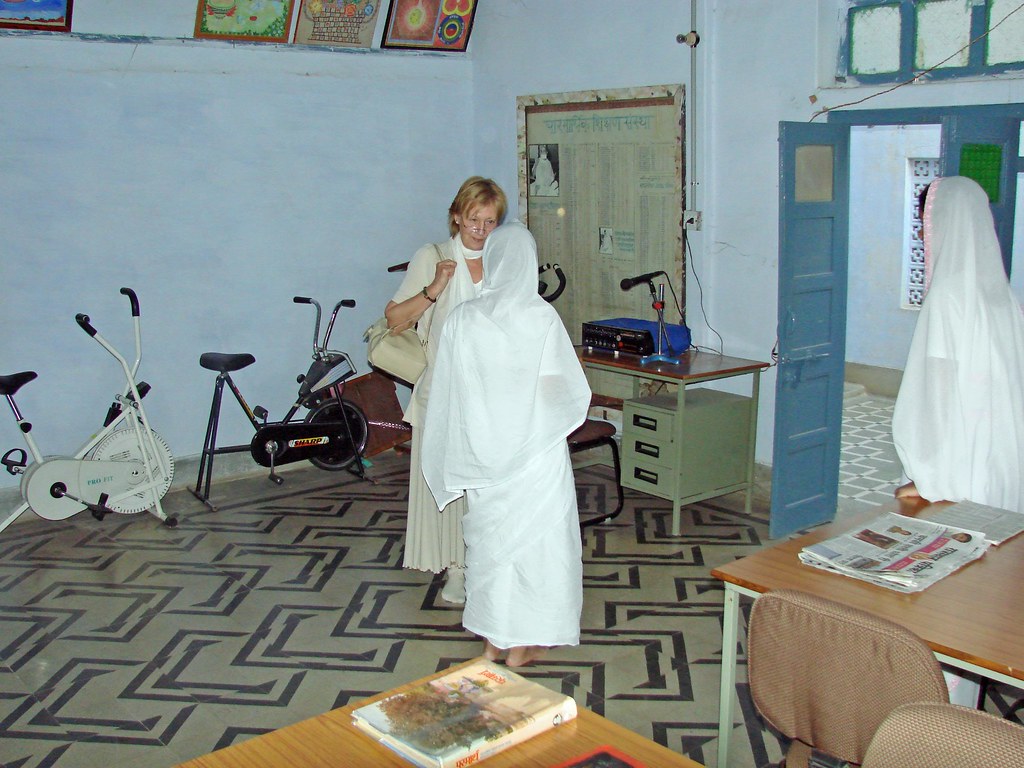 Fitness training is part of the program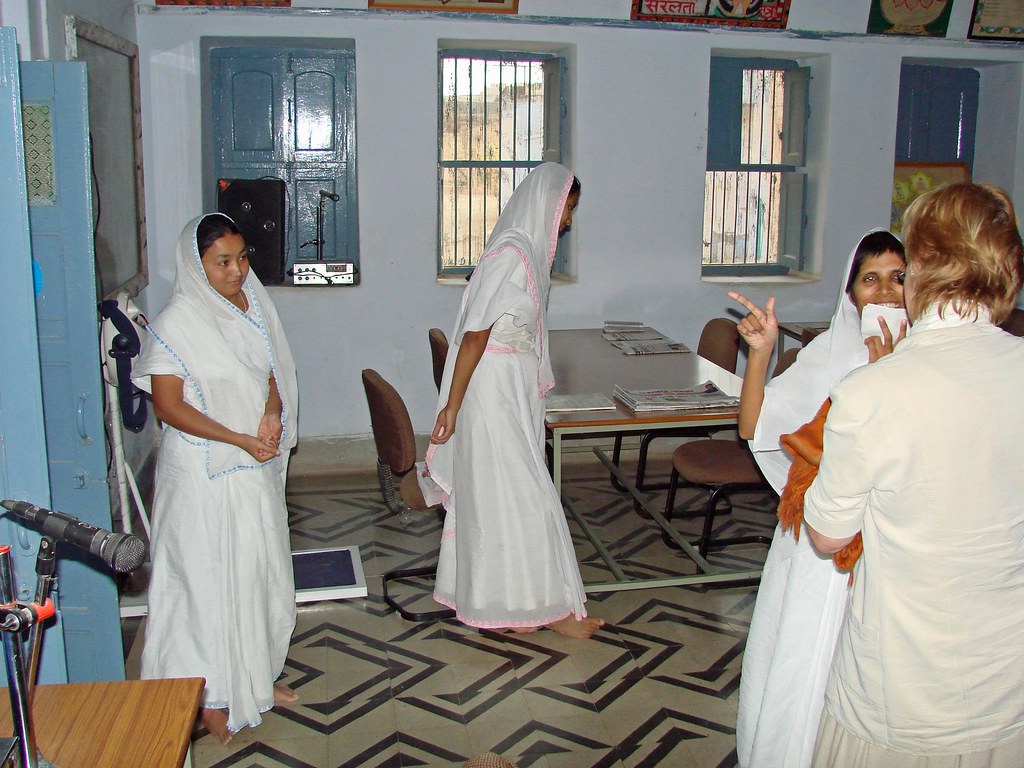 Table to study professional journals in the group
During one month, they get education by H.H. Acharya Mahaprajnaji himself. They are brought to the location where he stays with busses or means of public transport. His teachings are in form of lectures and discussions. He knows every Mumukshu very well; it is his responsibility to decide when time for ordination has come and if they become Sadhvi or Samani.
Two times a year they go with Acharyashree on Ahimsa Yatra and learn to cope with circumstances that cannot be met in the centre. Meditation and contemplation (Anupreksha)are the means providing insight to them to be not attracted to worldly things. Contemplation is given according to their individual needs, some need to contemplate on tolerance, some on confidence, some on concentration. Further, they are trained in walking on foot and how to keep physically fit, including Yoga and Pranayama.
The training as a whole aims at evolving the inner and outer personality of the aspirants and supports them in building this kind of character in front of which all of us can do nothing but respectfully bow down.
When we were there, 36 Mumukshus prepared for a live dedicated to spiritual upliftment. Mumukshus live together in groups of five, composed according to the personalities of the aspirants. Those showing the same needs are in one group and meditate and contemplate together. The five members of a group share one room, where they sleep and have their personnel belongings, limited to a small suitcase and a cassette for values. Books necessary for actual studies are available in the library containing 13.000 books; library service is done by one group and changes weekly. After six months, the groups are newly composed.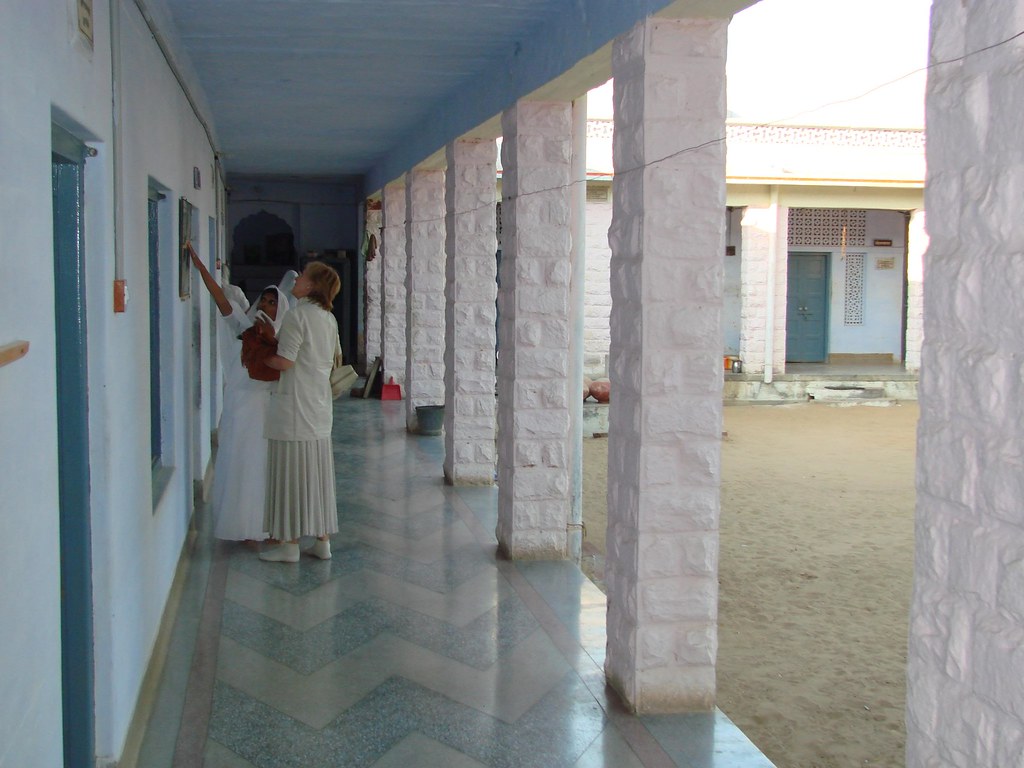 Arcade in Mumukshu Centre, Samani Malli Pragyaji explains Mumukshu's schedule hanging at the wall to Karuna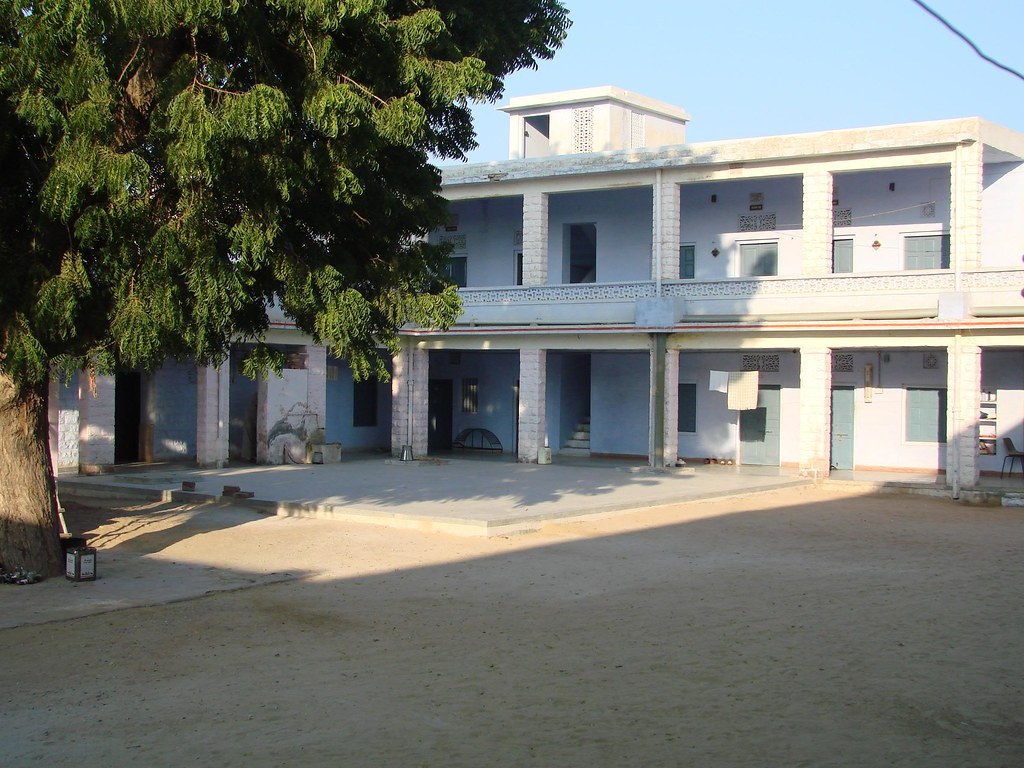 Courtyard of Mumukshu Centre
Samani Malli Pragyaji showed the photos of the six Samanijis who got first Saman Diksha in 1980 after foundation of Saman order by Acharya Tulsi: Samanijis Madhur Pragya, Smid Pragya (now Sadhvi Vishrut Vibha), Kusum Pragya, Sarala Pragya, Siddh Pragya and another one whose name was not given.
The Mumukshus sleep on the floor and are slowly trained to give up their worldly customs. When they arrive, they get two blankets, after some time they are happy with only one. "Clean environment and taking care of them with love helps them to adjust in the course of maximum two years," Samani Malli Pragyaji explained.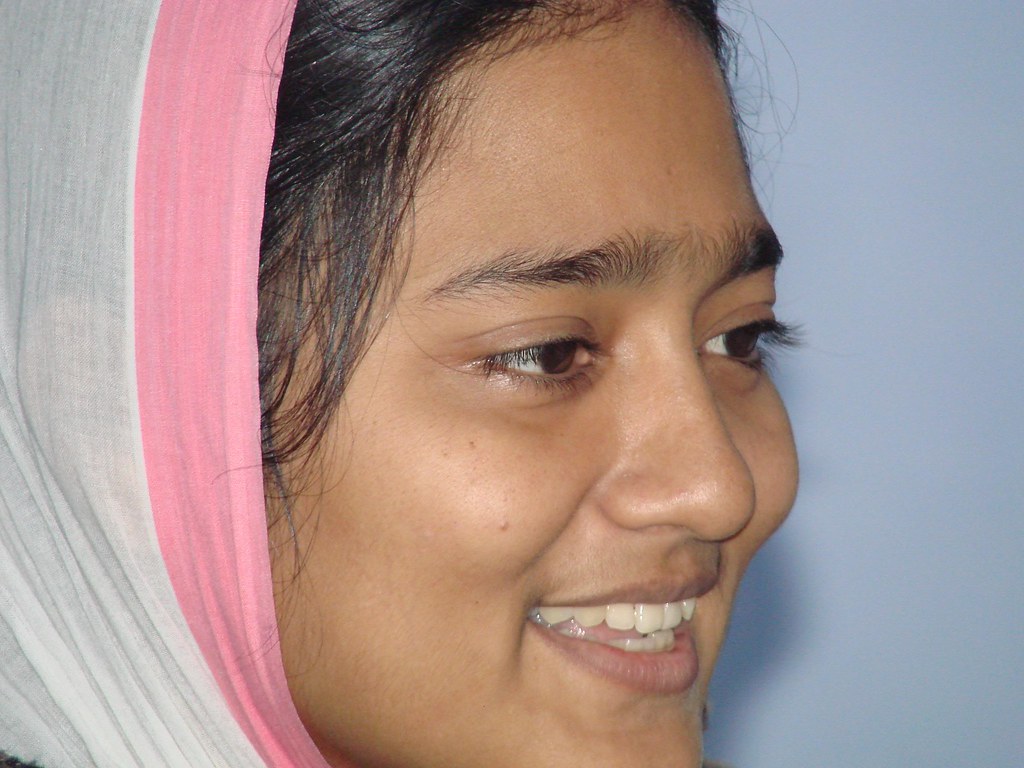 One Mumukshu sister (novice)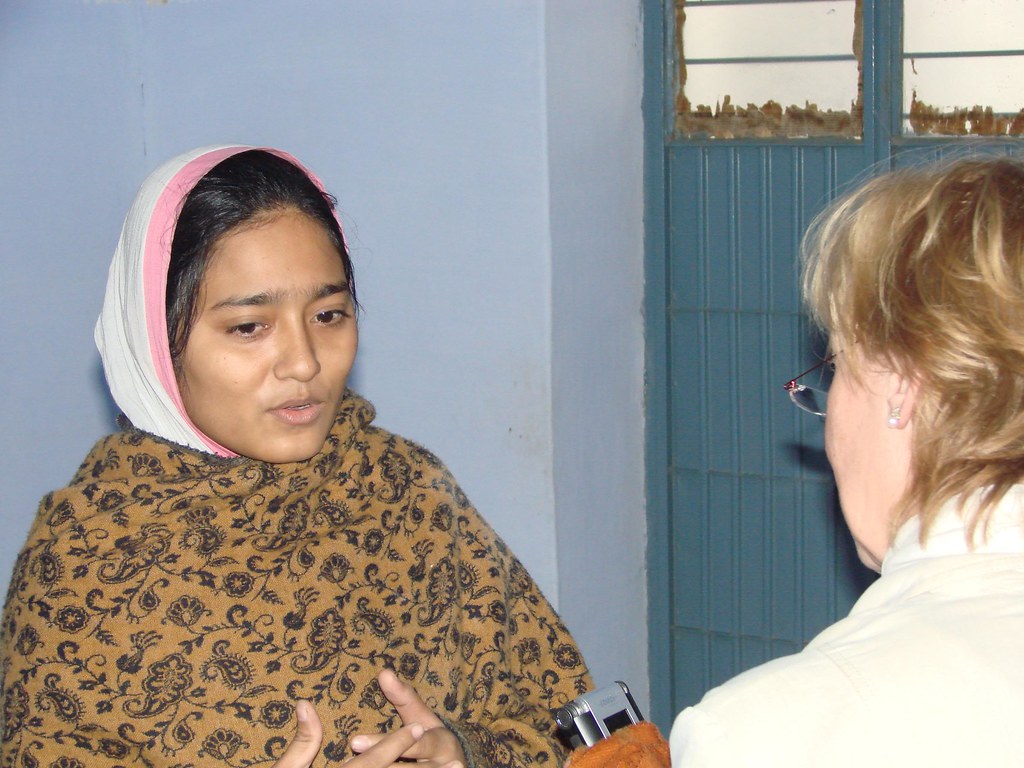 Karuna interviewing one Mumukshu sister (novice)
Then Samani Malli Pragyaji advised us to use the opportunity to take interview of Mumukshu Meena, born 4th June 1983 in Chennai. Mumukshu Meena was in the Training Centre for 13 months when we talked to her. At the age of nine, she realised that she wanted to do something different with her life, but her family asked her to complete her formation before taking final decision to join the order. She has finished her studies in dentistry before she came for Mumukshu training. In the centre, she received lessons on both levels, inside and outside. Inside she got into contact with her own Self, resulting in bringing her near to inner reality; outside she got insight how to cope and live with others.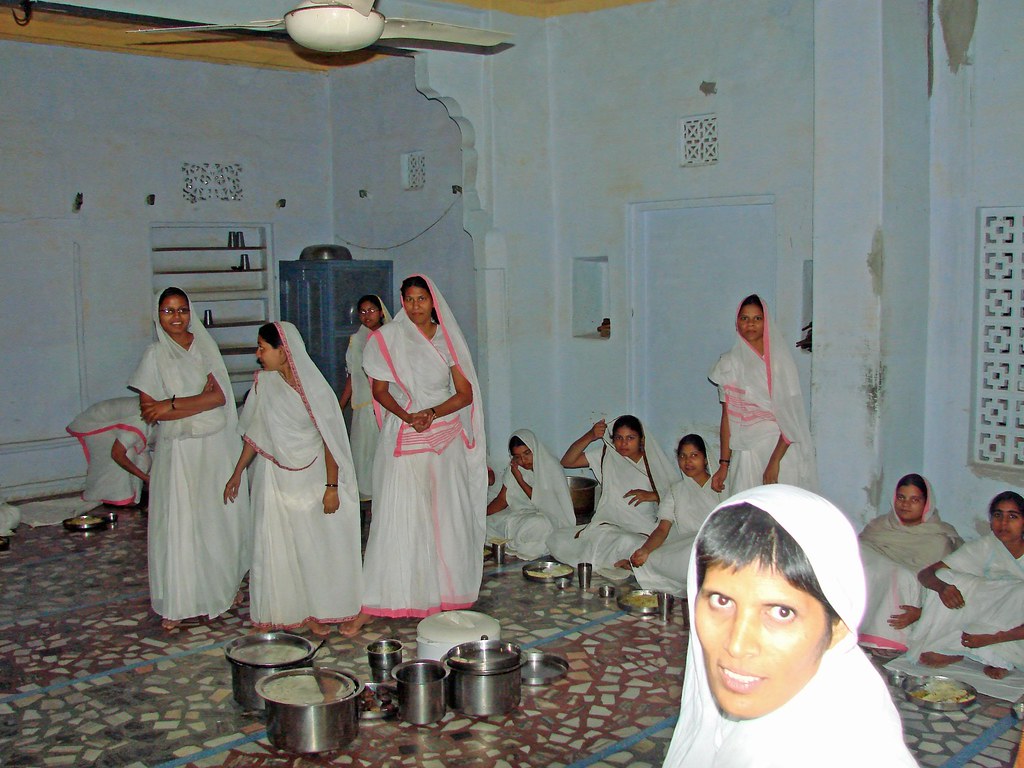 Eating Hall at dinner time. Dinner is taken before sunset.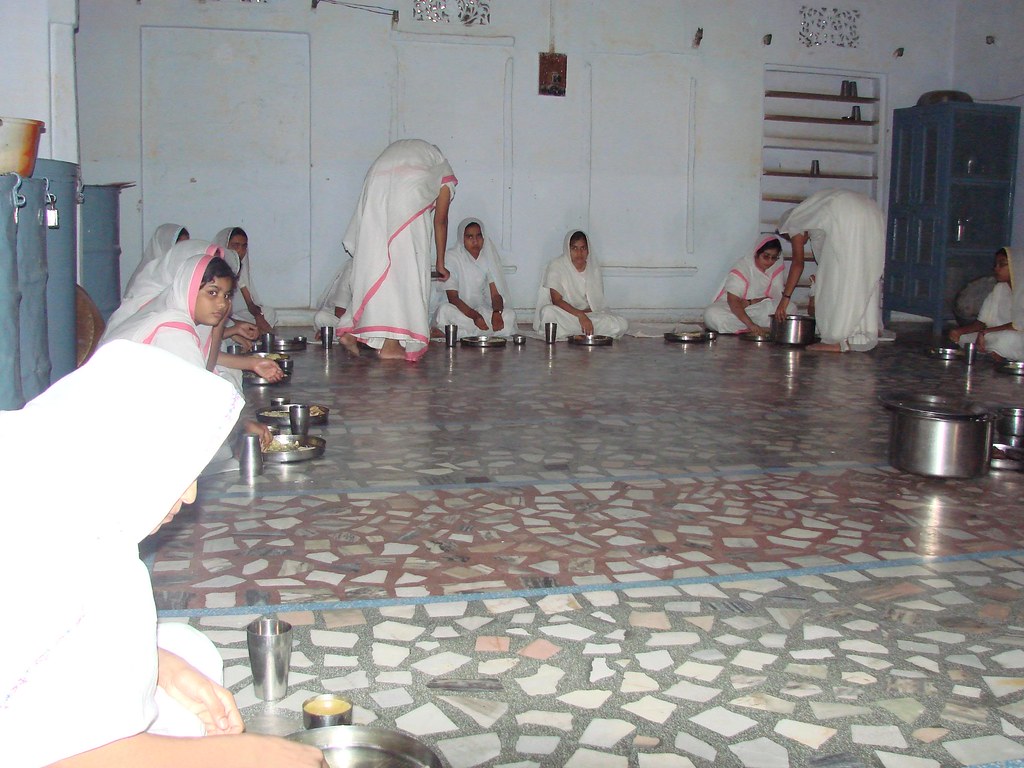 One group is doing serving to the others and eats after they have finished. Service schedule is changing weekly.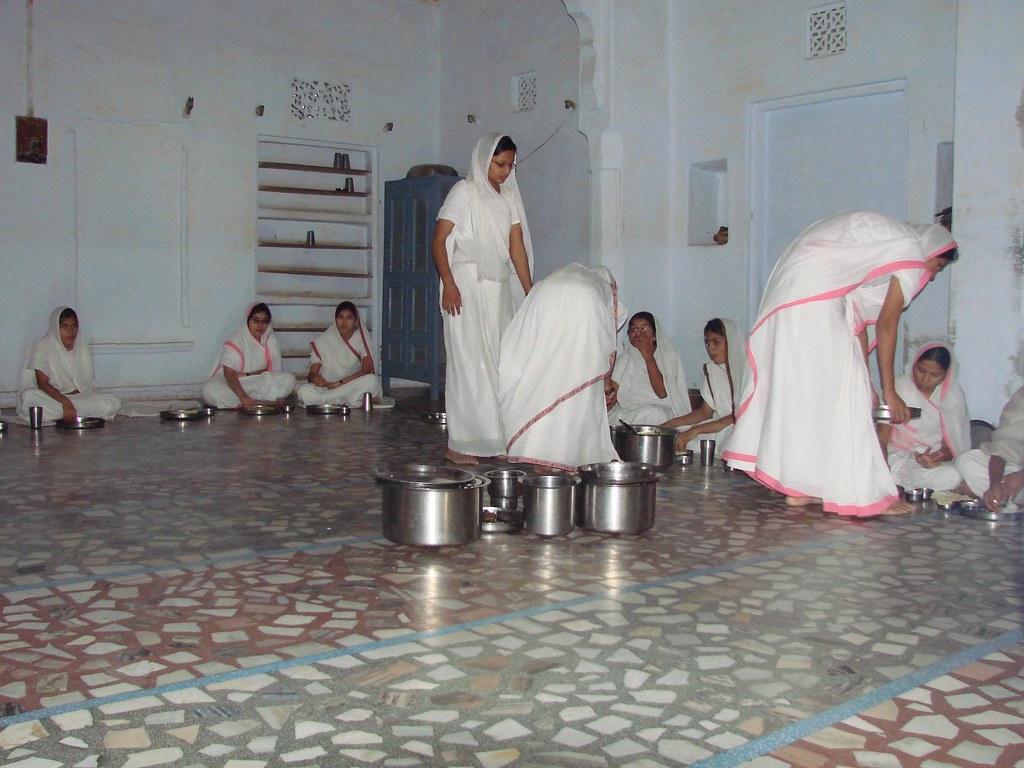 The novices are sitting crosslegged on the floor while eating, the traditional Indian way to take meals.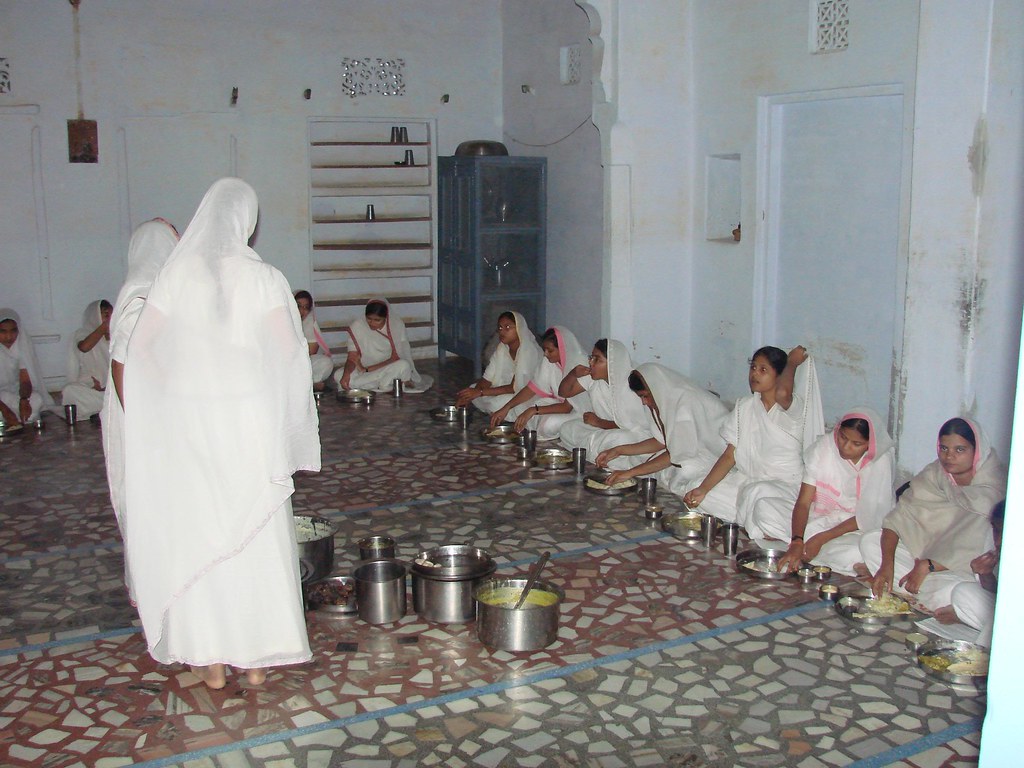 The hall is neat and clean, cleaning service also rotating weekly.
In the eating hall, the evening meal was served by the group in charge for this service. The group in charge takes food after all others have finished. Every day, every meal is freshly prepared; dinner consisted of salad, Rajasthani vegetable curry, dal, curd, tchapati, rice and dessert.We voluntarily accepted the invitation to try it (they have a special room with tables for guests) and found it very tasty. It was mildly spiced, contained a minimum of fat and was easy to digest. Naturally we then talked to the four cooks working since 15 years in the centre. They are going to the market, prepare the meals and do other services. They work from 06:00 to 18:00. Cleaning of rooms and sanitary facilities as well as washing is done rotatingly by groups of Mumukshus. We were impressed how neat and clean it was everywhere in spite of the courtyard made of desert sand.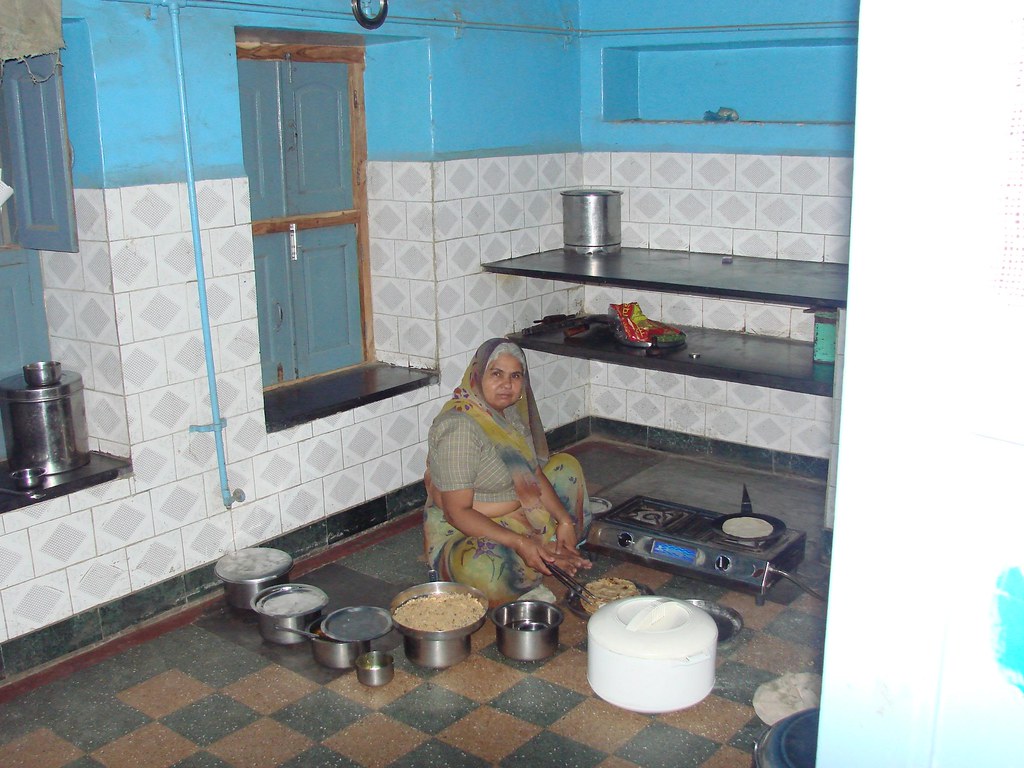 Lady working since 15 years in the novices' training centres, cooking & cleaning of cooking utensils & going to market are her duties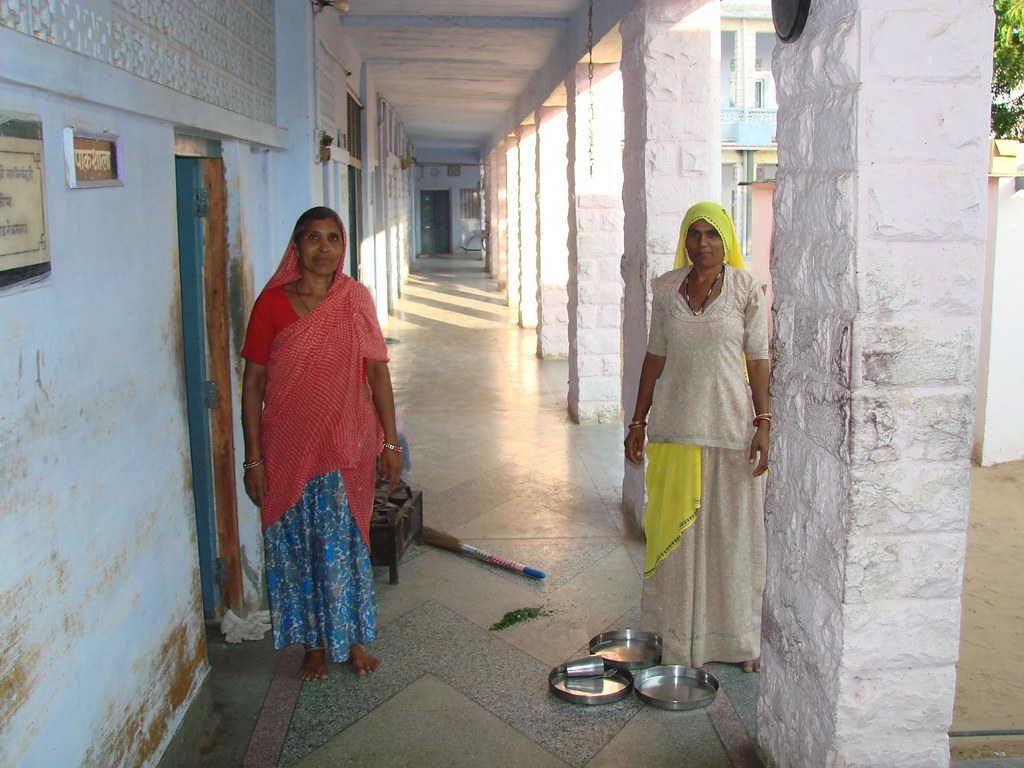 Two ladies out of four working since 15 years in the novices' training centres, cooking & cleaning of cooking utensils & going to market are their duties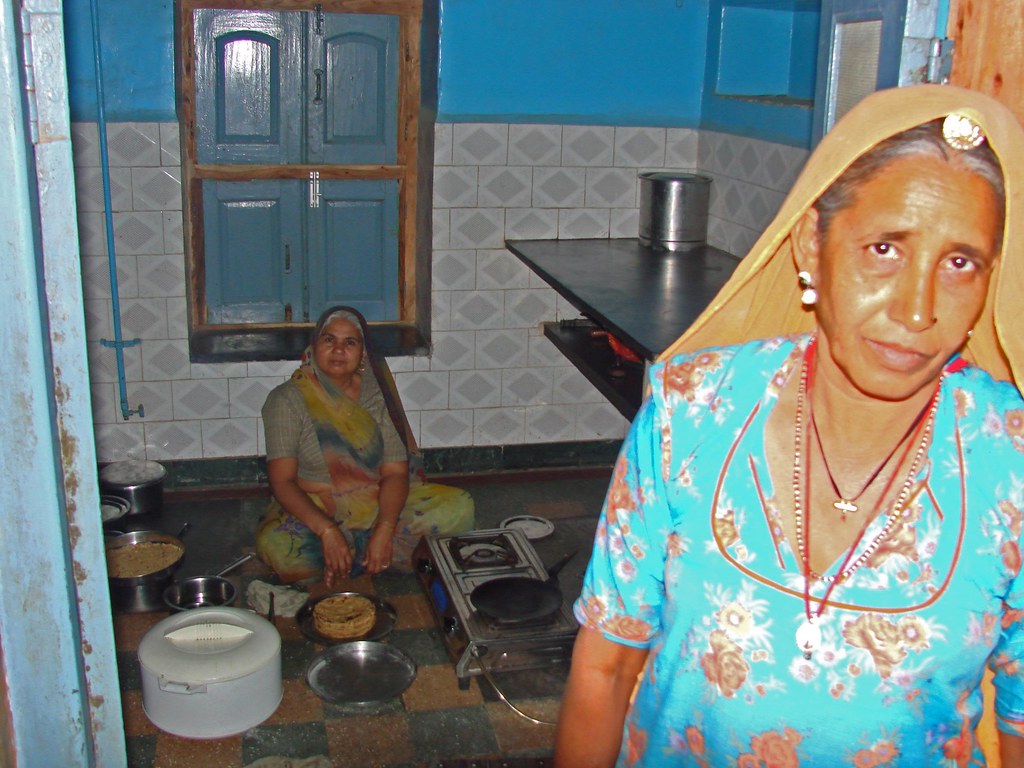 Lady working since 15 years in the novices' training centres, cooking & cleaning of cooking utensils & going to market are her duties
Cleaning of cooking utensils and kitchen is done by the four women;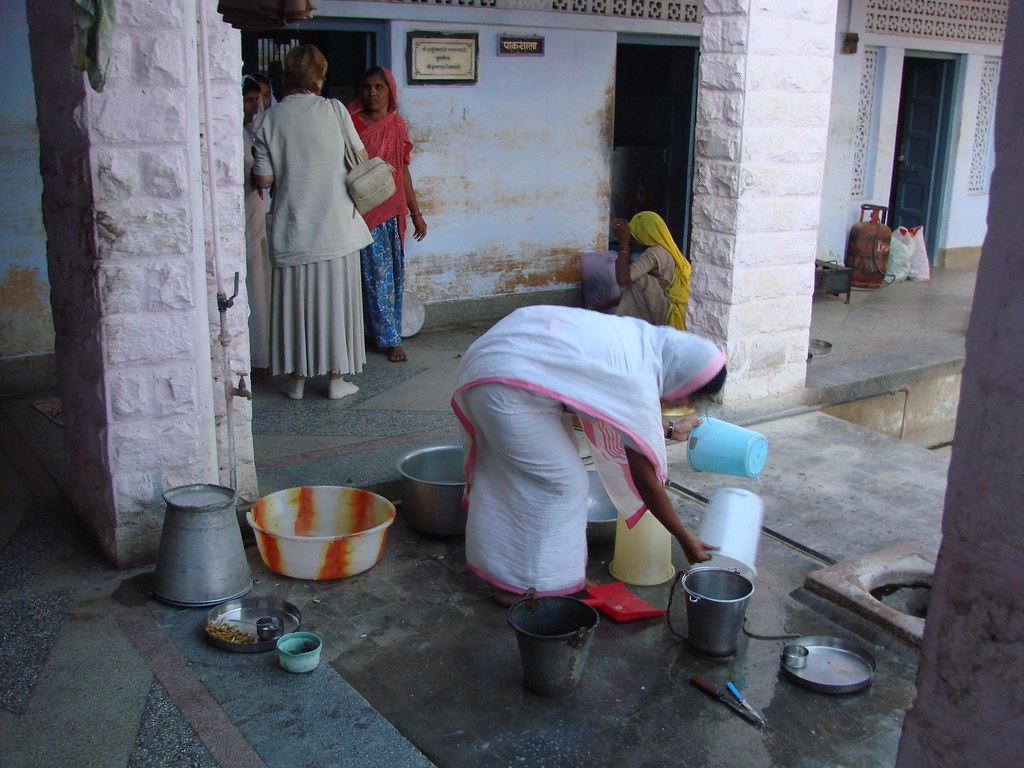 Novices cleansing of utensils used by the novices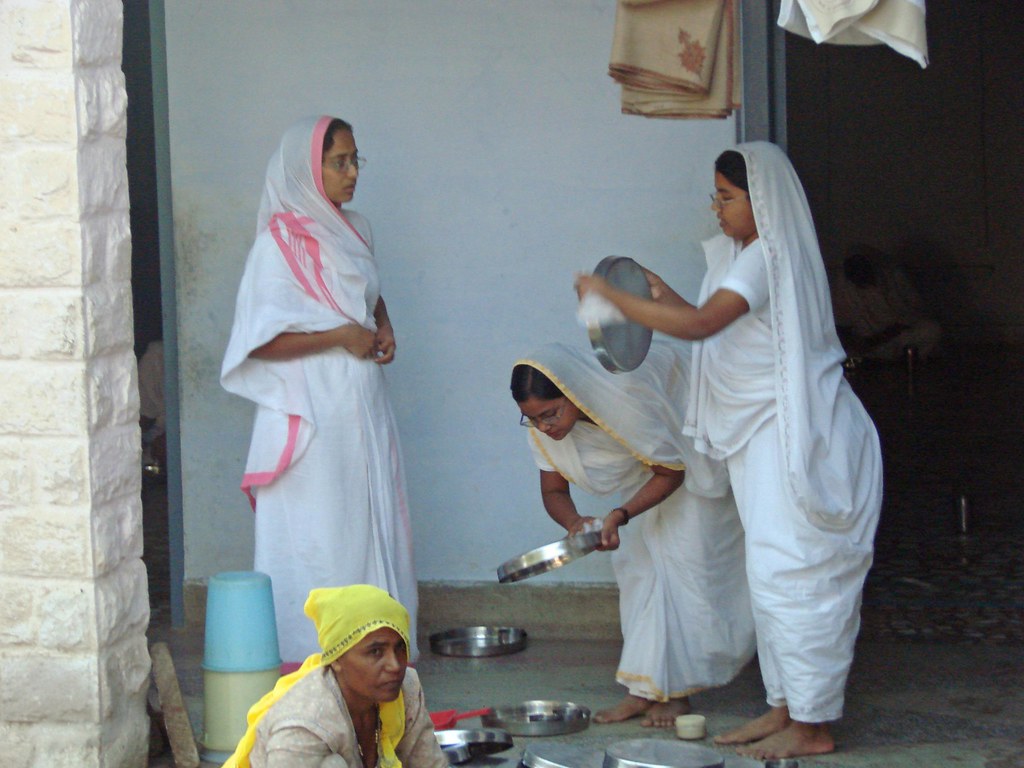 Novices flushing dishes with least quantity of water possible
utensils used by the Mumukshus are cleansed by the Mumukshu group in charge of this.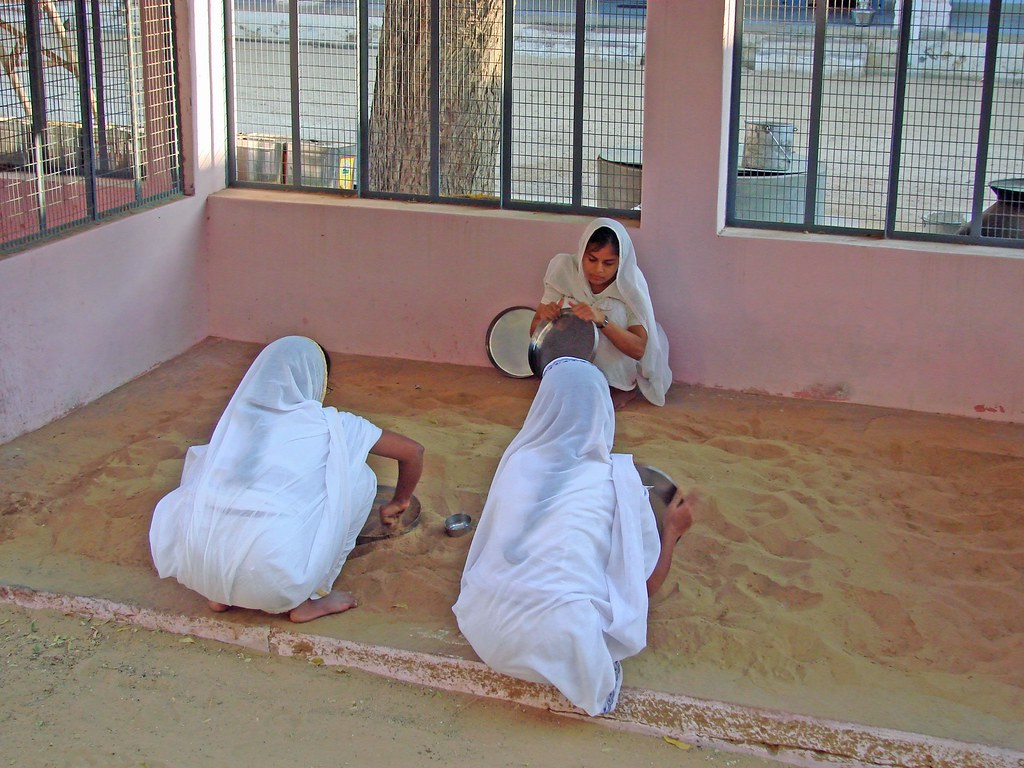 Novices cleaning dishes & other eating utensils with desert sand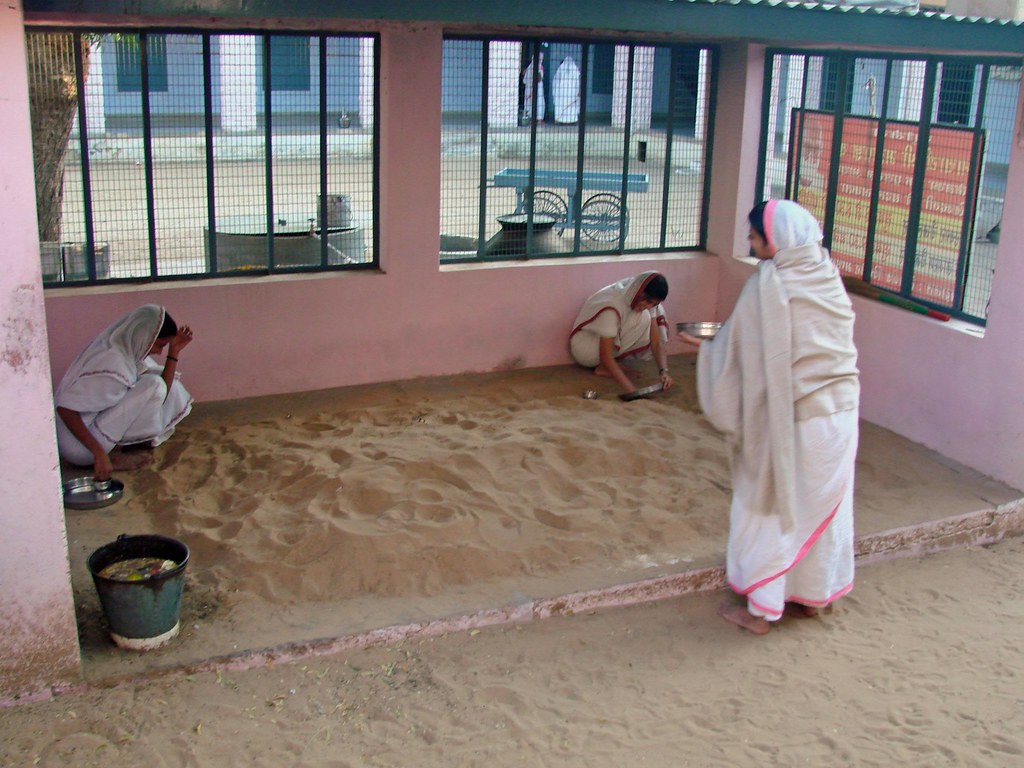 Novices cleaning dishes & other eating utensils with desert sand
Non-violent cleaning of eating utensils, not harming environment and taking care of water.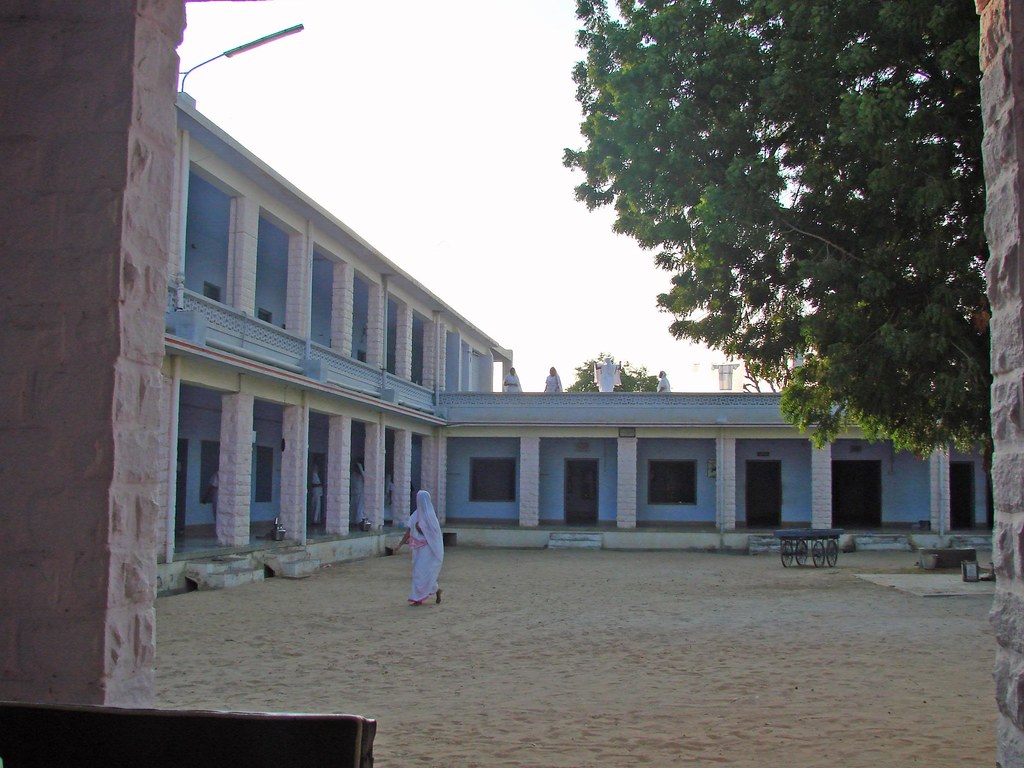 Courtyard of novices' training centre, consisting of desert sand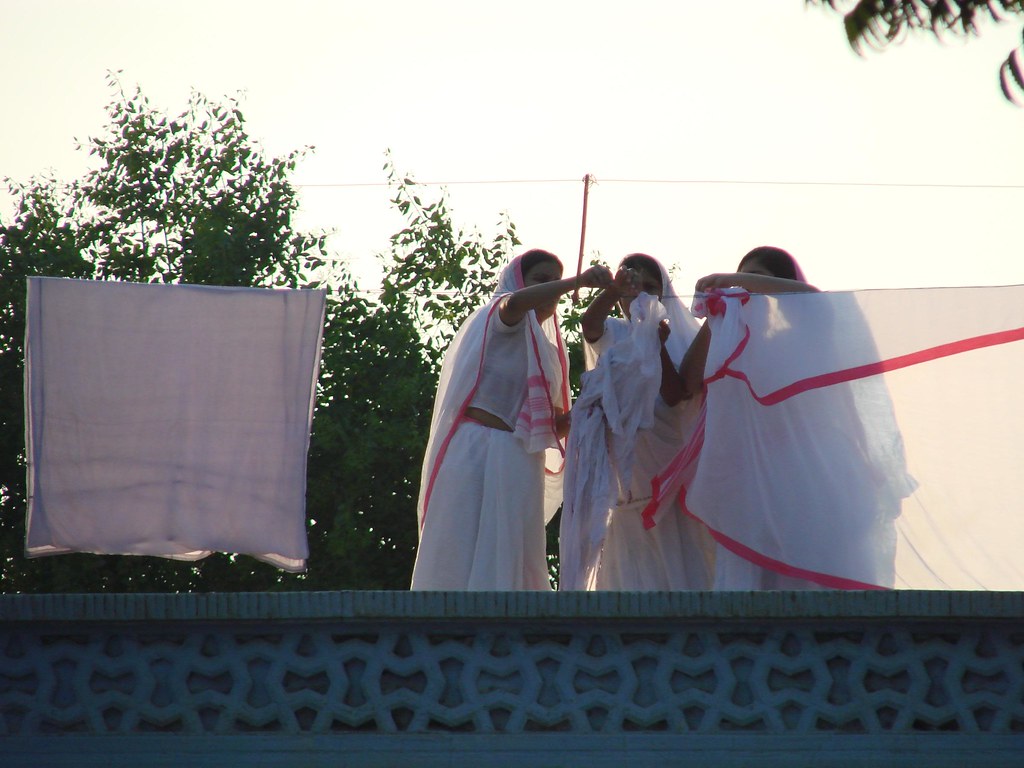 Novices doing laundry service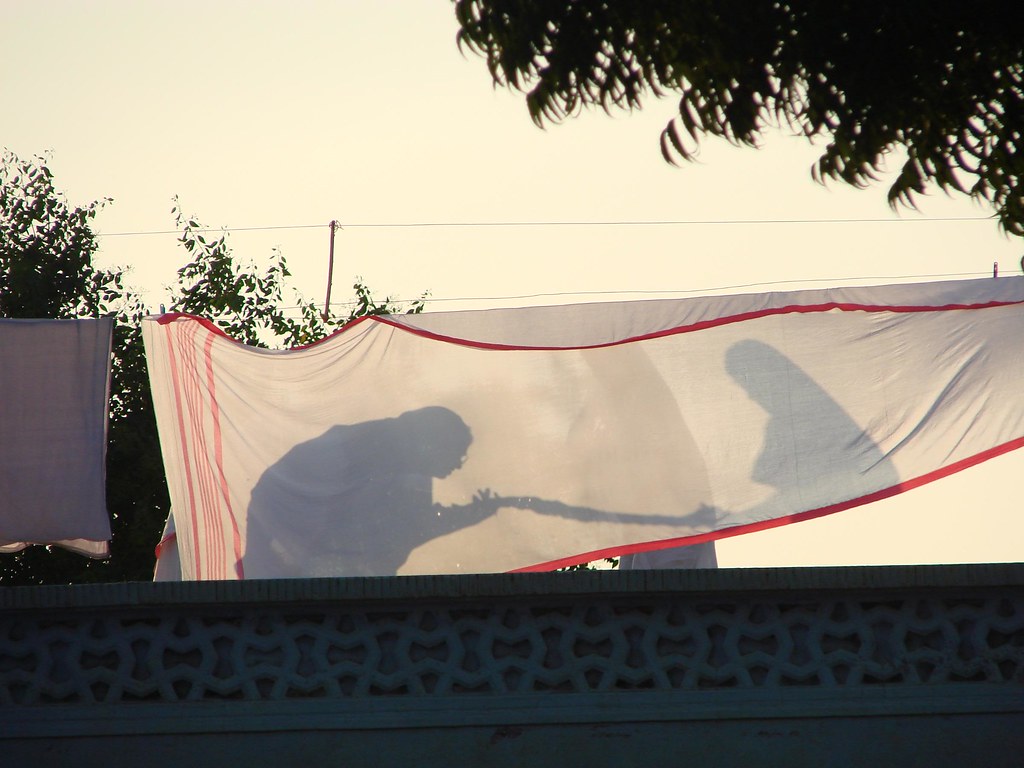 Novices doing laundry service
Washing service by the group in charge
Mumukshu's Timetable:
| | |
| --- | --- |
| 04:00 - 04:15 | Waking up & morning prayer |
| | |
| --- | --- |
| 05:15 - 06:15 | Asanas & spiritual songs |
| | |
| --- | --- |
| 07:00 -07:30 | Bowing down to monks on JVB campus & prayer |
| | |
| --- | --- |
| 07:30 - 08:00 | Personal work |
| | |
| --- | --- |
| 14:00 - 14:30 | Personal work |
| | |
| --- | --- |
| 17:30 - 18:00 | Bowing down to nuns present in Ladnun & prayer |
| | |
| --- | --- |
| 18:00 - 18:30 | Spiritual songs |
| | |
| --- | --- |
| 20:00 - 21:00 | Contemplation |
| | |
| --- | --- |
| 21:00 - 22:00 | Personal work |