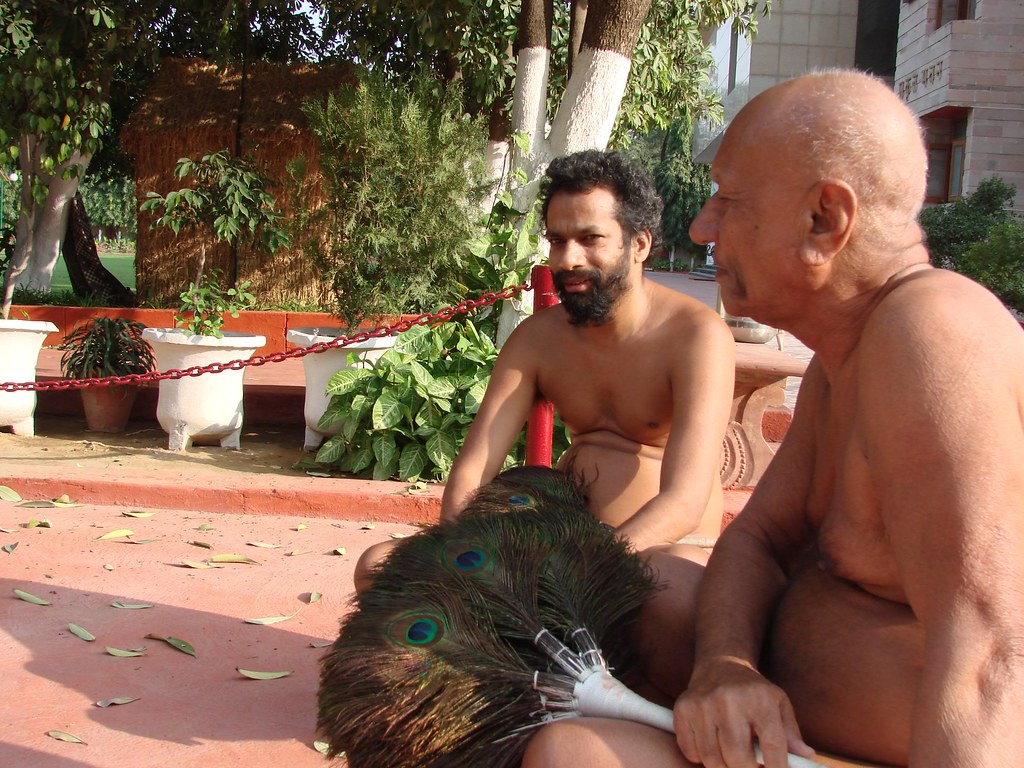 In the Park of Kundakunda Bharati, New Delhi
14.11.2006
Before we started our India tour, we had received a message from our Jaipur based friend Balwant Mehta in which he recommended to take the opportunity while being in Delhi, to visit Muniraj Acharya Shri Vidhyanandji at Kundakunda Bharati, as he is said to be highly learned in Jainism, and we would feel happy to have met him.
This reminded us of a Delhi based reader, once wondering if we were aware of Digambara Jain monks. We were and are, but unfortunately, we told him, there was no occasion up to then for us, to visit or meet. His reply was as dry as true, 'In India, there are plenty.' Both of us hoped for the opportunity this time. Therefore, we added the printout of the message in that bag, where the important papers were stored during the trip, such as passport, flight tickets, addresses and the like.
The first day in Delhi, we realised that our schedule was dense; Swami Dharmanandji had planned our only full day stay in Delhi meticulously, another rest in the morning, a visit to Anuvrat Bhavan in the afternoon, where we were supposed to meet Sadhvishrees and lay followers. As he told us, it was no easy task to gather the lay followers at the same time at one location. We understood that it was necessary to be in time and to follow the schedule.
After lunch, the car arrived nearly 45 minutes in advance. The car was always some minutes in advance, but normally not 45 minutes. In the car, Dharmanandji suddenly asked, 'Is there anything left you want to do now, we have plenty of time, as we started early.' Our immediate reply was to hand over the above-mentioned printout to him. He nodded and told us that Kundakunda Bharati, where Acharya Shri Vidhyanandji was staying, was on our direct way, but perhaps Acharya Vidhyanandji might be out of station.
The car passed a small street, where a placard was announcing the way to Kundakunda Bharati, but the driver did not take the indicated direction. Some minutes later, Dharmanandji told the driver to turn the car, as the small street we had seen was the right way to the Digambara monks. We felt that the meeting would be very auspicious.
When we reached the park of Kundakunda Bharati, we saw a Digamber monk sitting on some pedestal like column, talking to some devotee. We entered the building and were astonished, how much Dharmanandji was familiar with the location. He went to a door in the third floor, and after a little while, Acharya Shri Vidhyanandji himself opened the door and agreed to receive us after some time.
We were more than happy! The next day, we would not have been lucky like that, as he would be out of station then.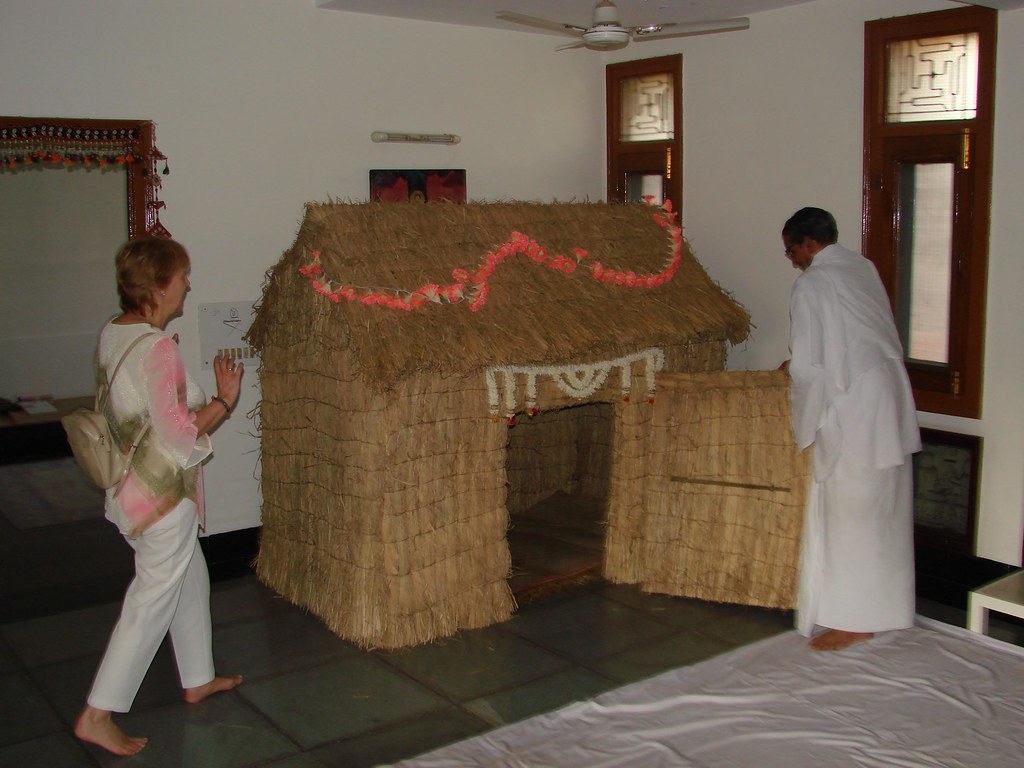 At Kundakunda Bharati, New Delhi
Dharmanandji took us to a room, in which a known, but unexpected fragrance received us. It was a fragrance, we knew from our garden in summer, when the grass was cut, and from a barn. When we looked for its origin, we saw a little reed hut with a garland of flowers on its roof, situated near a beautiful shrine ornamented with motives of Jain dharma. We learned that the hut is the sleeping place of Acharya Shri Vidhyanandji, as Digamber monks neither wear clothes, nor use blankets.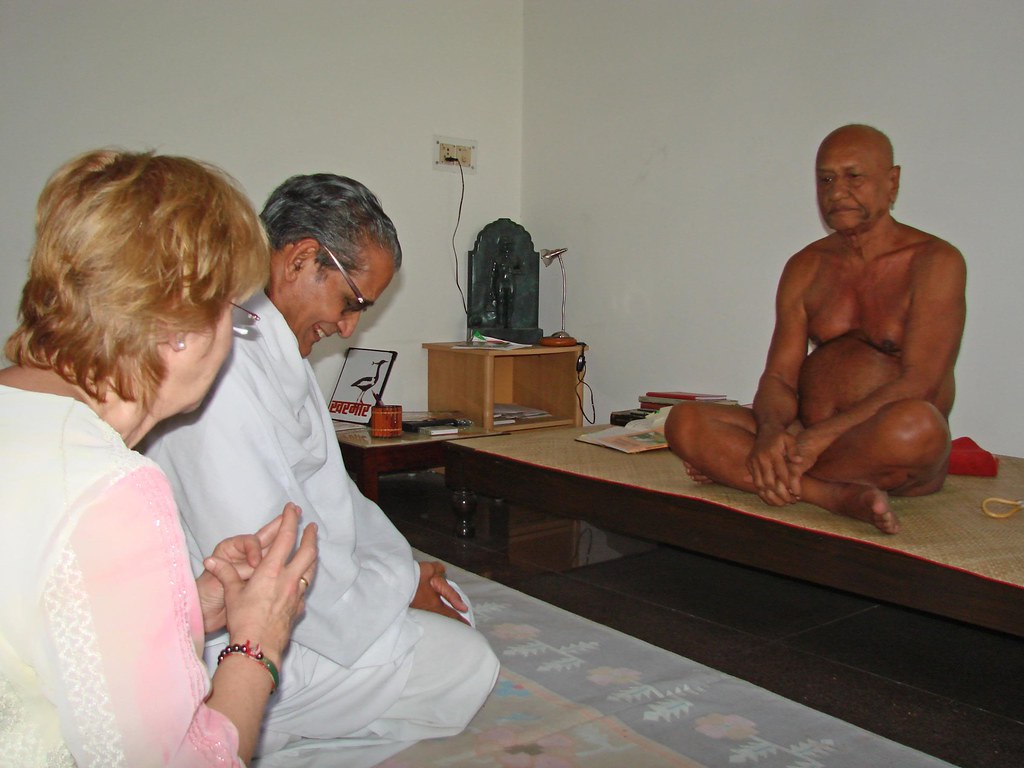 At Kundakunda Bharati, New Delhi
Acharya Shri Vidhyanandji received us in the flanking room. Dharmanandji presented us to him, and they talked to each other, as if their last meeting was yesterday. Then Acharya Shri Vidhyanandji proposed to continue our encounter in the sun outside. When we went down, he led the way, and we were impressed how dynamically he was moving; we thought him in the midst of his fifties.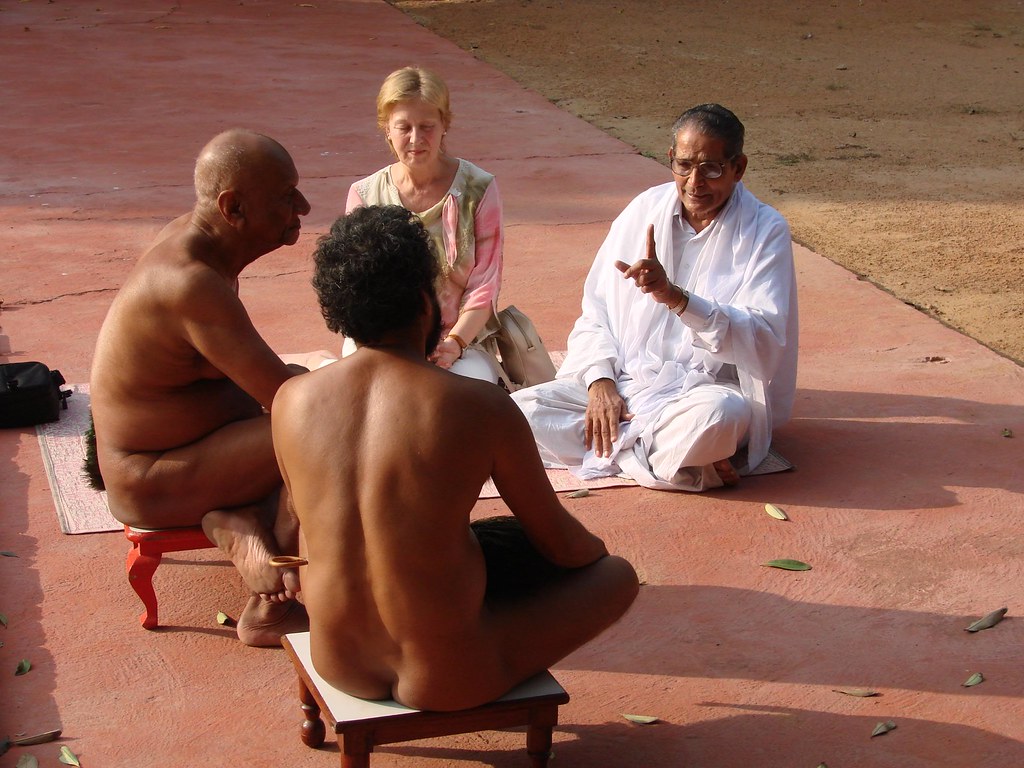 In the Park of Kundakunda Bharati, New Delhi
Outside, Upadhya Shrutsagarji joined our little group; he is working and rambling with Acharya Shri Vidhyanandji since 12 years. On 8th December 2006 has been raised to the Elacharya position by Acharya Shri Vidhyanandji. This is the second highest position in his Sangh after that of Acharya Shri Vidhyanandji. Elacharya Shrutsagarji and Dharmanandji had a motivated talk, and we just were happy to be near the saints and imbibed the holy energies they were radiating.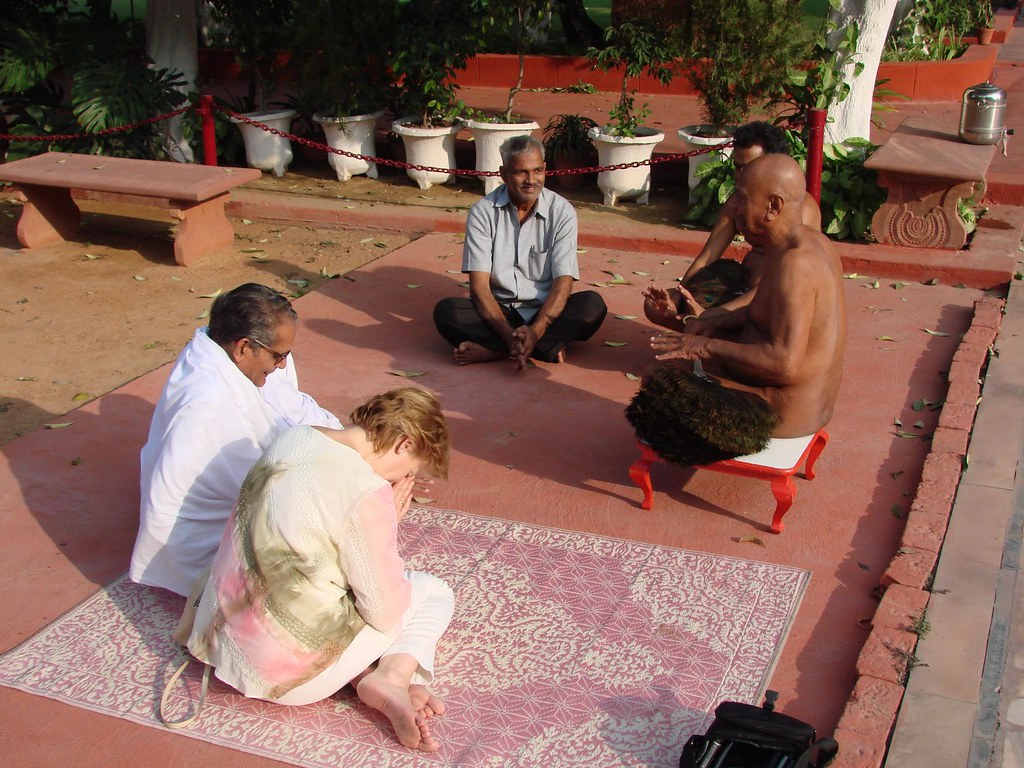 In the Park of Kundakunda Bharati, New Delhi
Then Elacharya Shrutsagarji encouraged us to ask details from Acharya Shri Vidhyanandji's life. We learned that he was born 1925 (aged 81 years now!) in the south Indian state of Karnataka into a family of farmers. In 1949, at the age of 24, he took Brahmacharya Vrat (vow of restraining from sexual activities), Muni Diksha (ordination to monkhood) in 1963. 1974 he became Upadhya (religious teacher), 1978 he took the second position after the leading Acharya, and 1987 the position of the leading Acharya of his Sangh (religious community).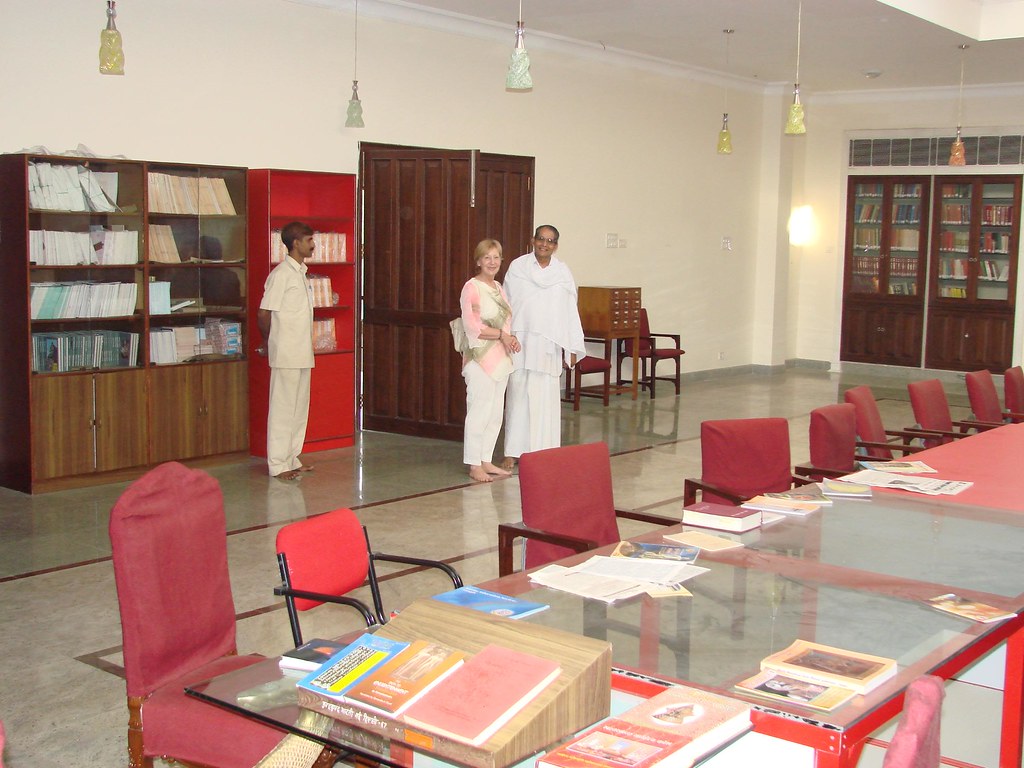 In the library of Kundakunda Bharati, New Delhi
After this, we visited the library of Kundakunda Bharati, containing about 7000 books on Jain Dharma, including the Agamas and books of H.H. Acharya Mahaprajnaji.
In the car again, Dharmanandji told us that Acharya Shri Vidhyanandji and H. H. Acharya Mahaprajna are friends since H.H. Acharya Mahaprajna's days as Muni Nathmal. They got to know each other, when Acharya Tulsi inspired them to edit together the 'Saman Sutra'. Acharya Tulsi came upon Acharya Shri Vidhyanandji, as he appreciated him as a great powerful Acharya following the path of Mahavir. Acharya Mahaprajna said that Acharya Vidhyanand is trying to find virtues in others.
In 2005, when Acharya Mahaprajna was in Delhi for his Chaturmas, Acharya Vidhyanand visited him for two days in Adhyatma Sadhana Kendra, Merauli. The two Acharyas had long talks on Jain Dharma and Jain unity.