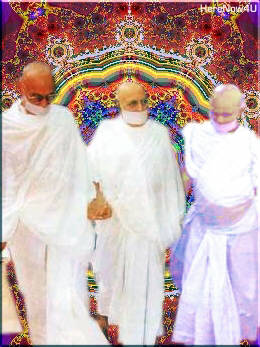 Acharya Mahaprajna had expressed these views in front of the huge mass gathered on the occasion of
Yuvacharya Manonayan Divas Samaroh:
The word 'Preksha' is important for development in life.
Only a professional can render an expert opinion on the real value of a diamond. A slight mistake in the investigation could lead to a great loss.
Expert opinion on material is considered as very difficult in the world, but it is much more difficult to render an expert opinion on a human being.
When importance is given to the qualitative development in life it is possible for a person to give expression to the hidden talent. It is a great responsibility of a Guru to support this process in front of everybody.

Yuvacharya Mahashraman does not render his devotion to a particular person, but to a particular goal. Devotion along with compassion provide perfection in conduct, organization, working pattern and habits. A person endowed with these characteristics progresses to a great extent in his life.
Yuvacharya Mahashraman has to progress much more than this to serve the Dharma Organisation on the basis of reality.
On this occasion Yuvacharya Mahashraman said, "Every human being must develop a stable personality so that everyone can live a peaceful life. I got the golden opportunities to live under the blessings of Acharya Tulsi and under the guidance of Acharya Mahaprajna to develop myself."
Sadhvi Pramukha Kanakprabha said on this occasion that Yuvacharya Mahashraman has the energy induced of both Acharyas boosted in his hands. Acharya Tulsi used to walk holding the hand of Yuvacharya Mahashraman; at present Acharyashree walks holding his hand as well. The continuous intake of energy takes place. This energy and power would give a new message and power to the whole mankind.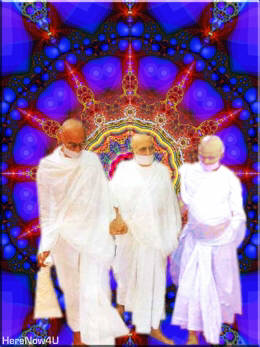 Sadhvi Shree Rajimatiji also described Yuvacharyashree as a real saint and advised to take the advantage of Acharyashree's vast treasure of wisdom.
There is a long list of speakers congratulating Yuvacharya Shree and praising his qualities: Muni Kishanlalji Swami, Muni Ashok Kumarji, Muni Jayant Kumarji, Muni Naya Kumar, Muni Panmalji, Muni Sagarmalji, Muni Jambu Kumarji, Muni Manan Kumar, Muni Bharat Kumar, Muni Bhawbhuti, Muni Chidanand, Muni Chaitanya Kumar, Muni Shreyans Kumar, Muni Jitendra Kumar, Muni Akshay Prakash, Sadhvi Siddhanta Shree, Sadhvi Manisha Prabhaji, Sadhvi Tanmay Prabhaji, Sadhvi Malayshreeji, Sadhvi Shrut Yasa, Samani Madhur Pragya. Group songs were sung by monks and nuns, Samanijis and Mumukshu sisters respectively.
A Sufi saint had also especially attended the program and expressed his devotion towards Acharyashree's mission.
The whole program was coordinated by Muni Mohajit Kumarji.