Berlin - Delhi - Adhyatma Sadhana Kendra - our traditional steps into India. Karuna Jain just finished her German Language Course at JVB University in Ladnun and it was my turn now to meet her in Udaipur. Before the train left Swami Dharmananda ji took me to the place of Muni Sumermal ji along with Muni Vijay Kumar, Muni Udit Kumar, Muni Prasham Kumar and Muni Anant Kumar.
Afterwards we took the train and arrived from Delhi at Udaipur Station, where we stayed for 1 hour waiting for the train from Jaipur with Karunaji on board.
From Jaipur Station we went to Udaipur Bhawan to see Acharya Mahaprajna and the sangh. Entering Bhawan we met Dr. S.L. Gandhi,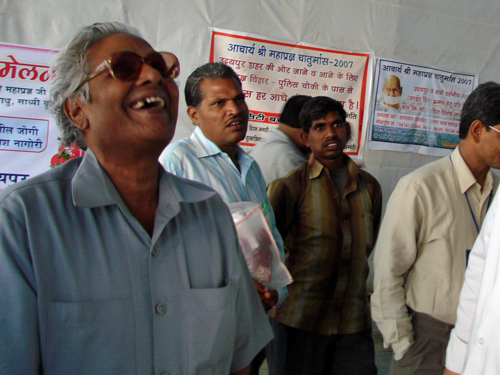 Samani Amit Pragya, Samani Chaitanya Pragya & Mr. Ranjit Dugar.