Logo of eight weeks training course

Duration: Eight weeks (Once a week)

8 October to26 November2009

Day:  Every Thursday

Total Sessions:  Eight (Two hours per session)

  Time:7:30-9:30pm

Theory + Practice +  Q-A
When Samanijis invited me to participate in the launch of their eight-week Ahimsa Training Course "Enrich Your Life Through Practice Of Nonviolence" I voluntarily accepted. It was scheduled on Thursday, August 6, 2009.  65 years ago, an air force pilot had released the first nuclear bomb on a city. Would he have done it if he had the chance to participate in an Ahimsa Training Course by Samanijis?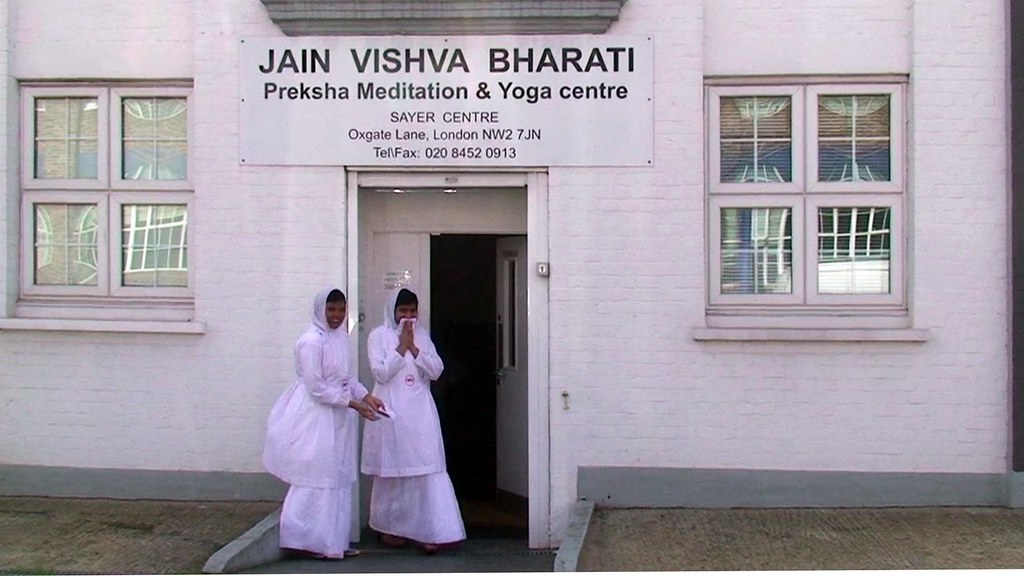 Samanijis Prasanna (l) and Rohit (r) Pragya in front of JVB London Sayer Centre
I arrived in London on Wednesday evening. On Thursday afternoon I saw how carefully the more than 15 volunteers under the guidance of Samanijis had prepared the launch. Some met in the kitchen to once again go through the schedule, some decorated the homemade snacks in the small hall, and some welcomed the visitors at the entry. People used the opportunity for conservation in an atmosphere of anticipation.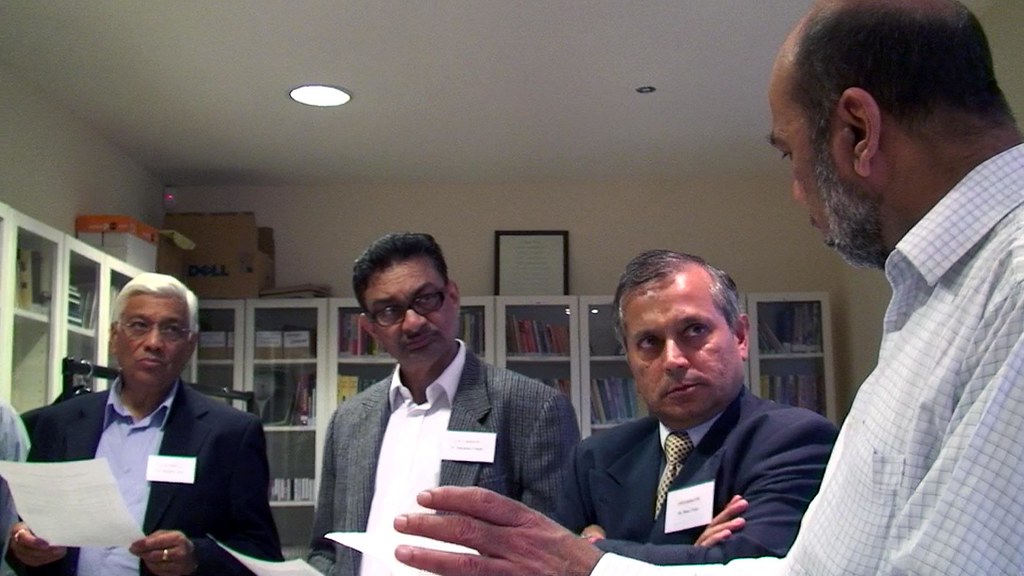 Meeting of volunteers before start (f.l.): Sobhag Shah, Dinesh Shah, Hasu Vora, Ashok Gudka.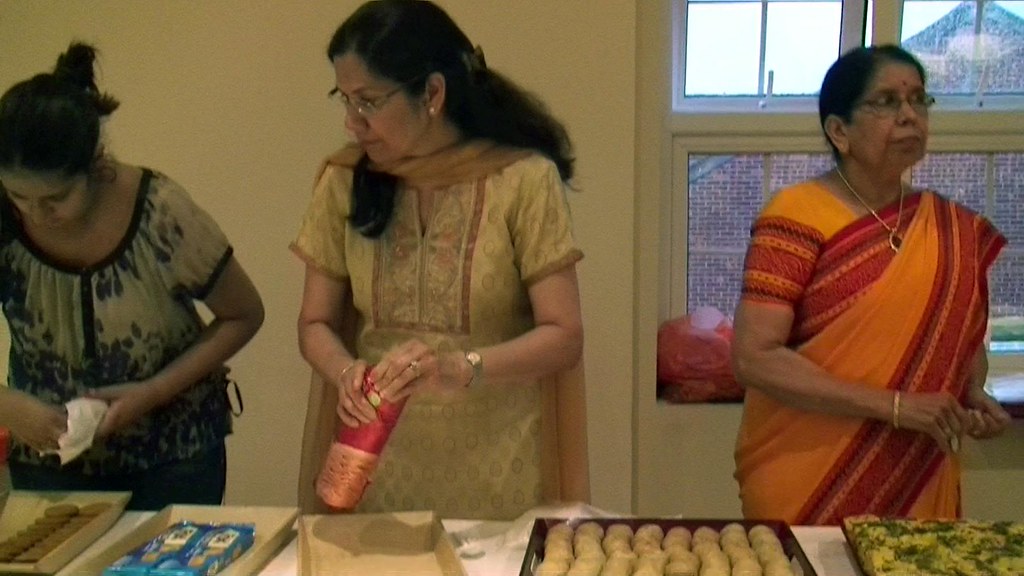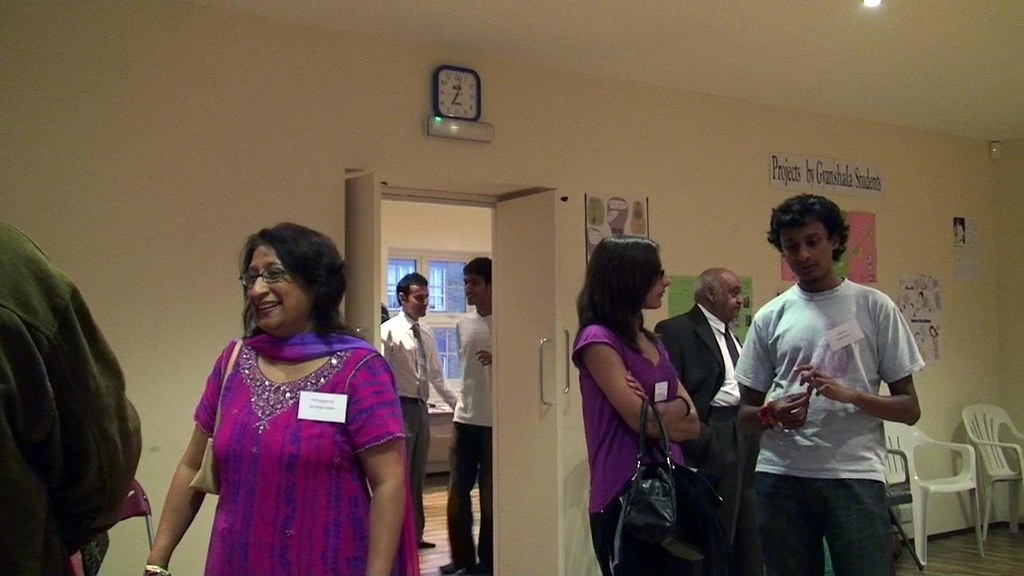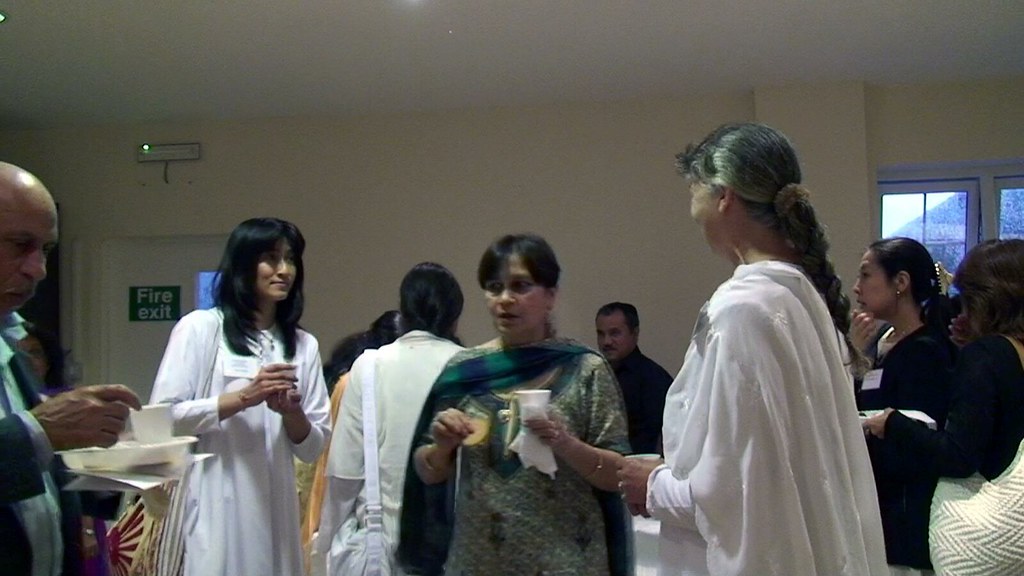 Mr. Basant Baid of JVB London opened the function and saluted the gathering. Mr. Baid compered as if being used to. Later on, he confessed that it was his first time.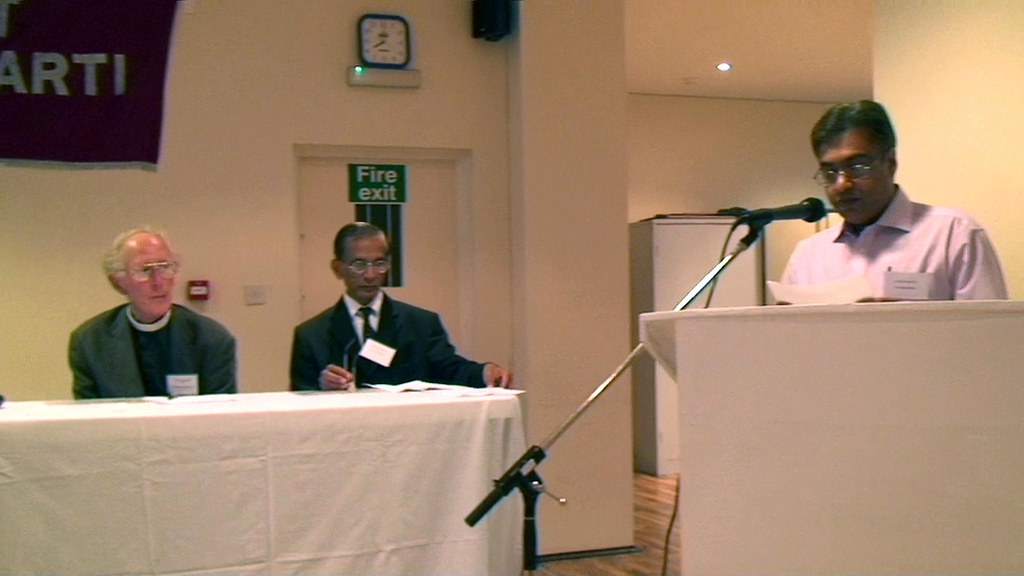 The event was started with the presentation of the DVD "Beacon of Hope" about "Economics of Non-Violence" which started with a conference in 2005 in Delhi followed by foundation of ICENS and two more conferences in 2007 and 2008.
Samanijis then gave their blessings to the gathering with recitation of Namokar Mantra.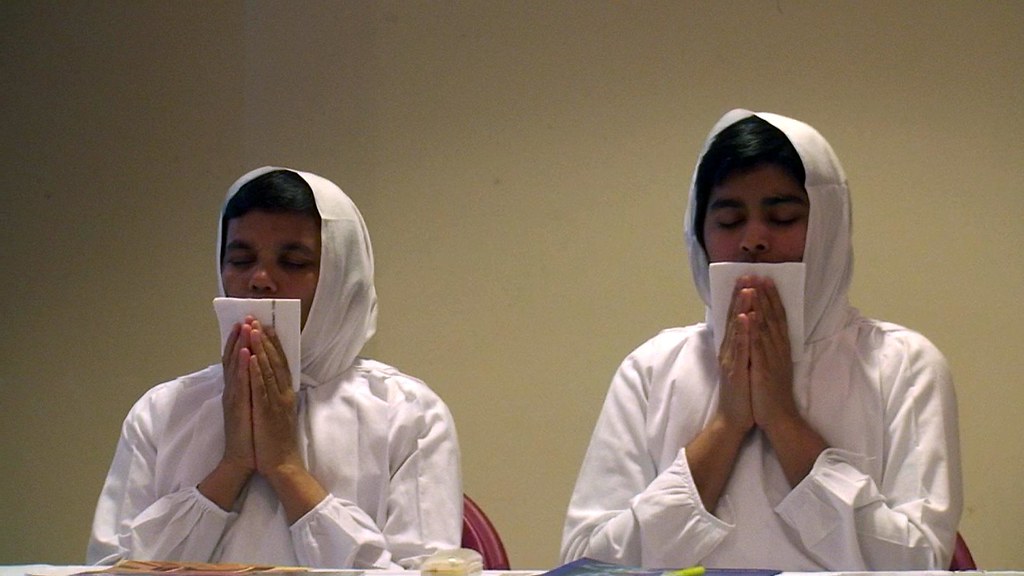 Mr. Balvant Maru president of JVB London in his welcome speech pointed out that we all of us are born free of violence. In the course of life nevertheless we need to be trained to have anew access. He quoted some inglorious events from the news where millions of innocent people fell prey to violent circumstances or had become refugees because of those.  All of us are affected when we learn about it. This rises up the idea that all of us should spend all energy to become non-violent. Mr. Maru in the name of the audience looked forward to be guided in this concern by the guest speakers.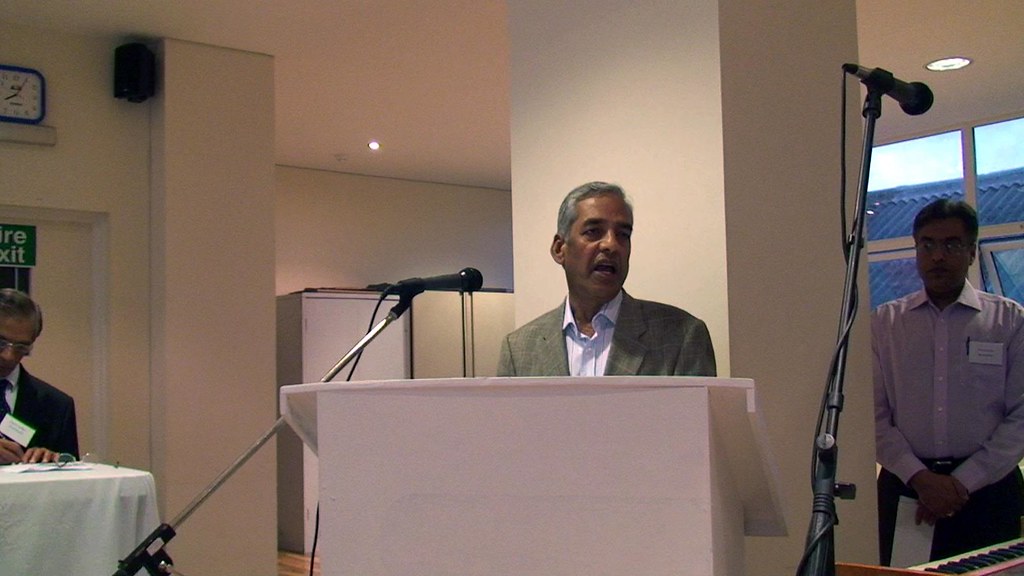 The Ahimsa Song composed by H.H. Acharya Mahaprajna followed this thought-inspiring speech. Before performing the song, Mr. Kaushik Khajuria reported the song's message of peace, being at peace, non-violence, fearlessness, and refuting anger. Mr. Khajuria reminded an incident from H.H. Acharyashree's 90th Birthday Celebration in London. Samanijis at this occasion told the audience that Acharyashree could not remember when lastly he was in a state of angriness.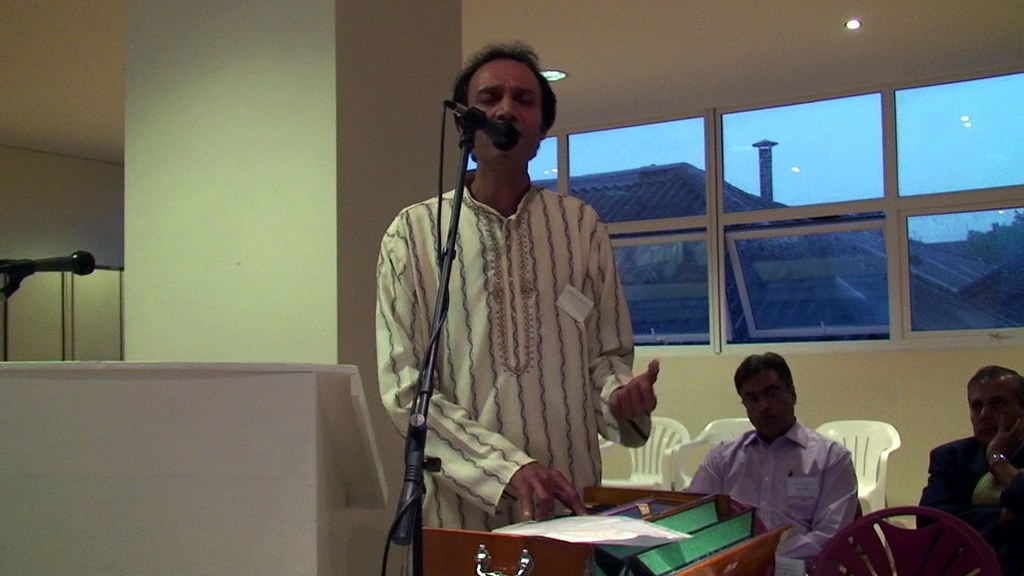 Mr. Vinod Kapasi of Mahavir Foundation in his speech quoted from the book Sambodhi, chapter 5, authored by H.H. Acharyashree. Ahimsa is the remedy to conquer the 4 passions anger, ego, deceit, and greed. Training in non-violence is an appropriate means to conquer the 4 passions, which also means living a peaceful life in virtue. 
Then Mr. Kapasi introduced the persons on stage, Mr. Jay Lakhani of Hindu Academy, Mr. Balvant Maru President of JVB London, Samanijis Prasanna and Rohit Pragya, Rev. Marcus Baybrooke President of the World Congress of Faiths (WCF). Mr. Kapasi himself was sitting near to Rev. Baybrooke on the stage. Mr. Hasu Vora of JVB London brought international and guests from different faith organisations to the audience's attention and thanked for their participation. Mr. Vora said that people are attracted because they are aware of the importance of training in a non-violent lifestyle.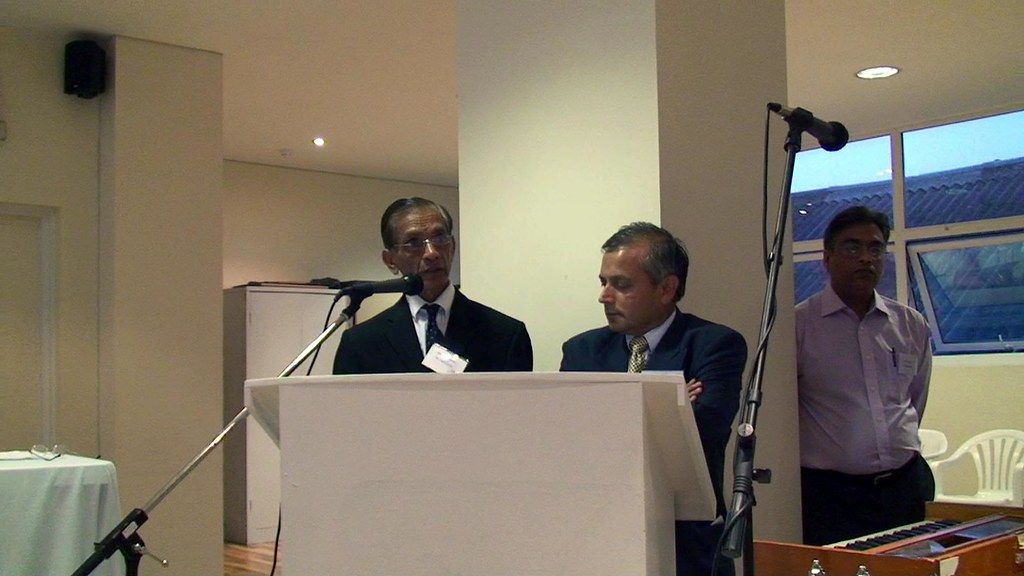 Mr. Manick Choraria secretary of JVB London referred to the foundation of the Saman order in 1980 by Gurudev Tulsi whose intention was to spread the teachings of Lord Mahavira not only to the scattered members of the Jain community, but also to people around the world interested in it. Without this, the course would not have taken place in London. Mr. Choraria shared his view of Jainism being a reasonable strategy for life and expressed his hope that Samanijis' course would give deeper insight into its depth to the participants.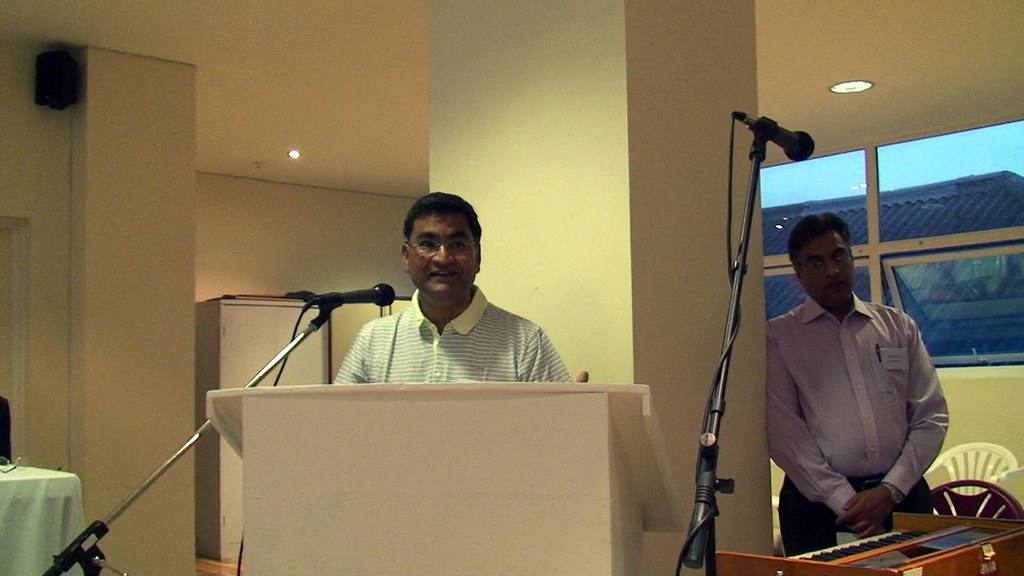 Rev. Markus Baybrooke spoke of Mahatma Ghandi, vegetarianism and how much Jesus was committed to non-violence, which is shown in his teachings and his life. He underlined how desperately we need a culture of peace and non-violence nowadays, which particularly came to his mind when he was at a function on the occasion of Hiroshima Day the same afternoon. For this, we have to overcome ignorance, prejudice, and hostility and instead remove suspicion to built up friendship.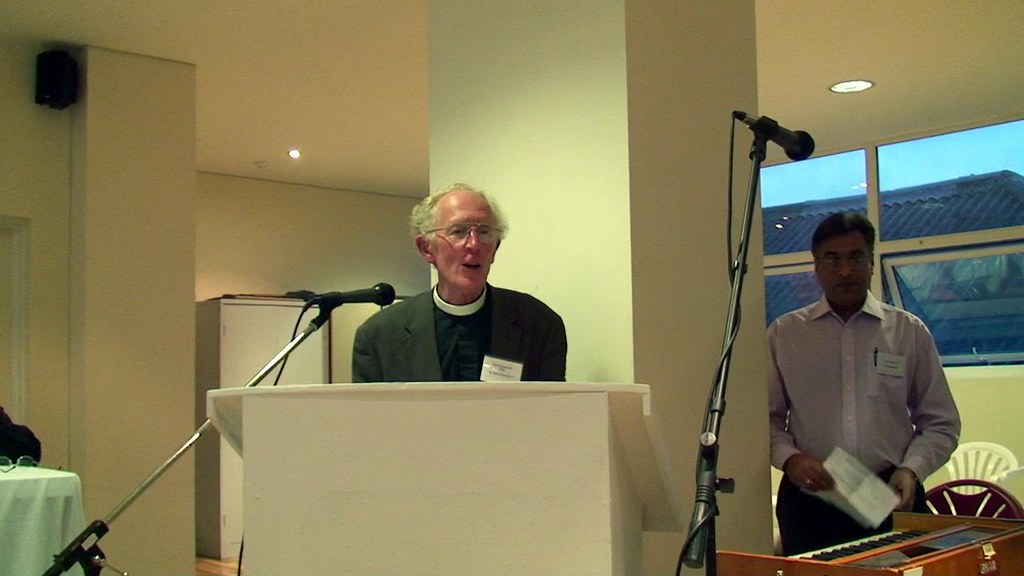 Mr. Jay Lakhani director of the Hindu Academy mentioned the long-time ignorance of the role of Jainism in view of Ahimsa. According to him the future of whole humanism lies in cultivating a non-violent approach to all life, and then to develop the most human virtue: Ahimsa.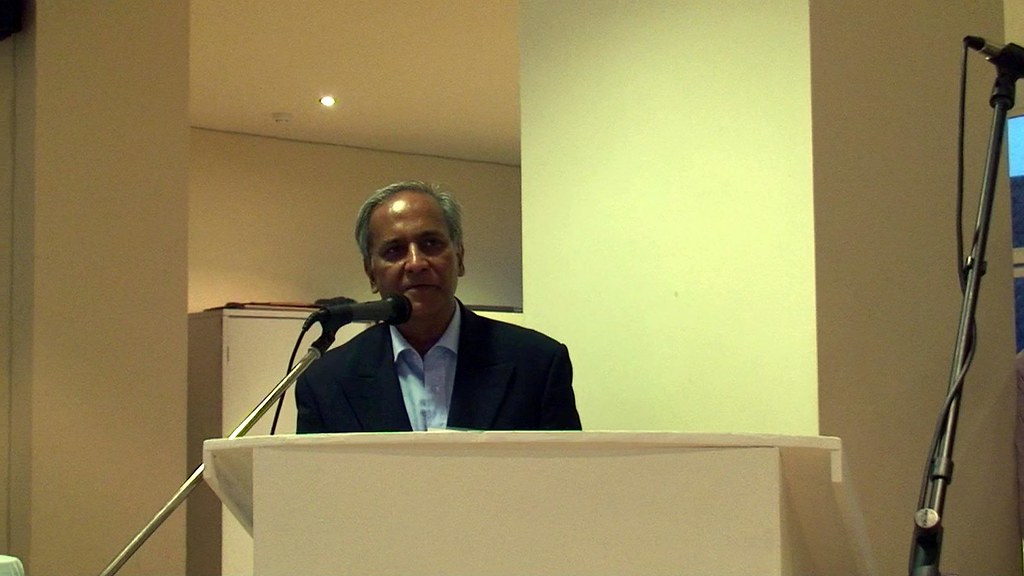 After Mr. Lakhani it was my turn. I tried to bring near to the audience how both, Aparigraha Jain and me, were trying to practice Ahimsa in daily life, for example in sustainable gardening.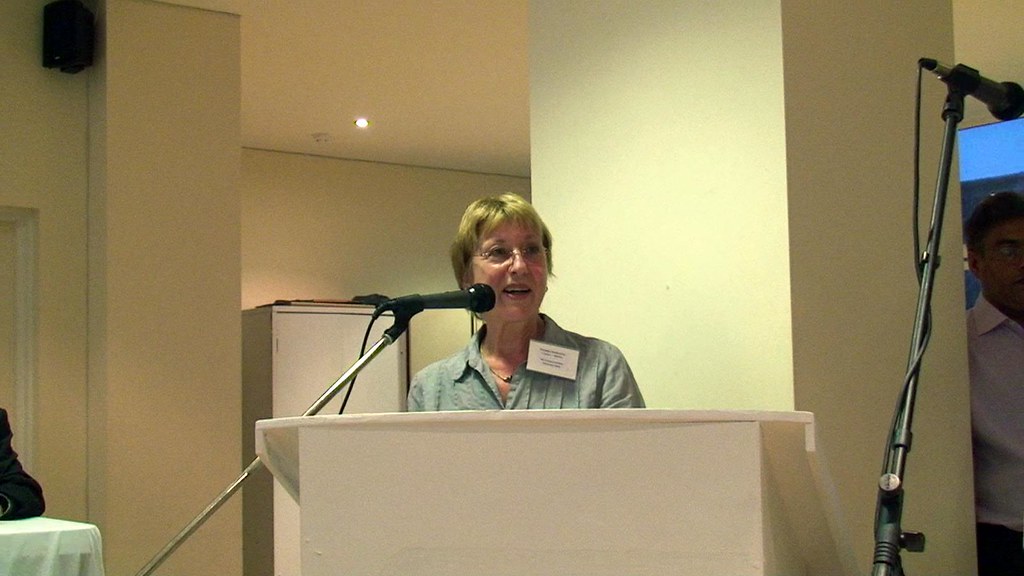 Mr. Geoffrey Gale, founder and director of World Peace Gardens (WPG) accentuated that non-violence is giving soul the centring. We have lost the central values when mostly dealing with money. Working with nature makes us sensible for all life.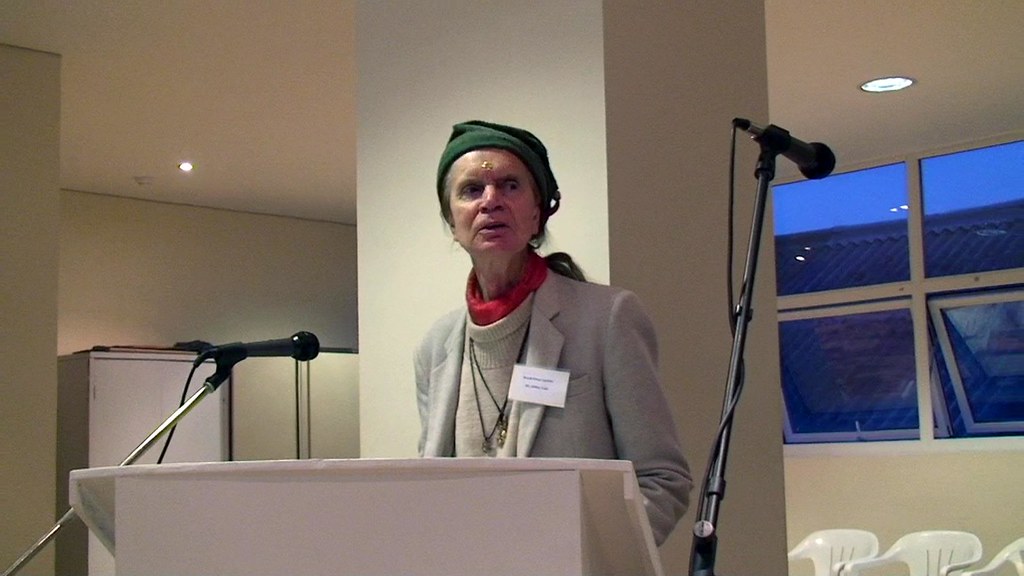 The compere Mr. Baid then asked Samani Prasanna Pragya ji to elaborate what this course in training non-violence is about. Samani Prasanna Pragya ji directed the attention on the objectives of the day's event. Her speech was supported by a PowerPointPresentation Samanijis had worked out.
Samani Prasanna Pragya ji said although we all have to live in the material world, in our life spiritual and material aspects are combined. The law of the material world is 'Survival of the Fittest', but it should be questioned who is the fittest in times of economic disaster. The whole world is dominated by the acquisition of material wealth. The balance between Dharma, Arta, Kama, and Moksha has been upset. H.H. Acharya Mahaprajna says that mankind will be able to regain the balance only by sustaining non-violence. Therefore he has developed a globally applicable training in non-violence containing practical exercises for proper breathing as well as contemplation and meditation. All exercises are conceptualised to activate the right side of the brain. Most time in contemporary daily life the left side is active.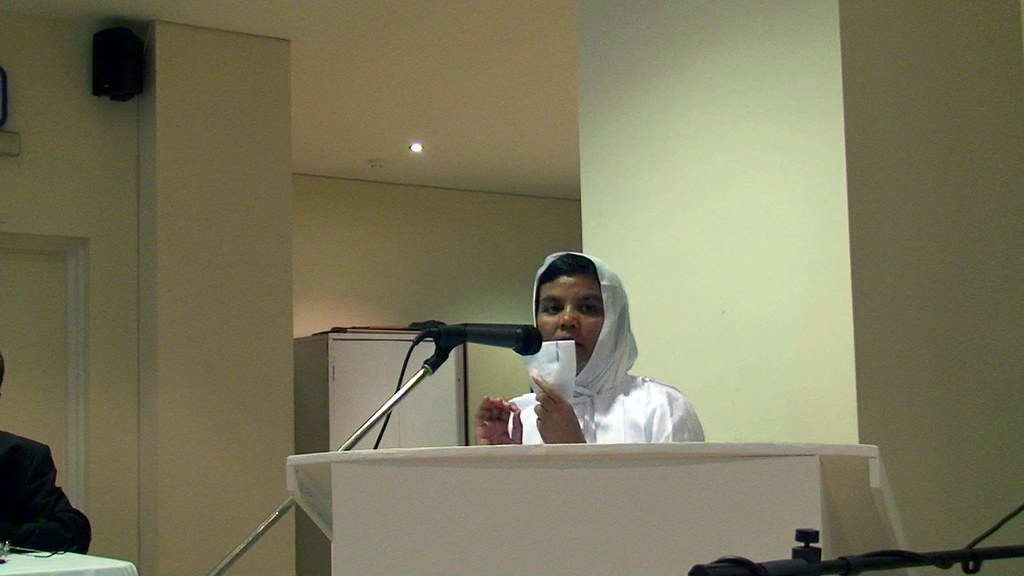 Samani Prasanna Pragya ji concluded her speech by quoting the great French Romain Rolland: "...non-violence is the law of our species, violence is the law of the brute." Then the course book "Training in Non-Violence" by H. H. Acharya Mahaprajna, compiled by Dr. S. L. Gandhi was presented and handed over to Rev. Baybrooke.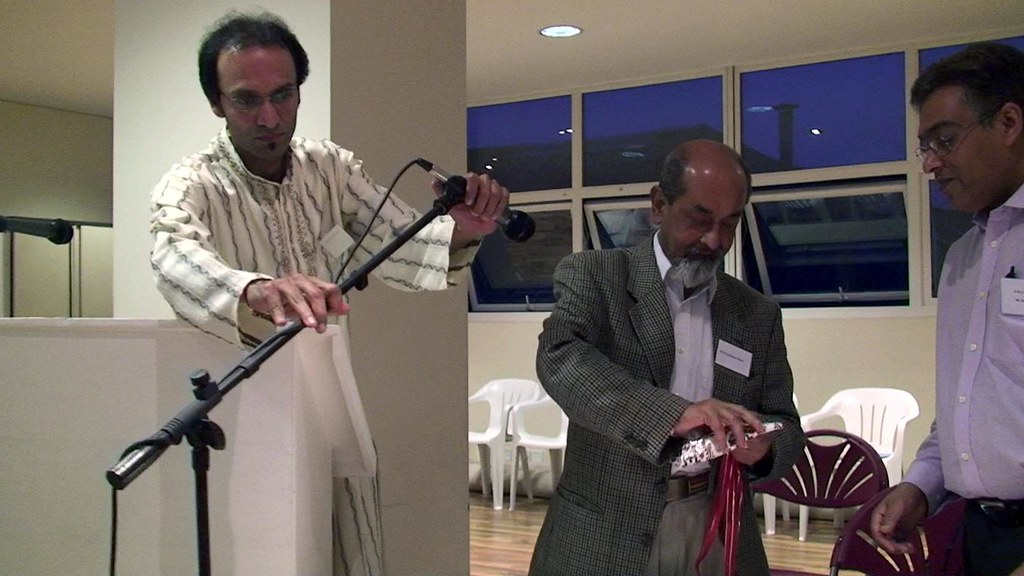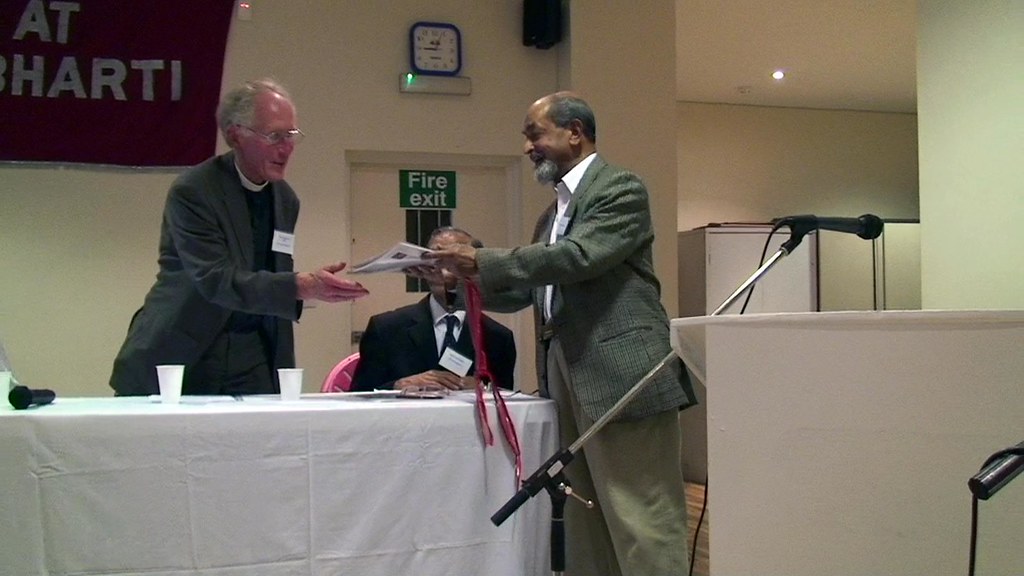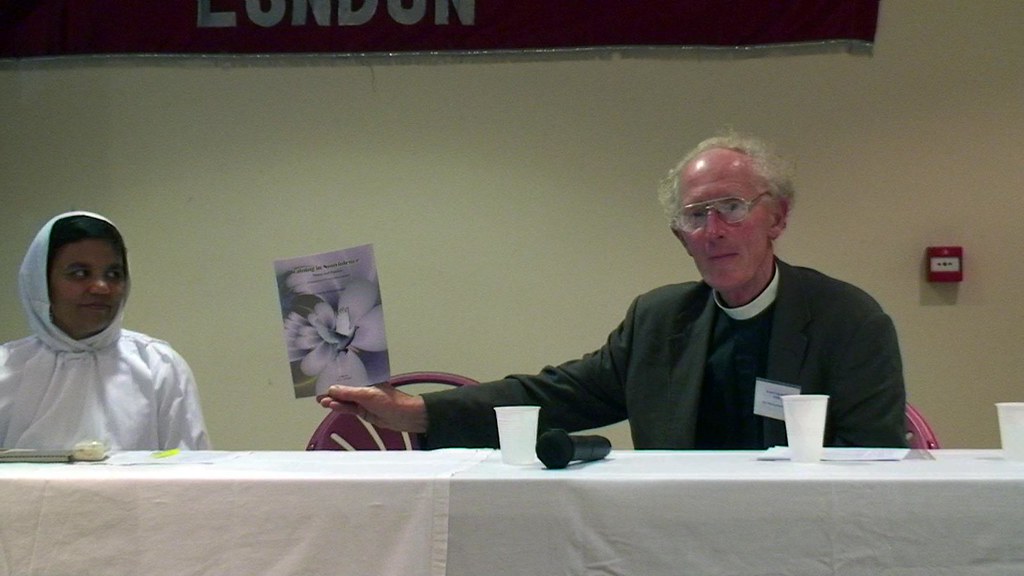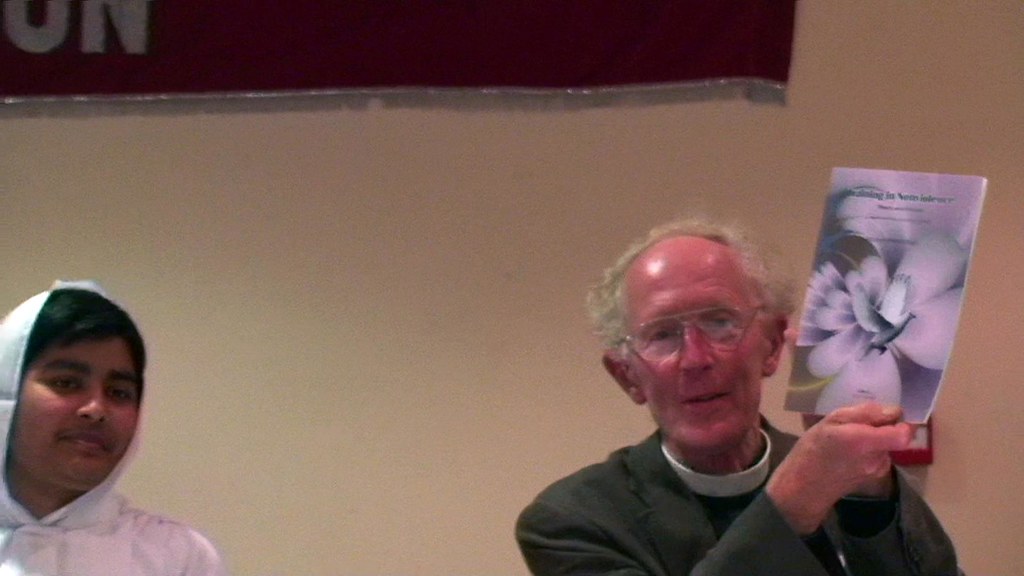 Samani Rohit Pragya ji quoted H.H. Acharyashree who said that for sewing the seed of non-violence training is necessary. Therefore H.H. has initiated the forth come of training centres for non-violence in India and abroad. At present JVB London is becoming a part thereof with its three-part course: Transformation of the heart, non-violent lifestyle, and appliance of right means of livelihood. According to H.H. Acharyashree violence first comes up in our head, and then in our behaviour. Therefore training of the brain is essential. We have to be trained to say farewell to unnecessary violence and to develop faith in human solidarity.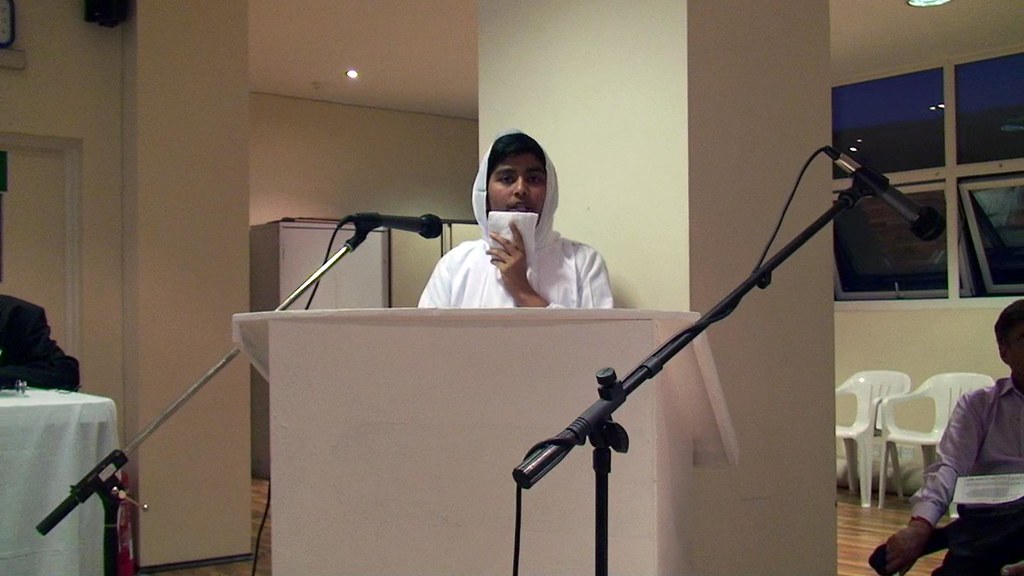 Mr. Baid in the name of JVB London thanked all speakers and announced the gifting of the book authored by H.H. Acharyashree and the former President of India, Dr. APJ Kalam to them. Mrs. Pushpa Banthia vice-president of JVB London handed the books over to us.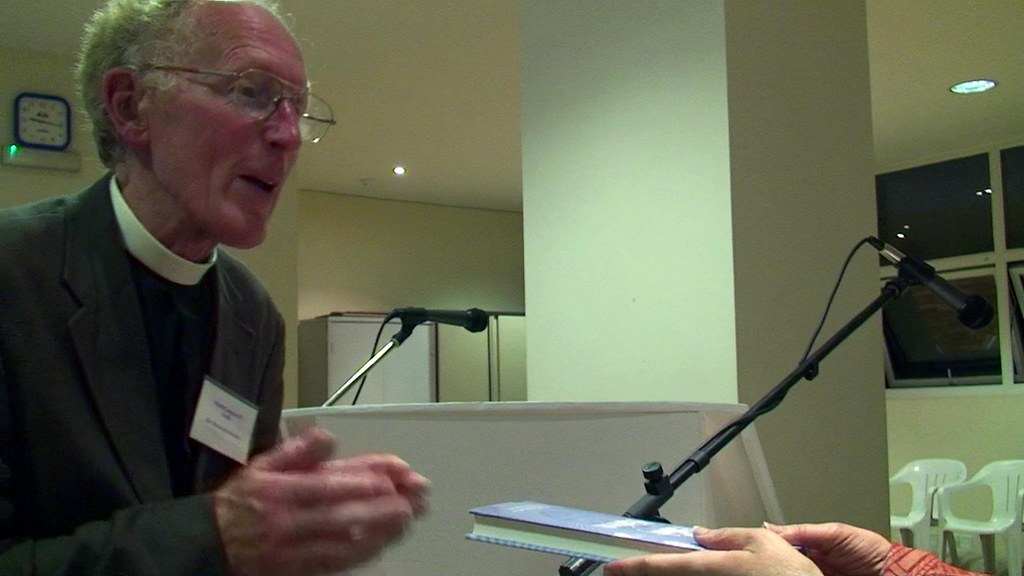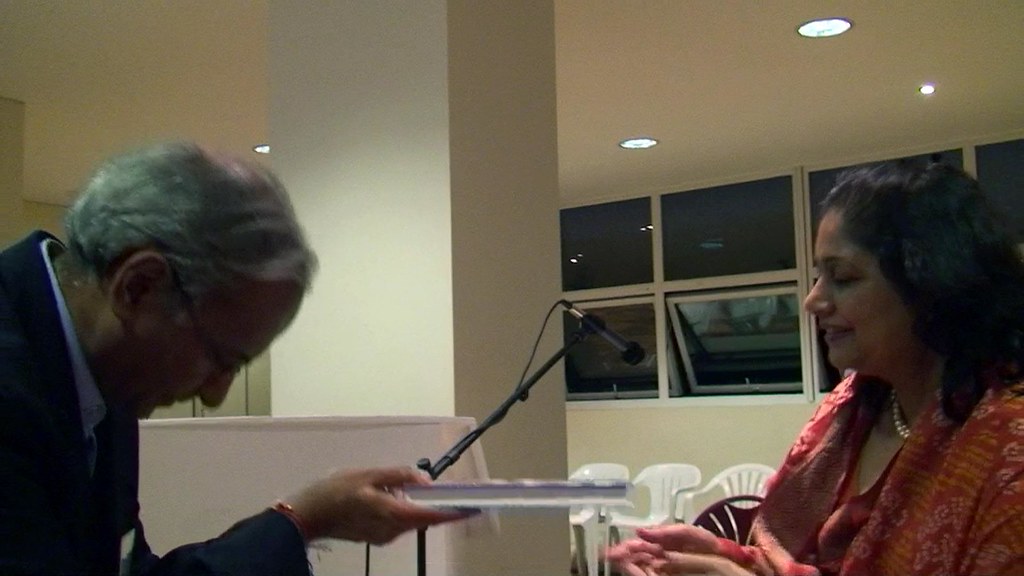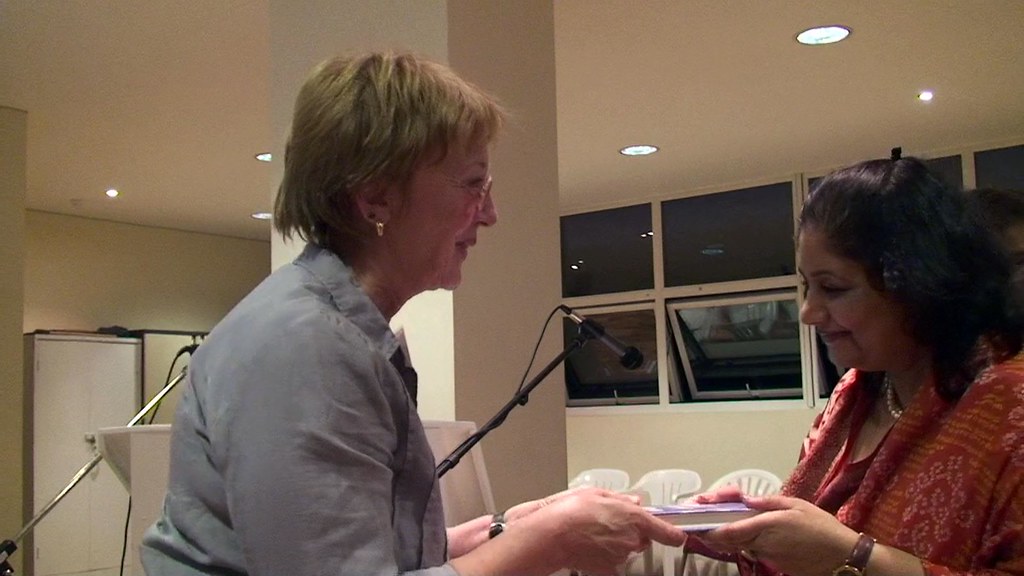 Mr. Ashok Gudka of JVB London gave a speech of thanks. He said that the course would provide 21st-century-skills to resolve conflicts in a human manner and enable to reach a new level. He addressed thanks to all the volunteers who had helped with their service to make the launch a meaningful celebration.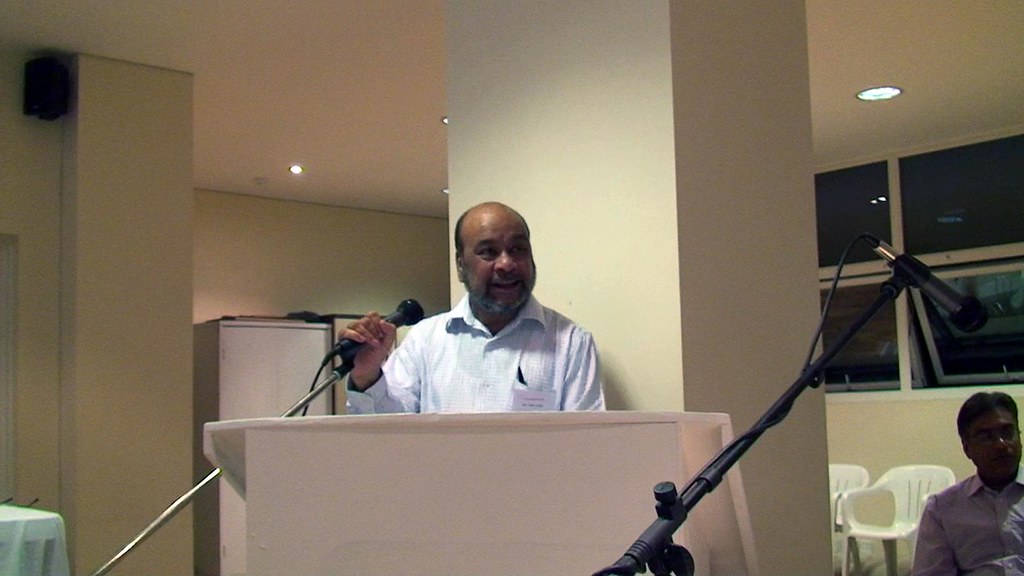 The fruitful cooperation of many minds and helping hands has brought about a promising launch of the course. Hopefully a great number of participants will use the opportunity.
---
Course based on the book:
Training In Nonviolence - Theory & Practice

Acharya Mahaprajna

---