Back to Adhyatma Sadhana Kendra we were told that Samani jis from Bangkok had arrived. It was the time of their lunch, and I decided to meet them later. Only during mealtimes they are undisturbed, otherwise they are leading a public life. This means that they are approachable for everybody at any time. When they are away, surely someone will be there knowing where they have gone and when they will probably be back. Same here, their arrival dates were known long before they had arrived. This transparency gives a feeling of confidence for the "saints", as they are called by the lay followers. Even respect is included towards the person asking for them. The request is regarded important enough to provide all informations available. I wanted to meet Samani jis, perhaps I knew them already. It is always a special experience to see them. They are treating everybody as friend, and they are welcoming everybody very kindly. They are living after the doctrines of their great Gurus in day-to-day life of 21st century and enlighten it. For them it is self-understood in the sense of understanding through knowledge of the Self to practice universal friendliness towards all living beings and to regard none as enemy. Even if someone is not behaving like a friend it is necessary to act according to the own ethical values. No reactive impulses, never reciprocating in the same way.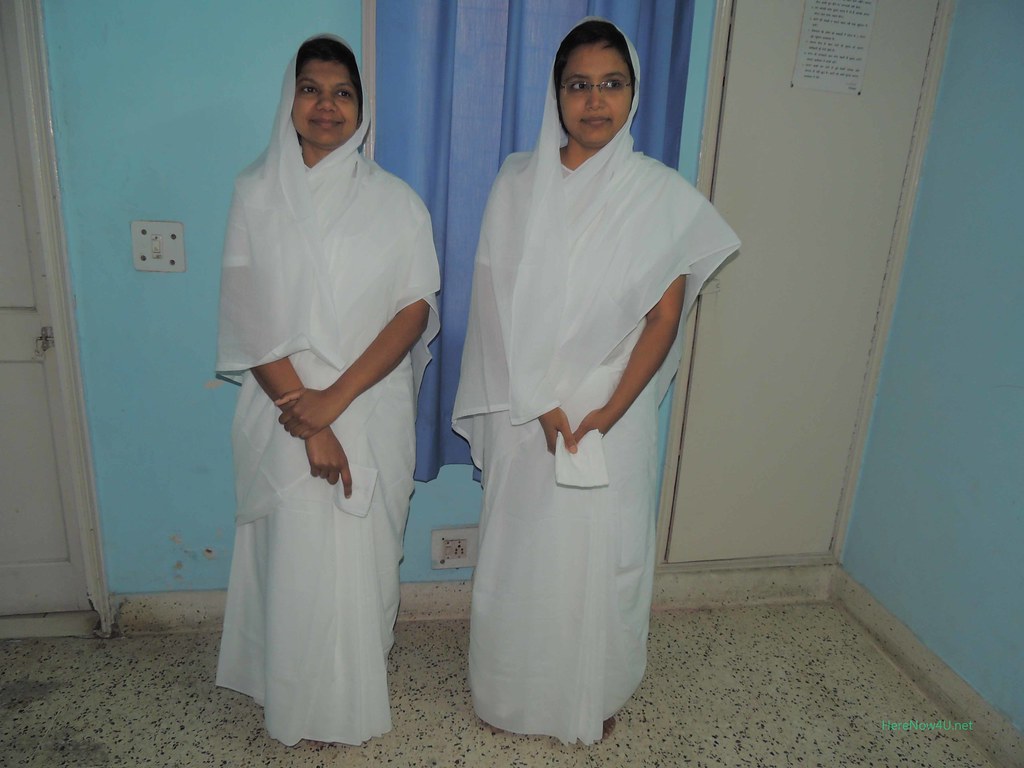 Samani Chaitya Pragya (l), Samani Agam Pragya
In Bangkok Samani jis had participated in the UN World Interfaith Harmony Week as representatives of Jain Sangh there from Feb. 1st to 7th 2013. NGO Peace Federation Thailand had invited religious leaders and top-ranking politicians to join a conference on the last day on the subject "Interfaith Principles to Strengthening Family". At present they were on their way to Tapra for Maryada Mahotsav. Unfortunately there was not much time left for an extended talk, but it was a very nice reunion with two participants of my German Language Course at JVBU Ladnun in 2007.
The same evening we wanted to go by train to Balotra with Swami Dharmananda, and then continue to Tapra. Therefore we had to prepare our luggage, take some rest and ask farewell. Swami Dharmananda already had bought the tickets for all of us, 2nd AC sleeper. There is a choice between 1st AC, 2nd AC, available as sleeper, 2nd and 3rd class. 2nd or 3rd classes are either interesting or strange for tourists, dependent on the degree of applied geography one likes to experience. Advisable for getting into contact with students, workers, farmers, small traders, musicians as well as a colourful diversity of uncommon people is 3rd class, because many passengers are getting off and new ones in at the stations where the train stops. Here the common people of the subcontinent are showing generously their day-to-day hospitability, which means to share what they have with the stranger. It also means to have a lot of fun, even when nobody does speak English. Even better!!
Departure was at 18:07 from Delhi Cantt. Railway Station. Cantt. is the abbreviation of Cantonment. Cantonments were army bases of the British-Indian army in Delhi and Ahmedabad, Gujarat. Since independence, Delhi Cantt. is the headquarter of the Indian army with army hospital and affiliated research facilities, as well as residential areas for army staff with nurseries and schools, in short, one passes a small town on the way to Cantt. Railway Station. From Adhyatma Sadhana Kendra it is in a distance of 21 km and normally takes one hour to reach. Swami Dharmananda told us that the train would not stop for long at Cantt. and advised us to leave early. So we left ASK about 16:00h in the afternoon, and reached Cantt. after one hour at 17:00h. All went well and gave the good feeling to be in time at the station where the train does not stop for long.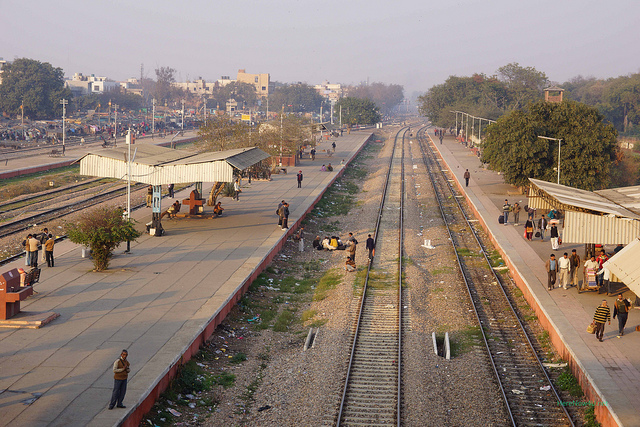 Delhi Cantt. Railway Station, view on platforms and rails being crossed by passengers.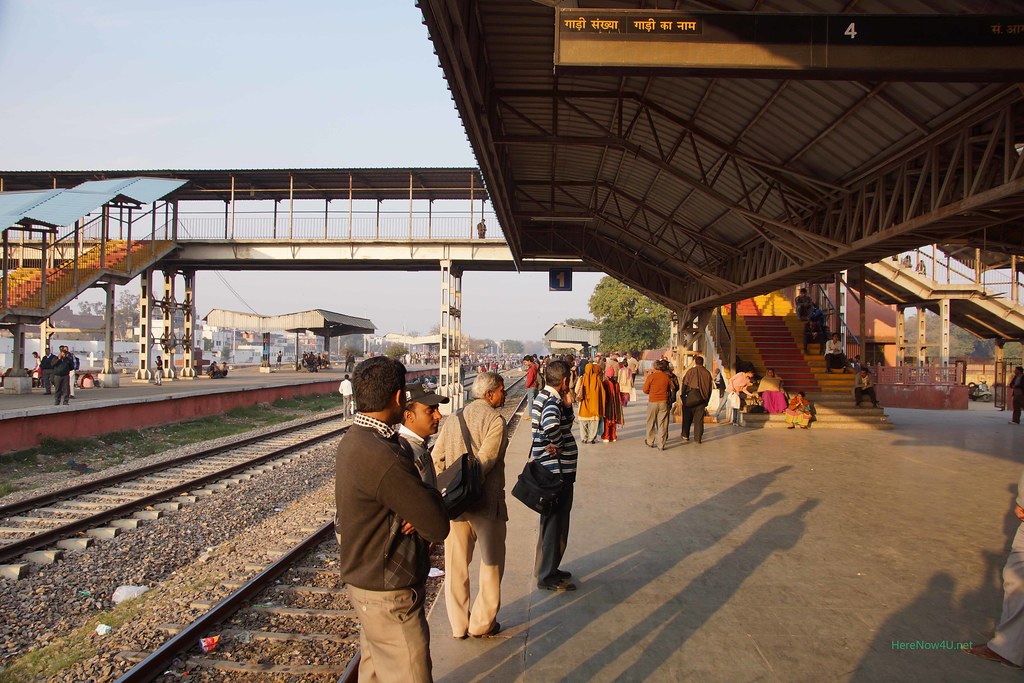 The platform gets filled with passengers because a train will arrive very soon. In the background the bridge for pedestrians to the platforms.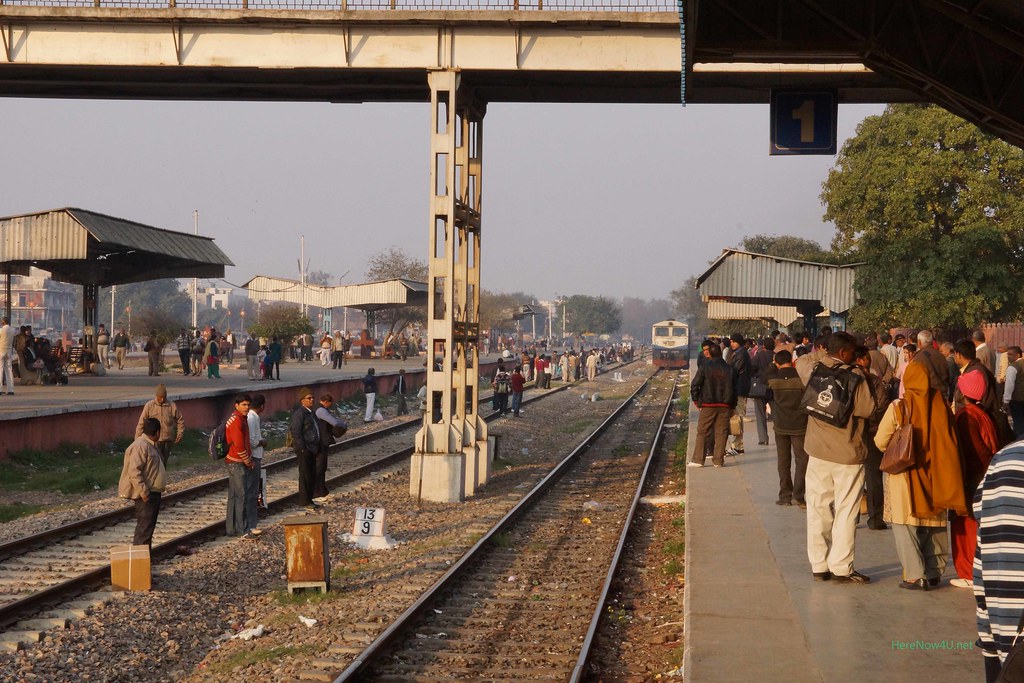 The passengers assemble not only on the platform, but also at the other side of the train, while the train approaches with a loud acoustic signal..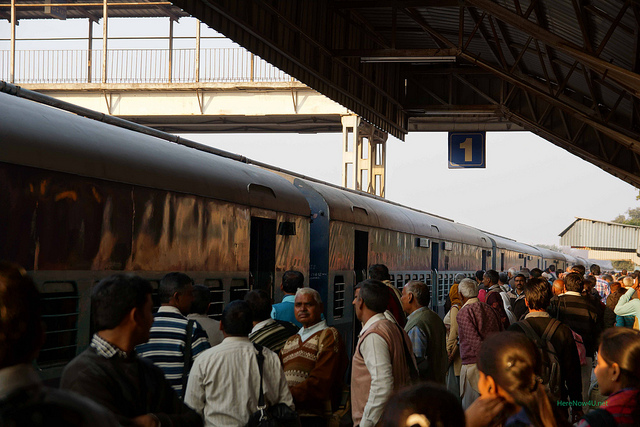 This train neither stops for longtime here. Please hurry for boarding!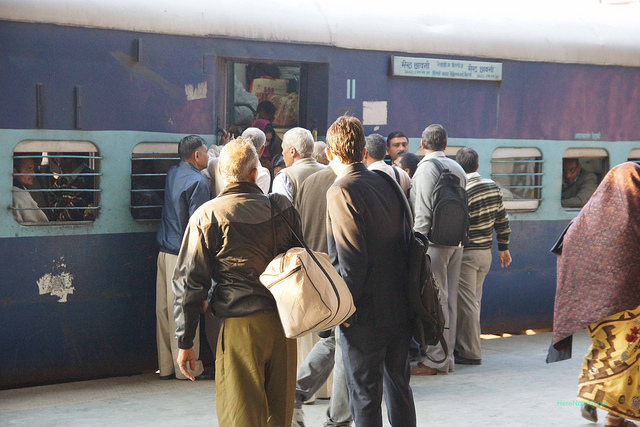 Before all passengers were in the train, it started to move slowly.
All are aware of the procedure, and like many times before nobody missed the train. After departure it again was relaxed on the platform, for us there was still half an hour until departure. We drank tea and had a nice talk.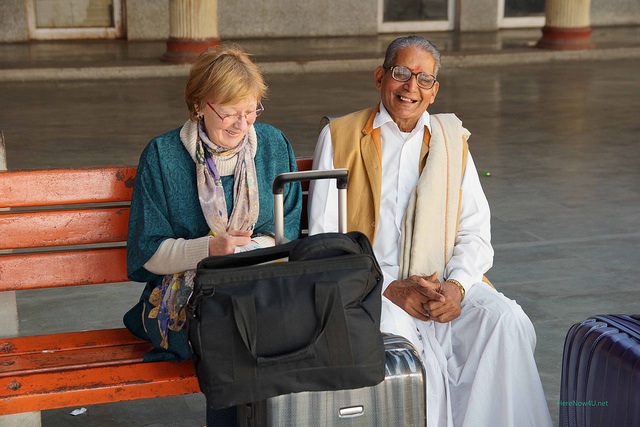 Karuna Jain, Swami Dharmananda
Little by little departure came nearer, and I asked Swami Dharmananda how long the train exactly would stop here and where we might suppose our coach. The answer was, "Two minutes! Nobody knows where exactly which coach might be accessible. We only know that it will arrive at this platform. But I have asked someone and think it will be there." Swami Dharmananda pointed in the direction to our right. No Railway employee was visible. They are only at the starting station, and there the train will be accessible for about one hour. Our train starts at 17:30 in Old Delhi Junction in a distance of 27 km from ASK, which in an absolute view only makes a difference of 6km, but in a relative view it is not advisable because of the heavy volume of traffic at this time of the day. I got the idea that we had to hurry strictly.
Video:
When the train came into sight, we started running towards the end of the train. It should be mentioned that this train was special, because it actually are two trains in one: One with destination Jaisalmer, not touching Balotra. The other with destination Barmer via Balotra. We did not only look for the coach with our accommodation berths, but also for the right part of the train. Everything was available double in this train, two times 2nd AC, etc… When we nearly had reached the end of the train and got the chance to ask a conductor, he immediately gave us sign to return. Our 2nd AC was at the front end of the train! When we realised this, the starting signal was audible. As quickly as possible we managed to put the luggage and ourselves in the train. We were standing in the walk, and the train moved faster and faster, what to do? There was no choice than to wait for the longer halt of 2 minutes in an hour or so. Before it only halted for short, felt as split second.
I shyly asked if there was a chance to move forward inside the train and got the answer that we will try this. So we moved four or five coaches ahead. We thought to be very near to the accommodation berth, where we longed to stretch, but for the moment could not get further. The contact door to the next coach was closed. A kind railway employee helped us to open it. But hardly opened, people tumbled inside the walk where we were standing. The next coach was 3rd class and overbooked. Not all passengers enjoyed the privilege of seats. The train was also used by many commuters. I see, no need of seats. But what about us? During the next halt (30 seconds) someone loaded with two suitcases and one bag sprang into our walk. Aha, he also. He wanted to get before the longer halt into his coach, being ours as well. Maybe he was lucky, as looking sportive enough.
After talking with the kind railway employee again, we learned that our coach was not the next as supposed, but at least nine more coaches away! Nobody had been able to guess this. Car position indicator was not available and nobody to ask in operating distance. Very well then, another hour in the walk. At 19:38h we reached the station, and Swami Dharmananda rejoiced, "We are too early!!" Departure was at any case at 19:45h, so we had gained 7 marvelously long minutes for the change to the head of the train.
Rewari junction was our rescue. We succeeded to reach the coach - third after the engine - and just before departure the sportive fellow passenger came in, breathing heavily. But when arriving at the accommodation berths, we were surprised. They had been given away, because we had not appeared so far. But the people who got it were very benevolent and immediately gave them back to us after hearing what had happened. The conductor also was very helpful. So we got the chance to stretch and sleep some time before dawn.
For this report we have found out the background of our railway adventure. The train gets split at 04:45h in Jodhpur, one part continuing to Jaisalmer, the other to Barmer via Balotra. It is as simple as this. But thanks to this small excitement we came over this wonderful timetable and got to know why had happened what had happened. To railway friends and those who love mental travels we recommend to click on the links to the stations and to drive on our route. There are plenty of photos with railway stations and trains and a good map. A very professional website of Indian railway company with lots to discover, also giving unusual impressions on the subcontinent. Trains mostly are in time. Enjoy it!
A) Delhi - Jodhpur - Jaisalmer
Train #14659
http://indiarailinfo.com/train/delhi-jaisalmer-express-14659-dec-to-ju/15108/351/126
B) Delhi - Jodhpur - Barmer über Balotra
Train #14659-Slip --> in Jodhpur
http://indiarailinfo.com/train/delhi-jaisalmer-express-slip-14659-slip-dec-to-ju/15109/351/126
#
Code
Station Name
Arrives
Departs
Halt
PF
Day#
Km
Speed
Elev
Zone
Address
1
DLI
Old Delhi Junction
17:30
--
1
-14.1
15
219m
NR
Near Chandni Chowk Metro
Station, Delhi NCT
2
DEE
Delhi Sarai Rohilla
17:48
17:50
2m
--
1
-9.7
39
226m
NR
New Rohtak road,
Delhi NCT
3
DEC»
Delhi Cantt.»
18:05
18:07
2m
--
1
0.0
32
217m
NR
Delhi, Delhi NCT
4
PM
Palam
18:14
18:16
2m
--
1
3.8
57
222m
NR
Sadh Nagar I, Delhi NCT
5
GGN
Gurgaon
18:30
18:32
2m
--
1
17.2
66
217m
NR
Gurgaon, Haryana
6
GHH
Garhi Harsaru
18:41
18:43
2m
--
1
27.0
79
219m
NR
Gurgaon, Haryana
7
PTRD
Pataudi Road
18:58
19:00
2m
--
1
46.8
67
227m
NR
Hailley Mandi, Haryana
8
KIP
Khalilpur
19:10
19:12
2m
--
1
58.0
20
235m
NR
State Highway 26, Haryana
9
RE
Rewari Junction
19:43
19:45
2m
11
1
68.5
65
245m
NWR
Rajput House, Haryana
10
BWL
Bawal
19:59
20:01
2m
--
1
83.7
87
266m
NWR
Bawal, Haryana
11
HSI
Harsauli
20:18
20:20
2m
--
1
108.3
52
286m
NWR
Harsoli, Rajasthan
12
KRH
Khairthal
20:29
20:31
2m
2
1
116.1
86
305m
NWR
Khairthal, Rajasthan
13
AWR
Alwar Junction
20:50
20:52
2m
--
1
143.3
72
267m
NWR
Alwar, Rajasthan
14
MKH
Malakhera
21:08
21:10
2m
--
1
162.4
73
265m
NWR
Mala Khera, Rajasthan
15
RHG
Rajgarh
21:24
21:26
2m
--
1
179.4
45
303m
NWR
Rajgarh, Rajasthan
16
BU
Baswa
21:42
21:44
2m
--
1
191.3
69
291m
NWR
Alwar, Rajasthan
17
BKI
Bandikui Junction
21:55
21:57
2m
--
1
203.9
79
283m
NWR
Bandikui, Rajasthan
18
DO
Dausa
22:19
22:21
2m
1
1
232.7
70
333m
NWR
Dausa, Rajasthan
19
GADJ
Jaipur Gandhinagar
23:09
23:11
2m
--
1
288.7
14
426m
NWR
Jaipur, Rajasthan
20
JP
Jaipur Junction
23:35
23:45
10m
2
1
294.2
85
434m
NWR
,Jaipur, Rajasthan
21
JOB
Asalpur Jobner
00:11
00:13
2m
--
2
330.9
41
379m
NWR
Jaipur, Rajasthan
22
FL
Phulera Junction
00:40
00:42
2m
--
2
349.2
80
387m
NWR
Phulera, Rajasthan
23
NAC
Nawa City
01:08
01:10
2m
--
2
384.0
69
390m
NWR
Nawa, Rajasthan
24
MKN
Makrana Junction
01:36
01:38
2m
--
2
413.8
69
423m
NWR
Makrana, Rajasthan
25
DNA
Degana Junction
02:16
02:18
2m
--
2
457.2
51
339m
NWR
Degana, Rajasthan
26
MTD
Merta Road Junction
03:10
03:15
5m
--
2
501.3
81
322m
NWR
Phalodi, Rajasthan
27
GOTN
Gotan
03:30
03:32
2m
--
2
521.4
93
323m
NWR
Gotan, Rajasthan
28
RKB
Raika Bagh
04:24
04:26
2m
--
2
602.2
7
237m
NWR
Jodhpur, Rajasthan
29
JU•
Jodhpur Junction•
04:45
05:05
20m
--
2
604.5
44
241m
NWR
Jodhpur, Rajasthan
30
BANE
Basni
05:14
05:16
2m
--
2
611.2
76
219m
NWR
Jodhpur, Rajasthan
31
LUNI
Luni Junction
05:36
05:44
8m
--
2
636.4
64
180m
NWR
Luni, Rajasthan
32
SMR
Samdhari Junction
06:30
06:45
15m
--
2
685.1
51
136m
NWR
Barmer, Rajasthan
33
BLT
Balotra Junction
07:24
07:26
2m
--
2
718.0
54
114m
NWR
Balotra, Rajasthan
34
BUT
Baytu
08:22
08:24
2m
--
2
768.0
80
154m
NWR
SH40, Rajasthan
35
UTL
Utarlai
08:52
08:54
2m
--
2
805.3
10
160m
NWR
Barmer, Rajasthan
36
BME
Barmer
09:45
--
2
814.2
-
193m
NWR
Barmer, Rajasthan
Delhi - Balotra
A Road Map (sorry no train tracking) - from station to station: Zoom In/out
View Larger Map