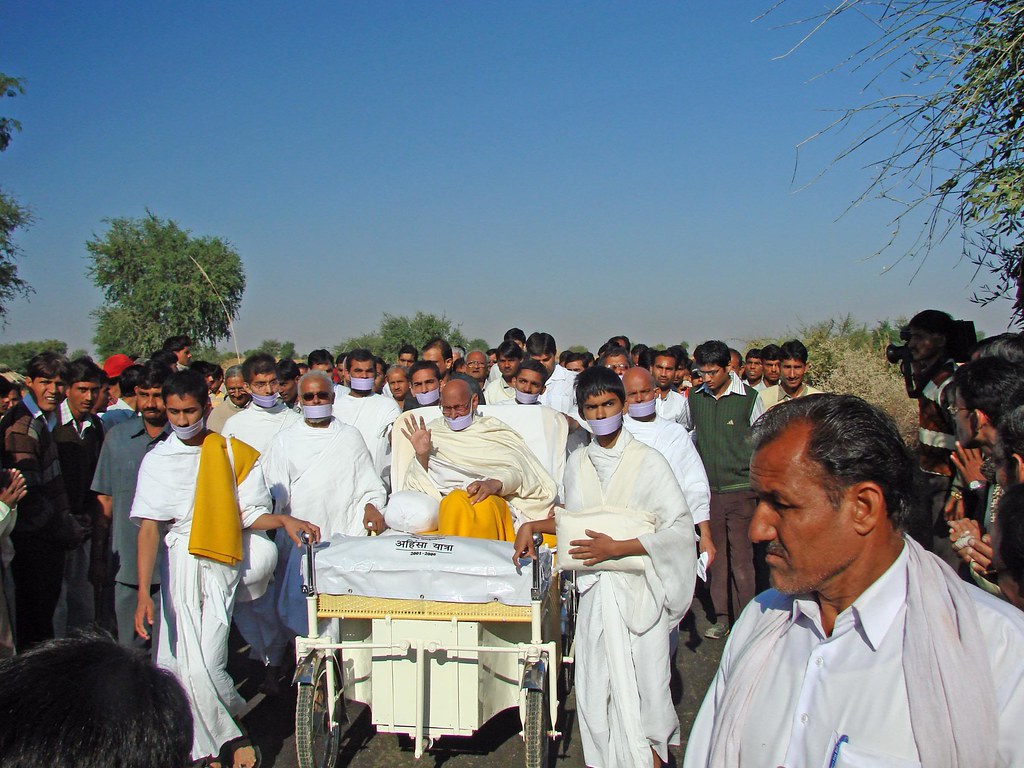 Start of Ahimsa Yatra from Hariyal to Tamkor
25th November 2006, 07:30 - 09:30
Next morning, about 07:30 we went by car to Hariyal to be present when Ahimsa Yatra starts. We before took some biscuits, water, and tea, but forgot to take water with us. Did not matter, our mind was elsewhere. Half the way to Hariyal, we passed groups of Sadhvishrees whose white Saris from a distance were shining white points in the desert.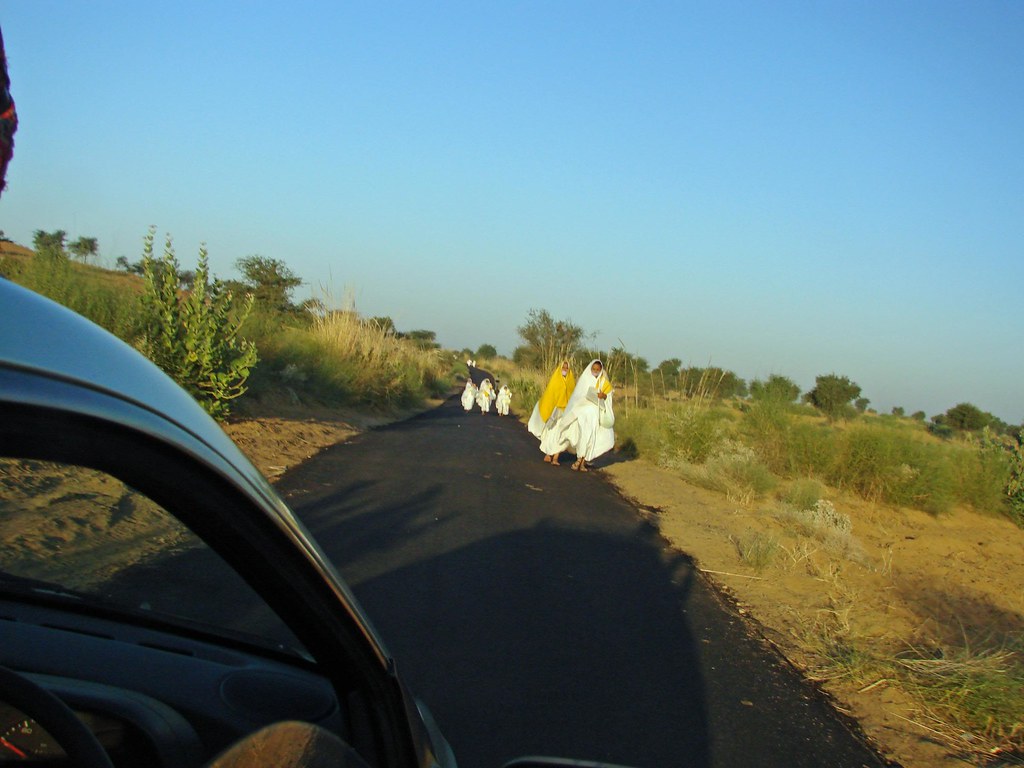 Road from main road to Tamkor, asphalted specially for Ahimsa Yatra
We admired again, how few things they keep; themselves can easily carry all their belongings: clothes for change, self-manufactured eating & drinking bowls, one blanket against the cold at night or in the morning, broom, water. We remembered the saying that those souls leaving traces on the planet corresponding to lines drawn in water are on their way to liberation.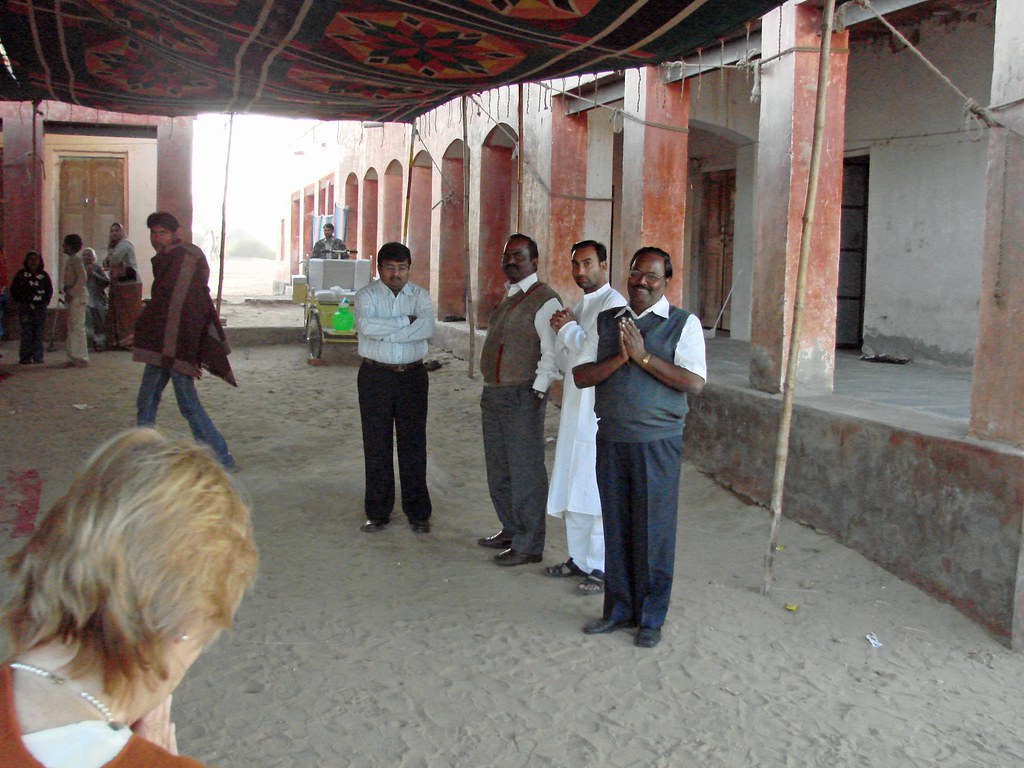 Meeting old friends in the morning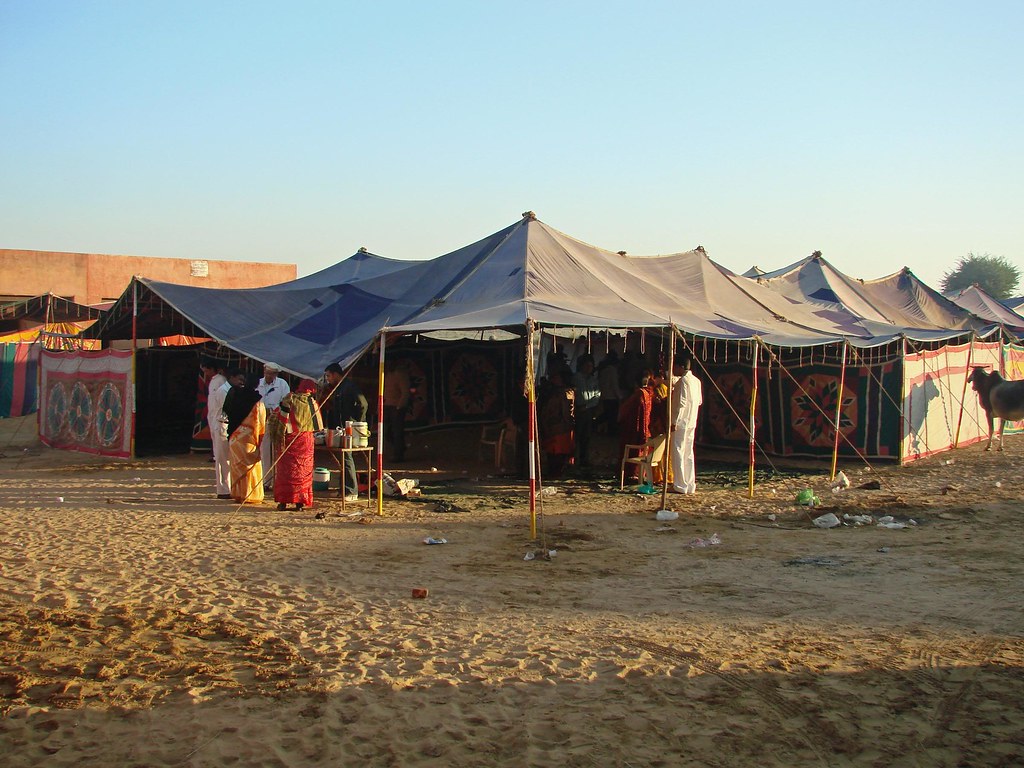 Dismantling of facilities after morning tea
Surprise in the morning, we again met friends waiting for Ahimsa Yatra to start. Apparently, the probability increases to meet unexpectedly friends when there is a common goal. For Karuna it was a special pleasure to meet Sudha Darga's father (r); Karuna remembered Sudhan from her seven years ago stay in Taranagar at Darga Haveli. Another friend was member of IPMC organising committee 2005 in Ladnun as well as in 2003 in Surat. Some had prepared tea, which was welcomed remedy against the cold of the morning.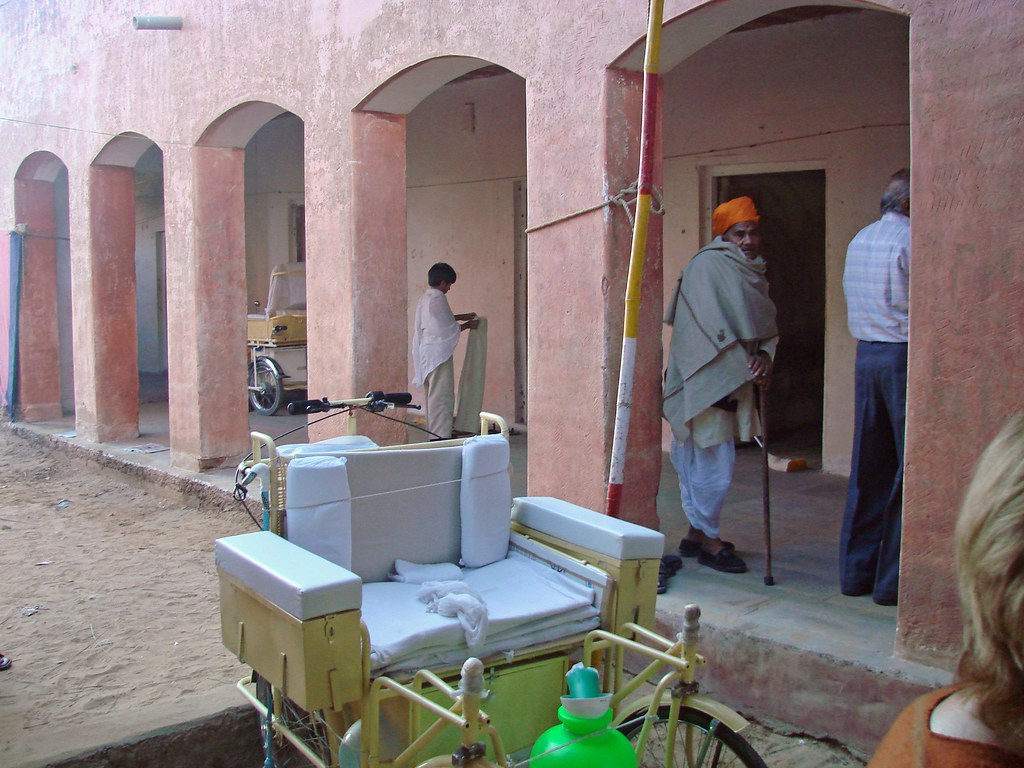 Preparing Acharyashree's chariot for departure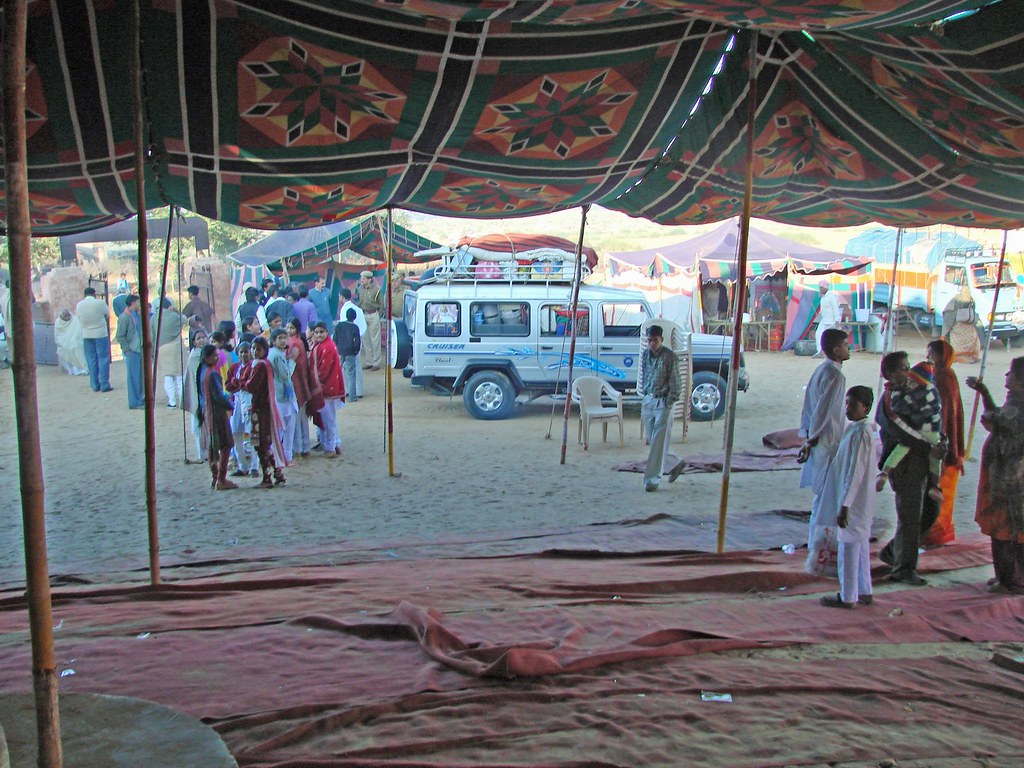 Loading of lay followers' cars
Acharyashree's chariot was ready to be moved. Besides it, an 8-years old desiring to become Muni as soon as possible plied his blanket accurately and then positioned himself in the way of those he longed to call his Guru and spiritual companions.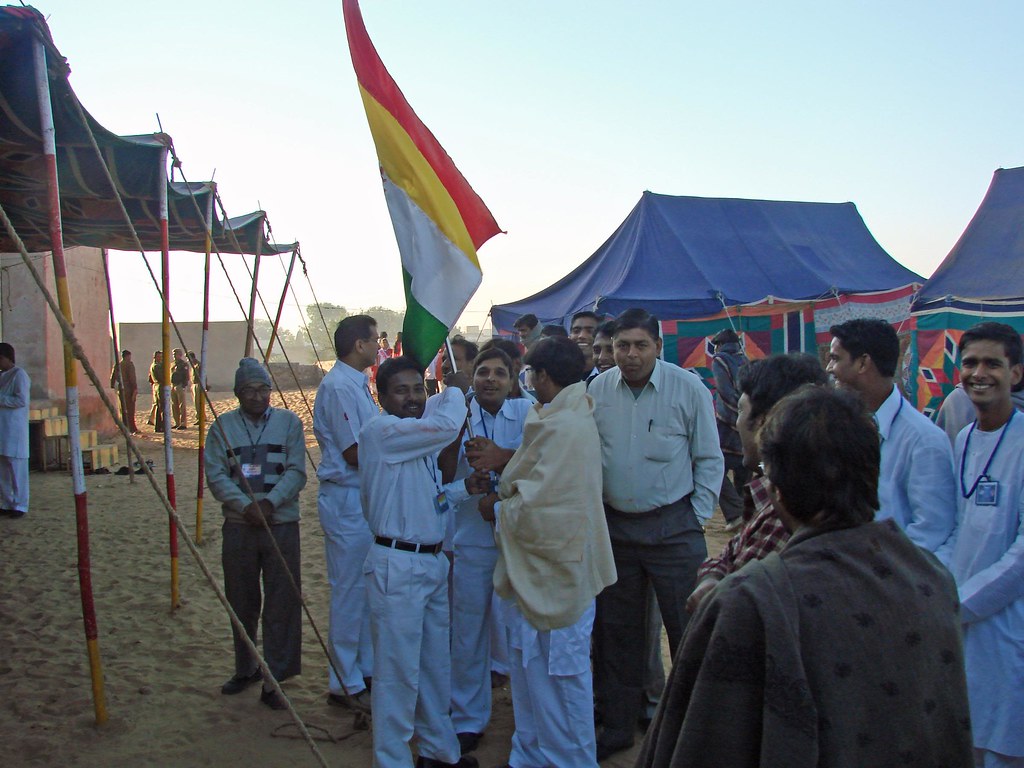 Gathering of flag porters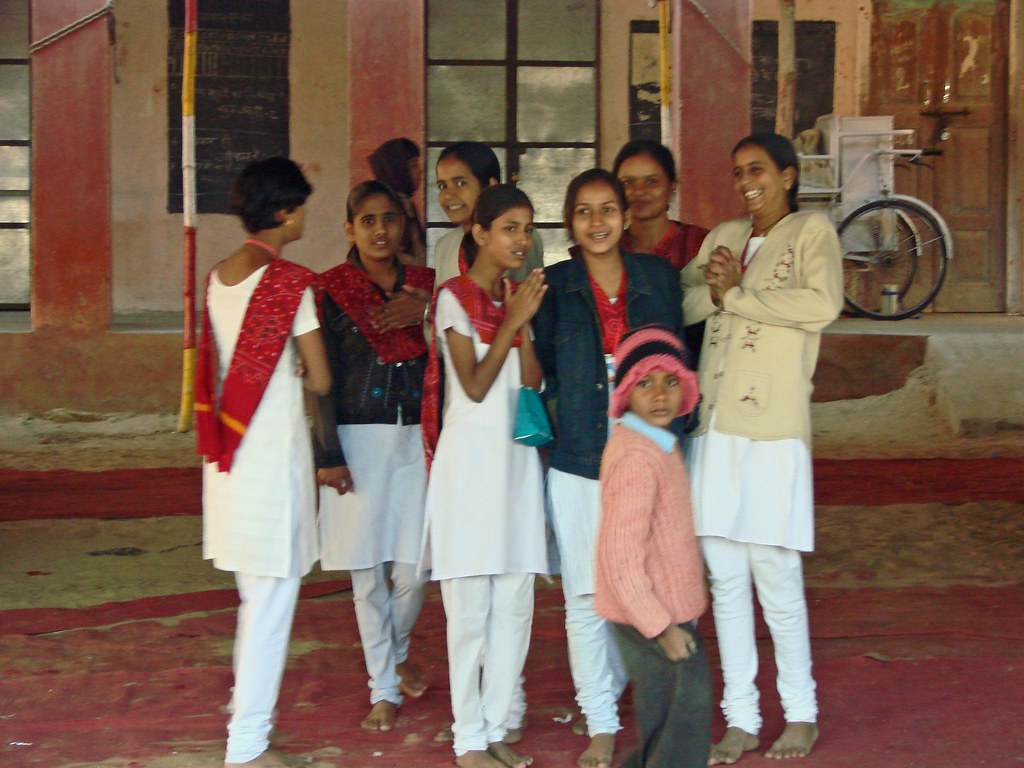 Young girls ready to follow Ahimsa Yatra
Loading of household articles
Flag bearers and Gyanshala students waited for their turn to start, a little shivering because of cold or slight nervosity, who knows? Cars were about to be loaded with objects useful for next destination.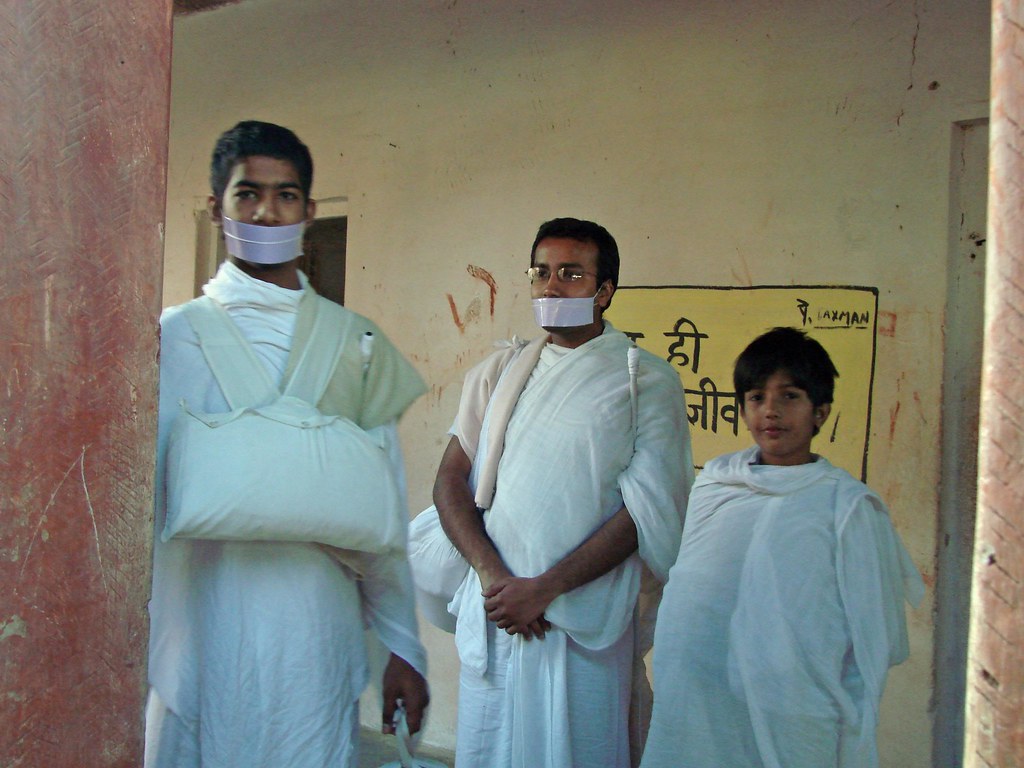 (F.l.) Muni Akash Kumar, another Muni of his group, the 8-years-old desiring to become a monk ready to go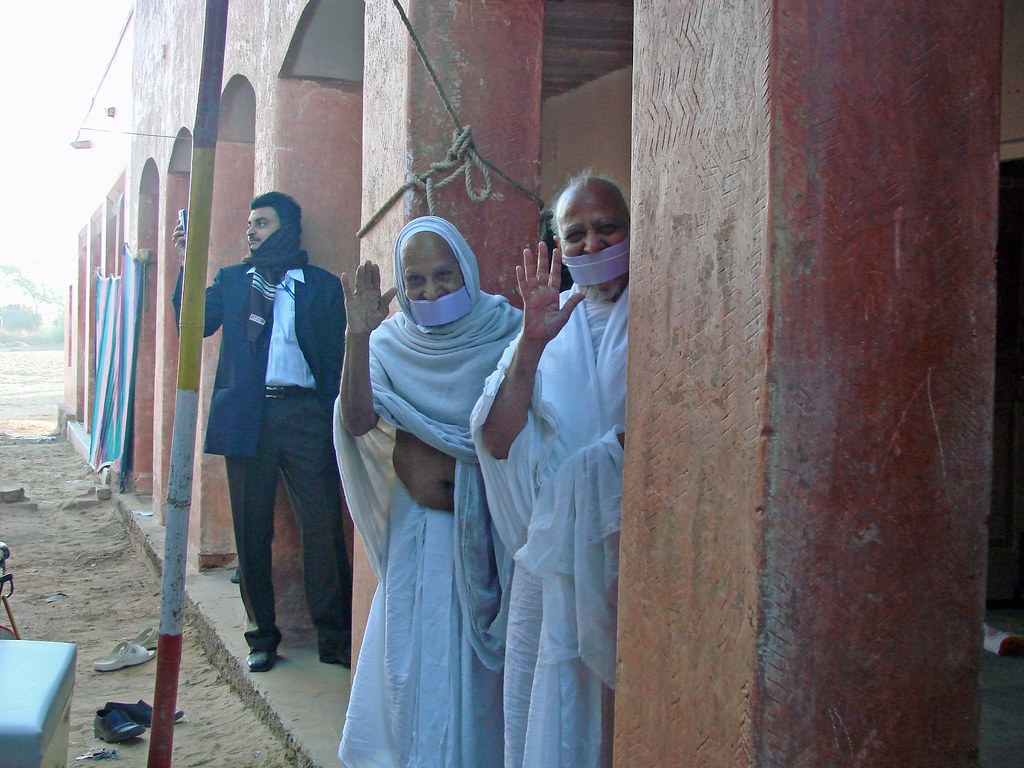 Munishrees Saggermalji (l), 82 years, and Manilalji, 80 years, following Ahimsa Yatra in a chariot pulled by other monks of their group, becauseof their age
Munis appeared - the 8-years old had succeeded to be accepted in their company - ready for helping those who were in need. Munishree Ashok Kumarji escorted Munishrees Saggarmalji and Manilalji to a chariot. They were happy to be on Ahimsa Yatra, but due to advanced age no more walking long distances on foot. Munishree Saggarmalji is aged 82, Munishree Manilalji 80. Both Munishrees are together in one group since 54 years, since initiation of Munishree Manilalji. Munishree Saggarmalji was initiated nine years before. Already in Taranagar, they attracted our attention because of the gentleness and happiness they are radiating from deep inside.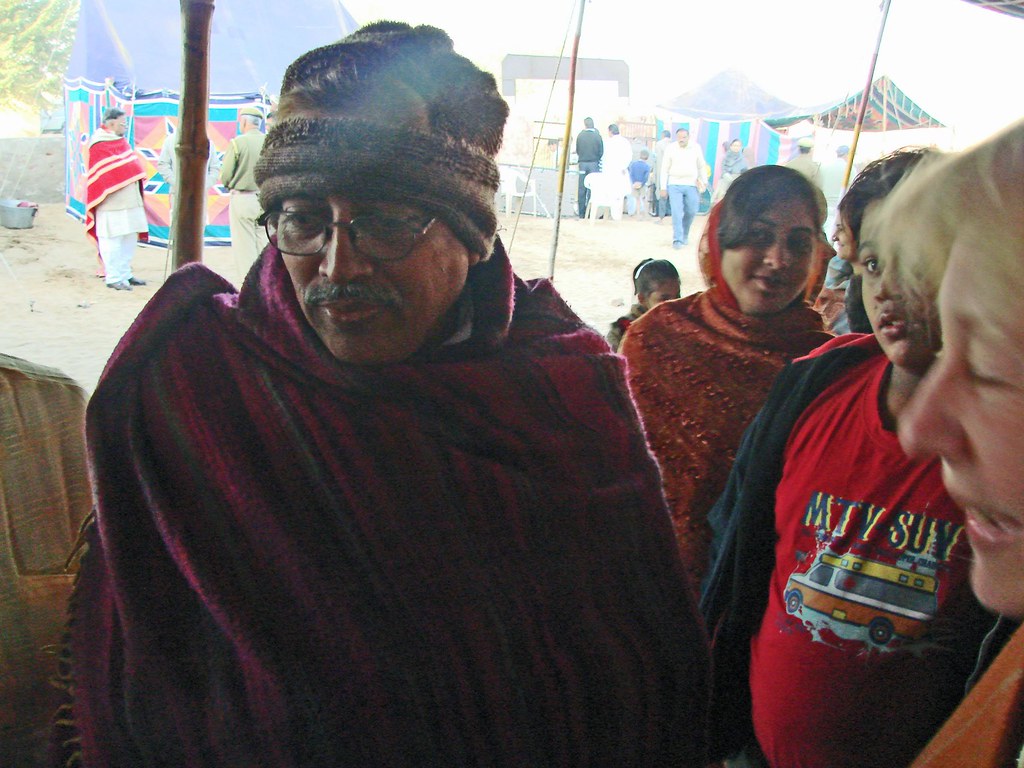 Tea against morning cold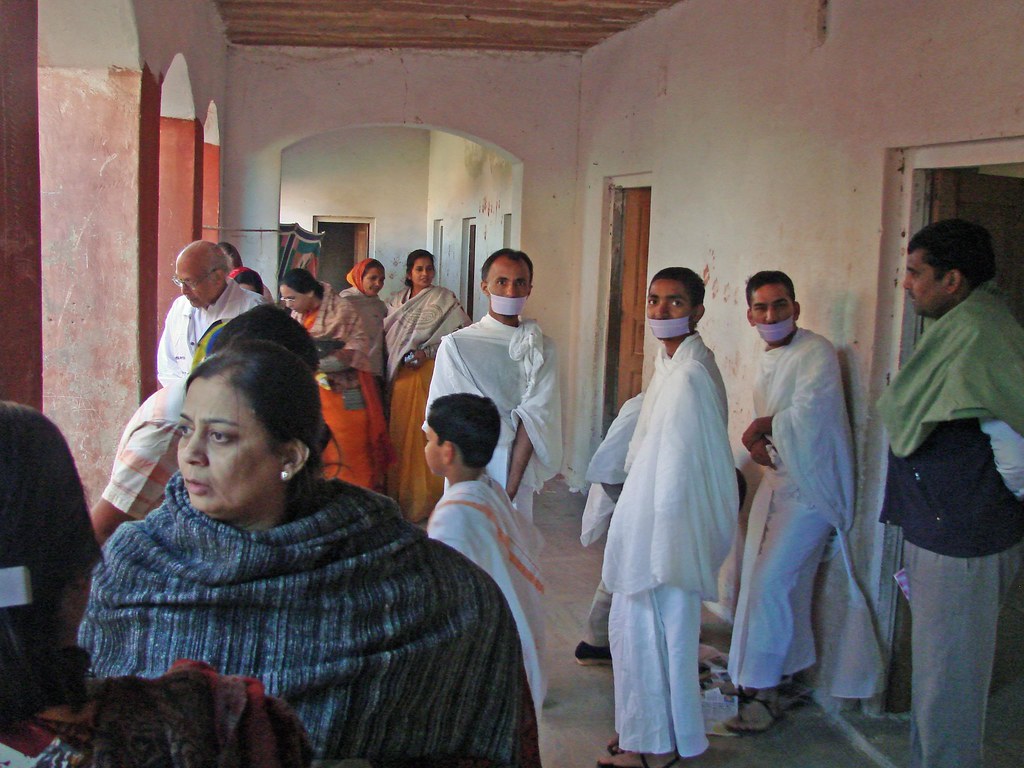 Monks & lay followers waiting for H.H. Acharya Mahaprajnaji
Suddenly it started. Acharyashree was on his chariot and very fast all moved. The sun still was low, but enlightened the horizon, as if it enjoyed what happened.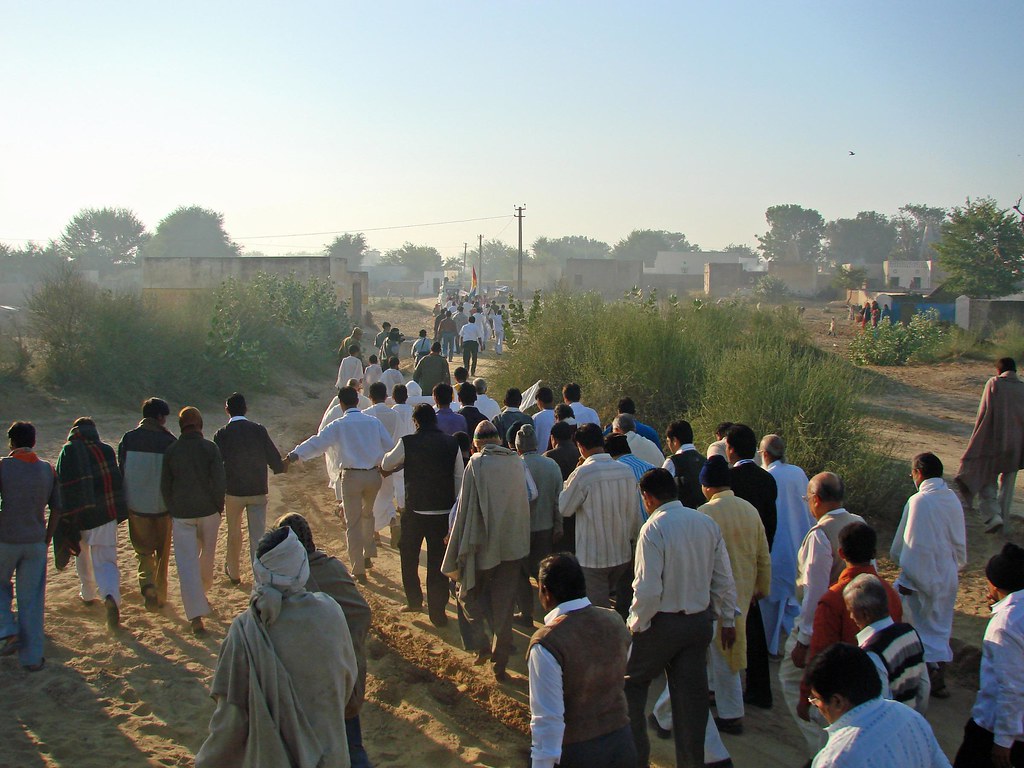 Effectual transport of Acharyashree's chariot on the sandy street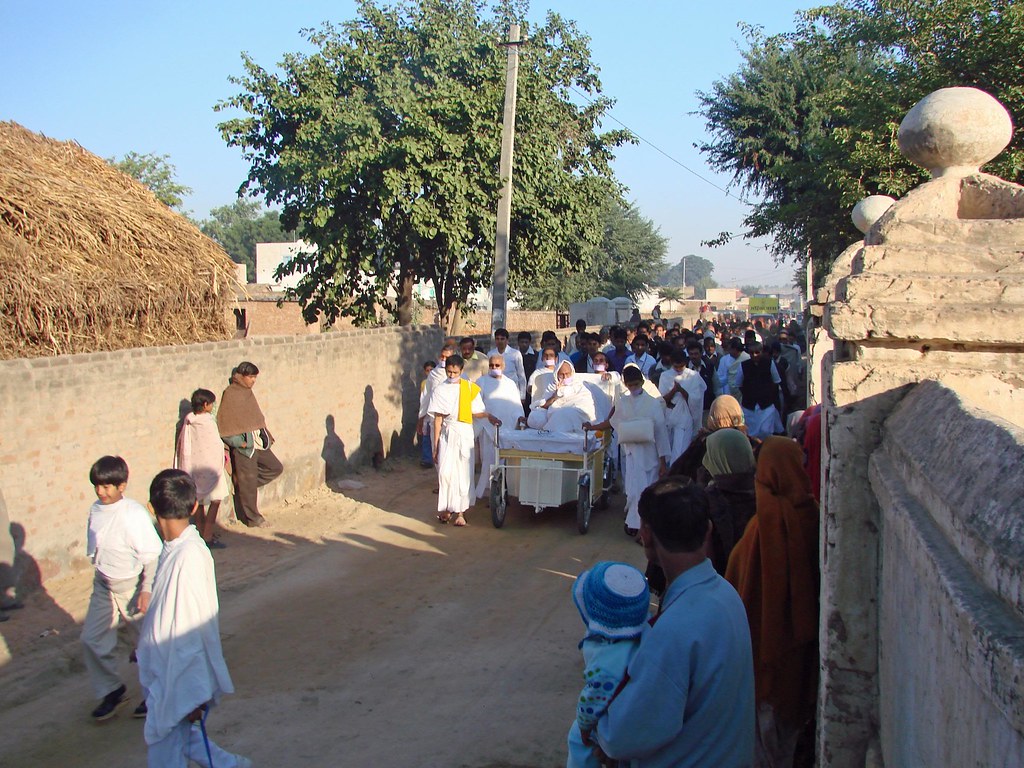 Ahimsa Yatra leaving Hariyal, Acharyashree gives blessings to Aparigraha who is taking his photo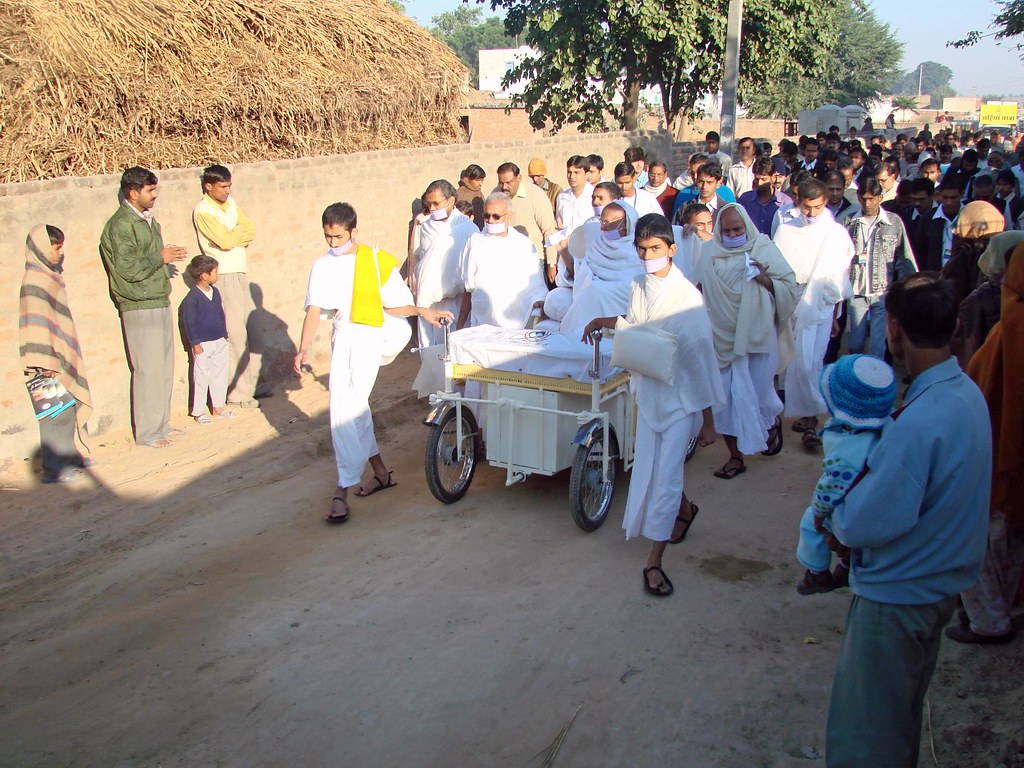 Ahimsa Yatra leaving Hariyal, watched by villagers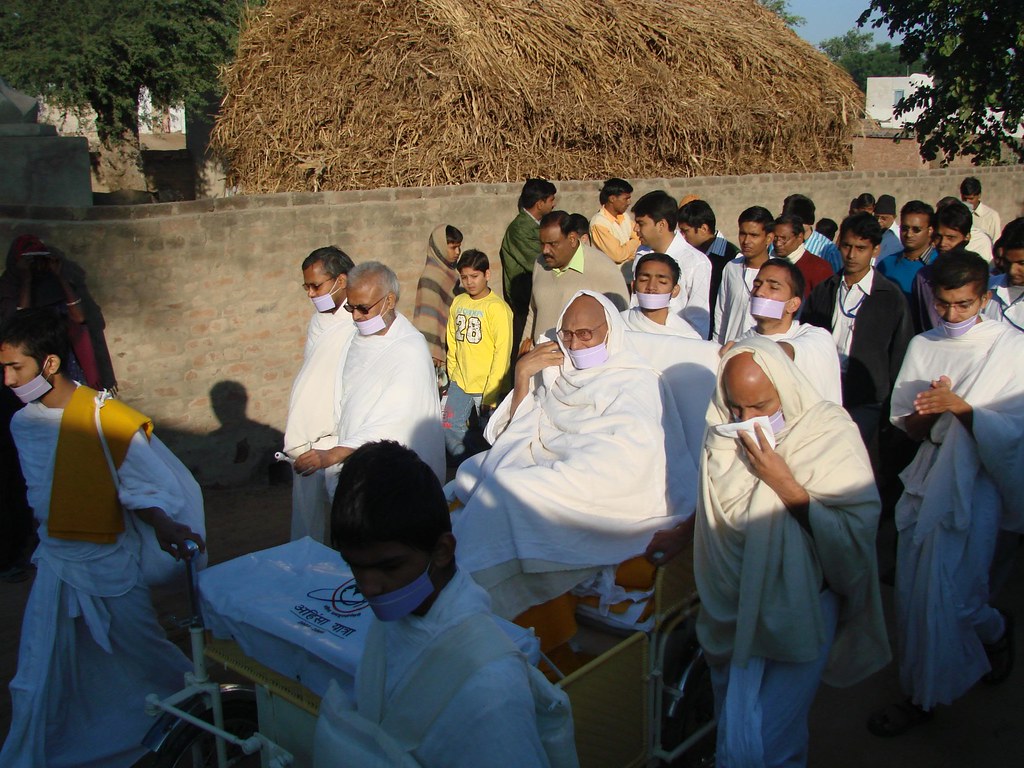 Acharyashree, Yuvacharyashree, monks & lay followers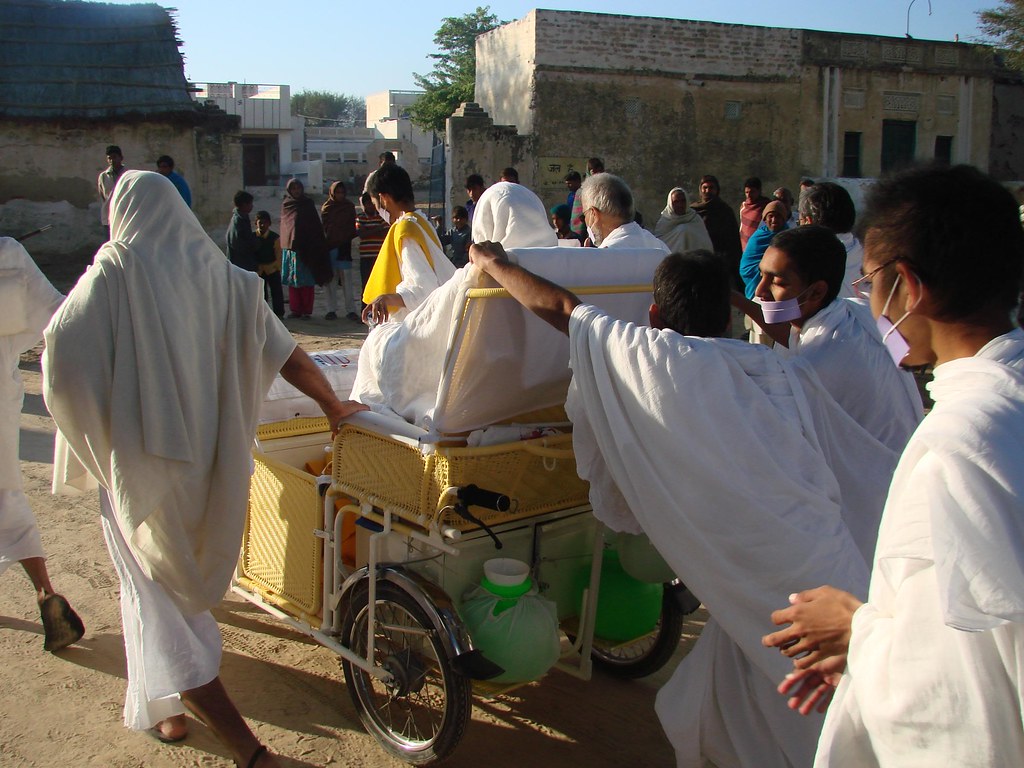 Acharyashree, Yuvacharyashree, monks & lay followers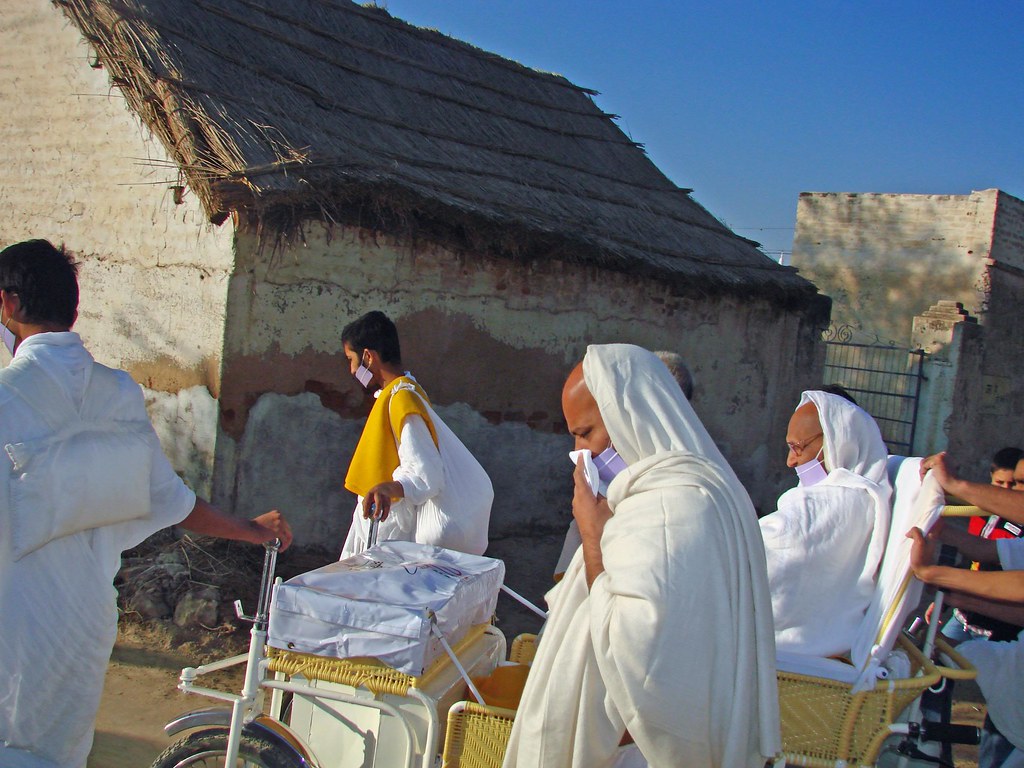 Acharyashree, Yuvacharyashree & monks leaving the village
Ahimsa Yatra was on its way to Tamkor, Acharyashree's native place.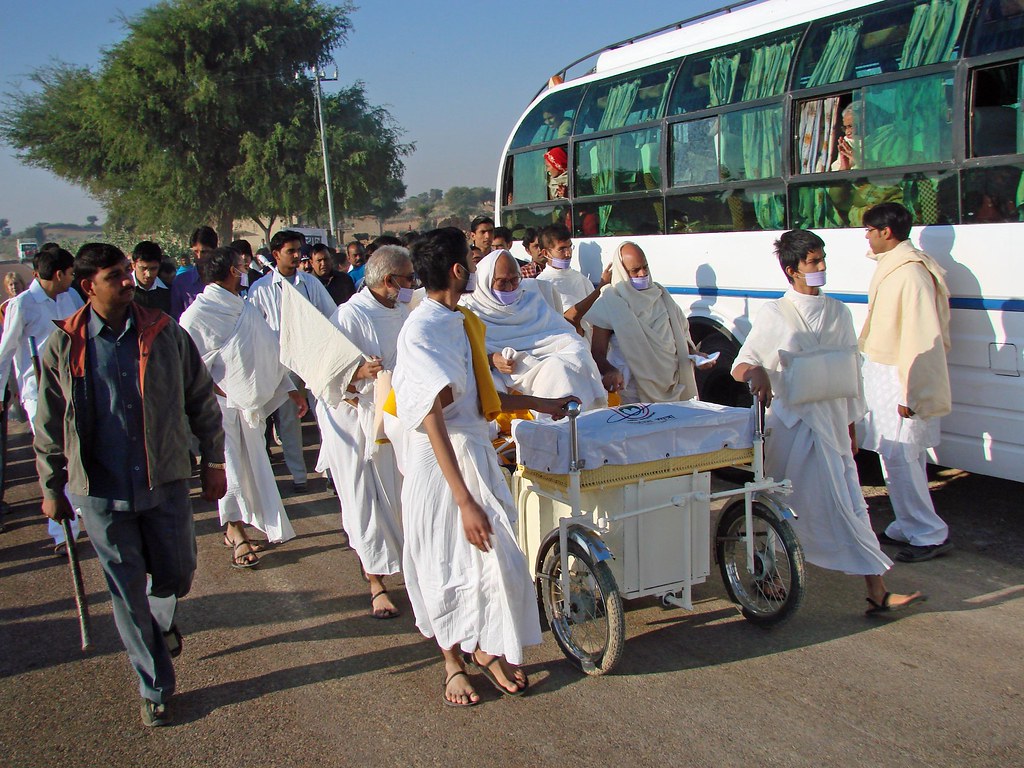 Ahimsa Yatra on the main road, passing a bus that had to stop, passengers felt lucky to have best view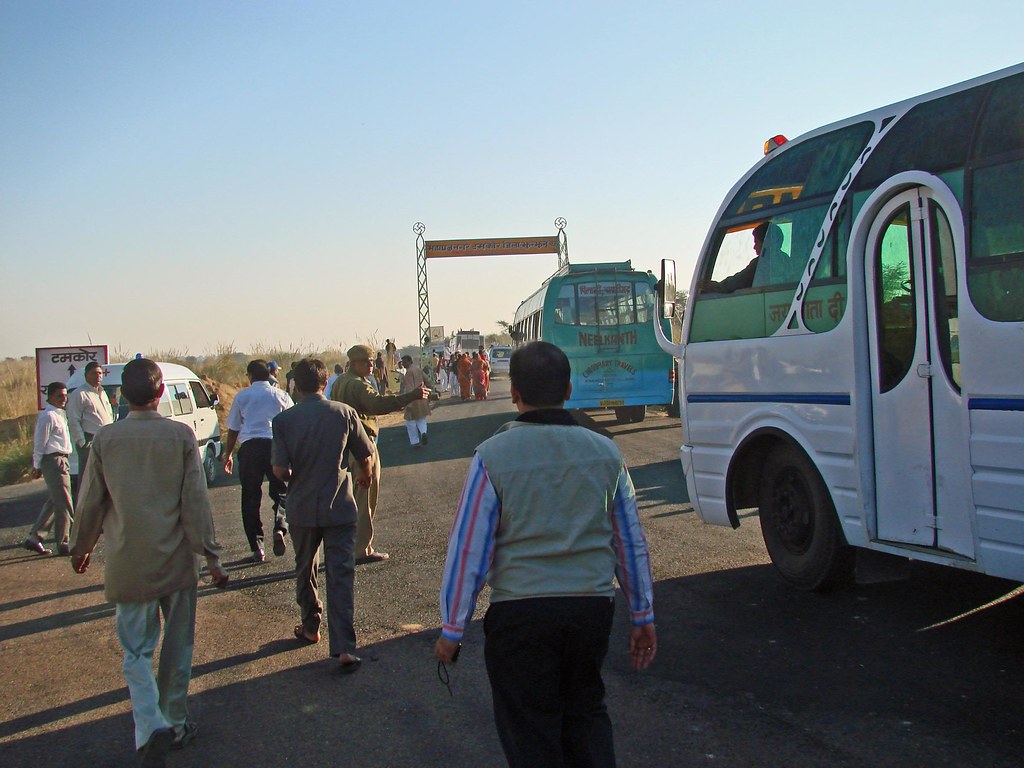 Crossing to Tamkor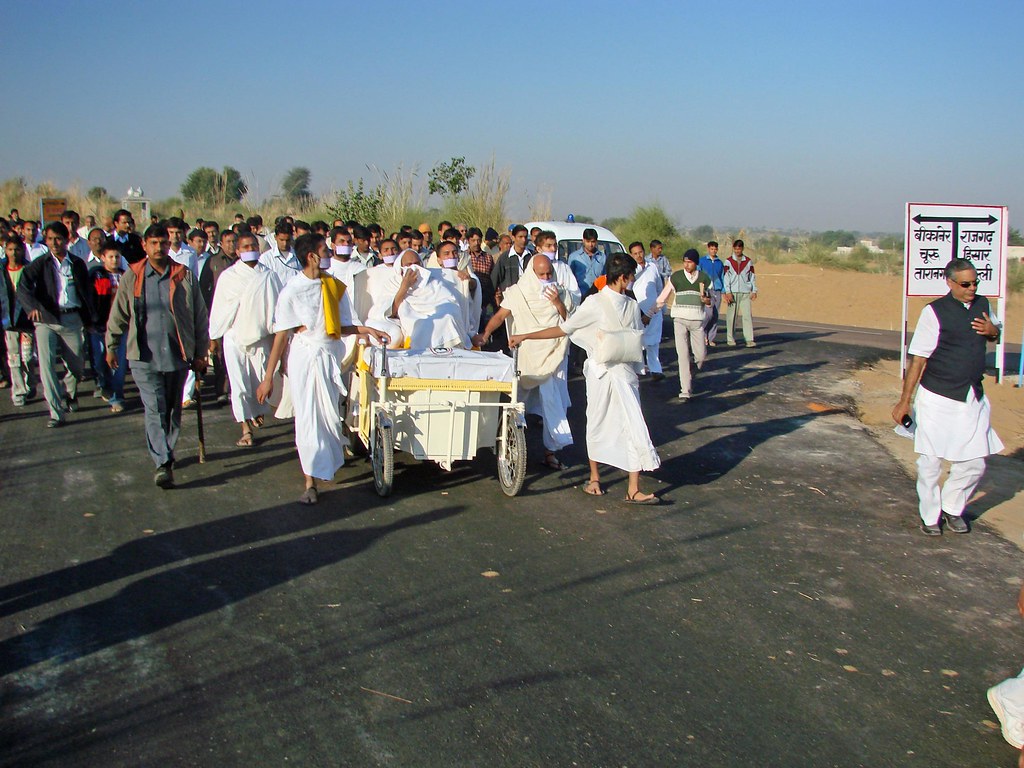 After the crossing, road had been newly asphalted in honour of Ahimsa Yatra
On the national highway, the traffic was stopped to give way to Ahimsa Yatra. The passengers of a bus were greeting the saints and smiled on this auspicious encounter. They craned their necks, the saints gave smilingly their blessings, and took the little - we suppose in honour of Ahimsa Yatra - newly asphalted road to Tamkor.