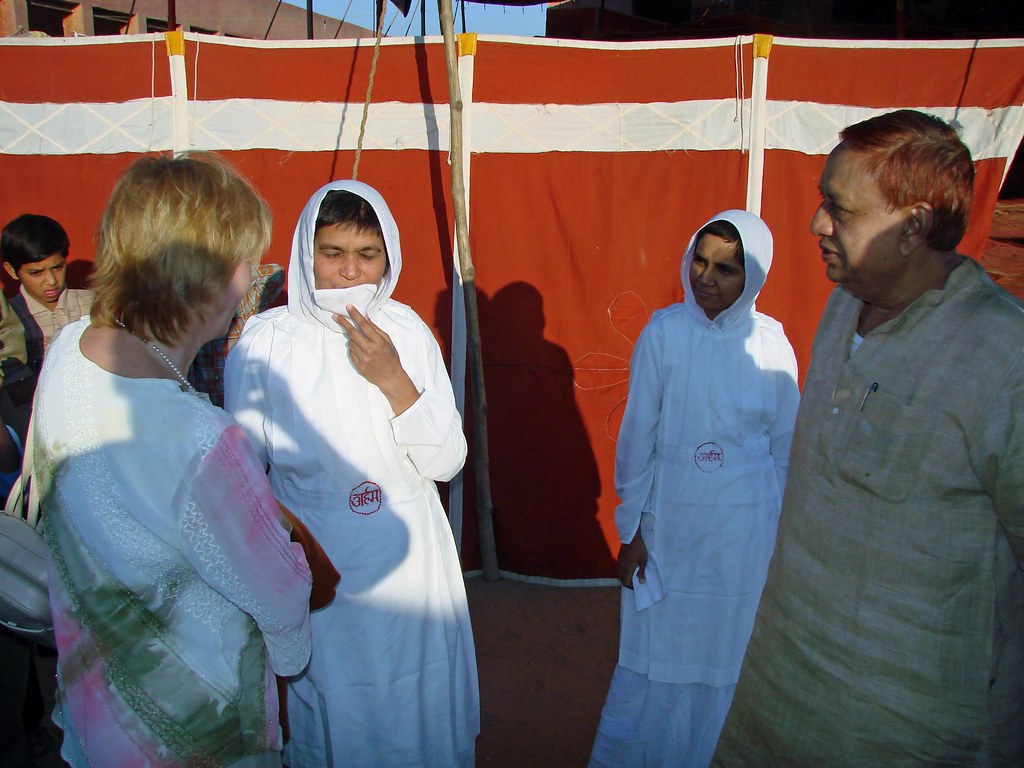 Samanijis Nirmal (l) and Ravi Pragya, Karuna, talking with a lay follower, probably a relative of Samani Ravi Pragyaji. They all had already met in Taranagar and Mahatma
24th November 2006, 16:30 - 20:00
We headed for Hariyal again, as Yuvacharyashree Mahashramanji had accepted to receive us at 16:45 for a longer talk. We arrived a quarter of an hour in advance and took the opportunity to talk again with Samanijis Nirmal & Ravi Pragya. They really felt happy about following Acharyashree with Ahimsa Yatra to Tamkor, Acharyashree's native place.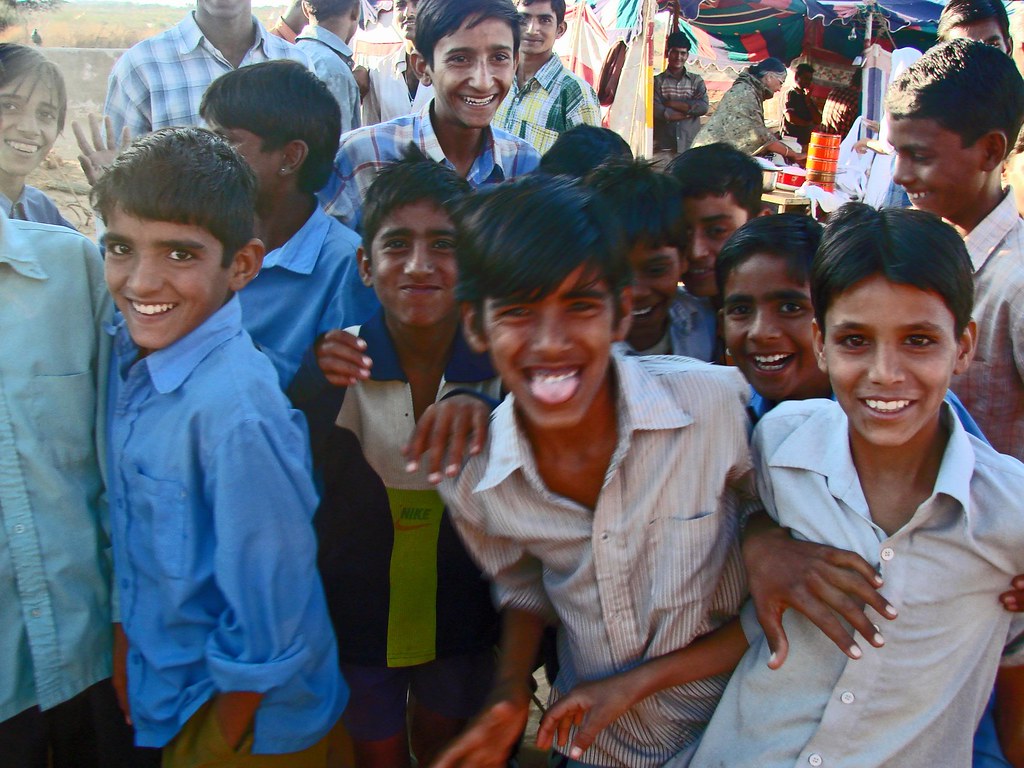 Hariyal village kids
Samanijis went back to their place of accommodation, and some village boys immediately surrounded us. They just scraped through their English words and tried to talk to us, when someone said in our back, " Nice to meet you here!"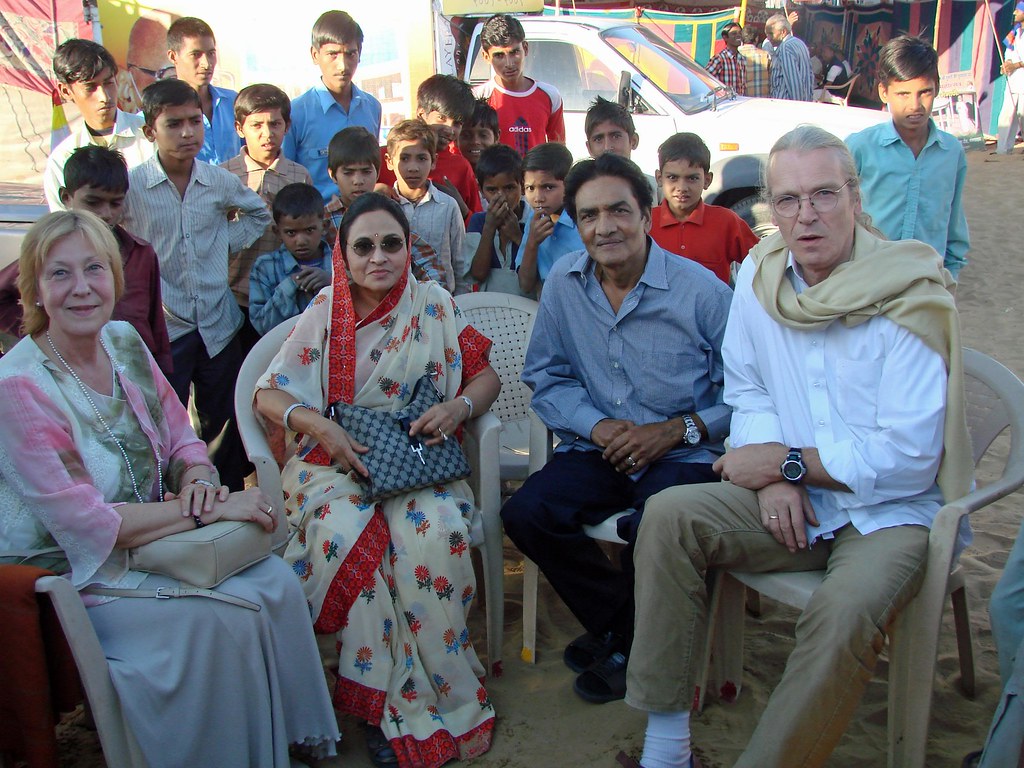 (F.l.) Karuna, Kamla & Girdhari Choraria, Aparigraha, unexpected meeting in the desert with London based friends
Girdhari and Kamla Choraria! We previously had met in London at Paryushan; they had invited us to take our daily meal in their house. After delicious lunch, we had had an extended spiritual discussion:
Girdhari and Kamla were staying with some relatives in Churu, and had come for Guru Darshan. A surprising reunion in the desert!
Time had come for the meeting with Yuvacharyashree. Being aware of Yuvacharyashree's straight schedule, we were too happy for the opportunity that we forgot to take photos and had to retrace the meeting from memory.
We again were impressed how balanced and peaceful we felt in his presence, and how intense he was focussing his attention on the actual situation. In between, he gave an unintended lesson on multitasking to us, talking to people approaching him with urgent affairs. We first asked him on behalf of Samanijis at JVB London to give his blessings for their task, written down by other Samanijis. He only asked when we would leave Tamkor (after tomorrow) and went over to next subject. Encouraged by Samanijis, we asked for his blessings for our editing work promoting the teachings of Lord Mahavira.
The third subject was inspired by Sushil Bafana in Kolkata who suggested to us to take lay follower's Diksha. For this, he had asked Sadhvishrees to give extra-time to us for discussion in depth, but the circumstances from our side were not favourable: HereNow4U - Living Jainism Tour 2006 - 02.10 Kolkata – Sadhvishrees @ Goyals' Home
Yuvacharyashree then asked if we knew what lay follower's Diksha means. When we told him that to our understanding it means to vow in public to follow the 12 vows of a householder, he continued, "Do you know Samayik?" We knew the meaning, but had not practised it except Paryushan. We this way gained new insight what to do next.
Back to Tamkor, we had dinner at Ratan Lalji's house and enjoyed to meet members of his family arrived in the meantime, three of his sons with wives and children had arrived to celebrate arrival of Ahimsa Yatra in Tamkor the next day together.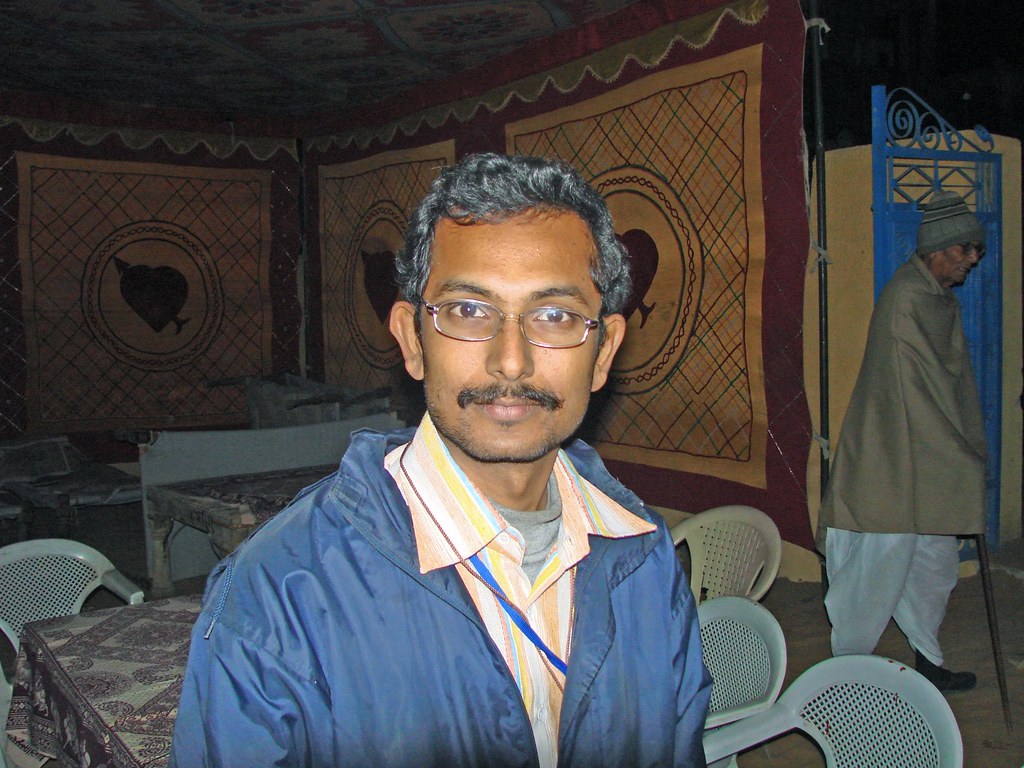 Delhi based journalist who helped several times with his laptop to download pictures from camera when our mobile harddisk refused to acknowledge the photos directly
Apparently, our technical equipment was not well adjusted for use in the desert. We had difficulties to download pictures from the memory stick of the camera to the mobile hard disk. Normally, this could be done via computer as well, but we did not have a laptop with us. The camera's memory stick was full, and next day we needed the camera for photos of Ahimsa Yatra! What to do? We decided to go to town. There, in a big tent near the meditation hall, we met this young Delhi based journalist who kindly several times helped us out with his laptop.
We went to sleep, as we wanted to get up early.