22nd November 2006, 17:30 - 18:30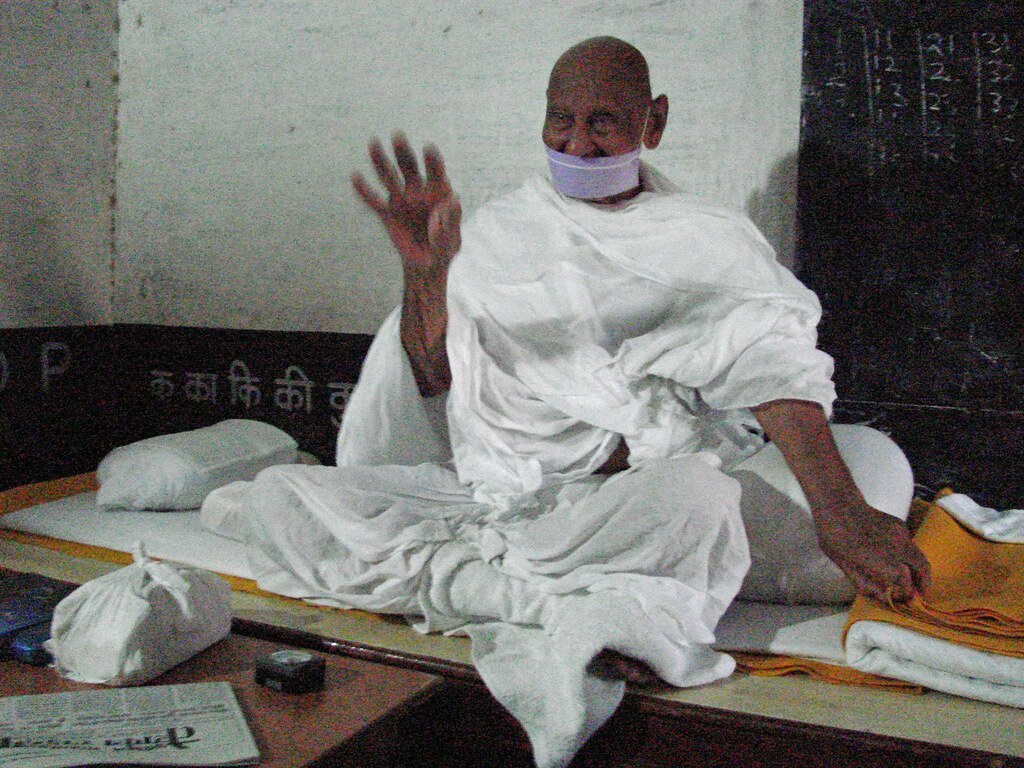 H.H. Acharya Mahaprajnaji
After visiting Taranagar's police station, we reached Mahatma again. On our way to H.H. we met friends who told us that H.H: just had come out of deep Kayotsarg. We hurried to his room and took this photo. We like it very much, as it shows how we see him: full of love, without claiming any privilege, with treasures of inner wisdom, not worrying on any circumstances he meets.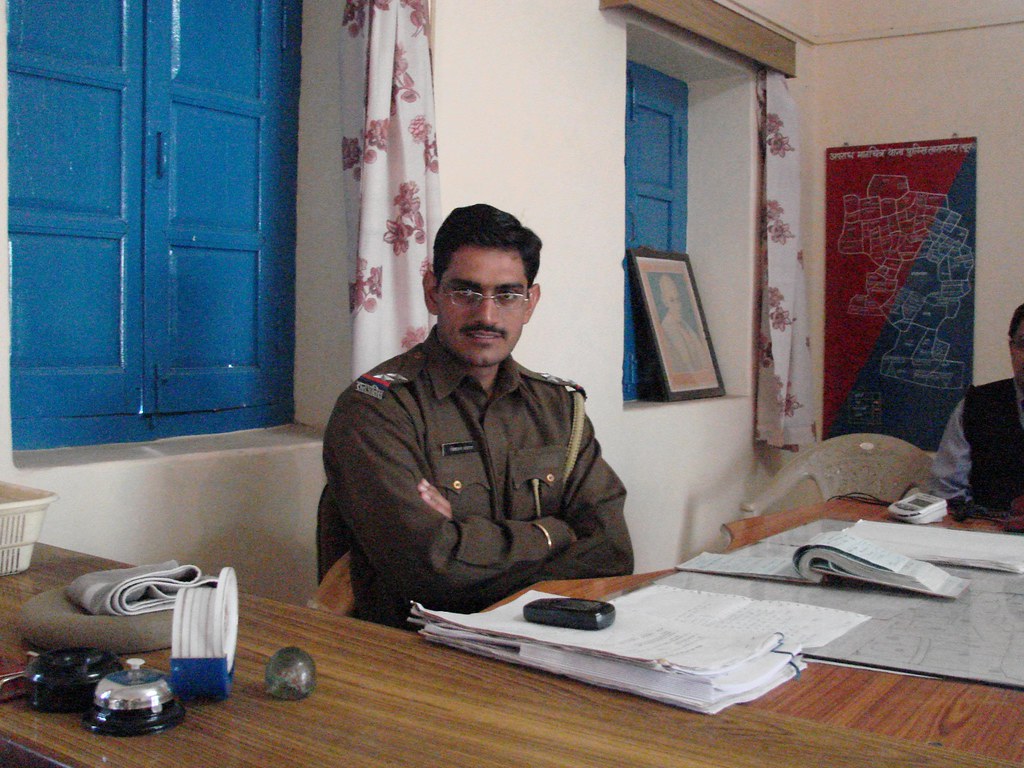 Police assessor Shri Ratan Godara
On the way to Mahatma, we remembered that we had promised to visit the police assessor in his office in the afternoon. We stopped over at the police station and the police assessor, Mr. Shiv Ratan Godara from Bikaner, was happy to see us. He offered tea and snacks and told us that he thinks very high of encounters with people coming from abroad. He then asked what Indians might learn from Germans and vice versa. Very good question!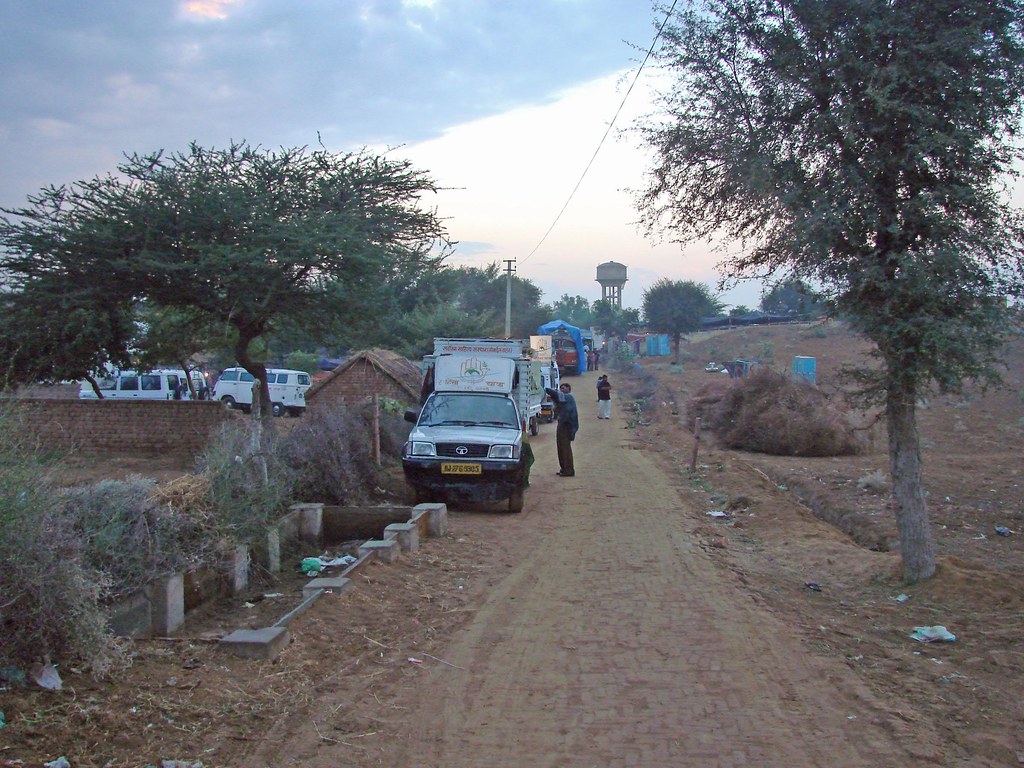 Village street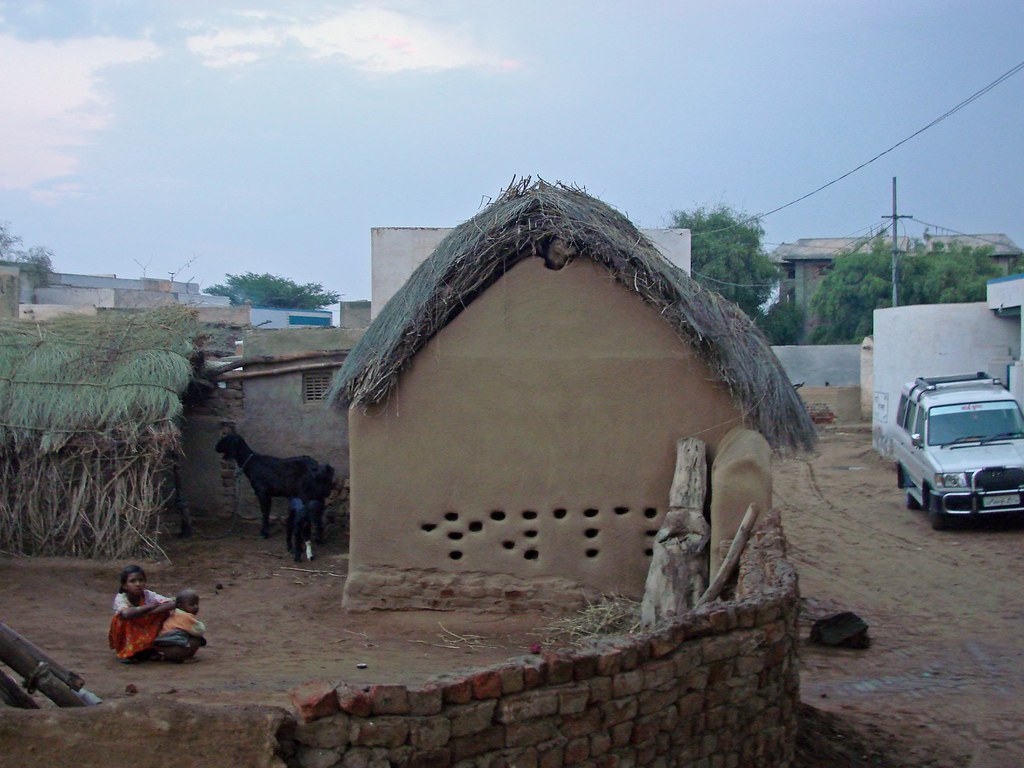 Village life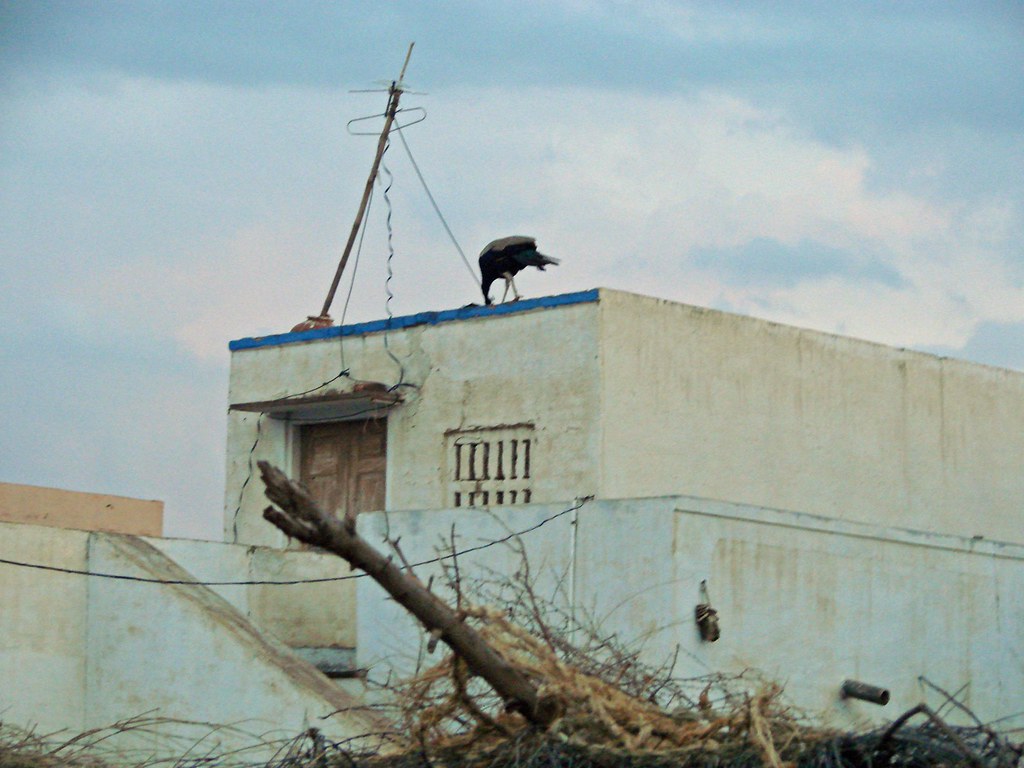 Peacock on the roof
Video:
Evening
The Munis of Acharyashree's company said that Acharyashree needs rest before Evening Pratikraman, and so we left and decided to use the opportunity for a closer look to the village. The schoolhouse was in a walking distance of some minutes away from the village houses.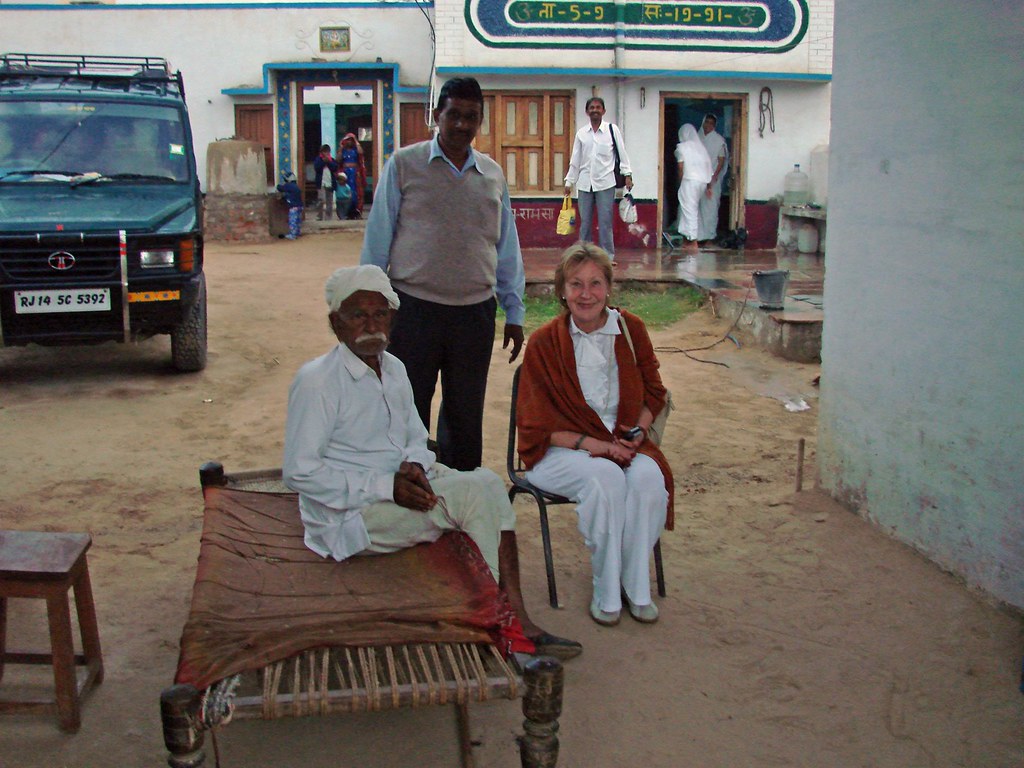 In the courtyard of a farmhouse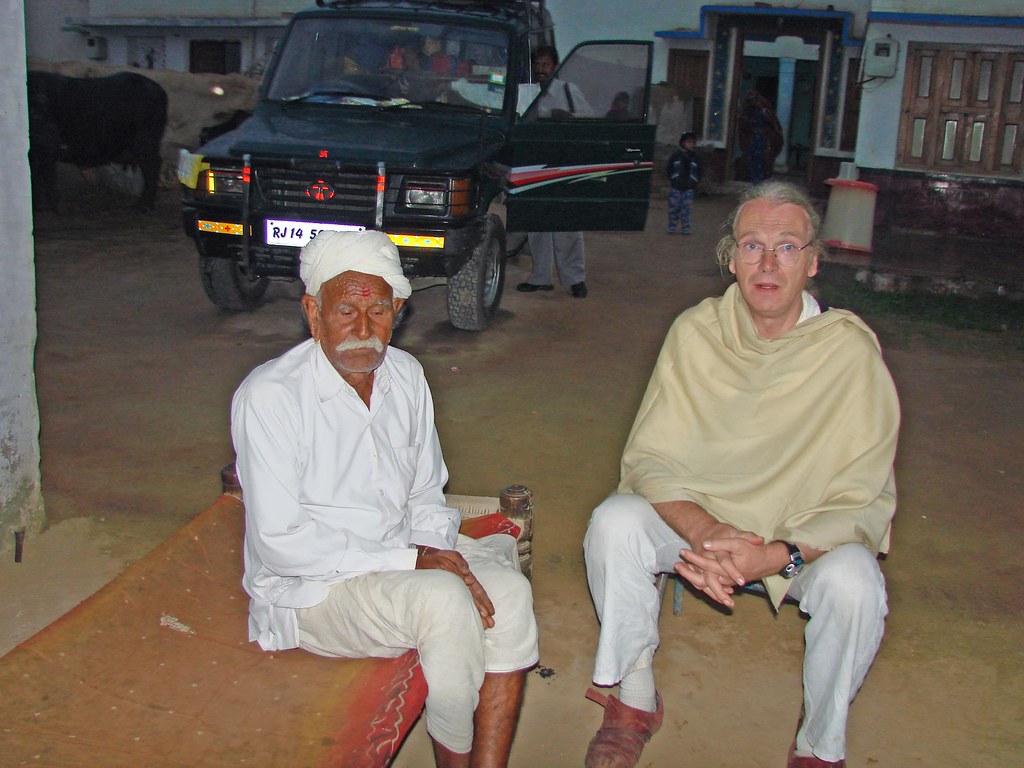 Aparigraha talking with a farmer
A gentleman very kindly invited us to comer nearer and to take photos with him.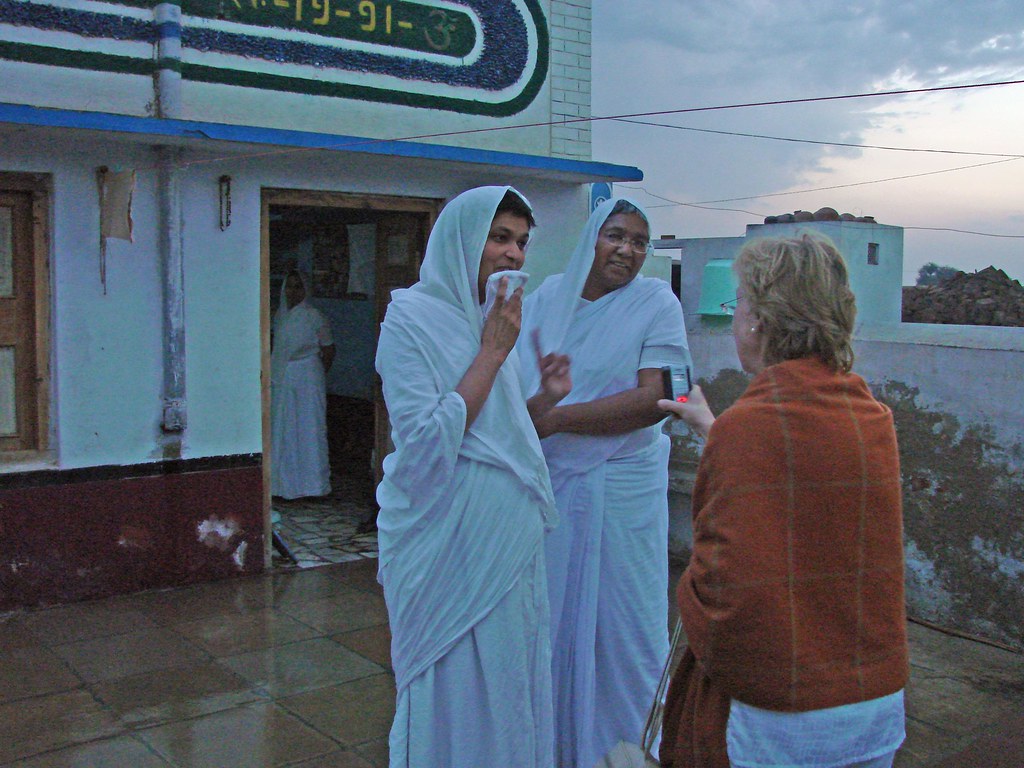 Samani Ujual & Nirmal Pragyji talking with Karuna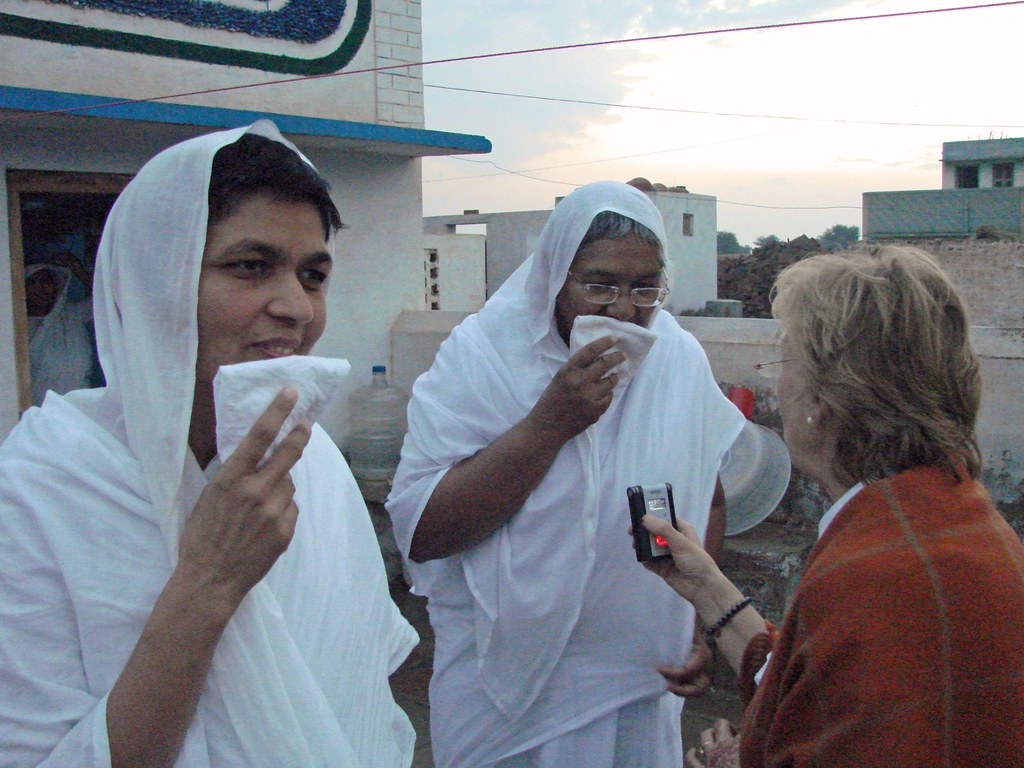 Samanis Urual & Nirmal Pragyaji talking with Karuna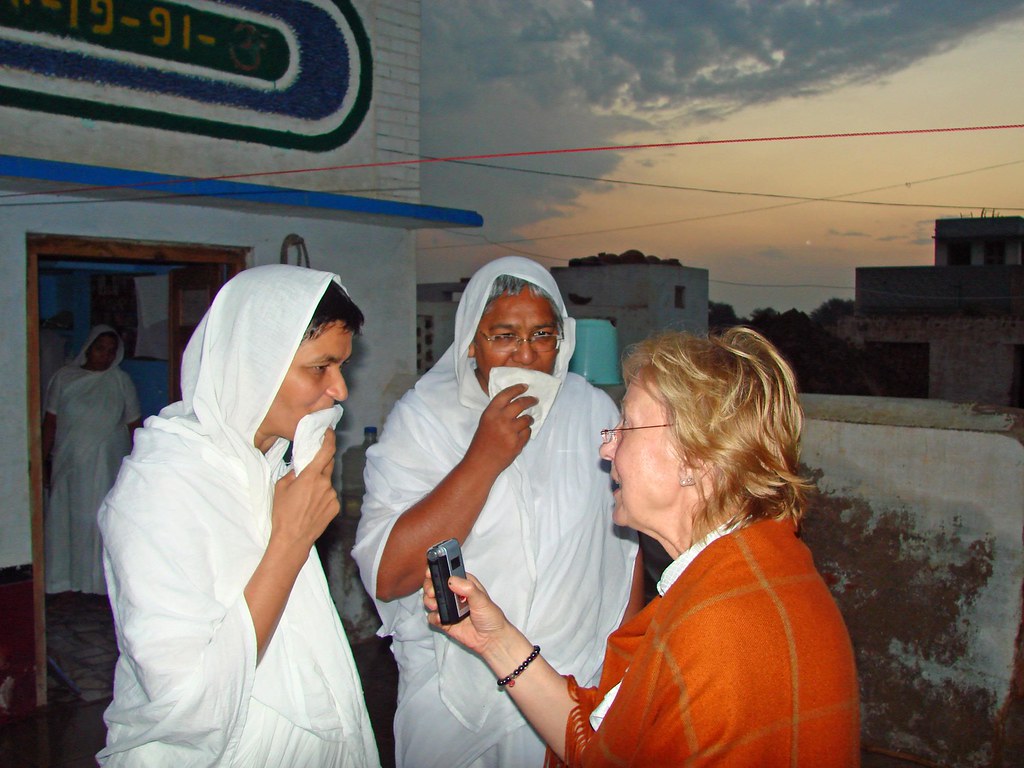 Samanis Urual & Nirmal Pragyaji talking with Karuna
In his courtyard was a newly paint house, where he hosted a group of five Samanijis. One of the Samanijis was well known to Karuna from former visits to India and from morning Darshan in Taranagar two days ago, but Karuna until yet did not know her name and date of Diksha. Her name is Samani Nirmal Pragyaji and she is Samani since 23 years. She presented us to her group leader Samani Ujjwal Pragya.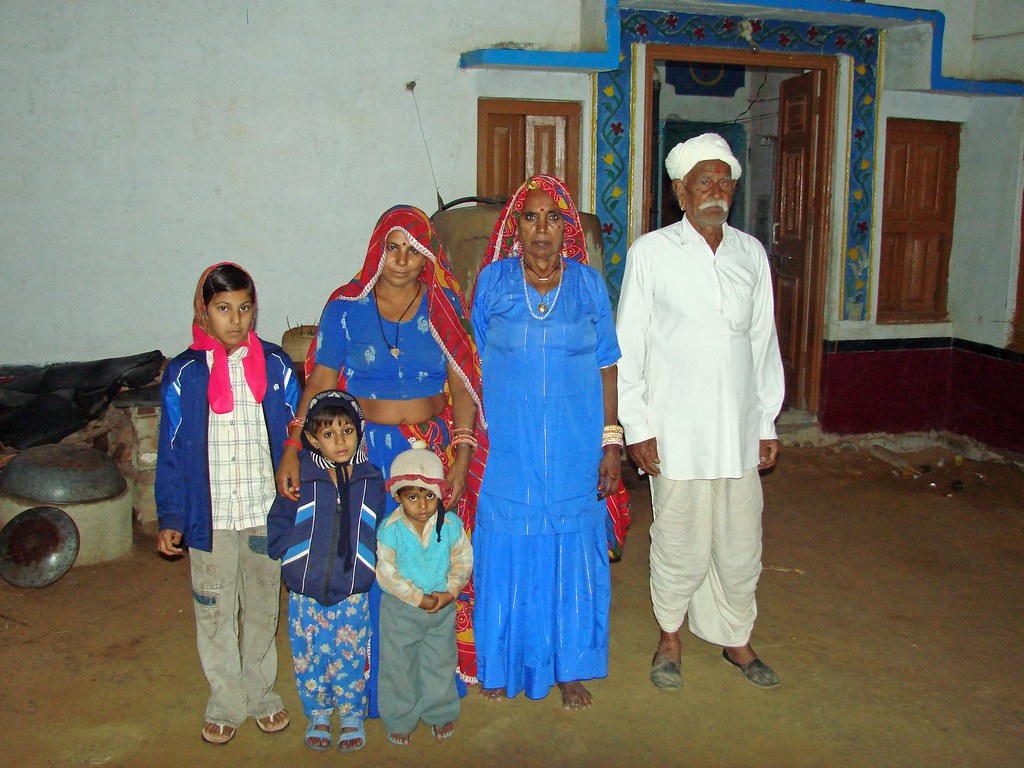 The farmer, his wife & daughter-in-law, grandchildren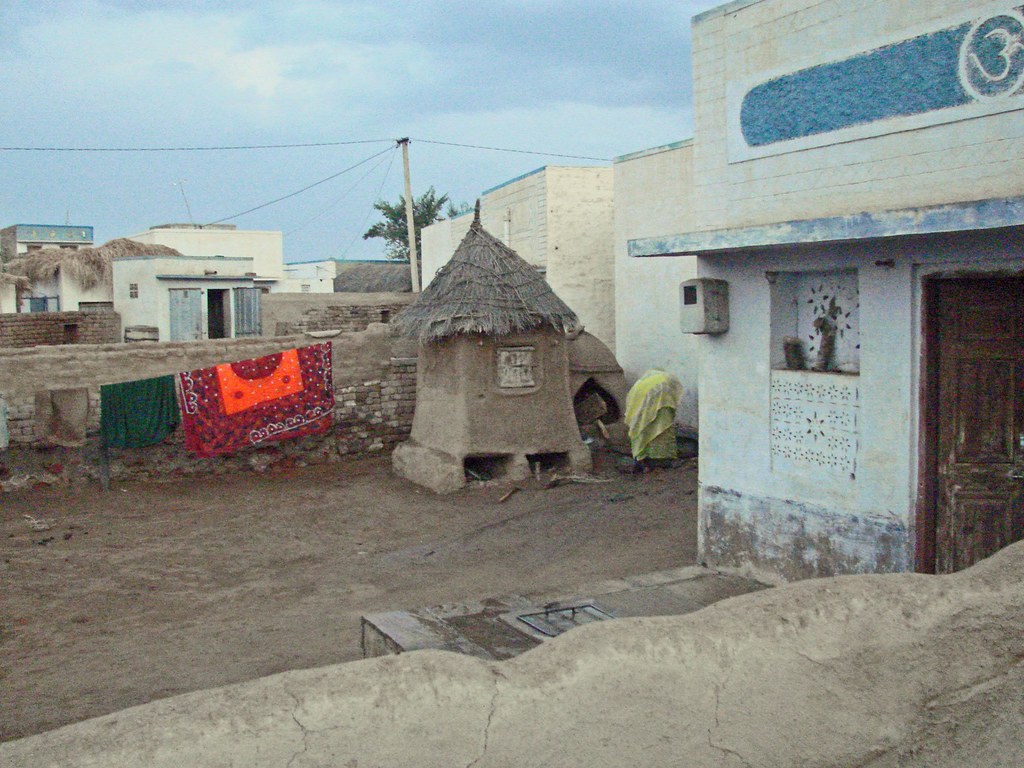 Village scene
Their host called us from the courtyard and asked us to take a photo from the whole family and his property also. Present were his wife, his daughter-in-law and his grandchildren; his son was still working somewhere. His daughter-in-law unveiled her face for the photo, when we told her that it would be hard to recognise her with a covered face.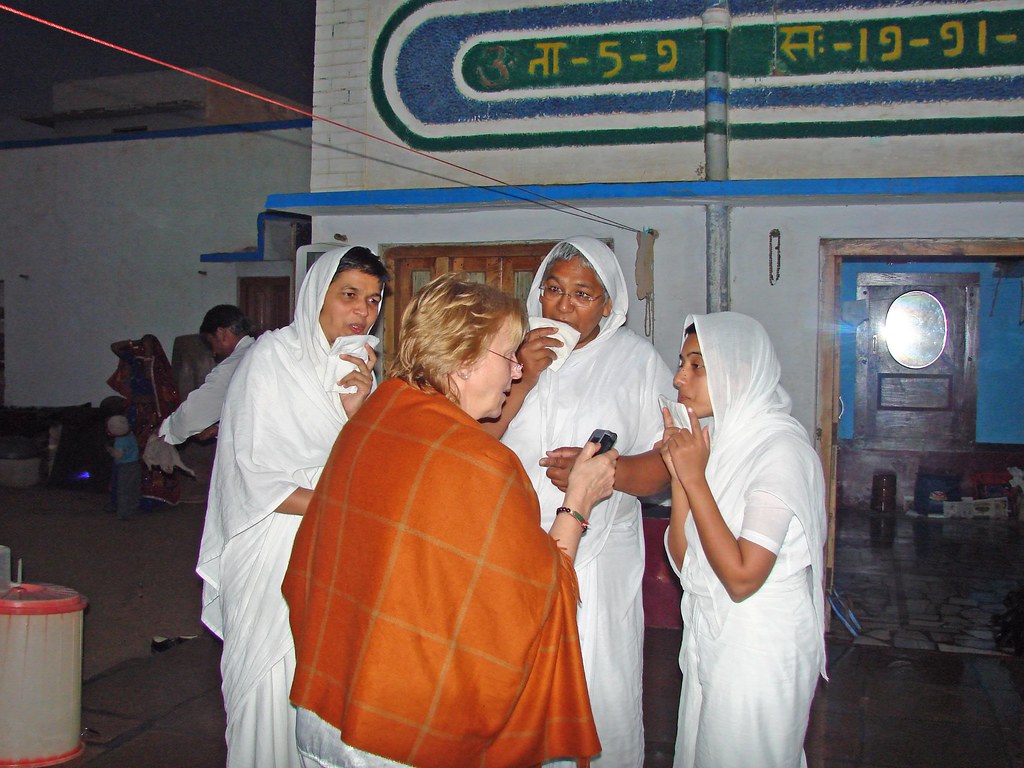 Samanis Urual, Jinmay & Nirmal Pragyaji talking with Karuna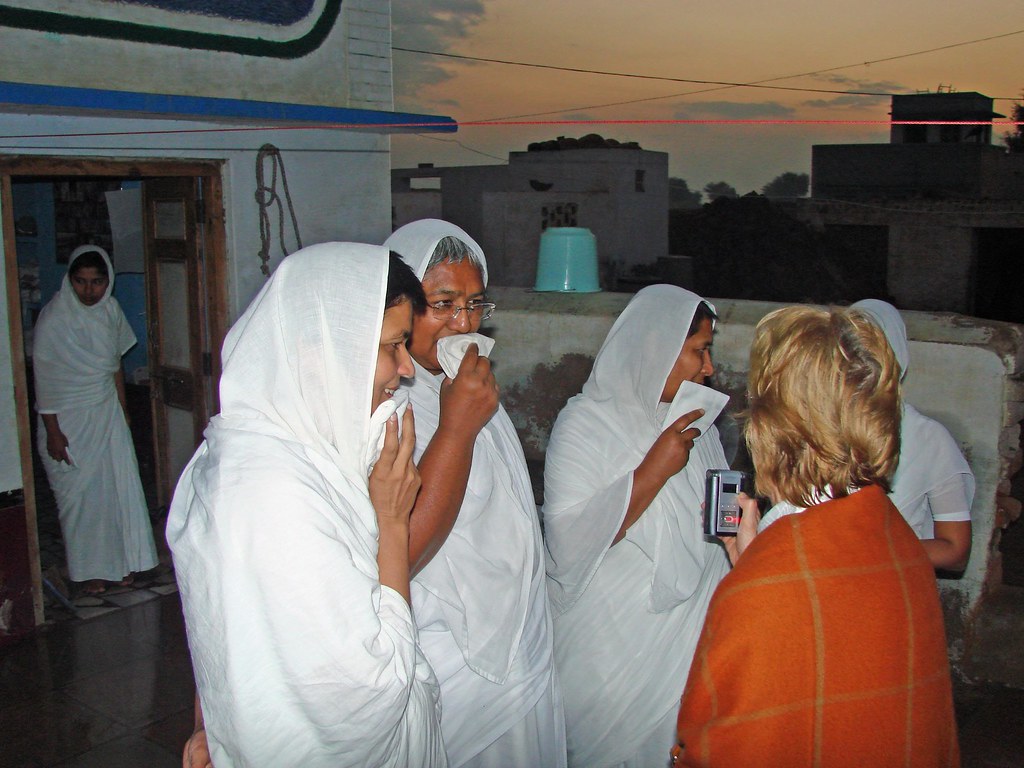 Samanis Ujual & Nirmal Pragyaji talking to Karuna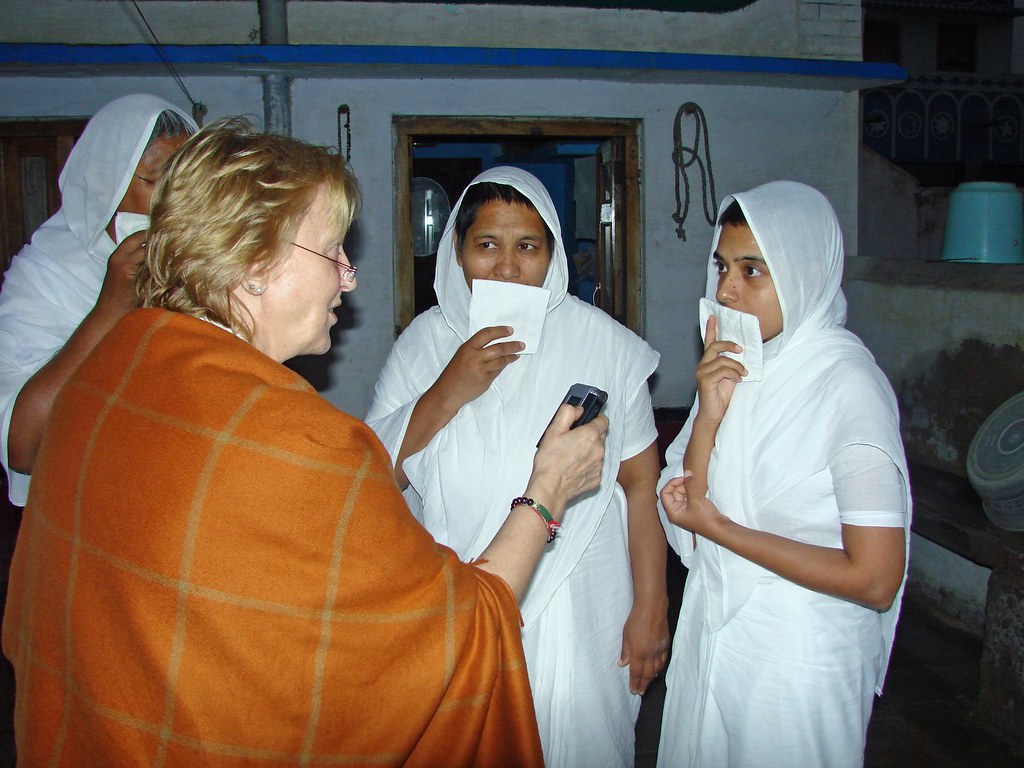 Samanis Jinmal & Guru Pragyaji
The Samanis were in Bhiwani before and joined Ahimsa Yatra when it started again at the end of Chaturmas. Karuna asked them if they feel tired in the evening after having walked, Samani Ujjwal Pragya responded laughingly, "We do not feel tired when we are with Gurudev. We are all full of compassion when we are on Ahimsa Yatra."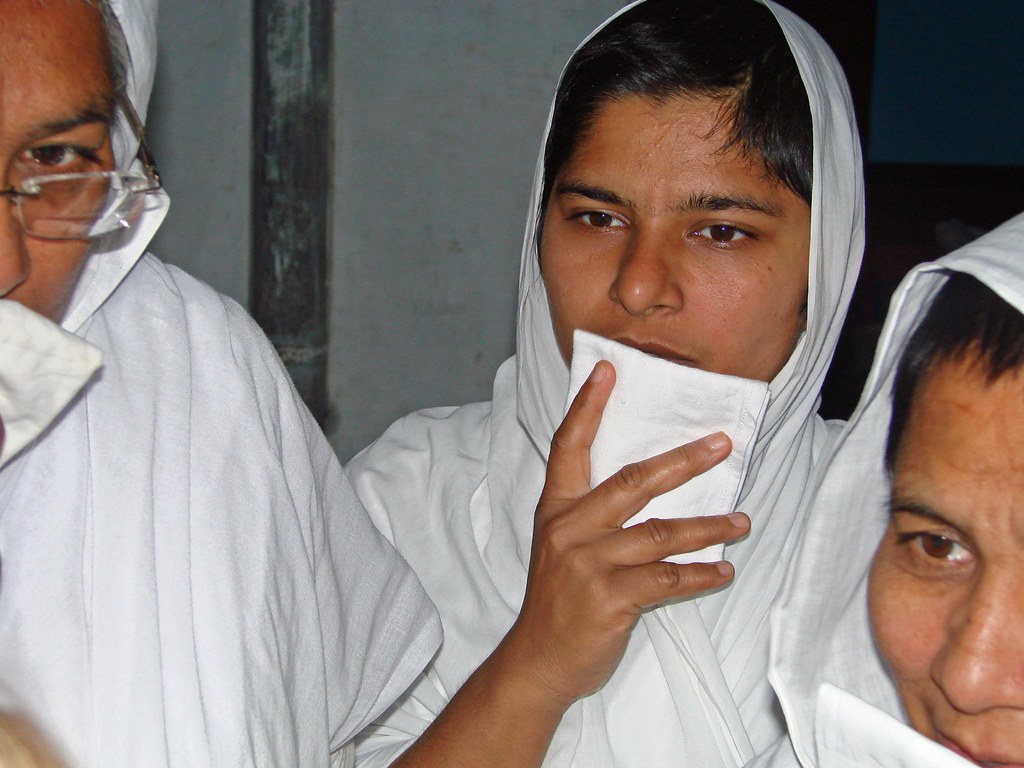 Three Samanijis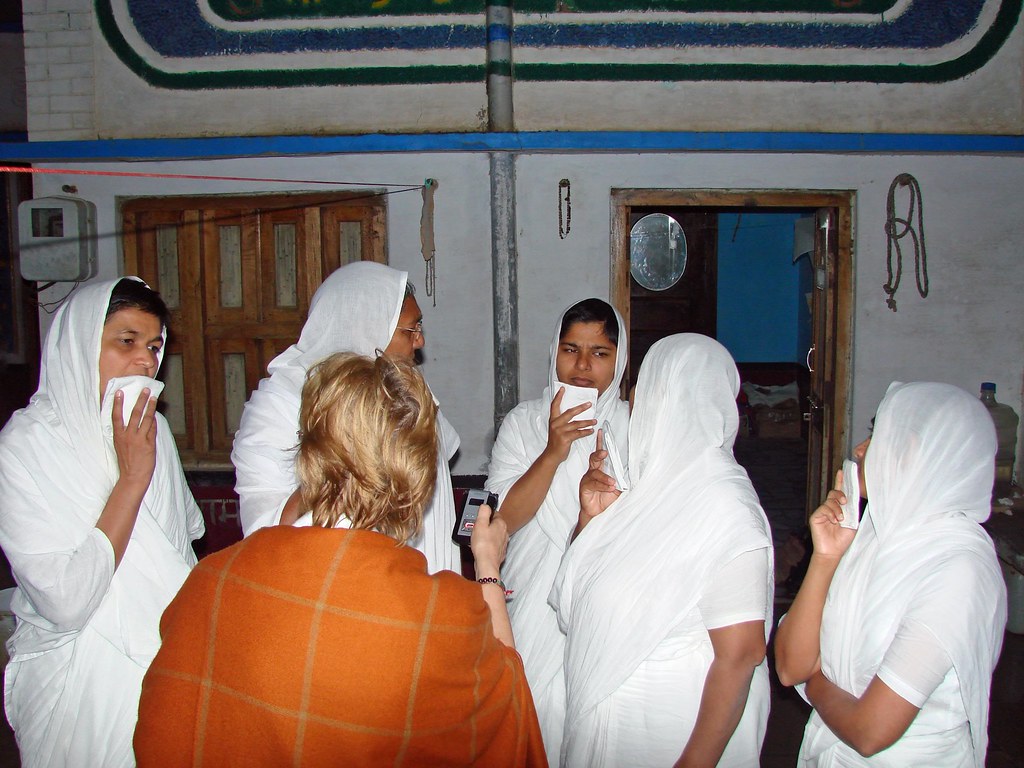 A group of 5 Samanijs (Jain nuns)
The Samanijis showed us where Sadhvi Pramukha was accommodated and we went to her for Darshan.