Chaturmas is important for all followers of Jain religion. It gives opportunities to do Sadhana more carefully, as during this period of 4 months, monks and nuns are staying at one place and can give good training to lay followers. The four months are called Savan, Bhadava, Asoj and Kati. The first two months are often used for Tap; Tap is traditionally done for the purification of the soul. It varies from one day up to 30 days, according to the individual capacity.
In Terapanth community, all groups of monks and nuns do their Chaturmas per order of H. H. Acharya Mahaprajna. Acharyashree has declared Kolkatta as location of Sadhvi Nirvanshree's Chaturmas. Kolkatta has the largest population of Terapanthi followers, and the head office of Mahasabha (general assembly) is there. Sadhvi Nirvanshree entered Mahasabha Bhavan (house) on 24th June for her Chaturmas. A huge rally accompanied her.
Sadhvishrees (r) and Samanijis (l) on their way to the newly built hall
School children in the rally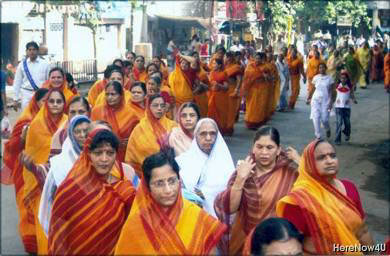 Ladies in their yellow Sarees
At the auspicious occasion of the Chaturmas entering of the saints, the newly build Mahasabha Hall and a small library of spiritual books (Shrut Sagar) were inaugurated. Gulabchandji Shyamsukha had dedicated it for public benefit. The inauguration ceremony was hosted by Mahasabha's chief head Tarunji Sethia.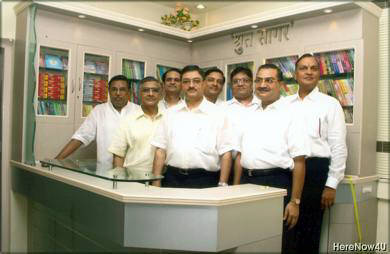 Inauguration of Shrut Sagar
Addressing the audience at Mahasabha hall, Sadhvishree Nirvanshreeji said, "We have been welcomed in melodious words. This is a welcome in a time, in which we have to write a new script of achievements. This time is for self-reverence. Everyone should take three resolutions. The worship of knowledge should be the aim of life; faith should rise day by day, so that the purity of everyone keeps developing; third, we should learn the arts to get rid of obstacles and to control our emotions. When we polish our devotion to such an extent, we will be controlled in every condition.
Ascetics don't come for entertainment. Their target is to gladden the self. Roaming in the soul awakes the lord inside. Everyone should search for this inner support. For a hermit, Religion is comfort and basic need together; it gives new energy every second.
He who becomes disciplined from inside is the symbol of greatness. Discipline is the security of life. We should understand the value of this security and make use of it."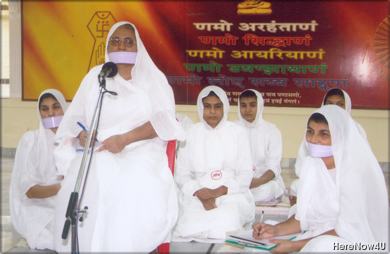 Sadhvishree Nirvanshree (standing) giving her speech; behind her the Sadhvishrees belonging to her group (with mouth cover) and two samanjis (without mouth cover)
Sadhvi Dr. Yogkshem Prabhaji described her views and said, "Disciplined persons are like the lamps of the temple where everyone gives his devotion. Discipline is the base of development.
Our entrance in this newly decorated Mahasabha hall is a detector of purification. Cleanness and elegance charms everyone's heart. But everyone should be alert in purifying the emotions. Only when we have achieved this, we can create a developed personality. Preksha Dhyan is the precious technique for its realisation." Samani Nirdesika (group leader) Sharda Pragyaji said in her welcome speech for the Sadhvishrees, "This is not only Sadhvishrees' Chaturmas, it is also the Chaturmas of the followers. When they come together in this period of Chaturmas with full faith and wakefulness, many achievements can occur." Then the former head of Mahasabha, Sri Surendraji, read a holy message of Gurudev and gave a hearty welcome to the Sadhvishrees in the new Mahasabha Hall.
After this, wonderful songs were song by Sadhvi Lavinya Prabhaji and the members of Mahila Mandal. Terapanth Sabha's Chief Karan Singhji hosted the program in a very skilful manner.
Mahasabha head Rajkaranji Sirohia expressed his happiness by saying, "Today's morning has brought a new light with. It is my good wish that your Chaturmas at Mahasabha shall be historical and successful." Terapanth Sabha (local assembly) head Malchandji Bhansali; TYP's head Sri Tulsi Dugar, Mahila Mandal's Raj Sethia etc. also expressed their feelings at this occasion.