The Jain Vishva Bharati centres all over the world have been conducting classes and camps on Preksha Meditation. In response to constant appeals from Preksha practitioners, it was decided to provide an additional meditation kit in form of a CD with English translations of Mantras, sutras, and hymns.
The chairperson of JVB London's Women's Wing, Pushpa Banthia seized the opportunity to capitalise on the singing talents of Samani Punya Pragya for making an album. Pandit Dinesh, an internationally known musician, was put in charge of the project's implementation. Acharya Mahaprajna blessed his selfless service.
Puspha Bantia went to New Delhi to launch the 'Preksha: Path of Peace' album in presence of his holiness Acharya Mahaprajna on 13th of November 2005.

In her speech, she said,
"JVB London's women wing has conducted several activities. One among them is the Chandanbala play which we did last year and repeated this year at Potters Bar for Pratishta Mahotsav. Under the guidance of Samani Pratibha Pragyaji, we have also released Mantra Sadhana Calendar, which will be very useful for everybody in the family.

Many programmes, Preksha Meditation Camps, health, and peace related workshops, scripture swadhaya, Prakrit summer course, and various classes for all age groups are conducted at the Jain Vishva Bharati London centre. With the grace of Gurudev, JVB London is progressing day by day.
All members of JVB London and me are very glad to release this CD by the pious hands of Gurudev Shri Mahaprajnaji. We hope this album will open new pathways of spiritual experience."
Acharya Mahaprajna blessed the album and said that it is nicely made, and that Samani Pratibha Pragya and Punya Pragya did good work for it.
Sukharaj Sethia presented the introduction to the album on behalf of Amrit Vani, Jain Vishva Bharati Ladnun. Mangilal Sethia, head of Delhi Chaturmas Vayavstha Samiti welcomed Pushpa Banthia with Literature.
The CD will be available at all JVB centres. It contains, amongst others, Preksha Sutras, songs by Gurudev Tulsi, Bhavanas and prayer by Acharya Mahaprajna; more details will be available soon.
Pushpa Banthia offers the CD to H.H. Acharya Mahaprajna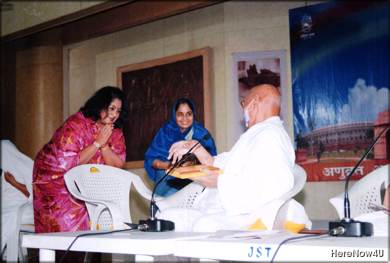 Acharya Mahaprajna compliments JVB London for the good work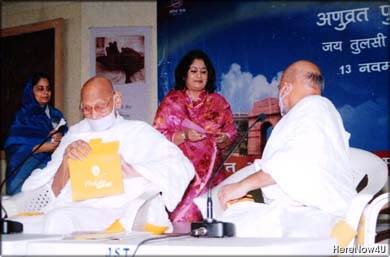 Pushpa Banthia offers the CD to Yuvacharya Mahashraman...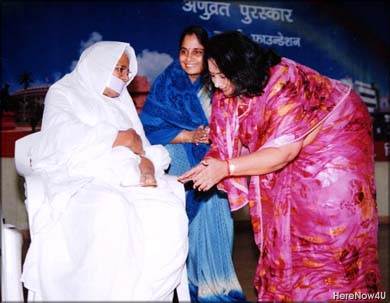 ... and to Sadhvi Pramukha Kanakprabha.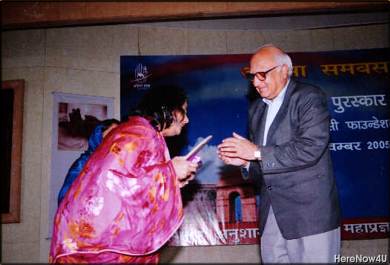 Mangilal Sethia honours Pushpa Banthia with litterature.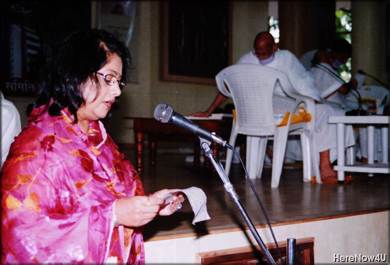 Pushpa Banthia is giving her speech.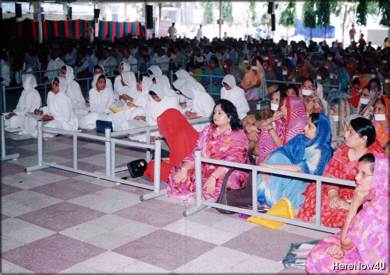 Pushpa Banthia is listening with the audience to Acharya Mahaprajna's discourse.
---