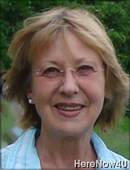 18.10.2007: Visitors from Germany
On 18th October 2007, at the occasion of a visit of German scholars from Department of Comparative Religion of Johann Wolfgang Goethe-University, Frankfurt/Main, a workshop on " Basics of Jainism" was organised on the campus of JVB Ladnun.
During a conference in February 2007 in Punjab, Prof. Weber and Dr. Sikand had mentioned that their research trip to India in October would be on Jainism. The delegates from JVB University invited them to include a visit to JVB University in their program. The workshop was organised in cooperation by the departments of Jainology and Religion and Anekant.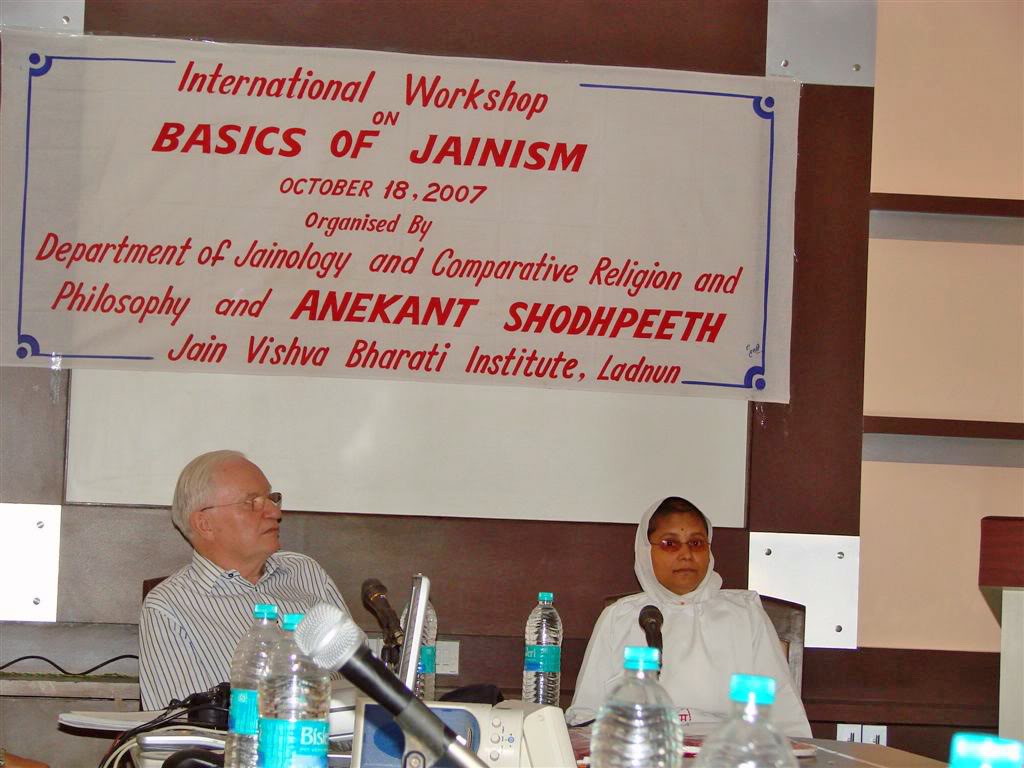 Prof. Edmund Weber and Dr. Samani Chaitanya Pragya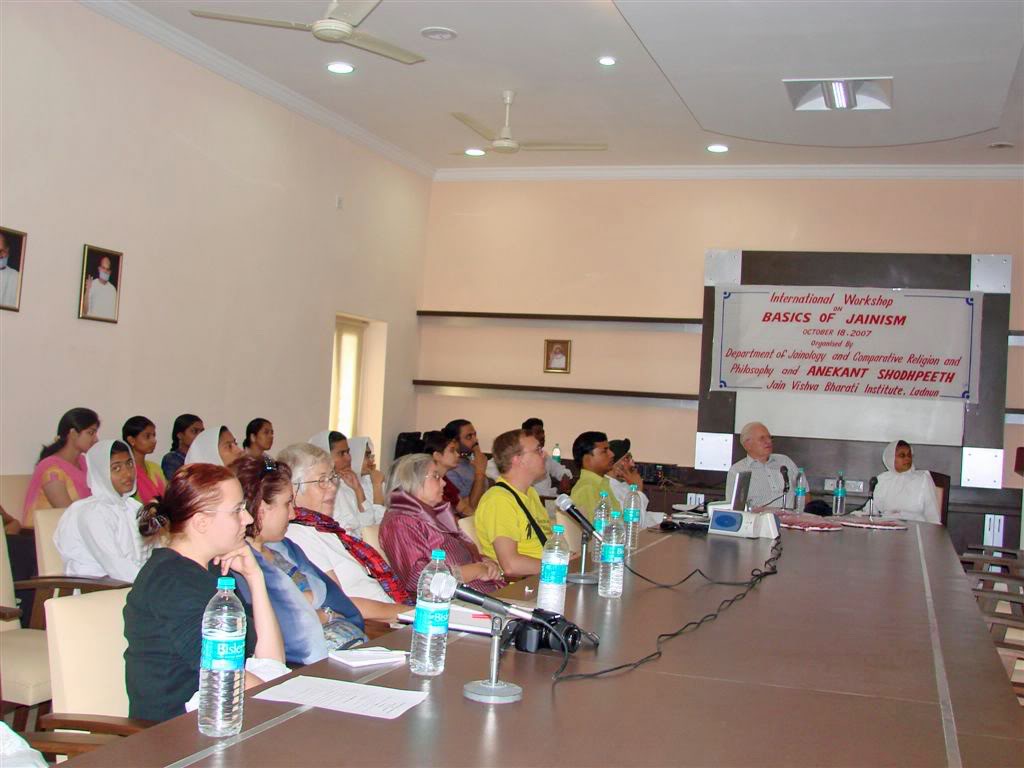 Participants of the workshop - German scholars from Department of Comparative Religion of Johann Wolfgang Goethe-University, Frankfurt/Main, a workshop on 'Basics if Jainism'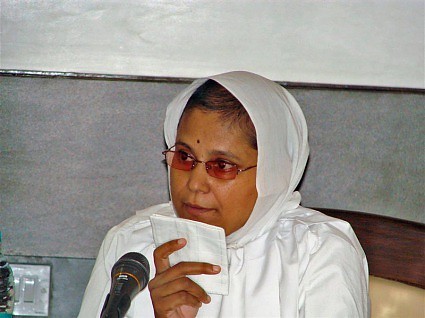 Dr. Samani Chaitanya Pragya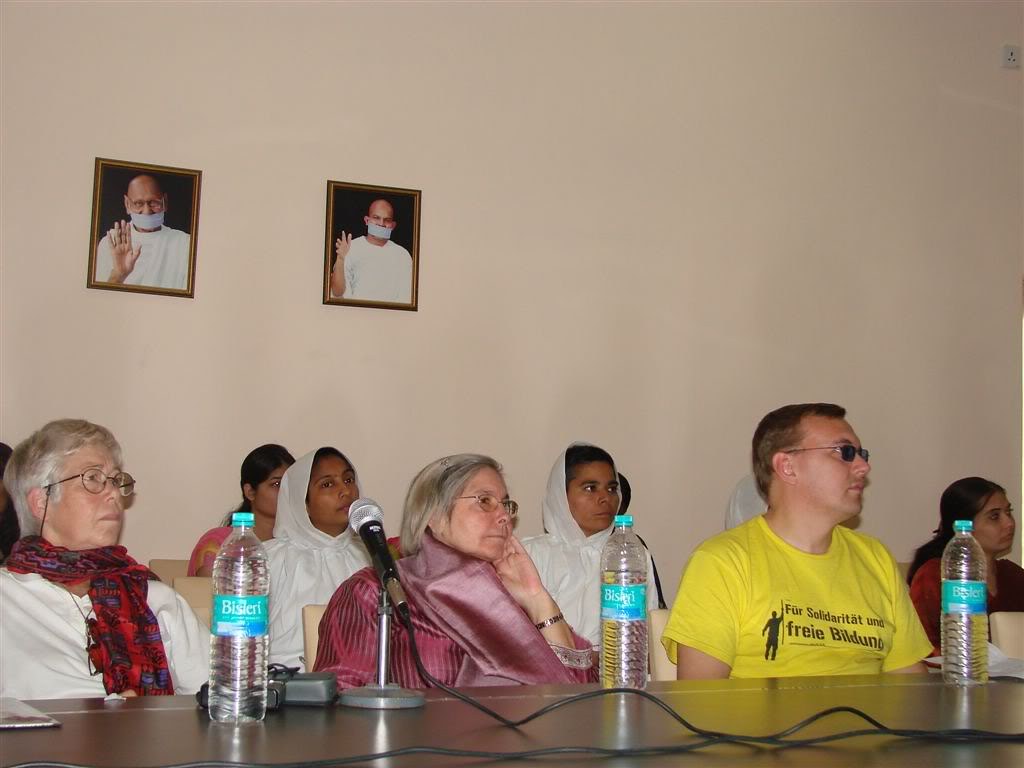 Dr. Samani Chaitanya Pragya delivered the keynote address. She noted that the spiritual fundament of Jainism is the soul, which according to Jaina doctrine is endowed with 4 inherent qualities:
Pure consciousness (awareness without judging)
Perfect perception (beyond the senses)
Perfect bliss (in being aware of the Self)
Indefinite energy (not bound to gravity, space or time)
These 4 qualities equally are inherent in all souls, independently of its bodily manifestation and the potential contained in it. All spiritual practice is aiming at developing those qualities. Orientation to the following 5 spiritual qualities is helpful:
To be free from attachment and aversion
Enlightened knowledge leading to liberation
Enlightened conduct which leads to liberation through realisation of spiritual values
Non-absolutistic approach in respect of considering the multiple aspects of reality and truth (Anekantvad)
Recognition of the fact that not all aspects of reality can be known to us and we therefore focus on one aspect (Syadvad)
Further, the universe is existing without interference of any higher power, it has existed, exists, and will exist according to the cosmic laws governing it.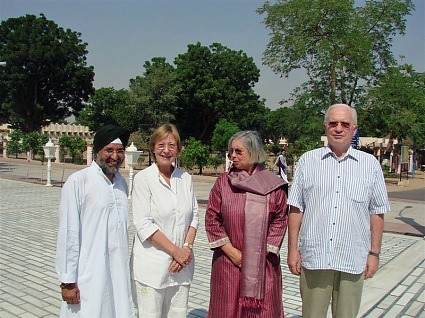 Dr. Singh Sikand, Karuna Jain, Mrs. Weber, Prof. Edmund Weber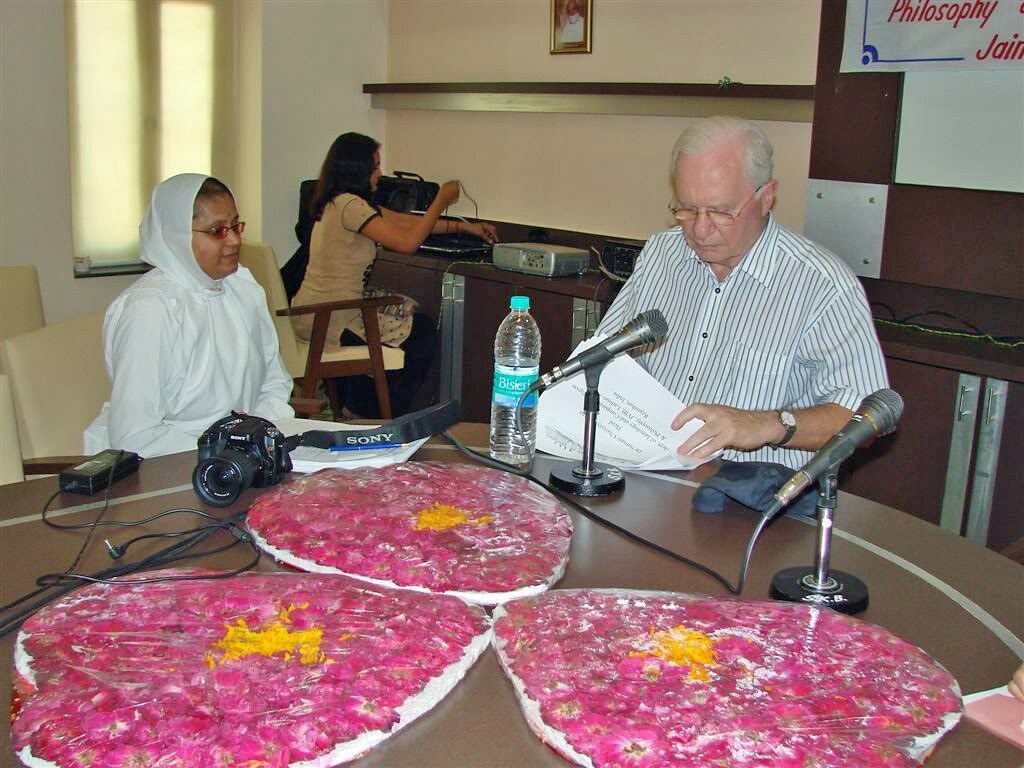 Dr. Samani Chaitanya Pragya, Prof. Weber
Samani Chaitanya Pragya then went in depth to details of the noted facts according to the ancient scriptures. After her lecture, there was tea break, and prof. Weber took the opportunity to discuss on details of her lecture with Samani Chaitanya Pragya. Further, we could present us to each other, as I had come a little later due to German language course. As I then learned, prof. Weber had printed out informations from HereNow4U to prepare the group for the trip. We really were happy to know this.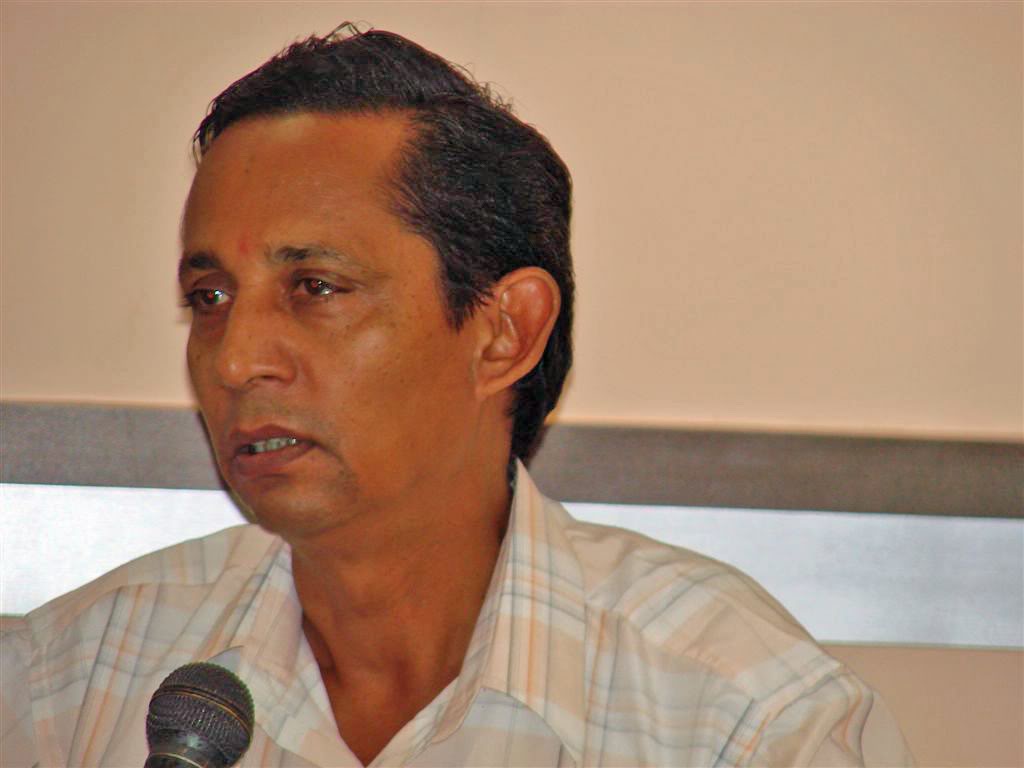 Dr. Mishra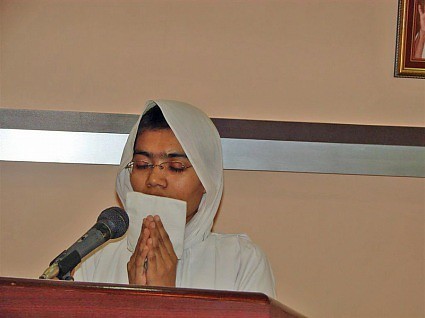 Samani Rohini Pragya
After tea break, Dr. Mishra gave an overview to the system of Preksha Meditation. Some of the participants already had experienced some practical aspects of it in the morning. Samani Rohini Pragya gave lecture on monasticism, vows and the fourfold Jaina community. She finished her lecture with the German words, "Many thanks for being interested in Jainism", as she is student of the German language course. All were very happy to be addressed in their own language. Later they told me that many students on the campus had addressed them in German language, and I was happy that the students got the opportunity to make use of their knowledge so soon.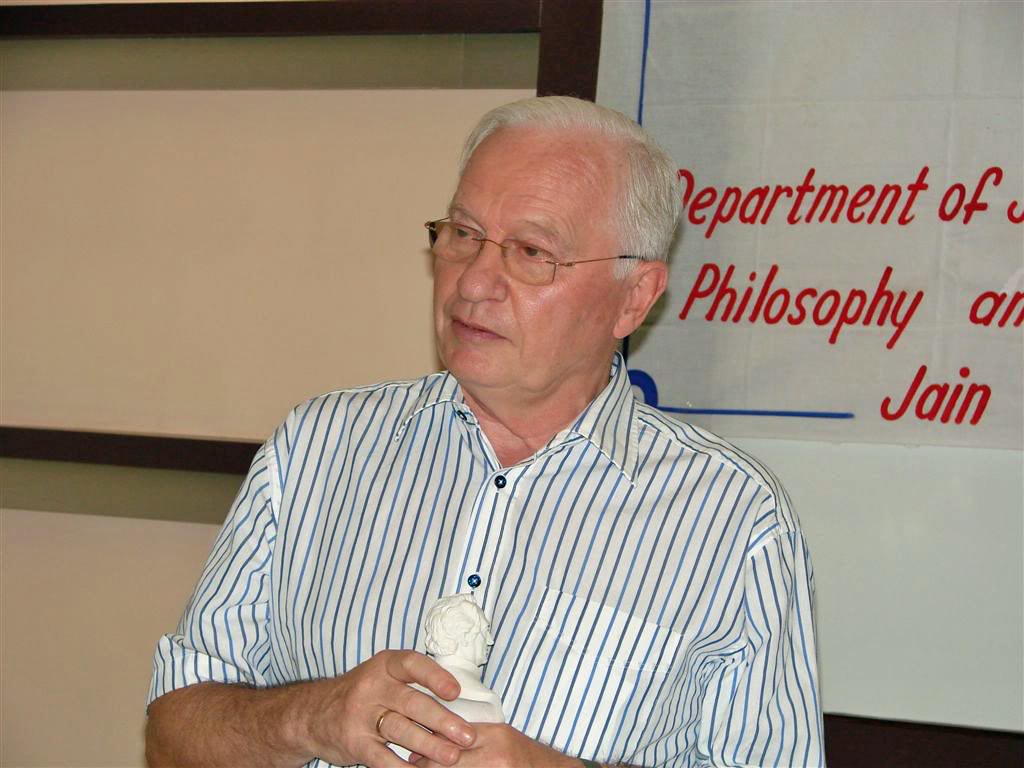 Prof. E. Weber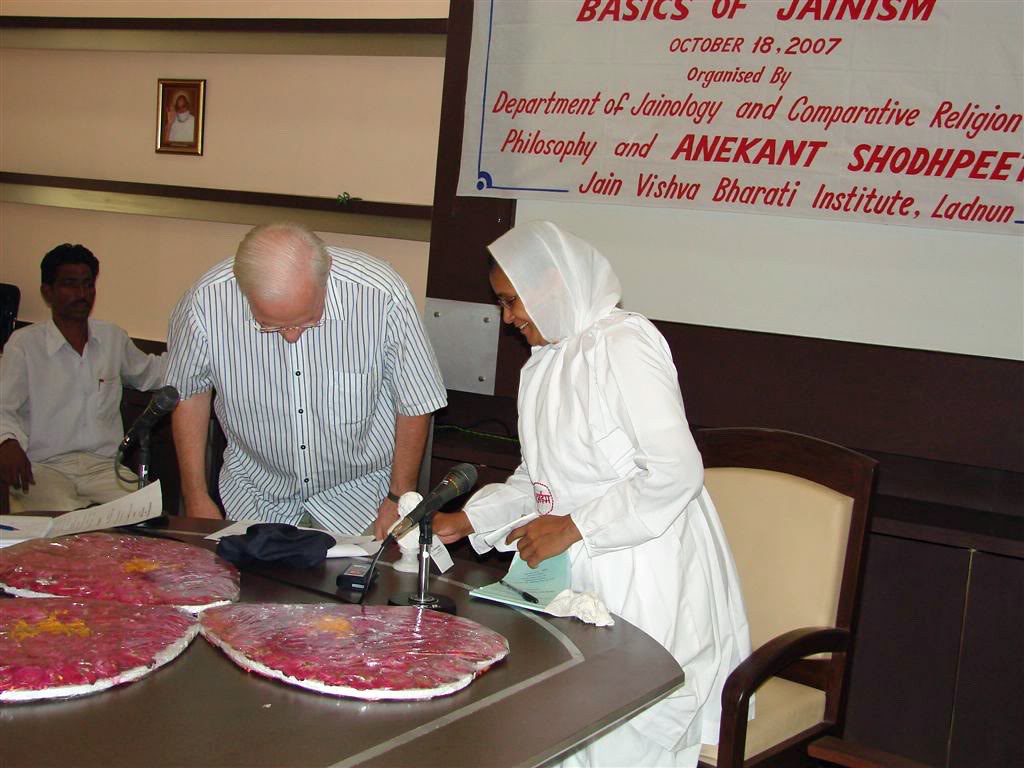 Prof. E. Weber and Dr. Samani Chaitanya Pragya
In his reply, prof. Weber thanked for the many informations, which were conveyed to him and his group. He expressed his feelings of hope for further fruitful cooperation and gifted a small statue of the great poet after whom Frankfurt University was named. I picked up this inspiration and gave informations on Goethe to the students of German language course afterwards as well.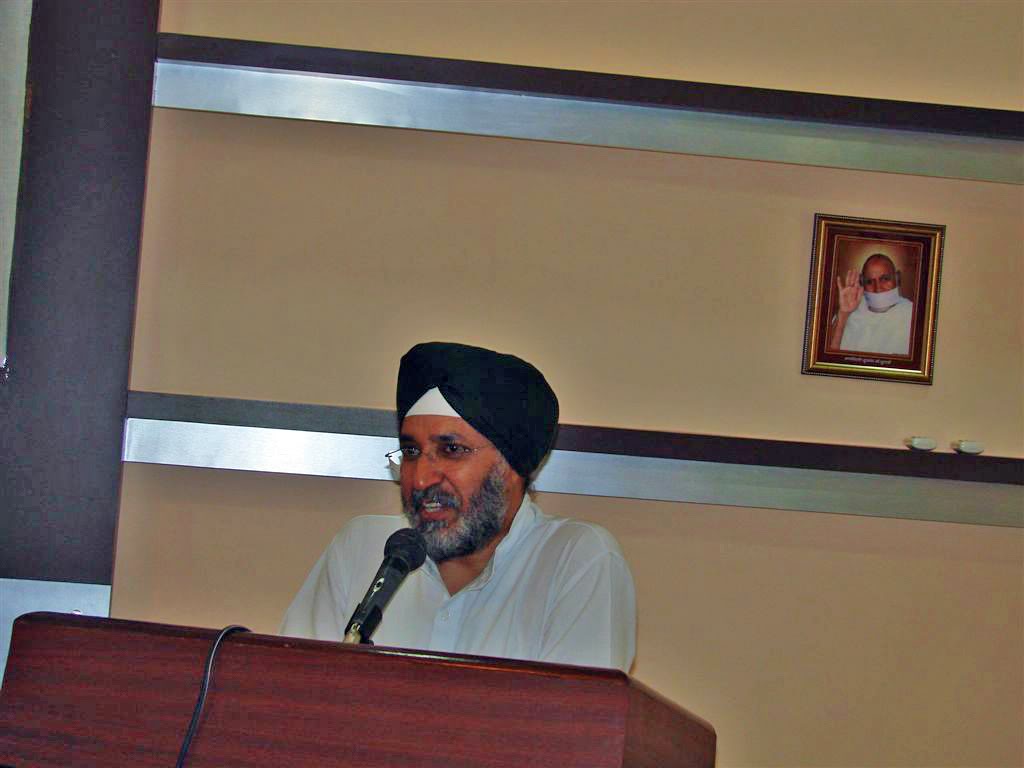 Dr. Singh Sikand, lecturer at Frankfurt University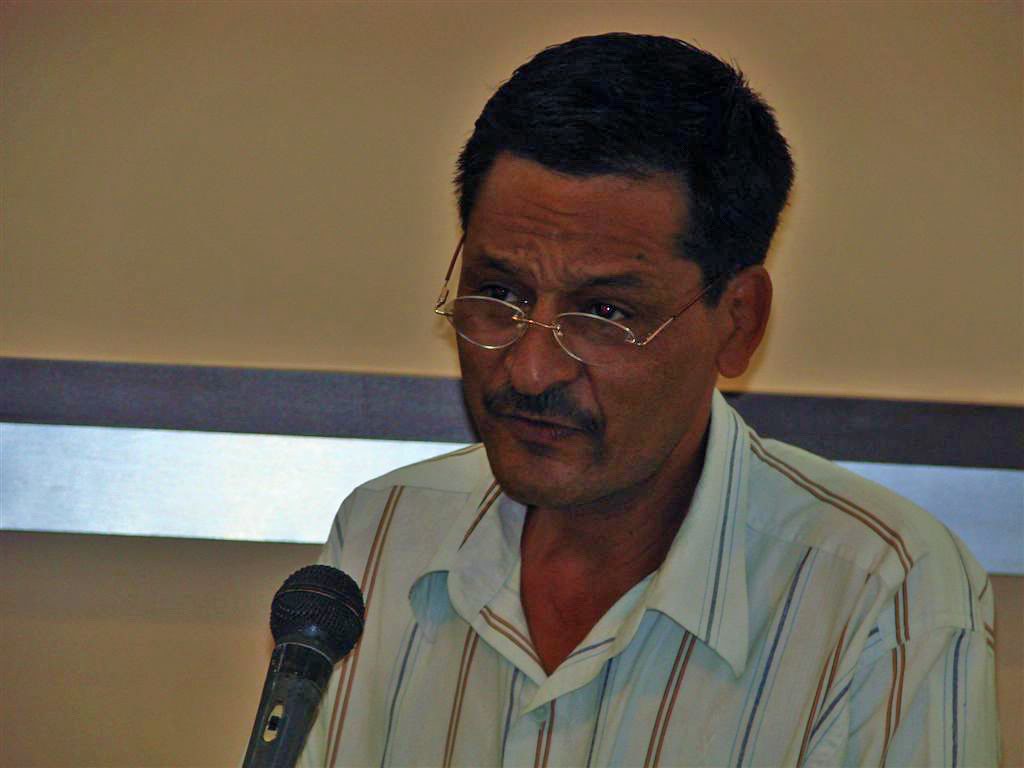 Dr. Anil Dhar, section of Anekant, JVBI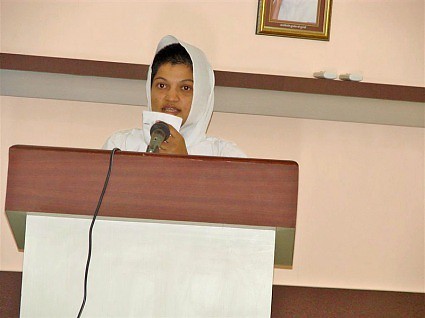 Samani Ramaniya Pragya
Dr. Sikand thanked for the hospitality and expressed his gratitude for being provided with such profound knowledge. He is organising research trips to his country of birth several times a year. He said how well he felt on the campus, but remarked that any announcement for Ladnun was made only in 5km distance, and that in Ladnun itself no announcement could be found to JVB campus. He thought this would be helpful for the future.
Dr. Dhar expressed his feelings of hope for further exchange of thoughts.
Samani Ramaniya Pragya compered the workshop and presented the speakers to the audience.