Birth
Acharya Jeetmal ji was a very talented personality of terapanth religious sect. He was born in Royat, a small village in Jodhpur division on V.S. 1860, Ashwin shukla chaturdashi. His fathers' name was Aaidanji and mother was Kalluji. He belonged to Oswal family. His family name was Golcha. He had two elder brothers - Saroop chandji and Bhimrajji. When Acharya Bhikshu visited Royat for few days, his father Aaidanji became the follower of him. In V.S. 1844, Ajbuji the sister-in-law of Jayacharya got initiated into nunhood by Acharya Bhikshu. Acharya Bhikshu made her group leader considering her abilities after a few years.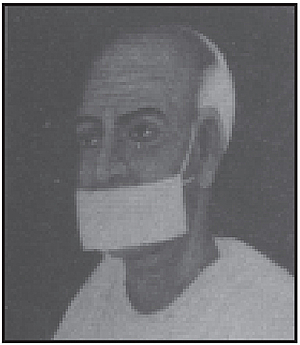 Attack of Disease
Once, Sadhvi Ajbuji came to Royat in the course of the foot journey. She had good public speaking skill. People from all the groups used to come to listen to her vyakhyana, spiritual discourses. Kalluji also came to meet her. Ajbuji asked her- why don't you come to listen the vyakhyana. She replied- 'Jeetmal is very sick. I have no hope for his survival. I am very depressed and don't feel good in doing anything.' Ajbuji went to see the Jeetmal enchanted mangal path before him and said, 'Don't worry, listen to me. If this boy gets well and take diksha and become a monk, will you ever stop him doing so.?
Kalluji said- 'Maharaj! we are no hope for his life and you are planning for his diksha?'
Ajbuji- 'if Jeetmal will recover, your determination (promise) will be utilized.' Kalluji accepted that she will not become an obstacle in Jeetmal's initiation. There happened a miracle. Jeetmal recovered gradually. People said- He survived by the spiritual power of ascetic people.
Sprouts of Spirituality
When he was only 7-8 years, his intellect and talent manifested. He was beloved of all. He was very much fond of religious and spiritual activities. Seeing his devotion towards spirituality, people asked 'will you become sadhu?' He used to reply firmly in affirmation. Some of the monks use to tell him that - you are too young to be initiated. You can become monk after a few years.Then onwards who ever monks visitied village, he use to ask, 'Can I become a monk now!' This inherent inspiration of becoming a monk turned into reality. Once Jeetmal kept a bowl in a piece of cloth made like jholi and went to his brother-in- laws house and said-'I am a monk, provide me bhiksha (alms). His maternal family was dumb-founded seeing his passion for spiritual life.
Initiation into Monkhood:
Acharya Bharmalji was staying in Jaipur. Kalluji with her three sons came for the darshan of Gurudev. Whole family was excited to take diksha from guru Bharmalji. First of all, Saroopchandji requested to grant the permission. Bharmalji, initiated him considering his eligibility. Jeetmal's heart grew much more anxious to get initiated soon after the elder brothers' initiation. Age was young but passion for the acceptance of monkhood was well matured, Acharya shri giving importance to his great feelings, declared the date of initiation as Magh shukla saptami. He himself did not go but sent Rishiraya to initiate him into monkhood. Rishiraya then was only of 22 years but Bharmalji sent him to give diksha saying, 'You are there as my successor but you'll need the one. So I am sending you. VS. 1969, magh krishna saptami was the pious day, when Jeetmal got initiated into monkhood by Rishiraya. After a month, even his mother Kalluji and an elder brother Bhimrajji- were given diksha by Bharmalji. Whole family was intiated into the ascetic life.
Teacher
Bharmalji appointed Muni Hemraj ji as muni Jeetmal's teacher. Under his able guidance he began to develop his scriptural knowledge. He felt himself lucky to get nurtured under the guidance of great guru, like Bharmalji and an able teacher like Hemaraji muni. Jeetmal had also practiced tapasya (perances) and japa (chanting of mantra) etc. with the study. When he was only 15, he did 45 days one-days fasting (upavasa) in his chaturmas stay in Pali.
He gradually progressed in scriptural studies. For 12 years, he remained with Hemraji swami and in this short span of time, he became well versed in many things like delivering spiritual discourses, art, tattvik discussions and indepth understanding of agamas.
Devotion towards Guru:
Incident is of v.s. 1889. Rishiraya was on journey of middle part of India. Muni Jeetmal was accompanying him. They were crossing the jungle of Jhabua. It was quite a dreadful/horrific jungle. This verse expresses the dreadful conditions of that area.
Jhadi banko jhabuo, vacana banko Kusalesh
Hada gamada bankada, narabanko marudesha desh.
While walking, they saw a dreadful creature coming in front marching towards them. It was leopard. Immediately Jeetmal came forward and stood before the Rishiraya. Rishiraya asked - Why did you came forward? come back. Muni Jeetmal said- No, it can not be. You are an acharya and to protect your body is our duty. Neither of them felt panic. Both were fearless. Strong radiation of fearlessness spread over in the atmosphere and leopard crossed the road and went back into the jungle without committing any harm.
Inborn Poet
Jeetmal was an inborn poet and he was a gifted person in poetry. Very few people have such a good talent in poetry and composition of songs.
At the very tender age of 11, he began to compose poems. When he was only 19, he composed a brief poetic Rajasthani translation of Pragyapana sutra. The voluminous and biggest agama text Bhagavati, has also been translated in Rajasthani poetic composition. It contains 80 thousand gatha (Verses). All his poetic compositions are contained in 3.5 lacs of verses (stanzas). Hence, he owns a prominent place in Rajasthani literary authors.
Power of Concentration
Muni Jeetmal had a very good power of concentration. Once he got involved in any work, outer environment could never disturb him.
Once Hemrajji went to Pali and stayed in a shop in the market. Muni Jeetmal was with him. During those days, stage performists had come to that area. At a nearby place they began to present their performances. They started dancing on a bamboo rope. A huge group of people of town was attracted towards them and a big crowd gathered to see the performances. Muni Jeetmal was sitting in a balcony and was busy with his writing. A drama was performed before his sitting place and Jeetmal went on writing. He did not turned his eyes towards drama even once till the end. Aperson, who had evil or jealous feelings for terapanth, was observing the monk that if he turns his eyes towards performances even once, then he would find a point to spread among the people and condemn terapanth. But his dream could not be realized. Performance was over. That person declared- 'the institution that has such determined and disciplined young monks can never be uprooted by any power. More over, I wish to say that even for next hundred years, no one can even budge the strong roots of terapanth.
Love for Scriptural Study Revision
Most part of the life of Jeetmal ji was spent in revision and study of scriptures. In last few years, he used to revise even 5000 gathas (verses). Yoga, meditation, reflection upon scriptures was prominent activities of his life. After the appointment of Maghraj ji as his successor (Yuvacharya), he remained much involved in these activities. His life is an ideal and enlightening for other spiritual people. If someone came to him, he used to say- go to Maghji and do his seva. He was very much interested in scriptures and spent all his life doing scriptural study and revisions.
A Great Acharya
He was appointed as yuvacarya, successor in v.s. 1893. For 15 years, he has countributed to sangha as yuvacharya. After that he made independent journeys and enlightened many towns and cities. In thali also, his inspirations evoked higher consciousness towards spiritual activities. On v.s. 1809, he was appointed as an acharya of terapanth. He was the law-maker Acharya of terapanth. He formulated many disciplinary codes of conduct and the three prorminent celebrative events i.e. Charamotsava, Paat mahotsava and Maryada mahotsava are the results of his prudent vision. The system and rules that have been applied by him is indeed a subject of writing an independent text upon. V.S. 1938, Bhadra Krishna dvadashi, in Jaipur, he left this mortal body and dissolved in immortality.
There had been 330 dikshas in the span of his Acharyaship. Among them 104 were monks and 226 were nuns. During the last days of his life, there were 71 monks and 250 nuns in the sangha.
Questions
Where did Jayacharya born?
Who initiated Jayacharya into monkhood?
Write the incident of his power of concentration?
Which text did he translate in brief poetic style at the age of 19?