17.11.2006
Next morning, Aparigraha felt fresh and energetic again, Karuna had trouble to get on her feet. She felt much better when she was remembering Sadhvishree Nirvanshreeji's words, "We should always try to focus the mind on bigger aims to achieve. When we give to much attention to bodily sensations, we might not reach our aim. For example, our group of Sadhvis has to reach a certain location when people are awaiting us. When something is disturbing our mind, we might not reach it. Therefore, it is important to change attitude towards the body. We have to provide it with all it needs, but should not focus our attention on it. Bodily sensations come and go, we should be aware that this is the very nature of the body."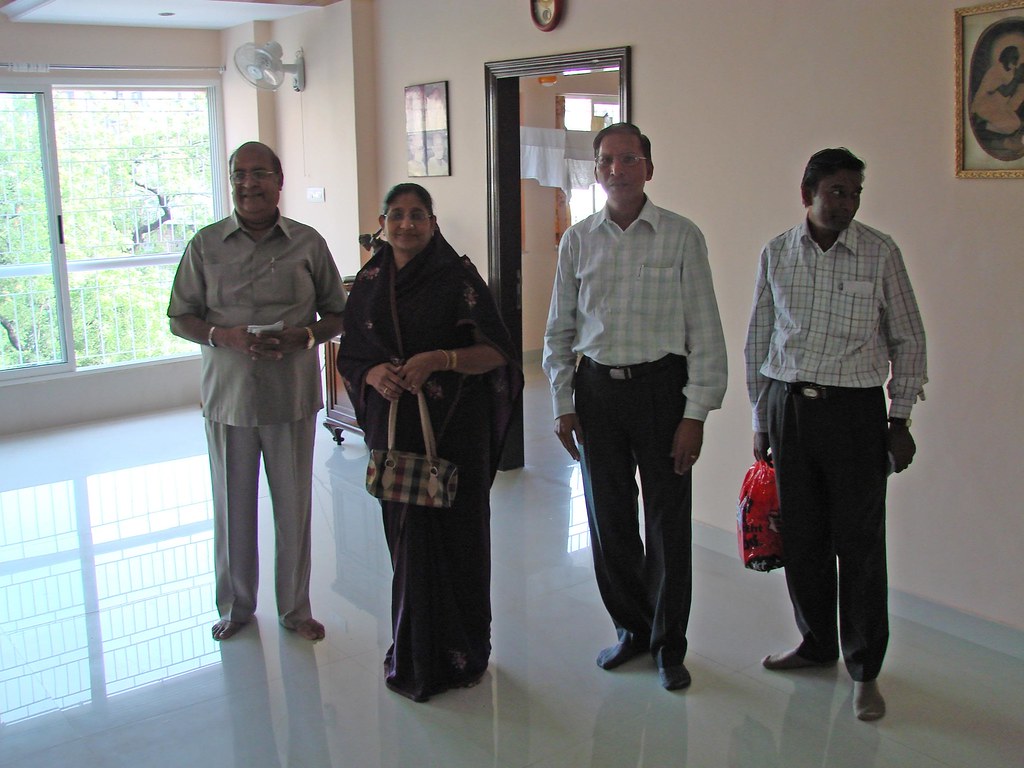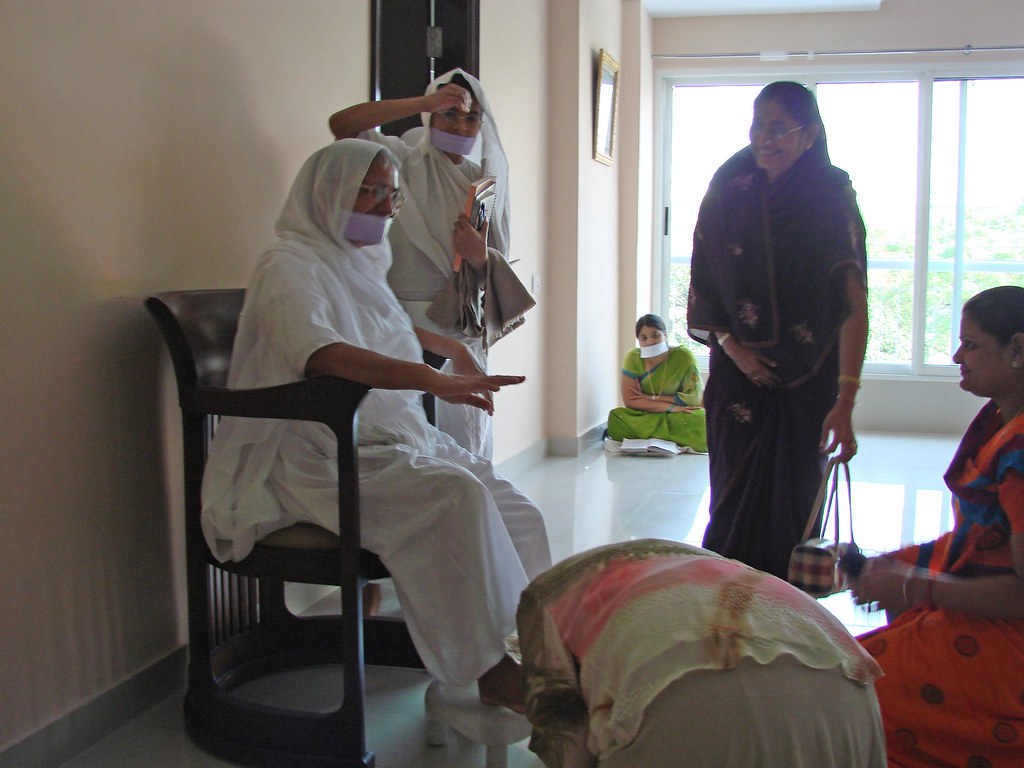 After breakfast with our hosts, we got the opportunity to extended talks with Vineet Samsukha, Mohanlalji's and Sukhmalji's son. We had met in the eve already, but all of us were too tired for further activities.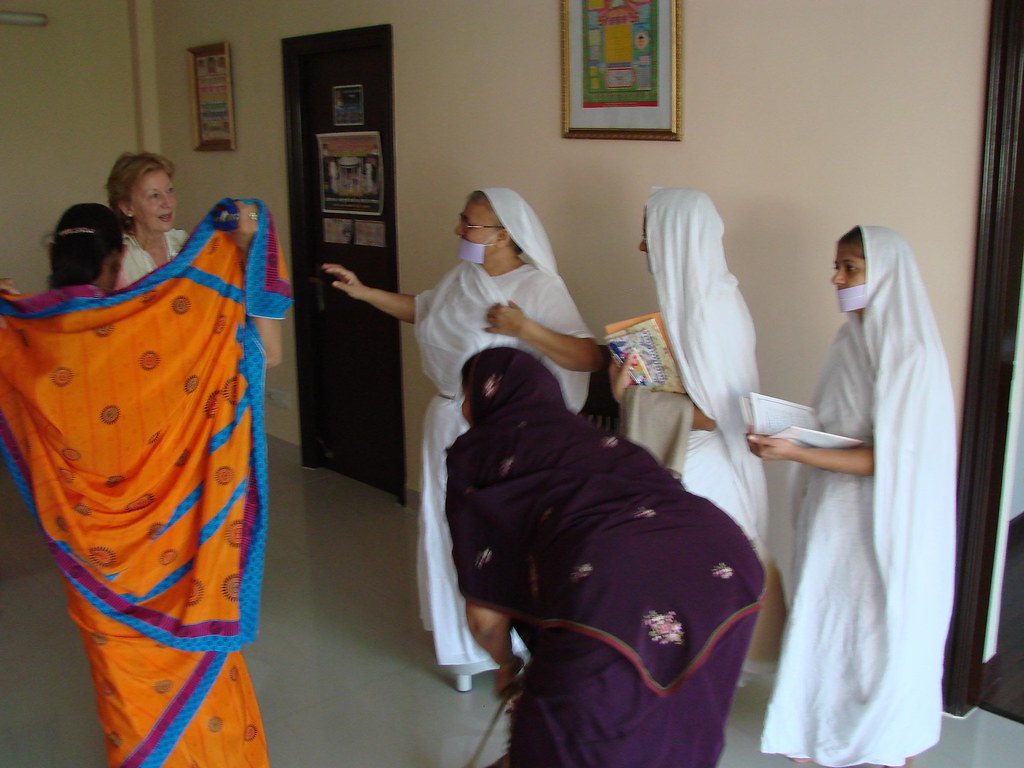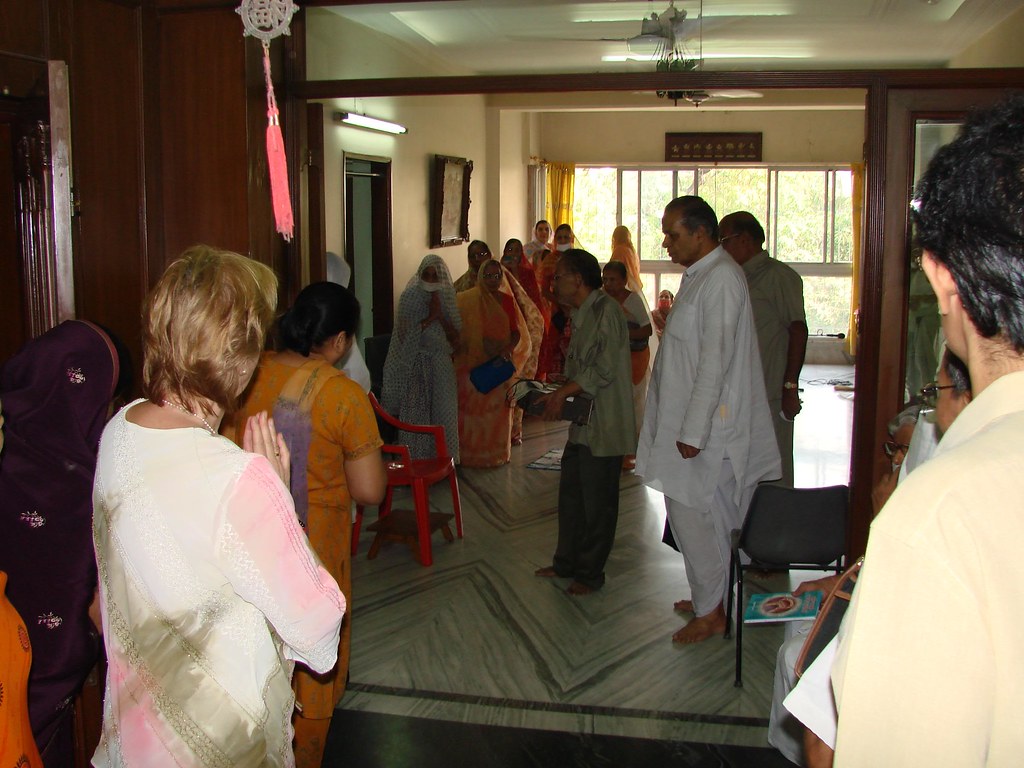 Then it was time to leave for the welcome function, held by Jain Swetamber Terapanth Sabha which was announced for 10:00 at the Goyal family's home in the auspicious presence of Sadhvishrees. On this occasion, we met with Sabha president Shri Malchand Bhansali, secretary Shri Karan Singh who compered the function and Shri Banechand Malu, chief trustee of Jay Tulsi Foundation, gave vote of thanks.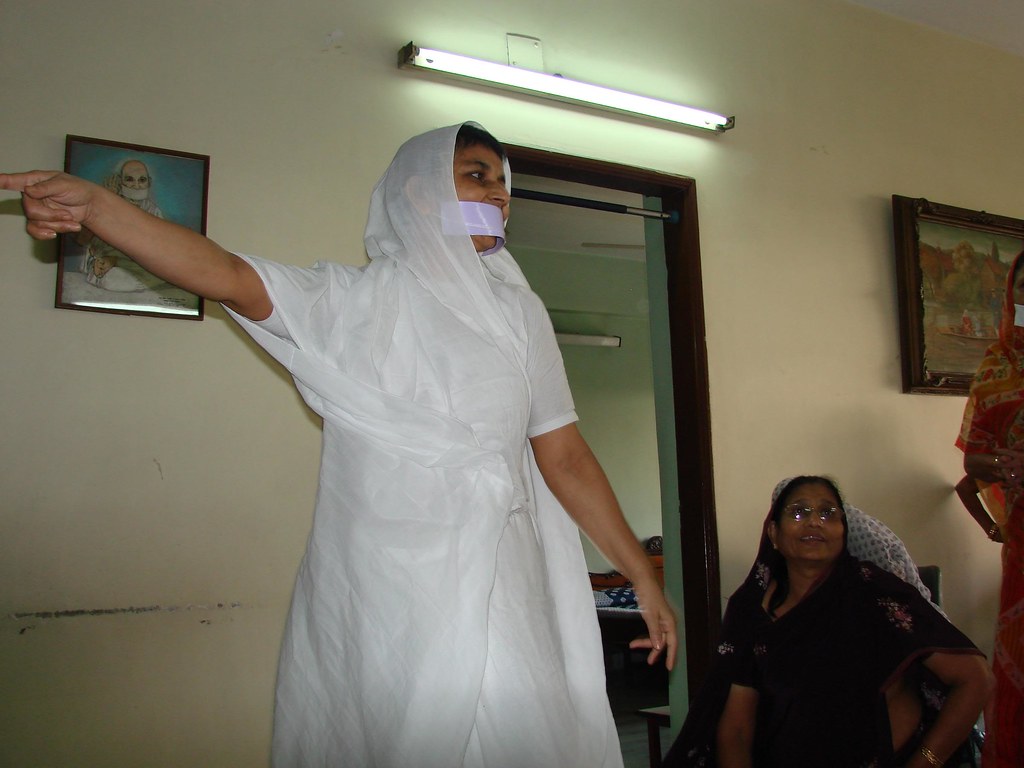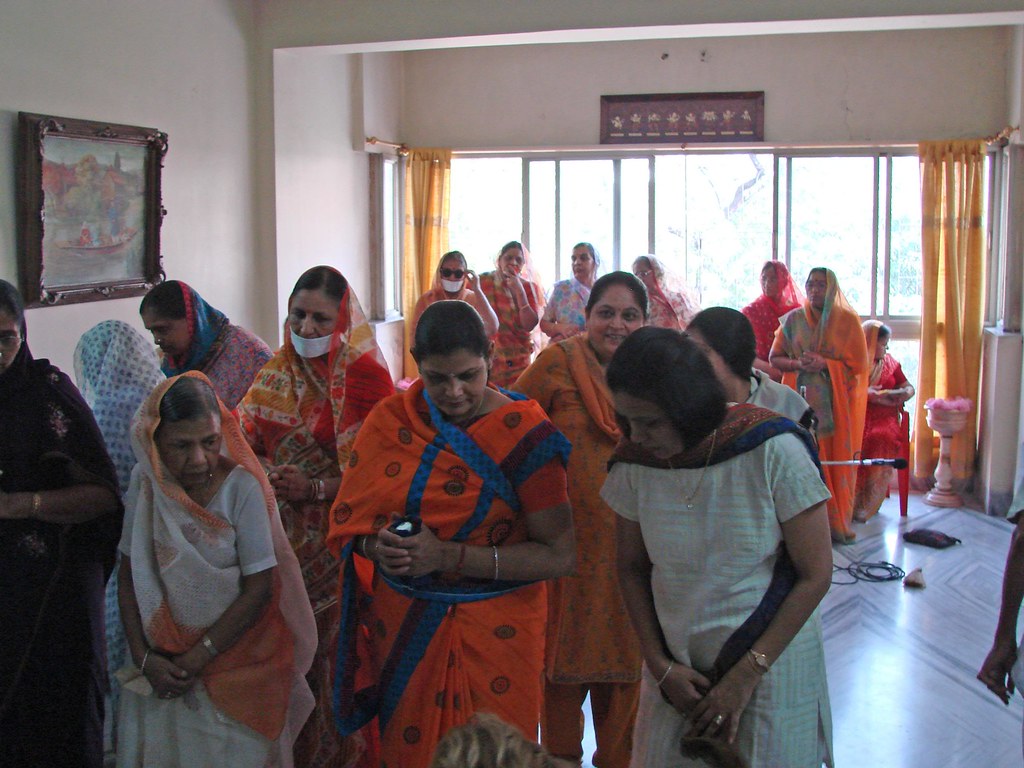 Often Sushil had reported on functions in Kolkata, we would never have thought that one day we would be present at one, celebrated to welcome us. We also had a special contribution to it for Sushil.
About 45 people had attended the function and listened to Sushil's speech:
Sushil Bafana's Speech
Respected Sadhvishree Nirvanshree, Sadhvishree Dr. Yogkshem Prabhaji and other Sadhvis, accept my Vandana.
Respected Aparigrahji Jain and Karunaji Jain and post holders of our Sanghiya organization and Shravak and Shravika.
Kolkata is the town of Swami Vivekananda, Rabindranath Tagore and Netaji Subhash Chandra Bose. It is also the place where the highest number of Terapanthi followers lives, so we might call it capital of Terapanth. I am very happy to welcome Shri Aparigrahji and Karunaji, editors of HereNow4U who have come from Berlin, Germany. It gives us great pleasure to see you at Kolkata.
I am associated with HereNow4U because HereNow4U is dedicated to Lord Mahavira, non-violence, world peace and to Acharya Mahaprajna. Both editors believe firmly that voice of Acharya Mahaprajna is divine voice and should reach to every corner of the world, and they are doing their attempt through this online magazine.
Karunaji was teacher in her early life and the problems rooting in the present education system, which does not refer to the emotional level of the students, made her leave her job. In 1997, she met first time with Samani Madhur Pragyaji who told her about Anuvrat, Preksha Meditation and Jeevan Vigyan. To get her questions answered, in 2000 she came for the first time to spiritual India, met with Acharya Mahaprajna, and did Darshan of the great saint. She was so impressed by his aura that she again came with her husband. She joined 2nd IPMC at Surat in 2003 and both of them joined 3rd IPMC at Ladnun in 2005. In the meantime, they got their spiritual names Karuna and Aparigraha from Acharyashree Mahaprajna.
Karunaji was going to London for Paryushan Sadhana from 2003 on, and this year both, Aparigrahji and Karunaji went there. I was surprised with pleasure to know that they did 7 days Ekasan during Paryushan and one day fast on Samvatsari day, which is for 36 hours and not for 24 hours.
They are regularly practising Preksha Meditation and as Karunaji was teacher, she recognised the great principles of Jeevan Vigyan and accepted it as divine gift. She understood not only the Anuvrat code of conduct, but also the guiding principles and Sadhna sutra of Anuvrat.
During my 3 years of association with them, I saw their very clear understanding of many facts regarding Jainism. I once told Karunaji, "You are Karmana Jain," and she asked me about its meaning. When I explained that she was not Jain by birth, but by action, she confirmed with proud, "Yes, I am Karmana Jain."
Aparigrahji understands many viewpoints of Jainism, and whenever he does not understand the meaning of Hindi terms in Acharyashree's books, he contacts me and I try to get the answer. To understand attachment I told him the story of Maman Seth and to understand mental violence I told him the story of Tandul Matsaya.
Both of them had attended Maryada Mahotsav and Diksha ceremonies and got very clear understanding of these two.
Possibly, they are meeting for the first time with Sadhvishree Nirvanshreeji, but by the way of thinking they are familiar. Even before Sadhvishree reached Kolkata, they had sent some questions from Berlin for taking her interview that gave new light to the readers of HereNow4U. They also understood the spiritual capacity of Sadhvishree.
Lecture of Sadhvi Dr. Yogkshem Prabhaji under Bodhi lecture on rebirth has spread the light of her wisdom. In her article on the world's present day problems, she also presented remedies of that. Many times when Karuna and Aparigraha had put questions to me, I got answers from Sadhvishrees. Once they asked about the meaning of a word in Acaranga Sutra, in another query they asked the English word for Tejas, body. They do not know Hindi and Prakrit and Sanskrit, although they have prepared very well the HereNow4U glossary.
I am regular reader of HereNow4U magazine and remember two events specially. First was on 1st January 2004, when Gurudev delivered his New Year Message to the world. Someone had sent it to them, they published and translated it also into German language. Second, I remember that on 20th October 2005 President Kalam had addressed JVBI convocation, and the news of that were published inHereNow4U at night of the same day with photos.
In Kolkata live many outstanding personalities: Dr. Manju Nahata whose mural painting on Acharya Tulsi's life was very much appreciated by the readers of HereNow4U, Smt. Suraj Bararia, former general secretary of Mahila Mandal who is a gifted orator, Shri Banechand Maly, chief trustee of Jai Tulsi Foundation, Shri Ranjeet Dugar, editor of the book on Acharyashree 'Finding your spiritual centre'. I just mentioned a few names among the many extraordinary personalities present here.
I was also thinking what spiritual gift Aparigrahji and Karunaji can get from Kolkata, but that is the field of Sadhvishree as she is authorised in it. Perhaps Samyaktva Diksha will be a great gift after understanding the term clearly. Samyaktva is the starting point on the way to Moksha. If they want to go further, they can accept 12 vows for Shravak. To make them understand what it means, this evening Sadhvishree will give some extra time to them.
They have come to India now for Darshan of Acharyashree and to join Ahimsa Yatra. Your mission to spread the message of non-violence and peace is also our mission, and we assure you full co-operation. Before I conclude my speech, I want you to listen to the feelings of Mahima Bokariya, Surat and Mumbai correspondent of HereNow4U that she forwarded to me in her poem:
Got opportunity to welcome you
It's time of joy & delight
Words are short to express
As feeling are on its height
Though u r living quite away & far
But it seems u are near & ours
Just limiting myself to make an end
Hoping memorable time, you will spend.
Again welcoming you.
Om Arham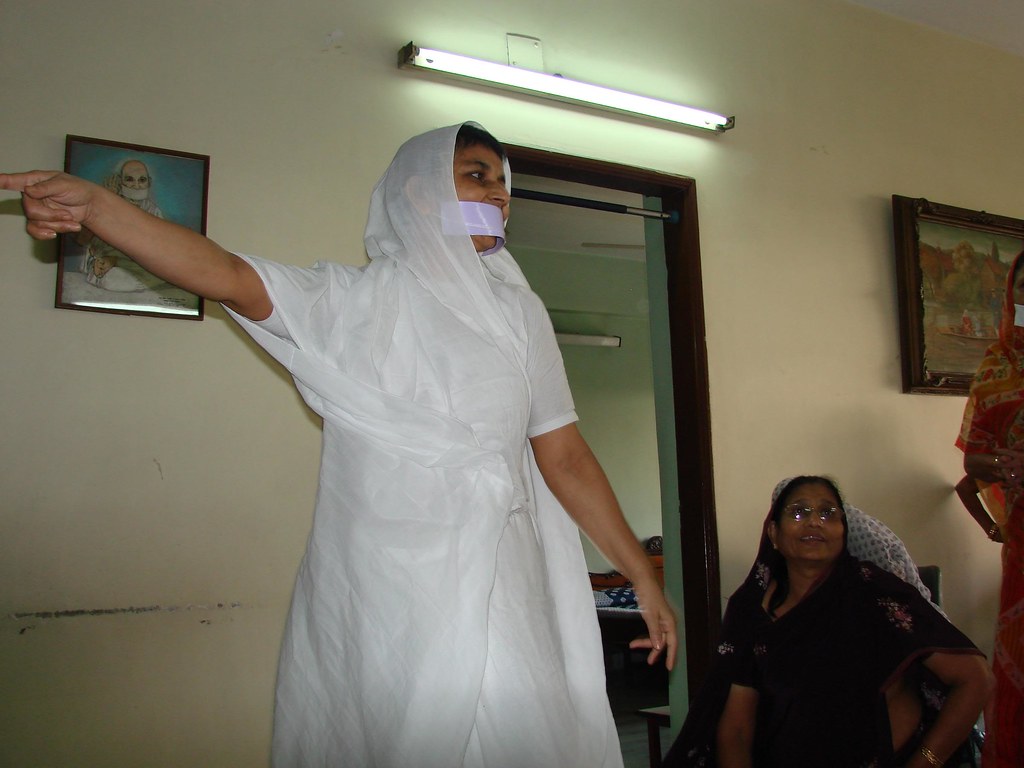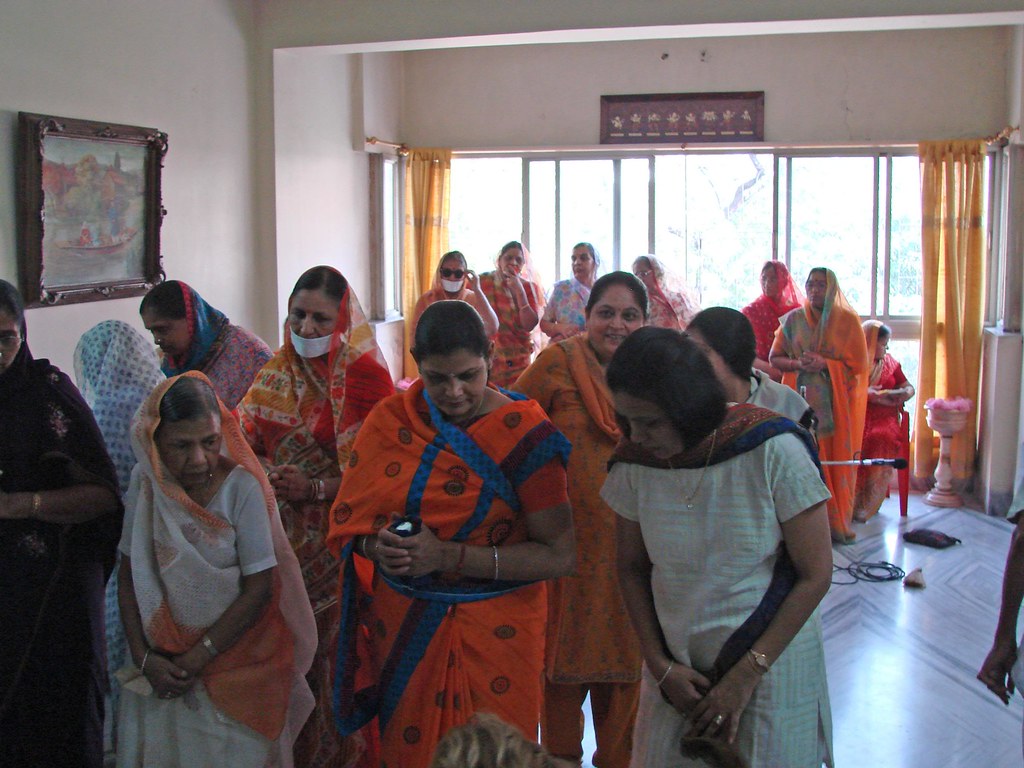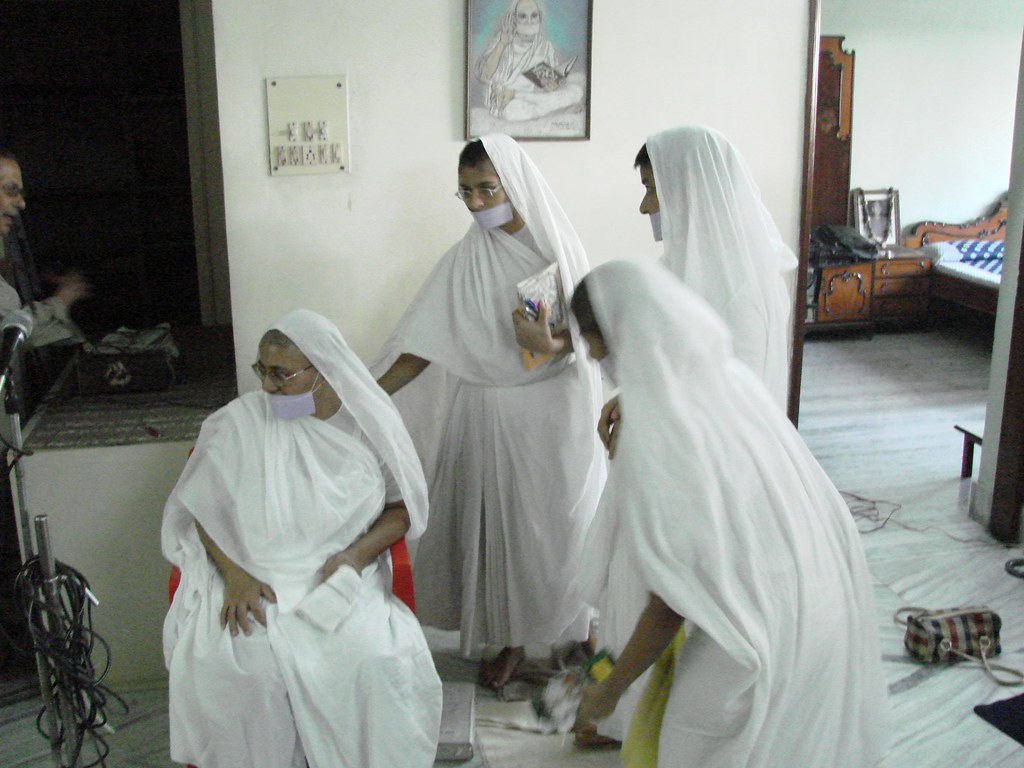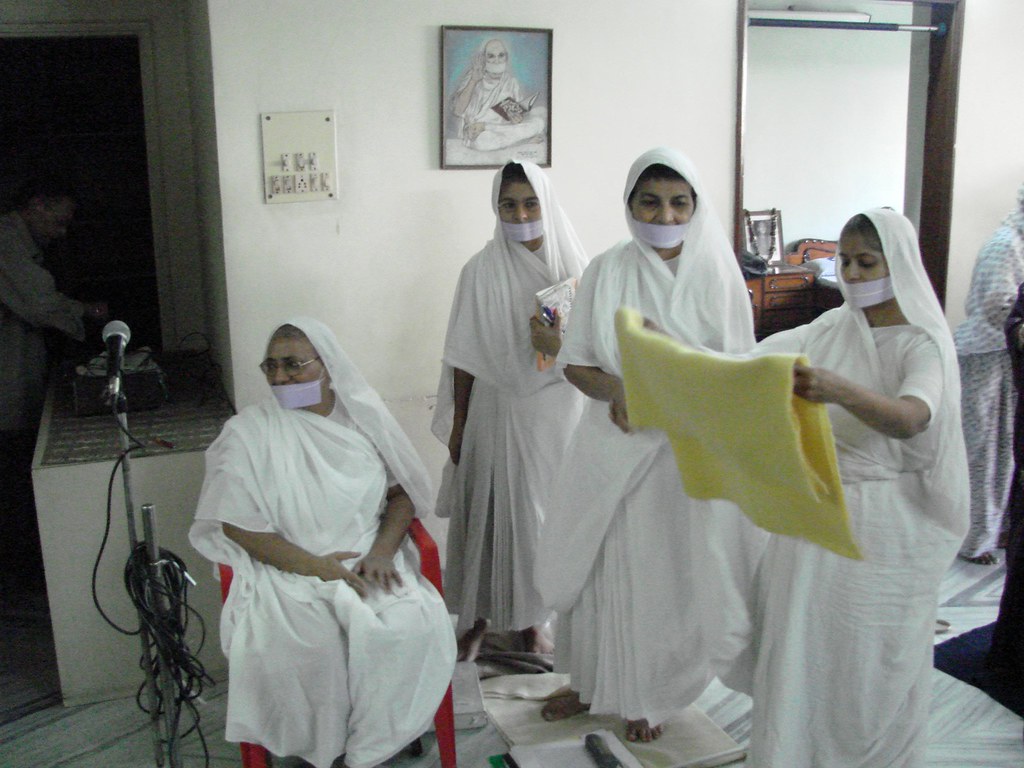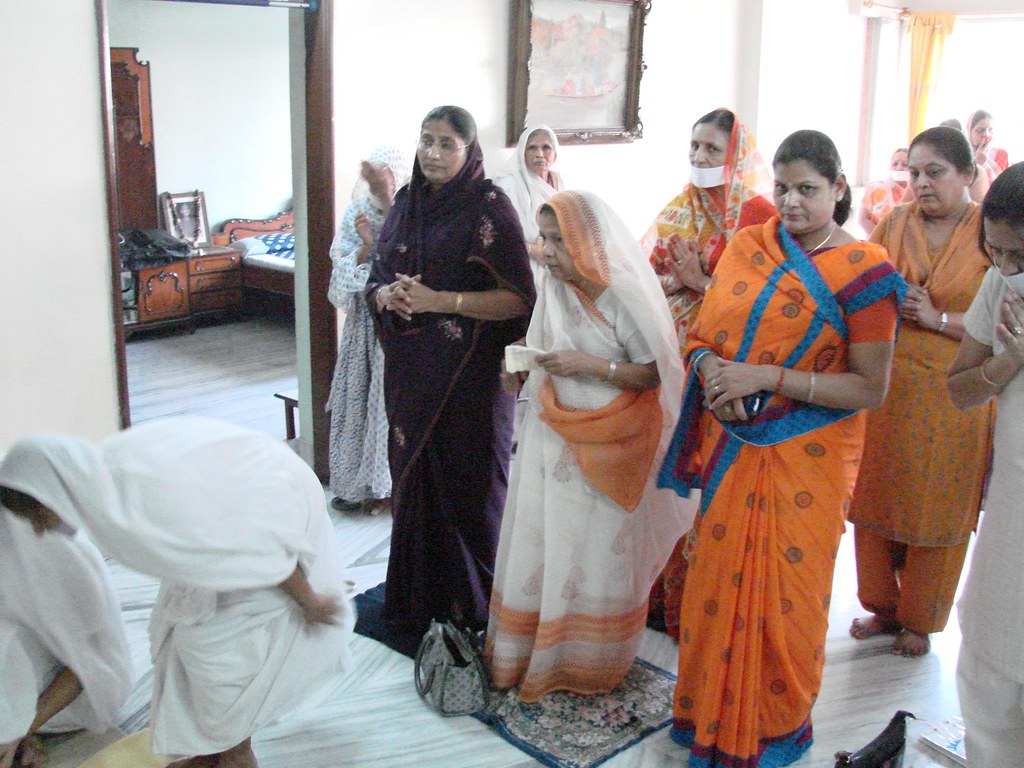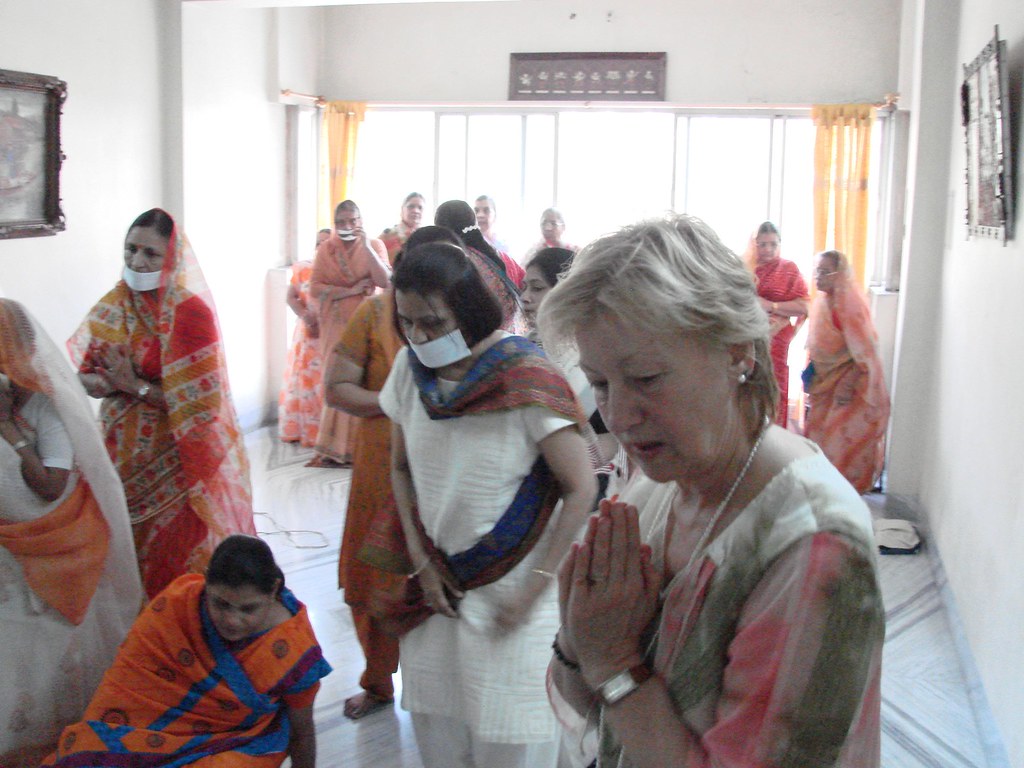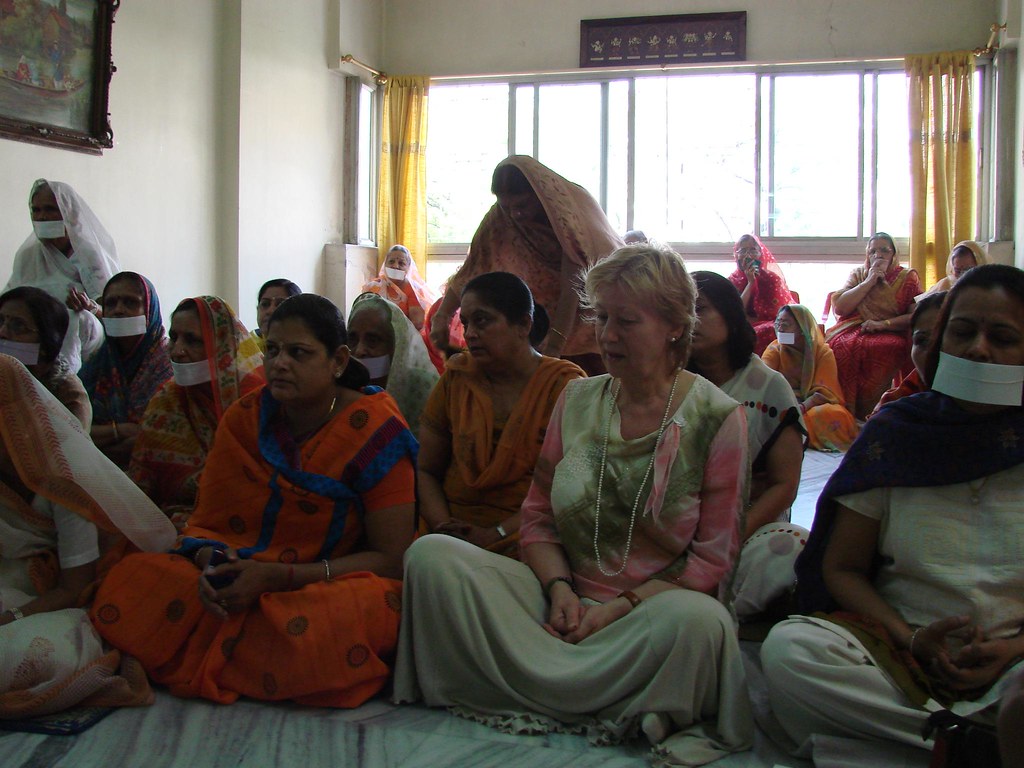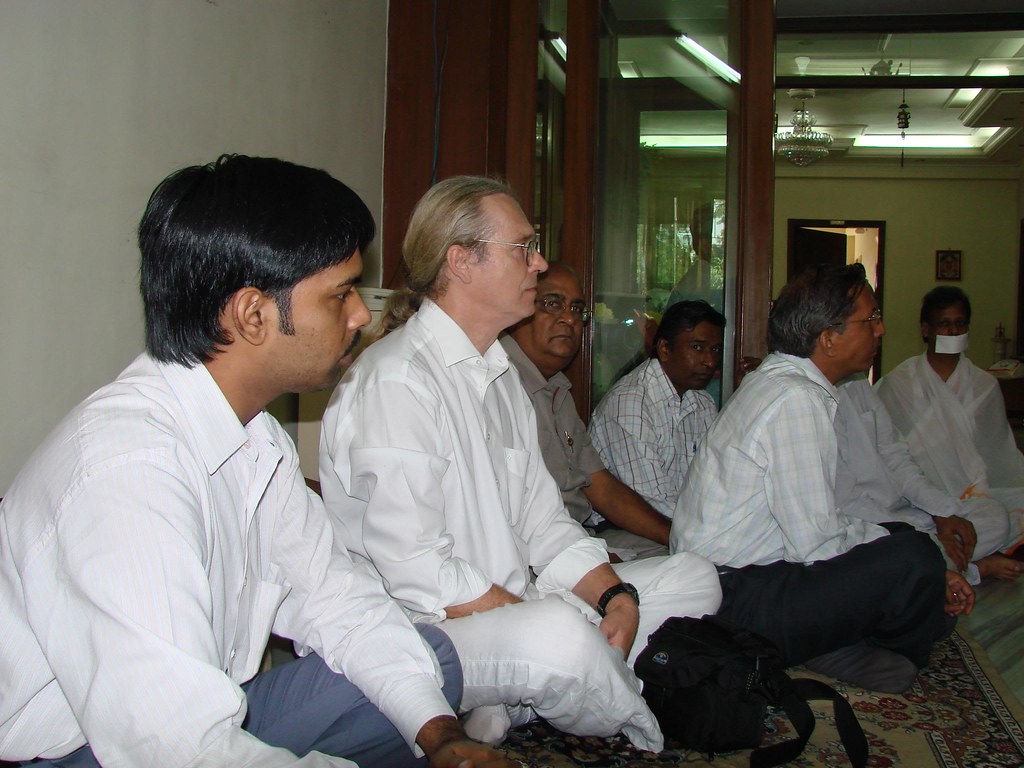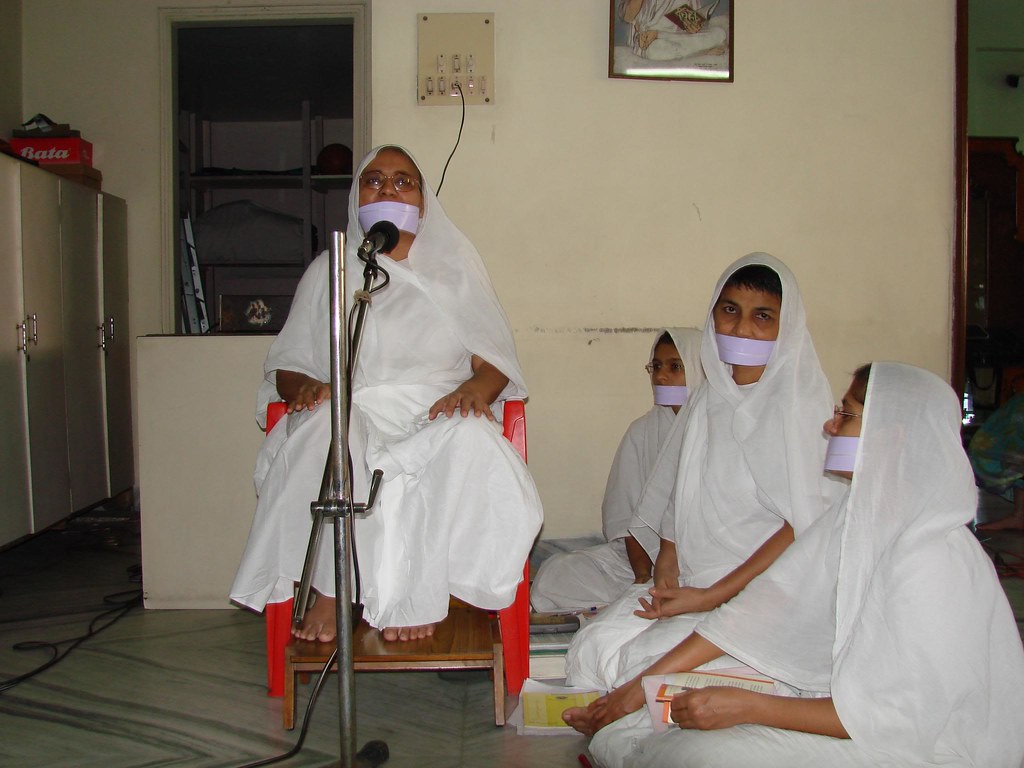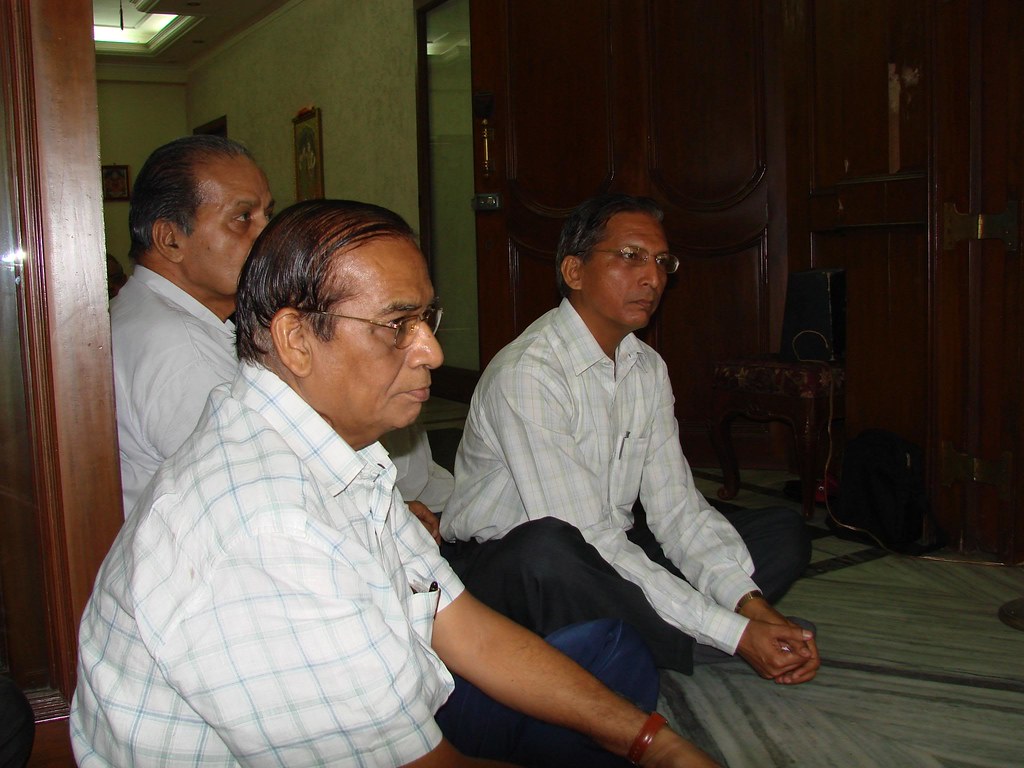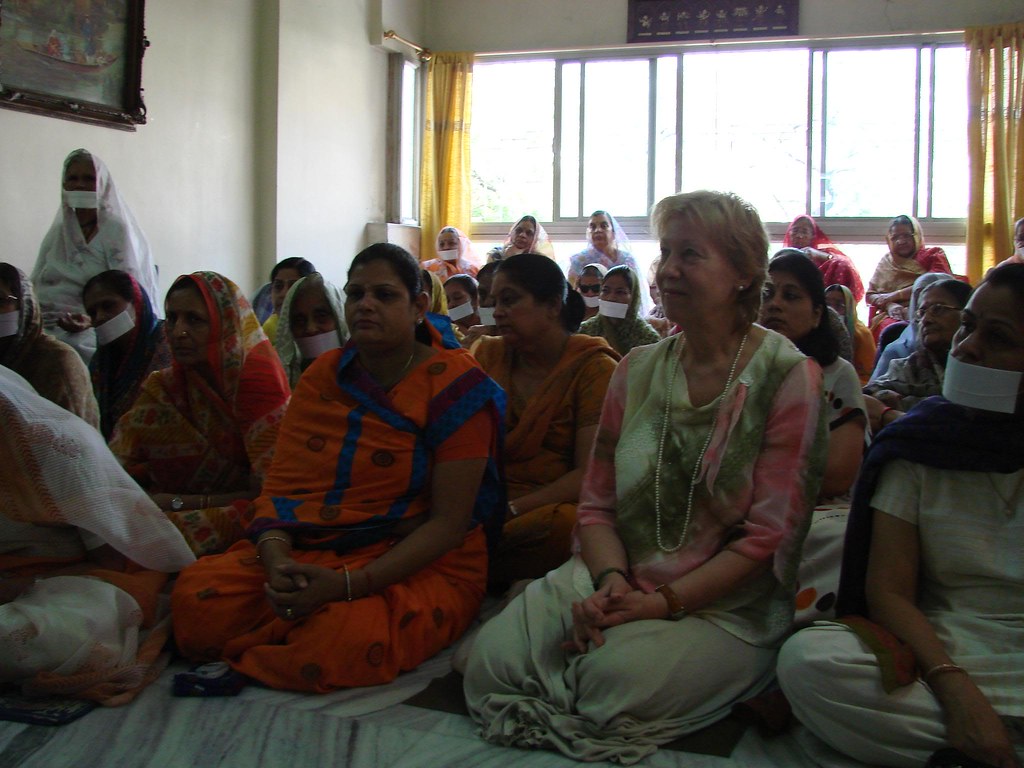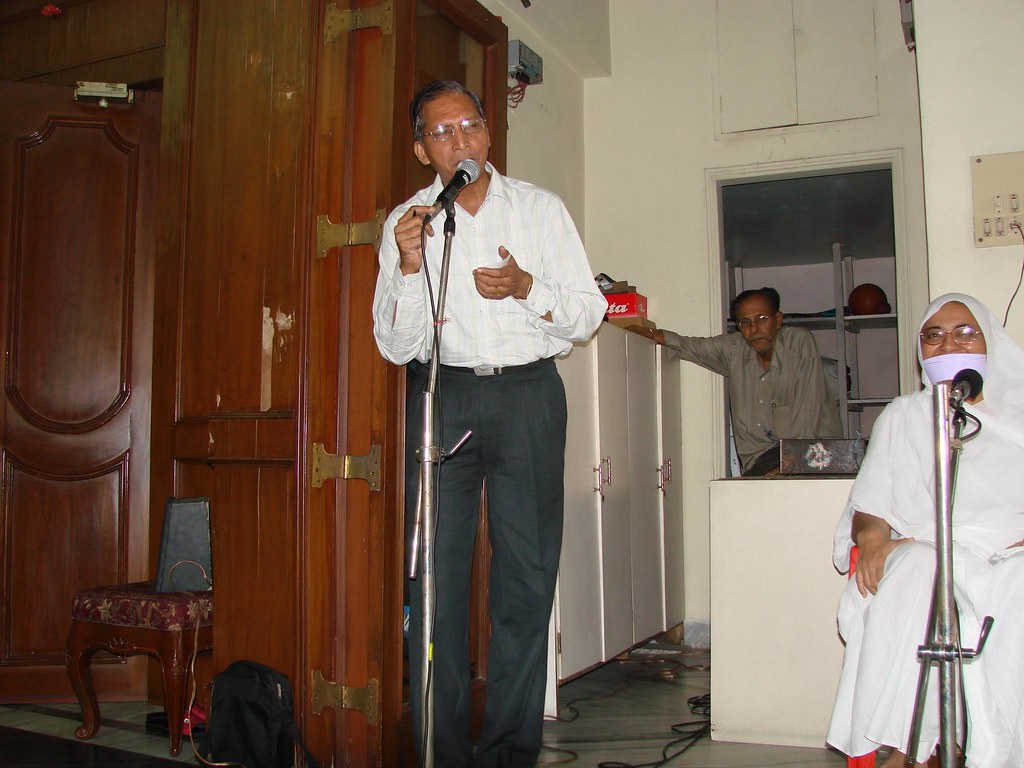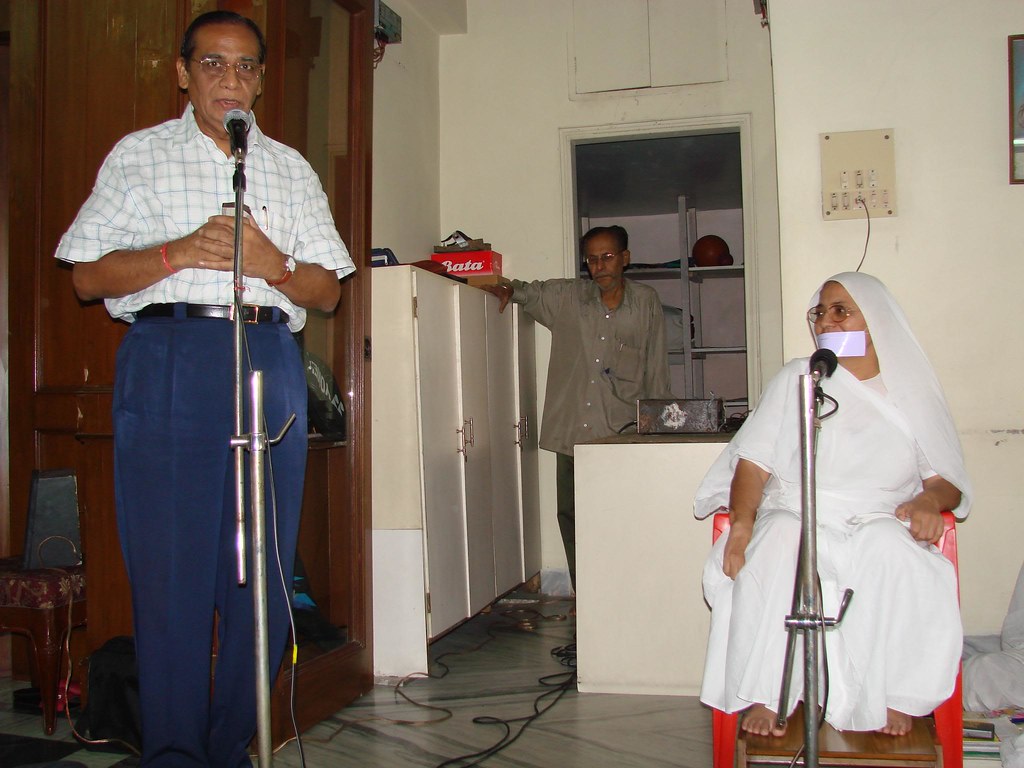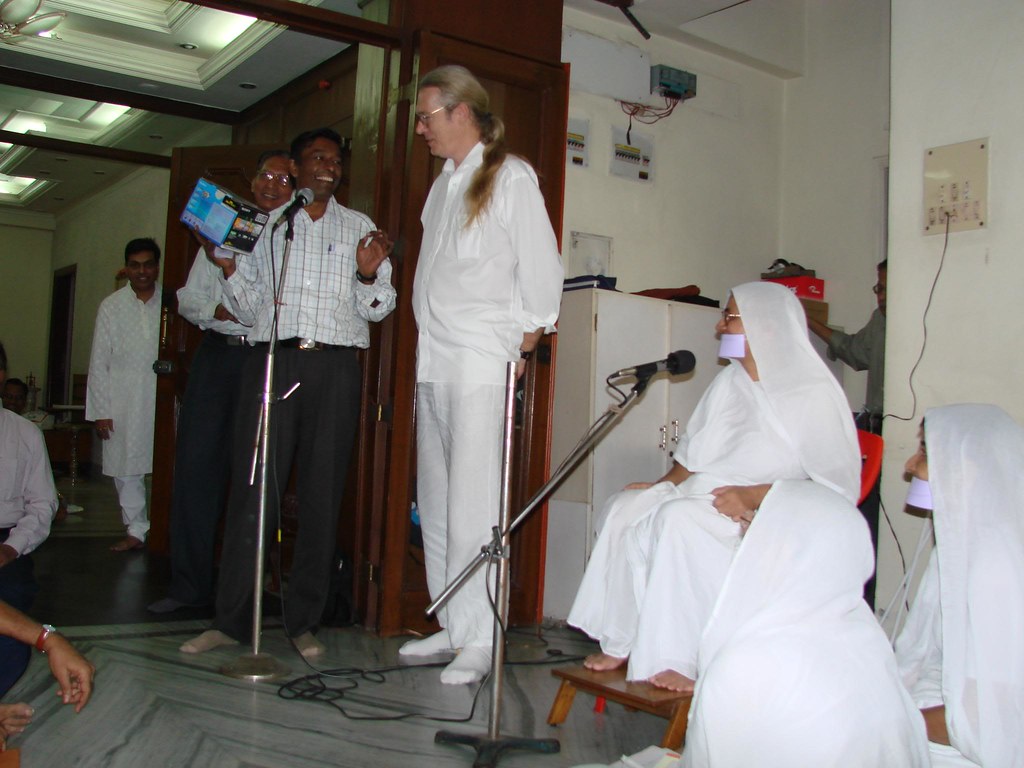 After Sushil had read Mahima's poem, it was our heartfelt pleasure to express our thankfulness on this welcome. Then we handed our gift over to him, the first HereNow4U digital camera. We were very happy to see his joy and happiness when he received it. He really understood that this gift is a symbol, coming from our heart. In his short reply he said, " I am accepting this gift as a trustee. When after one year a new person will join the HereNow4U family as a correspondent, I will hand over it to him or her."
Then Yuvak Parishad (youth organisation), Mahila Mandal and Sabha presented litterature and Mangal Bhavana Yantra to us.
Sadhvishree Dr. Yogkshem Prabhaji spoke about H.H. Acharya Mahaprajnaji's dedication to spread the message of non-violence and peace through Preksha Meditation, Anuvrat movement and Jeevan Vigyan.
Sadhishree Nirvanshreeji expressed her feelings of joy to welcome two dedicated persons from Germany who are working in this sense.
When the function was over, Karuna felt very happy, but also some dizziness. When she remembered Goethe's (German 18th / 19th century poet) words, "Nothing is more difficult to bear than a line of sound days," she forgot about it.