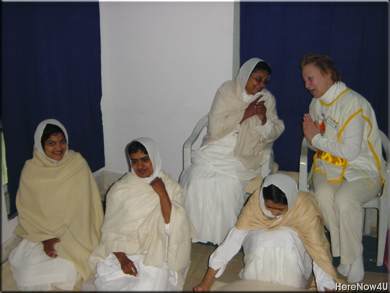 Encounter with Dr. Samani Chaitanya Pragya (sitting near to editor Karuna Jain) in January 2005 at the occasion of 3rd IPMC
During our 2001 visit to Terapanth Sangh in India, we met Dr. Samani Chaitanya Pragyaji for the first time. We were impressed by her knowledge in Jain philosophy and her good command on English language, making communication easy for us. Since then, we regularly met her during our visits in 2003 and 2005, and still remember the meaningful discussions with her. When we visited her, she always was busily studying folios on Jain philosophy and giving a brief and easy to grasp outlook for us what she was dealing with.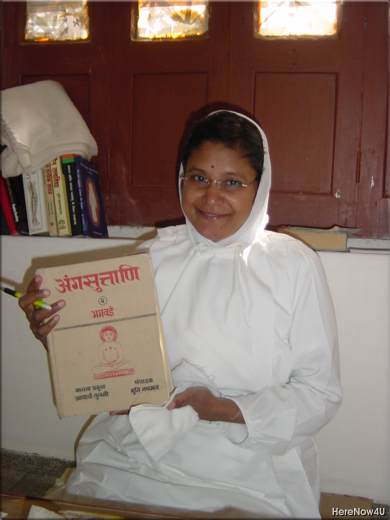 Dr. Samani Chaitanya Pragya shows the book she was studying when we visited her in February 2005 on the campus of JVB Ladnun
Last time we met her in 2005, on the campus of JVBI Ladnun where she is living since more than 20 years (photo above). Apart from other duties, it is her task to prepare the corresponding courses on Comparative Philosophy, and mostly to make them understandable for the JVBI correspondent students without further queries. No easy task, requiring not only knowledge, but also the quality of putting oneself into the position of someone being far away and left on his own for studies. Until he was chief of department, she did this under the guidance of late Professor Musafir Singh.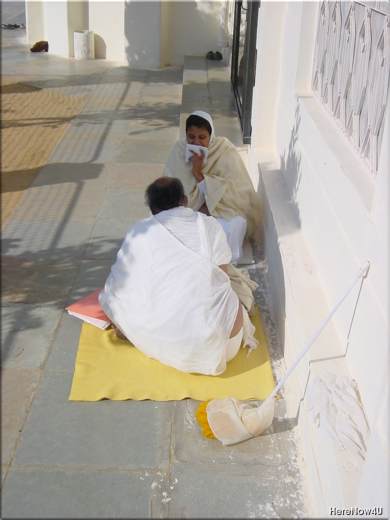 Munishree Amrit Kumar talking with Samani Dr. Chaitanya Pragya
In 2005, we saw her sitting with a Muni who gave a lesson to her. She was happy to present her learned brother, Munishree Amrit Kumar to us, and we felt once again deep respect in front of two persons who had taken a lifelong significant decision in a rather young age. It was the decision to serve humanity and to restrain from living a worldly life.
Later, editor Karuna Jain had a very impressive talk with her about life and death from the spiritual view. How it came? Dr. Samani Chaitanya Pragya explained that she had the permission to sit with the Muni because once they had grown up in the same family, and one of their brothers recently had died. She told that although she has feelings same as any human, for her there are no feelings of having lost a dear one, but the confidence that a dear one has found the way home, where all of us are together and not separated from each other. It was very touching to be near her when telling this, as her eyes showed the feelings everyone has when someone near has gone, but her attitude was so full of confidence and certainty that she expressed both, sadness and consolation at the same time.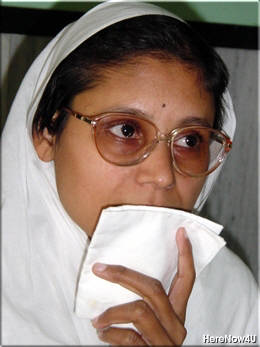 This year, our Kolkata based correspondent Sushil Kumar Bafana had the idea to interview Dr. Samani Chaitanya Pragya in behalf of the readers of
HereNow4U
. So we had sent 5 questions to him, and then he had sent Samaniji's answers. We hope you will enjoy the result.
Interview with Dr. Samani Chaitanya Pragya
What is the purpose of your visit to Kolkata?
Our purpose to visit Kolkata is to get knowledge of western philosophy, logic and comparative religion from the experts and thereby to develop logical or analytical philosophical thinking and writing. JVBI Ladnun has introduced a new M.Phil degree course in the department of Jainology & Comparative Philosophy and Religion. There are some new conceptions regarding western philosophy etc. Scholars of these subjects can easily be found in Kolkata. Prof. Arun Kumar Mukherjee is arranging this educational programme here. Terapanthi Mahasabha, the highest managing body of Terapanth sect, is doing the entire management. The aim of this course is to develop the standard of research in field of Jainism. Jainism has a lot of things to add to modern philosophical thinking, but because of lack of the proper study of modern and post-modern thinking and the development of logical thinking and waiting, the things cannot come into the present stream of knowledge. Overall, this is the purpose behind our visit to Kolkata.
On 11th April 2006, Jain communities worldwide are celebrating Mahavira Jayanti. Please explain why it is celebrated and what does it mean for us?
Lord Mahavira was born 2604 years ago, and we celebrate his birthday on Mahavir Jayanti. It happens, I think, in all religions that people pay respect to the one who has shown the path of spiritual upliftment, and celebrate every event related to his life. Religious celebrations inspire people to know the life of the great. It also reminds his teachings and the ultimate goal of life. Along with this, any kind of celebration draws the attention of other communities to the Jain community. Thereby people get to know the spiritual figures of Jain religion.
Anekantvada is the Jain philosophy of relativity. Does this mean that every point of view is true or is there a special approach how to apply Anekant?
Anekantvada in fact, is a multi-dimensional view to perceive the truth of life and world. To perceive the different dimensions of truth requires the tool of relativity. If the dimension someone perceives is not true, Anekant does not help to justify it. Otherwise, nothing will be wrong and unjust in the world. I have written one article regarding the concept of error in Anekant, which might help to understand Anekant in a better way. [This article will be published in the near future. Editors]
How can we give proper response to violent attack?
Violent attack cannot be controlled unless and until the world thinks over the economic system and is ready to maintain healthy relations with others. Along with religious understanding, tolerance has also to be developed. The thing required is training in non-violence and limitation of consumption. This is the message given by His Holiness Acharya Mahaprajna to give proper response to violent attack.
How can we be sure to get all vitamins & minerals the body needs by taking vegan food?
The entire Jain community is the best example as an answer to this question. I think, the Jain community is very intellectual, prosperous, highly civilised and physically healthy. Vegan food has a lot of vitamins and minerals, which are required to the human body. There is no problem in taking vegan food.