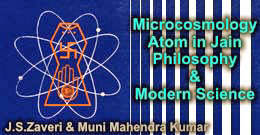 Some Of The Subatomic Particles Compared With Jain Physics
| | | | |
| --- | --- | --- | --- |
| Particle's name | mass | elect. charge | sparsa |
| Electron | A | - ve | ruksa, laghu |
| Positron | A | + ve | snigdha, laghu |
| Proton | C | + ve | snigdha, guru |
| Neutron | C | neutral | snigdha-ruksa, guru |
| Photon | O | neutral | snigdha-ruksa, agurulaghu (?) |
| Pion +ve | B | + ve | snigdha, laghu |
| Pion - ve | B | - ve | ruksa, laghu |
| Pion neutral | B | neutral | snigdha, ruksa, laghu |
A = light lepton]
B = medium (meson)
C = heavy (baryon)
Thus, electron, which is one of the lightest particles, is a lepton, while proton, which is the lightest of the heavy ones, is a baryon. However, a few particles do not fit into the lepton-meson-baryon framework. Some of them are well-known (like the photon) and others have been theorized but not discovered yet (like the gravitation). All of them have, in common, the fact that they are massless particles. A particle that has, zero rest-mass is a massless particle. All its energy is energy of motion. Though physicists know exactly what they mean by 'massless' in a mathematical structure, it is difficult to describe it in non-mathematical language because the very term 'particle' means 'some thing that has mass'.
There is a remarkable similarity in the views of the Jains and physicists regarding massless particle. Not only a paramanu, the smallest indivisible particle, is massless but all catuhsparsi compositions also have no mass. The quality of mass is found only in astasparsi pudgala.
The above description of the characteristic qualities of a paramanu would naturally introduce qualitative difference between paramanus. But it should be remembered that the difference is only qualitative, that is, in the paryaya of the different paramanus. From the point of view of substance, every paramanu is identical to every other. This is the law of Anekantvada.
The above elaborate analysis by ancient Jains of colour, taste and touch is as minute as that of modern psychology. But their analysis of smell is as arbitrary as the modern one. Smell can be analysed only into
agreeable
disagreeable.
Several attempts made in recent years to go beyond this crude classification nearly ended in failure. Thus, where the modern scientists succeeded, the ancient Jains also achieved success, that is, in the classification of other sense-data.