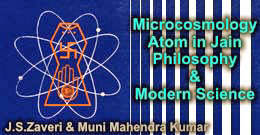 Every animate organism is an organic union of non-physical jiva (soul) and physical body. This is the state of soul in mundane existence. But in the state of emancipation, (or moksa which literally means freedom) the union of the self (soul) with the non-self (body) ends once and for all in both these states, the existence of jiva is real. Bondage in not merely empirical, and emancipation does not mean total cessation of the individual jiva but freedom from passions, cycles of births and deaths and worldly existence. It is the pure and perfect state of the SELF - the same old self that was once in bondage.
Emancipation presupposes contamination (which in itself is beginningless) of the self by non-self called karmic matter or karma sarira.
It is beyond the scope of this book to discuss the
modus operandi
of
karma
comprising the processes of attraction, assimilation, rise, fruition and dissociation of karmic matter. Suffice to say here that the association of self and non-self generates passions and the passions reaffirm the association. The Doctrine of Karma explains the diversities and inequalities that undeniably exist in the world. Worldly happiness or misery, good or bad health, high or low status, riches and poverty of an individual are all results of karma. But the soul can free itself from the contamination and become emancipated. Until then, the soul and body interact and a change in one (or the other) always involves both physical and psychical antecedents. If this is not admitted, ethical value will remain unintelligible.