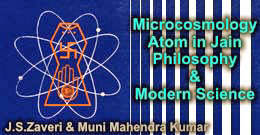 Jains believe in the existence of six ultimate real substances as under -
Dharmastikaya - Medium of Motion.
Adharmastikaya - Medium of Rest.
Akasastikaya - Space.
Jivastikaya - Psychical Existence (Soul).
Pudgalastikaya - Physical Existence (Matter and Energy).
Kala - Time. [1]
[1] Bhagavati Sutra, 13-4-55,
J.V.B. Edition.
The first five substances are called astikaya, because each of them is a homogeneous continuum composed of multiple parts. Kala (i.e. time) is also included in the above list as the sixth substance, but it is not an "astikaya". The term astikaya is a compound word made up of 'asti' and 'kaya which respectively mean '(real) existence' and 'extensive body'. The term astikaya thus means a real extensive magnitude, i.e. having plurality of parts (pradesa) in its constitution.
The primal attribute of 'Existence, is the foundational element of the nature of an astikaya (existent). An existent is not a mental phenomenon or a figment of imagination but an extra-mental or objective reality. While such concepts as: substance, attribute etc. are, no doubt, the ways in which the mind works up the data of experience, but this does not mean that they are only mental and have no extra-mental reality. Kala, the sixth substance, has neither extension in space nor plurality of parts and is, therefore, not an astikaya. Each of these substances continues to exist as an entity eternally, and though they co-exist spatially and temporally, they are mutually inconvertible.
We shall examine very briefly the nature and characteristics of these substances before taking up the detailed discussion on pudgalastikaya, which is the Jain name for 'physical substance'.