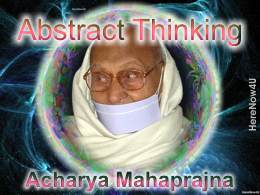 Whatever the feeling of fearlessness is awakened the posture of fearlessness evolves. The visible characteristic of this posture is - cheerfulness. The face blossoms. There is total joy; no problem of any sort. No tension. Deep tranquillity within. When the current of fear flows, our sympathetic nervous system becomes active, i.e., the nerve pingala is animated. With the current of fearlessness flowing within, however, our para­sympathetic nervous system becomes active and the nerve ida is stimulated. At that time there is no excitement or frenzy. On the contrary one experiences great peace and joy.
The question arises as to how we may continue in the posture of fearlessness for a longer and still longer period; how to stimulate the current of fearlessness more and more. How may we experience greater and still greater fearlessness? These are the questions before us. We have discussed fear as well as fearlessness. It is desirable that we forsake fear, whereas fearlessness is ever beneficial. We must abandon the current of fear and strengthen and develop the current of fearlessness. Three things are required for this - the remedy, the course to be adopted and practice. The evolution of fearlessness is not possible without these. So our attention will be concentrated upon finding out the requisite cure, the path to be traversed and sadhana.
There is a way - the way of anupreksha. It is possible to develop the current of fearlessness through anupreksha. Verbal systems are built in our body. The tracks, passages and highways are all there through which vibrations permeate our body and influence our being. The doctrine of vibrations is a very comprehensive one. Not since the development of the Quantum Theory, but even 2-3 thousand years ago, the doctrine of vibrations was well established. Our world is nothing but waves and vibrations. A wave of fear arises and the vibrations of fear start. If we could at that time raise a wave of fearlessness, if we could create vibrations of fearlessness, the wave of fear would end of itself then and there.
The doctrine of anupreksha is the doctrine of contraries. It lays down that the force of a particular wave can be countermanded by an opposite force. It is possible to raise good vibrations and repeal the bad ones, vice versa, an evil wave may it displace a good one. What we do at a particular time and how depends upon our valour, receptivity and vision. The man who practises preksha meditation - one who has grasped the truth that auspicious and positive waves can destroy the inauspicious and destructive waves - is alert forever, so that whenever an evil thought arises in the mind, he immediately releases a counter wave of goodness.