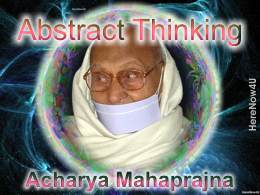 There are innumerable modes. Unlimited possibilities lie hidden in us. Coal can turn into diamond. The possibility of being transformed into diamond is inherent in coal. Any substance is capable of being transformed: it can become anything. Such a possibility materializes through the acceptance of anekanta. The number of improbabilities is very small. It is not possible for the animate to become inanimate; nor can the inanimate become animate. Excepting this, anything is possible. There is no rule or canon which may not be changed into another. Anything can become anything. All kinds of possibilities are there. A particle of dust contains all kinds of colour, smell and touch. It is a thousand times sweeter than a particle of sugar.
A man is lost in despair because he does not understand the law of anekanta. He forgets that no mode can be lasting. Every mode is liable to change. Today a mode of disease might manifest itself. With an effort, it is possible for us to change it into a mode of health. A manifestation of sorrow today might give place to a manifestation of joy tomorrow. The man, who recognizes this possibility, can never be unhappy; he will never be afflicted with disease. He will never spend his life, lying on a sick-bed. He is capable of awakening his latent power. There is found in Sanskrit literature the story of a scholar visiting a king and saying: "Oh king, accept my greetings! I am your guest." The king says, "Who called you here? Who sent you an invitation? Look at yourself! - the ragged state you are in!" The scholar says, "Oh king, I am your brother! Need I invitation to come here?" The king is flustered. He says, "What are you talking about? How dare you call yourself my brother! You are certainly very foolish or mad!" The scholar said, "Oh King! Don't you recognize me? I may not be your real brother. But I am the son of your mother's sister. I am the son of your maternal aunt Adversity. I am thus your cousin-brother."
This argument pleased the king very much. He gave away to the scholar rich presents and treated him like his brother.