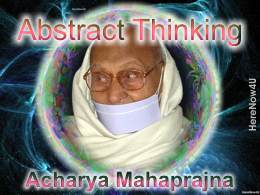 To pull out a thorn with the help of a thorn equally applies in the field of spiritual practice. Freeing the mind of all passions is the goal of a spiritual practitioner. But the deeply entrenched passions cannot be eradicated all at once. In order to neutralize old passions, it is necessary to create altogether new disposition. These pure dispositions, based upon the factual, impinge upon the old distortions and overpower them.
The term pure disposition is synonymous with bhavana. To rely on the knowledge of the scriptures or verbal knowledge is also pure disposition, which is variously termed as bhavana, japa, mental culture, anupreksha and concern for significance. And all these are different forms of self-study.
In the technique of Jain spiritual practice there occurs the word, - bhavana-yoga. Through bhavana, the mind is united with the soul or the truth. That is why it is called a yoga (an addition, a joining together). In bhavana, there is room for both theory and practice.
Bhavana means contemplative meditation. That is its definition. If you have a subject in your mind, if you have chosen for yourself an aim, an end, you are engaged in contemplative meditation. That is bhavana. There is little difference between bhavana, contemplation and japa. The three are one and the same. Different names have been chosen on the basis of their utility; otherwise there is no difference in meaning. Japa implies total identification with and concentration on the name iterated. Bhavana implies total identification with and concentration on the thing one aspires to. And so with dharana; it implies total identification with and concentration on the thing conceived. Similarly with contemplation; it implies total identification with and concentration on the subject or the aim chosen. Japa, bhavana, dharana and contemplation all belong to one category (concentration of thought). There is no difference in meaning; only difference in nomenclature.
Bhavana may be said to be a boat. Lord Mahavir said,
"He whose soul is purified with bhavana-yoga is like a boat in water, which is sure to reach the shore."
But how is this boat to be used? That is the question. It is necessary to be permeated by bhavana. If one is not so permeated, the requisite condition is not fulfilled. The word, "Bhavitatma" ('permeated soul') occurs in the agamas. If the soul is permeated by an aim, whatever is to happen comes to pass. It is all the miracle of concentration (of thought). We become whatever we want to become. Whatever we want to happen happens. The mind assumes the form we wish it to assume. The mind can mould itself in a million ways; it assumes different forms. It takes on the form we wish it to take. That is the mind's characteristic. Whatever we aspire to with the totality of our mind comes to pass, without any diversion. The question is that of mental concentration, of the stability of the mind. If the mind changes, the body also undergoes a change. The exercise of autosuggestion, of giving a distinct suggestion to oneself, is a process of self-hypnosis. To look into the body through body-perception, and then take to the subconsious mind the deep urge for change through the use of will-power and resolute aspiration - this is the first principle in the process of change.
Every cell constitutes in itself a centre of knowledge. Each cell in itself is a centre of light, a powerhouse of electricity. Every cell is a factory, producing electricity and power. These cells work in their own way. If you want to change them, rejuvenate them, make them tread a new path, you will have to acquaint them with your intention.
Until our spirit reaches them, we cannot effect any change. For instance, a man wants to get rid of his habit of anger. He resolves: "I shan't be angry!" Again and again he wills not to be angry, but does not succeed. He does make a resolution, but flares up nevertheless on the slightest pretext, as before. It seems that the exercise is a failure; the method suggested is not effective. I want to change; yet I can't. Many people commit evil deeds and repent over them. They say to themselves, "I shall never do it again" But an occasion arises, and they commit the same deed again. They are assailed by anger, by lust and by various instincts. They are tormented by all these on different occasions. Who is addicted to drink resolves to give up drinking. He says to himself, "I shall drink no more". But when the occasion arises, an irresistible urge awakens within him and his resolve not to drink has little effect. His will is paralysed. Why does it so happen? It happens because we have failed to communicate our will to our subconscious mind. We are extroverts. We have become accustomed to looking outwards. Our whole attention is directed to things outside the self.
The second principle at work behind the process of change is bhavana, the exercise of will-power, the resolve to remain unaffected under all circumstances. With the maintenance of equilibrium, equanimity develops and a man goes forward by leaps and bounds.
Both before and after meditation, a spiritual practitioner must remember and continue to practise bhavanas. From these one derives a kind of power. Gradually the mind starts remoulding itself and, freeing itself from all false beliefs, starts moving in the direction of truth and one day attains direct self-realization. With the help of bhavana and meditation, the goal becomes more accessible. Therefore, a spiritual practitioner must, in no case, minimise their importance. All religions are dependent upon bhavana.
Bhavanas are of various kinds. There are bhavanas, which purify consciousness. In the modern terminology, bhavana means brainwashing. In the sphere of politics, the technique of brainwashing is much prevalent. The purpose is to wash away old beliefs and to establish new ones in their stead. The technique has become a vogue and every nation makes use of it.