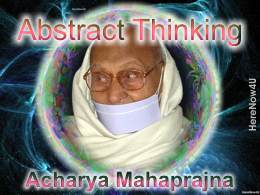 Today's youth should experience for himself what is real, the actual. Firstly, he must not depend on mere words; rather he should develop his capacity for work. He should rely on his efficiency. I feel that even today an Indian youth talks much, works less. Let us compare this situation with that obtaining in other countries. Somebody was saying that the American people have two days off in the week, but during the remaining five days they work with total dedication. The work that they are able to accomplish in five days, perhaps an Indian youth cannot accomplish even in five weeks. This is no mere hearsay. The man who told us was relating his own experience. Idle talk accomplishes nothing.
You can please others with words. You can please us with words and we can also please you with words. All this would amount to a lot of words and we shall not be able to implement any programme, and if no work is accomplished, nothing is really achieved. Our powers would lapse.
If you want to renounce, if you really want to surrender something, then you should surrender your mind through which you want to give money, render service or contribute your labour for public use. Dedicate your mind and everything will take care of itself. If the mind is not relinquished or surrendered, even though wanting to do so, you will not be able to render any service at all. Because the mind is withheld. Without giving the whole of your mind, nothing can be done. Neither service, nor labour, nor can any money be given. Even while donating money, you start calculating, "If I give so much, my wealth would be reduced by so much? How is it possible? What is the least amount that will do? ". So the main thing is the utilization of the mind. If your mind is fully given, all the problems can be resolved. But if the mind is not fully employed or wholly given, then every undertaking will be hampered by argumentation and you will get so caught in mere argument as a spider is caught in its own web. The other thing is the pledge for holy service. The first is the pledge for self-service: self-development. The second is the pledge for holy-service: public welfare.
Incidentally - I recall what Dada Dharmadhikari said to me. It was during an anuvrat camp at Delhi. He said, "If the anuvrat people or the Jains practise their doctrine of equality, and start a factory, some business or workshop, where there are no masters or labourers, but all are co-sharers, where every working individual is its conductor as well, where the director and the labourers are all equal partners. There is no master, nor any servant; no mill-owner, nor any labourer. Even if one such experiment is conducted, we shall find out that spirituality is alive even today: that it is endowed with great power. Spiritual equalitarianism can be practised and if it cannot be practised, the words, 'spirituality', 'non-possession' and 'equality' have little significance and should be done away with forever. Why carry the burden thereof, since these words have no use? Already there are too many burdens on the mind, under which the poor householders labour: The burden of earning a living, of running a household, the burden of inflation, and many other problems, such as income tax, death tax - the little brain is quite bewildered, having to carry such an enormous load.