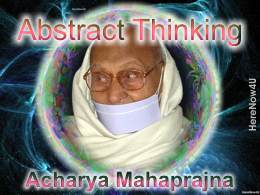 All men want happiness. Nobody wants to suffer any pain. And yet the way to happiness is not free from hardships. The joy of harvesting a crop is the result of the pains endured during its production. Such is the nature of the world we live in that without labour nothing is achieved.
Is it possible to realize one's soul without any effort? Had it been possible, self-realization would have been there at the very beginning and the present question and the need for answering it would not have arisen.
Some people believe that Lord Mahavira set forth a way of sadhana which is difficult and full of hardship. It must, however, be said that in the path propounded by Lord Mahavira, suffering is neither the end nor the means. From beginning to end, his sadhana is a campaign for non-violence. To conquer violence is not an easy task. From time immemorial, man has been dominated by violence. Is it then unnatural to encounter hardships in the process of ending violence?
Mahavira never said that one should invite pain. He only said: "Face courageously whatever hardships you might encounter during your campaign."
Lord Mahavira undertook a lot of penance, not to cause hardship to the body, but to weaken and undo the conditioning of years. He was the spokesman of anekanta. How could he say that hard penance was the only way for dissolving the accumulated conditioning? He gave greater importance to meditation. A celebrated maxim in Mahavira's tradition runs as follows "Even two days' fasting cannot favourably compare with a two-minute meditation."
In his sadhana, penance is the external means, meditation the internal. His sadhana consists not in doing penance only, nor in doing meditation only, but it consists in the combination of the two, i.e., in doing both penance and meditation at the appropriate time, each having its own utility.