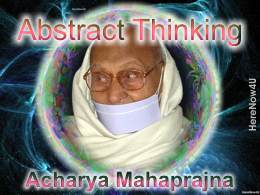 The past is gone, the future has not yet come. The only living moment is the present moment. Lord Mahavira says:
"0 Sadhak, know this moment"
The future urges and aspirations are conditioned by the memory of the past. He who experiences the present moment, steers clear of both memory and imagination. Both memory and imagination create a consciousness of attachment and aversion. He who lives in the present moment, is naturally freed from attachment and aversion. This present moment, devoid of attachment and aversion, in itself constitutes restraint. He who lives in the present moment, free from attachment and aversion, restricts the bondage of karman acquired in the past. Thus, man who lives in the present moment, looks back upon the past, controls the flow of karman in the present and repudiates the future.
The enlightened ones do not look to the past or the future. The great sage who has repudiated imagination, lives totally in the present, soaking the karmic body to extinction.
Lord Mahavira said:
"Know this moment"
To know the present and to live in the present is real action. To live a mechanical, imaginary life, indulging in flights of fancy, is conditioned action, which is a deflection of the mind, and an obstacle to sadhana. Integrated action is in itself sadhana as well as meditation. We walk and, while doing so, our consciousness is awake. "We are walking." We are conscious of walking. This is the total action of movement. The principle underlying it is that the sadhak, while walking, should not concentrate his mind on the objects of the five senses. Something is visible to the eye; certain words fall into the ear; vapours of smell arise; hot or cold air touches the body - the sadhak should not identify himself with all this.
While walking, the sadhak should not indulge in any kind of study - he should neither teach, nor ask questions, nor repeat what has been said, nor think upon its meaning, nor indulge in religious-discussion. He should keep his mind absolutely still, empty. The sadhak should not be a 'walker', he should become the 'walk' itself. There is no walker apart from the walk. He is walking incarnate. His mind is wholly centred in walking. This is 'gaman-yoga' (the yoga of walking).
Each and every action of the body and speech becomes vital, integrated action. When the mind is totally given to it, the whole of our consciousness pervades that action, and becomes indistinguishable from it.
The fundamental principle of vital integrated action is that the mind and consciousness are wholly permeated by it and become the action incarnate. The senses are wholly given to it, the heart fully saturated with the spirit thereof, the mind is exclusively devoted to it and entertains no other thought. That is how vital integrated action comes into being.