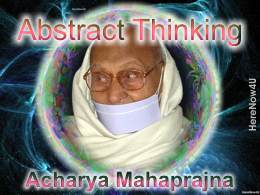 Man himself is the creator of his joy and sorrow. He himself is the architect of his fate.
The ruler is not the deity. He is not the incarnation of god. He is a man. Do not call him a god, simply as a prosperous person.
A book is created by a man. First the man, then the book. No book is divine.
The Order of the Universe is self-directed through the combination or mutual inter-action of eternal substances. It is not conducted by some omnipotent entity.
The world is composed of six substances. These are:

Dharma - the element of motion
A dharma - the element of rest
Space
Time
Matter
Soul

Man himself is responsible for his evolution and degeneration. In this context, Lord Mahavir has expounded the following elements: sentient being or soul, non-soul, merit, demerit, influx of karman, restraint of karman, dissociation of karman, bondage of karman, and emancipation.
Man is not a cog in the machine of karman or fate. Fate does not determine a man's future. On the contrary, man himself is the maker of his fate. Through self exertion, he can change his destiny.
Self-dependence is the first condition of moral life. In the framework of society, self-dependence does not mean that a man should accept no cooperation from others. In my opinion, it means that a man should not hide his powers, should not let them rust; he should utilize his energy to the extent possible in fulfilling his needs and he should not take upon a life of luxury as something superior and a life of labour as inferior.
A man is naturally attached towards luxury and comfort, and this leads him to suppose that a man who labours hard is an inferior person. That is the basis of a life dependent upon others.
The non-use of one's own powers and the utilization of other people's powers for one's own selfish ends is the starting point of a life of exploitation. Exploitation is the root of immorality. An anuvrati wants to end exploitation in society. It, therefore, devolves upon him to propagate the spirit of self-dependence or labour among the people.
The anuvrati workers are considering the establishment of centres self-dependence has no exceptional value. It is an intrinsic value of life. If it is accorded an exceptional value, it will not get established in life. Instead, it will become an imposition.