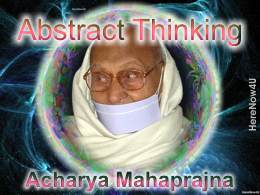 One cause of mental disequilibria is - excitement, frenzy. We have no control over provocative tendencies. We get agitated over little things. Meditation is very important because through it we come to have a measure of control over ourselves. I do not want to say that meditation brings about an immediate cessation of all passions. That is yet a far cry. Yet it is no mean achievement if we can shut the door on all passion and lock it at will. The door, the lock and the key were devised so that man can be secure. They constitute in themselves a great means of safety.
Let consciousness so awaken in us that, in the face of a provocative situation, we should be able to close the door immediately and keep still. This is something great and only man is capable of it. The beasts cannot do it. When confronted with a provocative situation, a beast is bound to get provoked. It may be a buffalo or a pig, or a bear or some other animal - all of them, when provoked, would start hissing and redden with rage; Man alone has the capacity not to get agitated even in a provocative situation. He is capable of exercising control over his emotions. Because he has been able to develop such a consciousness, he can lead a balanced life.
The second cause of mental imbalance is - stubbornness. Obstinacy creates disequilibria. If you look into it carefully, you will find that in the case of problems arising in the family, a stubborn nature is productive of great suffering. One takes up a particular stand and will not give it up under any circumstances. It creates in the family an atmosphere of hostility. In one and the same house, living quarters are separated by walls and many different households come into being instead of one joint establishment. It does not end only in separate quarters and kitchens, but because of lingering bitterness, the father and the son do not meet each other for decades together. The father would talk laughingly with a stranger, a casual visitor, but the moment he catches sight of his son, he averts his face and turns away his eyes. In the case of a sudden encounter, his eyes show anger. It is a queer situation and sheer obstinacy is responsible for it.
The third cause of mental imbalance is - partiality. It destroys our mental equilibrium as well as that of the person confronting us. We have received a number of complaints such as, "I was devoted to my father and am still. But my father has been so partial inasmuch as he has given all his property to my elder brother and cut me off with a shilling!" Similar complaints are often preferred by a younger brother against his elder brother, by a son against his mother, and if the mother happens to be a step-mother, there is no end to fault-finding. Partiality constitutes a big problem indeed. Mental equilibrium is also disturbed because of a mill owner's partiality for or against one of his workers.
The fourth cause of mental disequilibria is - unbalanced diet. Mental equilibrium is also disturbed because of unbalanced diet. This question is often neglected although modern scientific research has thrown a good deal of light on it. Insanity is not the outcome of mental confusion alone. A man can also go mad because of unbalanced diet. Dietetics is a very important subject. If one takes corn, carbohydrates and starch alone, it serves to fill the belly all right, but the mental balance is disturbed. One needs proteins and also fats and salt. One needs to take all these. Only when the diet is balanced, does the brain function well. The man who flares up too soon, who is extremely ill-tempered, who often picks up quarrels, is a cause of torment to his family all the day long, must seriously consider if it is a faulty diet which makes him what he is.
The fifth cause of mental imbalance is - nervous debility. The nervous system has two principal parts - the brain and the spinal cord. The person, whose spinal cord or backbone is defective, has his mental balance impaired. Many of you experience discomfort in sitting straight.
The debility of the nervous system, the weakness of the backbone and the feebleness of the brain - all these cause mental imbalance.
A new therapy has come into vogue these days - osteopathy. Nothing much is done in this method of treatment except that some pressure is applied on the spinal cord. That is how all the diseases are treated. The spinal cord is the root of all the diseases; all the nerves in the body originate from here. There is here a network of nerves, fibres and arteries. Everything passes through these. The spinal cord is the root from which all these separate. It is our central nervous system on both sides of which are to be found the sympathetic nervous system and the parasympathetic nervous system. It controls everything. When the nervous system itself becomes enfeebled, all talk of mental balance is rendered meaningless. We might practise meditation a thousand times, it serves no purpose. In fact, meditation becomes impossible, however much we may try. Meditation is possible only when the nervous system is strong. Outwardly, a heavy, large-sized person may appear to be strong and sturdy and a lean lank person with little flesh may appear to be very weak. But the fact may be altogether different.
He, who has splendour, is strong. Appearances are gross and deceptive. The role of the flesh is very small. What commands prime importance, is the nervous system. Life means - the activity of the nervous system. The two most powerful systems are the nervous system and the glandular system. All the light is radiated by them. They control everything. Mere flesh has little importance. Nor do other elements of the body possess that much power.
We have enumerated five causes of mental disequilibria. We want to maintain mental balance. We want the mind to be wholesome and at peace. An important exercise is body-perception, i.e., observation of the body. Body perception strengthens the nervous system and supplements the provision of certain chemicals in the body. We must know that our body produces certain vitamins. We do not get all the vitamins from outside; these are also generated within. Our bodies absorb the heat of the sun and vitamin D is produced of itself. The heat of the sun is the best source of vitamin D. Our body also produces many other chemicals and proteins, but it will do so only when we keep in a state of tranquillity, the practice of meditation, the exercise of mental equilibrium, is meant not only for the achievement of salvation, but also for living a happy life in the present.
Let us consider the technique of preksha meditation in the context of the prevailing mental imbalance. Is it possible to accomplish through preksha meditation a work which is generally sought to be accomplished through the use of drugs and electricity? This question can be answered in the affirmative. The little exercises that we undertake under preksha meditation thus become highly significant. The cure; which the drugs are unable to effect; is accomplished through these little exercises. How to give rest to the brain? That is the question. How to end the ceaseless whirling of thought? The rest provided to the brain and the nervous system through kayotsarg is not obtainable through any other method. Neither the drugs nor electricity can provide such relaxation.