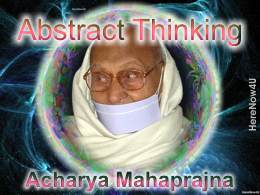 Meditation is the ultimate object of human pursuit until this is distinctly seen; no good can result for the individual, the society or the country. In the successful completion of any work, clarity of vision is a point, which no person can overlook if he wants to make any progress. Energy accumulates through meditation and with this accumulated energy individuality is formed.
Some people look upon meditation as symbolising inaction. In their view, only those people take to meditation who have no other important work to do. I do not agree with this view. In my opinion, such a view can only belong to those people who are not acquainted with the technique of meditation and have not gone through its process. Meditation which leads to indolence, I am not prepared to treat it as meditation at all. The energy of meditation is so explosive that it awakens many unique powers latent in human consciousness and elevates a man to unimaginable heights.
I want that our sadhaks should be free from frustration or fear and should not be carried away by the current of greed. Fear and greed only make the mind restless. Therefore, a man should seek the right way under the wholesome guidance of a true teacher, and he should practise it. Thus, he can accomplish not only his own good but the good of the whole of mankind.
Every man can make an effort, but only a few are capable of the effort required for meditation. It is necessary for each individual to make an effort in that direction. Anyone undertaking meditation should clearly understand two things: firstly, he must not entertain fear of any kind; secondly, he must be free from greed.
Fear is born of doubt. If the sadhak is doubtful whether the sadhana he is undergoing might do him ill, if he is apprehensive about the future, since, though he has been doing sadhana for many years, he has achieved no results - such a situation fills him with diffidence, and fear and despair are the natural outcome of uncertainty.
Some people entertain no fear, but their thought is unsteady. Doubtful of the utility of what they are doing, they are not able to fully dedicate themselves to their goal. The mountains look very lovely from far-distance lends enchantment to the view! True to this popular saying, they continue, even after they have been shown the right path, to hanker after what is not. They go astray. Moving from one temptation to another, such sadhaks can never find the right path.
Self-dependence and steady effort are the two eyes of existence, which look both inwards and outwards. Man is a link in the chain of existence. It is man's nature to make efforts. Nothing that has being, can remain inactive. In the language of logic, this fact may be expressed as follows: "It is the characteristic of being to be active." All that which is devoid of activity potential, is unreal - imaginary. Man is real, therefore his efforts constitute his feet and self-dependence constitutes his movement.