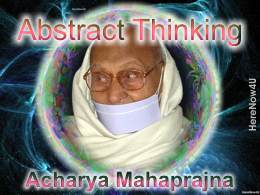 Bhavana is a very effective means of washing the brain. Go on repeating one thing time and again. Keep reiterating it. A moment comes when old ideas are shed off and new ideas get established in the mind. As long as we believe that it is another person who is responsible for our pleasure and pain, no transformation is possible. When through the exercise of bhavana, this belief is washed away, demolished, then in the event of pleasure or pain, a man would hold no other save himself responsible for it. Rather he would say to himself, "I must have done something, behaved in a particular way whose consequence I am facing now." The man's whole outlook would stand changed. Bhavana-yoga is an important method of bringing about a transformation, of changing one's outlook.
The question arises if it is possible to dissolve one's past conditioning by repeating something again and again. A celebrated dictum of the Nazis was - "Repeat a lie a thousand times, and it shall be accepted as truth." If a lie, repeated a thousand times, can become a truth, why cannot a truth be accepted as a truth after a million repetitions? Repetition has a significance of its own. Today, a student of science knows that in order to grasp a subtle fact, one has to pay attention to the frequency of its occurrence. He knows what is available and on what frequency.
The birth-centenary of President Lincoln of America was being celebrated. A man resembling Lincoln was selected to play his role. He travelled throughout the country for a year and acted Lincoln's part. His conditioning grew to be so strong that he began to look upon himself as Lincoln. The year passed away, but he continued in his dream. The people remonstrated with him that he was not Lincoln. But he was not prepared to accept it. Some people said, "Better shoot him down as Lincoln was shot." At last a machine was designed to manifest the truth. The man was set up before it. Thereupon he thought, "All say I am not Lincoln. Why shouldn't I assent to it and save myself?" So he blurted out, "I am not Lincoln." However, the machine indicated that he was; it had misfired. His bhavana had such a deep impact upon him that even though he was not Lincoln, the phenomenon of being a Lincoln had sunk into his subconscious. Therefore it is necessary that while practising bhavana the sadhak should not keep his face averted from the truth. He should continue to practise bhavana along with meditation.