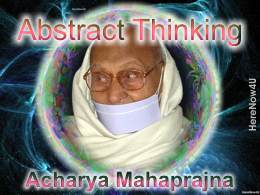 Tragic events transpire in life: none can stop them from happening. We have the earthquake, the typhoon and the seastorm - none can prevent their coming. Who can forestall the falling of a meteor? Similarly none can ward off diseases and natural disasters. But one thing man can certainly accomplish - he can save himself from the tragic consequences of the inevitable rages. Tragic events cause mental depression and confront a man with the prospect of a living death. This can be avoided. Painful situations are bound to arise in life, but a man need not be unduly shaken by these. He need not identify himself with pain and sorrow. If he at all identifies himself with a particular happening, it is only to the extent of knowing it has occurred. He will not allow himself to be yoked to it any further. The event will only touch the surface of his conscious mind; the unconscious mind will remain untouched. An image will be formed in the conscious mind, but not in the unconscious mind, which would remain pure, untouched, without any reaction.
The aphorism of meditation runs as follows:
"I have not come here in this world to suffer pain."
This is a very significant aphorism for it serves to end all painful vibrations. All griefs arising on account of contact with persons and things get dissolved of themselves. This, indeed, is the exercise of non-attachment.
Non-attachment means: the non-identification of consciousness with material things an attenuation of the density of matter; a dilution of its contact with consciousness. When this transpires, consciousness permates the whole of life, far away from the shadow of attachment.