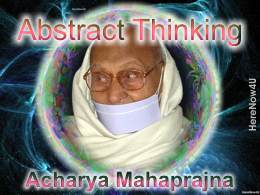 The secret of success in life is - sweetness! Gentle behaviour is indicative of a rich, joyful life. The life of a man, whose conduct is cruel, can never be fragrant. Such a man is neither mellow in himself, nor can he impart freshness to another. On the other hand, a man of gentle conduct is rich and joyful in himself and fills others too with richness and joy.
It happened in the time of Acharya Bhikshu. A monk returned after seeking alms. He presented the vessel containing alms before the Acharya. One pot contained gram-pulse and the pulse of green lentil mixed together. Acharya Bhikshu said to the monk, "Why did you receive both the pulses in one pot? You should have got them in different vessels." The monk said, "A pulse is a pulse. If one pulse is mixed with another, it makes little difference. So I received them together." Acharya Bhikshu said, "The gram-pulse cannot be given to a patient. The pulse of green lentil can be given to a sick person." You did wrong to mix one with the other." Thus, Bhikshu reproached the monk.
The monk felt offended. He lay down to sleep without eating. Bhikshu sat for meals with his band. He made enquiries about the missing monk, and was told that he had gone to sleep. Bhikshu was very tactful in his dealings. He was a psychologist. He knew how the monk felt and called him out loudly, saying, "O sleeping one! Are you looking at my fault in your dreams, or at your own?" On hearing this, the monk's anger evaporated. He got up, came out, and after paying homage to Bhikshu, said, "Of course, I was looking at my own fault." The whole atmosphere grew lively.
Acharya Bhikshu's words filled the monk with sweetness and joy. Indeed, the monk was quite overwhelmed. Only he can impart rich joy to others, whose own life is overflowing with it. The conduct of a person devoid of rich joy cannot be gentle. Nor can such a person fill others with richness and joy. Friendship is a factor of rich joy.
Here, we have briefly discussed the maxims of self-development. For success in life, we must extend our interests. Let us find a refuge, fragrance and rich joy. After achieving these, the tree of our life would become so fragrant as to make the whole atmosphere delectable and every individual, permeated with rich joy, shall blossom forth.