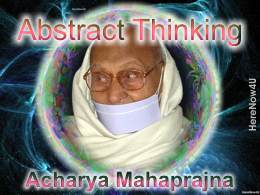 At the very outset, we must determine what kind of society we wish to create. After that, we must first of all enlighten our women and imbue them with a vision as to what kind of sons they would produce. This would be something really beneficial. If the mother's will-power is strong, she gets the kind of son she has visualized. Behind the power of all the great men of the world, lies a mother's strong determination. A mother, who forms good resolutions before or after conception, performs good deeds, reads good literature, dreams good dreams-her son turns out to be powerful. On the other hand, a mother who suffers from inferiority complex, is afflicted with evil thought, dreams evil dreams- her son Will never grow to be really great. More often he is born not only a coward, but crippled, too.
There is energy in women, too. They can accomplish great works. During Acharya Sri's journeys, we saw that some women had established a record in the orderly running of educational institutions. That women can work is not to be doubted. If they utilize their energy in this direction, they can certainly accomplish extraordinary works Let them not get involved in debating who is weak woman or man. Nobody is weak. The question of weakness or strength is a relative one. In Uttaradhyayana Sutra, woman has been called a monstress. But is not man also a monster? A man can be a monster and a woman can be a monstress. A man can be a god, and a woman can be a goddess. Where woman has been called a monstress, this too has been said: "Where woman is worshipped, gods live there." All these are relative statements. History tells us that in the remote past, two systems were prevalent in Indian society. One was the patriarchal system and the other was matriarchal. Matching the male-dominated order, there also existing a woman - dominated order. Even today, there exist in the frontier provinces certain races where the woman is the head. The man does the cooking and brings up the children. The woman goes to market to buy provisions. The man observes purdah, the woman goes about with her face uncovered. All these situations are conditioned by space and time. It would be a great illusion if we accept them as eternal truths. We must view them as being relative. And we must give thought to what we want to become and what we must do. However, before solving this problem, we must accept the fact that the fundamental cause of women lagging behind is their lack of education. It is true that education is not everything; still it has its own significance. Education is the first prerequisite. Until this first prerequisite is realized, the other prerequisites will not be fulfilled. The first task before women is to advance in the direction of knowledge. They should devote their time towards promoting literacy. They should be educated themselves, and help their sister-women to become educated. The awakening of knowledge marks the ending of the inferiority complex. One comes to have a sense of one's own power and the possibility of doing something is confirmed.
If women start conducting study-circles and meditation sessions, the atmosphere of non-education will be ended to some extent. First of all, women will have to make themselves powerful He who is not strong, gets no help from others. Even God helps only those who are energetic and valiant.
Let women ignite the flame of dutifulness and help spread knowledge. In a few years such a change would come about that instead of dwelling on the weakness of women, men will be obliged to consider how the power of women should be properly utilized.