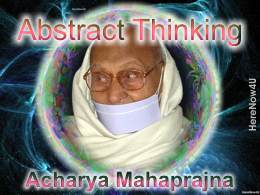 Truth is not outside the soul. Truth is not to be sought - it is already there. We have only to remove obstacles, which obstruct its manifestation. It is because of obstacles that truth appears to be distant, far off. When the obstacles are removed, no duality exists between truth and ourselves.
The first obstacle to right view is - apprehension. To entertain doubt regarding what is unquestionable is tantamount to playing hide and seeks with truth. Most people are doubtful about their own existence, which is not dubitable. In this world, nothing, which did not exist before and does not exist hereafter, can exist in between.
When not even an atom can lose its entity, how can consciousness?
As with the soul, all forms and kinds of truth are objects of right viewing. To entertain any apprehensions about these is a very big obstacle to the evolution of right viewing.
Only that man reaches the truth who has an indomitable urge to find it. A person dominated by other desires cannot reach it. Ambition can never take a man in the direction of truth. Even if an ambitious person wants to move in that direction, his feet waver. This constitutes the second obstacle to right viewing.
Truth is a goal. Determined effort is required to reach that goal. A man of unsteadfast exertion is incapable of progressing in one direction. Since he is continually changing direction, he cannot reach the truth. Unless the energy of consciousness flows in the direction, it cannot achieve its goal. A stream diffusing itself in all directions has no concentrated flow and without a steady powerful current, it cannot reach the sea. Unsteadiness of the mind is the third obstacle in the path of our progress towards the ocean of truth.
For a man progressing in the direction of truth, it is a very important question as to whom he lends his support. If the pilgrim on the path of truth supports those who are travelling in the direction of untruth, if he establishes and strengthens his contact with them, he is himself misled. That is why he must need to be very vigilant in this regard. This obstacle is even more formidable than the previous ones. Support of and contacts with people following the path of untruth respectively constitute the fourth and fifth obstacles to right viewing.