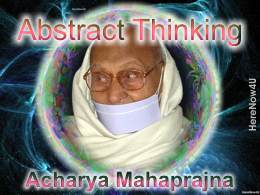 A devotee said - "0 Lord! People do not care for their benefactors, whereas you are considerate even to those who do evil to you. It is but natural to be kind to a well-wisher but the love you bestow on an evil-doer, people are not able to show even towards their benefactors. That is your uniqueness!"
Sangam inflicted upon the Lord a great deal of suffering. An average person curses his tormentor, saying, "How mean and wicked is this man! Causing me endless suffering!" But Lord Mahavira thought - "Through me the world is moving towards salvation. But this man is drowning because of me!" He pitied him.
It was Carl Marx who first propounded the doctrine of communism. He was a sociologist and an economist. To expound his thesis, he kept wandering. People exiled him, turned him out of his house. It happens like that. People, who have given a new truth to the world, have had to bear insult, sometimes even to drink poison, at the hands of their own devotees.
Socrates was a great monk and a philosopher. Even today he is considered by the West to be a metaphysician of the first order. His enunciation of truth went against the contemporary traditional concept. That is why he was obliged to drink poison. Jesus was nailed to the cross because he uttered truths contrary to the current beliefs of the time. Bhikshu Swami, too, had to endure a great deal.
This is how a forbearing person thinks - if pelted with abuse, he says to himself, "Well, I have been called names, but at least not beaten." Even if thrashed, he says to himself, "Well, I haven't been killed. I am still alive. I have only been given a beating."
This is what we witnessed is Devas. The discourse had just begun. There was a sudden uproar. The miscreants numbered only few-5-10 persons, but the tumult raised by them distracted the gathering. Acharya Sri was requested to withdraw, because of the possibility of stone-throwing. And indeed, stone-throwing began presently. One of the stones, aimed at Acharya Sri's head, struck him on the back. Acharya Sri said, "It hardly matters. We have had to endure so little. Not a scratch anywhere. It could have been a bullet!"
Even when faced with the prospect of losing his life, a religious person or sadhak says to himself, "Well, only life is lost, but not righteousness." A patient man accepts all that happens to him with grace. This positive approach is found in sadhaks and metaphysicians who have realized the supreme truth.