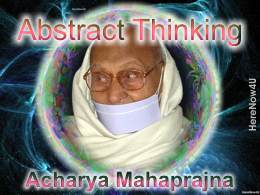 Compassion is an exercise of friendship. He who befriends the whole world - his compassion, too, becomes universal. That compassion is not dependent upon another. It is an inward flow, which goes on from moment to moment like an incessant stream. Saints like Mahavir, Buddha, Jesus, etc. are unique examples thereof. The Mahayana Buddhists say: "Buddha stood at the gate of salvation. A voice said, 'Come in!' Buddha said: 'How can I, until all living beings are freed from pain and suffering?" When the heart-ocean starts flowing out with love, the waves of compassion strike against the shore. All the saints have been incarnations of loving friendship and their love has flowed out of their speech as compassion.
A person came to see the American thinker, Henry Thoreau. He shook hands with him, but Henry immediately relinquished the visitor's hand. He said: 'This hand is not living, it's dead. It has in it no love, compassion, goodwill, sympathy.' This is indicative of sublime love. Qualities like compassion, goodwill, etc. represent the purity of man's inner consciousness.
Lord Umar appointed a person as the governor of a province. He wrote out the appointment letter and gave it to the person concerned. In the meantime, a small child happened to come there. Lord Umar showered great affection upon the child. The governor-designate said, "I have ten children, but I have never shown them such love, nor been so attached to them! "Lord Umar took back from his hand the appointment letter and tore it out, saying, "If you cannot love your own children, how can I expect you to love the people?"
A person came to a saint to become a monk. The saint asked him: Do you love somebody?" He said, "What are you saying, Sir? I love nobody." The saint said: Then it is difficult. If you have love for someone, that love can be made more comprehensive, but if there is no love at all, what can I do?" Love, compassion, sympathy are indicative of the inner state of a person. The feeling of compassion which arises in your mind at the sight of an unhappy, troubled and frightened individual, shows that your heart is tender and not devoid of love and sweetness. That very compassion has to be linked with the soul, so as to remove the causes of suffering and give birth to limitless compassion.
A flash of lightning in the distant horizon makes us aware of the existence of clouds. Similarly, by witnessing the flow of compassion in a man's heart, we know that he is a seeker after truth: that he has had a glimpse of truth and his approach is felicitous. Without renouncing cruelty, no man can progress in the direction of truth. The intensity of this realisation greatly strengthens the feeling of compassion in a man.
The Acharya's prayer: "O Lord! Let compassion awake in my heart for all those caught in suffering!" Cruelty and ruthlessness drive away from a man's heart all sympathy for others. I am surprised to see that a man, who professes to be religious, is yet cruel. Religiousness and ruthlessness do not go together. Many so-called religious people are so heartless that one hesitates in calling them religious. They seem to think that their greatness lies in meting out cruel treatment to their inferiors.