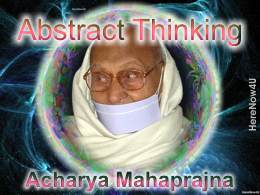 The practice of incantation may be said to be an exercise of bhavana. It is no different. It is undoubtedly the practice of self- hypnosis. In hypnotism, a man who has intensified his vital powers, makes a suggestion to a person in front of him, the latter's consciousness lapses and he begins to accept every suggestion made to him. It is most remarkable - a great miracle.
The suggester [hypnotist] places a mango in the hand of the person before him and says to him, "You are eating a live charcoal". And surely the person so addressed would have no relish of the mango, or any other relish. He would feel as if he were consuming a live charcoal. If the hypnotist says, 'the live coal is scalding your mouth; it has caused blisters to appear on your tongue and palate," the mouth of the hypnotised subject would indeed scald and blisters would appear. Mango eating would produce such blisters as if his mouth were really burning. It is nothing less than a marvel. Those who practise hypnotism, come out with many such remarkable occurrences.
Most people experience greater anguish from brooding upon their illness, than from the illness itself. This equally applies to health. Most people recover good health by thinking that they are getting better, than by taking drugs.
A patient went to a doctor. He was suffering from a terrible disease. The doctor gave him an injection and said, 'this injection is extraordinarily powerful. It will fill you with great energy. It is a rare drug. You are very fortunate."

The eulogization did the trick. The patient recovered. A friend of the patient asked the doctor about the injection, which had proved so instantly effective. The doctor said, "What affects the patient more is his own inward feeling. I gave him an injection of pure water. But the patient had been so much impressed by my description of the injection that even simple water became for him the elixir of life.

The doctor made yet another experiment. He gave to the patient a very costly medicine, saying, "Right now I have only this common enough drug. You might as well take it. When I receive a better drug, I will send it to you.' The patient took the medicine, but it had no effect, whatsoever. This, too, was a conditioned response.
Mere ash proves efficacious whereas the calx of diamonds provides little relief.
A physician gave a patient some medicine for bad cold. The patient asked what the name of the medicine was. The physician said, "It is Mahapratapi Lankeshwari Ras (the great-glorious elixir of Lankeshwari)". On hearing this, the patient said to himself, "To be sure, it is some very precious medicine. What a grand name and it must be having equally great virtue. It is an elixir, most glorious, too; and also Lankeshwari - three great qualities combined." He took the medicine and got well. I asked the physician, "His bad cold was really very bad; it had taken a turn for the worse. How did you cure it? What did you give him?" Since it is an elixir, it must contain some mercury. Besides, you describe it as glorious and Lankeshwari; so it must have in it some particle of highly precious element."

The physician smiled and said, "Revered monk! I did not want to disclose the formula of my medicine. However, since you ask, I'll give it to you. The medicine is made of two components - ash and black pepper. The ash is not of wood but of dung-cakes. That's all, sir. That's the formula."
The name, by which a thing is called, has an extraordinary effect on the listeners. Through it, many chronic diseases may be cured. If you give your medicine an indifferent name and do not extol its virtues, the patient thinks it is some common drug. And since this disease is chronic, the patient thinks it is some common drug. And since his disease is chronic, it is not likely to have much effect.
It happened in France. An American youth went there and stayed with a family. He developed an intimate relationship with them. There was a young girl in the family. He grew intimate with her. Both were tied with the bond of love. The question of marriage came to the fore. The youth said, "I cannot marry you right now. Until I stand on my own feet, I cannot shoulder this burden. Only when I am financially independent, shall I marry you. Not before." The maiden assented. The youth went away to America. The young girl continued living in France. An idea struck her. "When the youth returns to marry me after 5-6 years, he should not find my beauty faded and my youth all gone." So she began reciting a resolute prayer every day. "Let me keep my beauty untarnished;" To this bhavana she would give herself wholly. Fifteen years passed away. Her lover was now self-supporting. His financial condition had greatly improved. He was independent. The memory of his beloved had not left him for a second during all these years. He revisited France. All kinds of thoughts assailed him. He wondered how he would find his maiden. How had she kept herself? He met her. He found her physically charming, her beauty and comeliness undiminished. There was no difference whatsoever. He married her. Both were happy. This was a marvel wrought by bhavana.
This is bhavana-yoga: an individual changes in accordance with the sentiment he nourishes and with which he is imbued. There are, who knows, numberless exercises of bhavana going on in the world. In the Jain tradition, bhavana has a special significance. You may not accord some spiritual value to bhavana - that's your personal affair - but it is a patent fact that a man is made or unmade by his bhavana.
The practitioners of Zen in Japan have conducted all kinds of experiments. They descend into the arena to fight a wild bull. They go down unarmed. They carry with them nothing - not even a stick. The bull comes running towards them. A red flag is waved at it. The sight of the red cloth infuriates the bull. It rushes to the offending individual with all its force. It mounts upon him a terrible attack. The lean and lank bullfighter overcomes the bull through his bhavana and determination and lays it prostrate on the ground. He is at that time imbued with the feeling, "I'll fight the bull; I'll subdue it." Supported with this resolve, he accumulates so much energy as to becalm a furious, attacking bull - as if it were no more than a goat. This exercise is in progress even today; it is not that it was prevalent only in the past. Many sadhaks - big and small - practised sadhana there.

A wrestling tournament was organised there. Two wrestlers were called forth one very sturdy and immensely powerful, the other lean and not too strong. The bout began. The more sturdy-looking wrestler soon laid his lean competitor on the ground. It occurred to the sadhaks that they should lend some support to the lean wrestler. Some of the sadhaks closed their eyes and were wholly engrossed by this idea. They strongly wished for the lean wrestler's victory. 'This lank wrestler must win;" they reiterated. Some time passed. The situation took a sudden turn. The thin and lean wrestler laid his sturdier colleague flat on the ground and sat triumphantly on his chest.