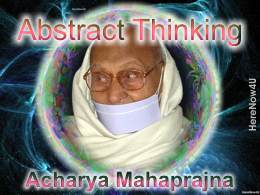 Once, gold addressed the goldsmith thus: "You put me into the fire, I do not mind it. You beat me with an iron hammer that too I do not take ill. But I feel unhappy when you weigh me with seed-bits!" Precisely this anguish an intelligent person feels when he hears religion being called "an opium pill" or "something utterly worthless". I, however, believe that a man can do without breathing (even though for a few momentarily), but he cannot do without religion even for a single moment.
We experience many difficulties in understanding the definition of religion.
- In the language of philosophy, religion has been defined as follows: "The purification of the soul is religion".
- In the language of literature: "That which increase knowledge, joy and power, is religion".
- In the language of psychology: "Equanimity".
In ancient times, the knowledge of yoga was considered to be very important in India. The ancient Acharya studied yoga for thousands of years and had many achievements to their credit. Today's psychology is a new discipline. It has proved to be useful in many fields. Its utility in the sphere of education, health and many other activities, is known to all.
Equanimity is religion; incongruity irreligion. That is a criterion. We also have had an age of eulogy when people indulged in a great deal of exaggeration and hyperbole.
For instance, "If you get angry too often, you will grow to be black." Or, "If you do a particular work, you will go to heaven," etc.
But today the situation has changed altogether. The modern intellectual does not believe in such talk. Lokmanya Tilak was a great lover of books. Once he said, "If I go to hell and can get books there, I will not hanker after heaven; hell itself would become a paradise for me." Today, a person is not afraid of hell. Acharya Haribhandra has mentioned three kinds of people - dull, average, intelligent. There are different ways of teaching them, individually. The dull person is told, "If you do evil, commit a sin, you "Will go to hell." The average person should be apprised of the real situation. "It is a wicked deed. By doing it, you will harm yourself." With an intelligent person, you can go into the fundamentals of a given situation, as to what kind of reaction of particular kind of work will elicit. As he grasps the implications of a particular action, he will choose the right path by himself.
Anger leaves its impact upon our mind, speech and body. An average person cannot predict it. However, a scientific analysis would reveal that the blood of a wrathful person becomes heterogeneous. Instances have come to light of death occurring to a child sucking milk from the breasts of an angry mother. Hatred causes blisters in the intestines: it sets off loose motions. Envy causes wounds to suppurate, and blisters in the mouth. Ninety per cent of the diseases result from mental impurity and only 10 per cent from the organism itself. According to a tenet of Ayurved, anger, pride, greed, envy and fear, etc. lower the heat of the body, causing great variation in the quantity of juices prepared in the body, which plays havoc with our digestive system. The great flaws of anger, fear, greed, etc. have been often known to cause even death.
In order to counter all these evils and defect psychologically, we must turn to religion. But merely to act conventionally is not religion. Without fully understanding the meaning of samayika, sitting down in a particular posture for a prescribed hour, with the mouth-cover on, cannot be said to be performing samayika in the true sense of the word. Samayika means equanimity. How is it possible to reap the fruit of pure samayika without reining the horse of the mind and without exercising control over the thoughts of quarrelling, condemnation, etc. and the feelings of attachment and aversion?
What is religion? In the present age, it is not possible to define religion in a few words. The essential element of religion is freedom from the passions. Only that person, who is free from passions, can be said to be truly religious. Anger, pride, deceit, greed, fear, hatred, inferiority complex, etc. constitute irreligion. Religion abides in the minds of those who are strong, holy and free from fear. Fearlessness is religion: equanimity is religion, tolerance is religion: while viewing other people make progress, to long for the progress of all, is religion: to extend the feeling of goodwill and friendship is religion: non-indulgence in anger, straightforwardness, simplicity, contentment is religion. Is there anyone in the world who will not support this definition of religion?
A Jain recites the namaskar mantra: a Vedic recites the gayatri mantra: Mohammedan reads the Koran whereas a Christian reads the Bible. That is the only difference. As regards the characteristics of religion mentioned earlier, there can be no difference. Religion transcends sects and communities. Religion is our only refuge, but people today do not know how to make use of religion.
A correct analysis of religion from the right point-of-view will definitely provide a man with the means of living a wholesome and happy life. Let us understand religion from the philosophical, literary and psychological viewpoint. Let us leave aside the incongruities and gradually move towards equanimity.