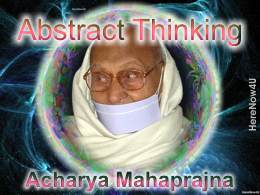 Happiness is the greatest achievement. I should like to define supreme joy in scientific terms. The medical Institute of Technology, Madras has perfected a device through which it is possible to observe alpha waves in the brain and even to communicate them. According to the scientists, there are to be found in the brain different kinds of electric waves - alpha, beta, delta, theta, etc. When the alpha waves preponderate, a man is filled with bliss. All his dejections disappear, all difficulties removed. When the beta waves preponderate, a man is filled with frustration. Tensions rise in him. Thus, through the electric waves in the brain, a man sometimes experiences pleasure, at other times pain.
In the language of spirituality it is called the cycle of sorrow and in the language of science, the cycle of vibrations. The man in whose brain rise the beta and theta waves - irrespective of whether he is a millionaire or lives in the midst of great luxury, pain and suffering is his lot. Rockefeller's life is a vivid example thereof. He was a billionaire. But his wealth never gave him any joy. Then, giving up everything - his huge financial empire - he went on a holiday for a year. And the happiness he experienced then was indescribable.
The secret of spirituality lies in the creation of alpha waves, so as to increase man's happiness. This happiness is so great that all momentary pleasure got from the senses pales into insignificance before it. When this happens, a man's fascination with outer things dissolves and the way is cleared for the attainment of inner joy. This is the starting point for doing away with strangeness or alienation. As long as a man feels that to be deprived of sensual pleasures is to be deprived of great happiness, he cannot relinquish them. He will give up sensual pleasure only when, in comparison with real happiness, it appears to him to be small and utterly meaningless. It is well - known that excessive sexual indulgence involves loss of power and energy, and yet how many are able to keep chaste? A man cannot practise brahmacharya ('chastity') until he finds a joy bigger than that afforded by sexual indulgence. The creation of alpha waves can be the source of great bliss. In that case,all tensions are resolved. The mind is filled, with great joy and energy. One feels as if one has attained whatever is attainable. All further searches, all wandering is vain. One is no longer attracted by merely skin-deep beauty, or by sweet music, for a far sweeter music fills one's whole being, which one is never tired of hearing. Such a great fountain of joy bursts within oneself that all extraneous pleasure loses its charm. Without the attainment of bliss, without natural and effortless joy, the contradiction between thought and action cannot be resolved. Without the ecstasy of meditation, there can be no bliss. He who drinks wine is not altogether a fool. He drinks wine in order to be in a state of ecstasy. However, this liquor - induced ecstasy is not able to resolve the contradiction between word and deed. To resolve it, one must partake of the wine of meditation.