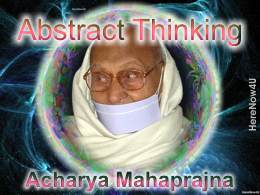 The body is transitory. To know this truth is to experience joy. The body is subject to rise and fall. It grows and decays. At times it is robust, at other times weak. That the body is feeble, also gives us a sense of the truth. The body is subject to change. It passes through many vicissitudes. At times it is affected by cold, at other times by heat and dust-storms. At times it is tortured by disease or distressed by circumstances. Something or the other is always happening. It undergoes many changes. Disease is never welcome, but to experience the truth about disease cannot but be wholesome. The fact of disease advances us towards truth, to what is real, actually there.
To the body comes death. The body also grows old. A man dies. The experiencing of death is also a very great joy. Through the anupreksha of transitoriness we learn to die even while we are yet alive. And the man, who learns how to die, crosses all hurdles. The greatest fear in the world is the fear of death. That is the ultimate fear.
Human polities have developed penal-power. Various kinds of punishments are awarded - binding, putting in a prison, putting hand-cuffs and shackles on hands and feet, beating, thrashing, etc. The ultimate punishment is that of hanging—the capital punishment.
The man who learns how to die while living, who has directly experienced death, who, letting go his body, has learnt how to make all the limbs of his body still and immovable like a corpse, has really conquered all kinds of fears and vanquished all difficulties.
We practise the anupreksha of transitoriness. We contemplate what is transient. In this contemplation we have glimpses of truth; from it we derive joy, and we try to explore the depths of our being. All this involves a change of outlook. Otherwise, if a man is told to experience death, he would say, "What non-sense! If you talk of living, it might be interesting. But you are talking of death. It cannot be good." The talk of living is pleasant, whereas all talk of death sounds unpleasant. People regard it as inauspicious and take it ill. But the spiritual practitioners do not think so. They consider the talk of death to be good. Therefore, they consider the talk of death to be good. Therefore, they make it a part of their spiritual practice. It is through the anupreksha of transitoriness that this change of outlook transpires.