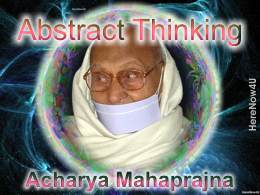 Svami Vivekanand visited America. An American asked him, "Wherein lies Mahatma Gandhi's uniqueness? Is he very wealthy? Does he wield great power?" Vivekanand smiled and said, "He is destitute of both wealth and power." The American asked, "Then wherein does his uniqueness lie?" Vivekanand said, "Mahatma Gandhi has three great qualities which he has inherited from Indian religion. These are:
Integrity
Satyagrah (Loyalty to truth')
Simplicity
The first of these three is integrity. Integrity, indeed, is the criterion for judging the moral excellence of a country, society or individual. India, in the remote past, was handsomely blessed with this quality. The following incident occurred 2500 years ago. A rich man was getting a house constructed. The foundations were being laid. During the course of the digging, the labourers espied something shining under the earth. They dug a little further and found a large vessel filled with gold coins. They immediately, approached the head- mason and told him about it. The head-mason informed the house-owner, the house-owner informed the king. Had the labourers wanted to purloin the vessel containing the gold coin, they could have done it. Had the head-mason so desired, he could have done it in collusion with the labourers. Had house-owner wanted it, he could have shared it with the head-mason and the labourers. The king would not have come to know about it at all. Had the king wanted it, he could have appropriated it for his own use. But the labourers said-"we have no right to it: the head-mason may have some right to it." The head-mason said," I have no right to it: the land belongs to the house-owner; he alone has the right to it." The house-owner said, "Only the king has the right to something which comes out of the bowels of the earth." The king also refused to own it because no deep excavation had been done and the land belonged to a private individual. Consequently, no one was prepared to accept the treasure.
What remarkable probity does the above story exemplify! "We shall not accept anything to which we are not entitled." The Indian soil has given birth to labourers, building-contractors, landlords and kings who would unhesitatingly relinquish a pot of gold coins, saying they had no right to it. It is such moral consciousness, which is needed to day. Once it is firmly re-established, the moral consciousness of India can serve as a model for the world.