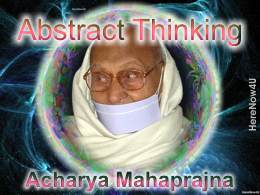 "O Illustrious One: What is statable truth?"
"From the point-of-view of integration, being is truth, and from the point-of-view of disintegration, substance and modes constitute truth Substances are eternal; modes are transitory. The synthesis of the eternal and the transitory is truth. Looking at the world as something knowable, the synthesis of the eternal existence of the animate and inanimate substances with their changeability is truth, and their division is untruth. When we look at the world from the point-of-view of what is beneficial and what is renounceable, all other worldly achievements are true and those of this world untrue."
We want to know the eternal, the infinite, the whole truth. This demand is never fulfilled. We only come to know a very small part of the infinite, of the whole. Discontented with what is given, we start struggling for the whole and our struggle never ends. The best thing for a man would have been not to have spoken at all. At least not about truth. Had he used his tongue only for the fulfillment of practical needs, there would have been no wars.
Not to speak about truth is the best way of avoiding untruth. But this could not be done. Some wise men, out of compassion, thought that if it was not possible for the ignorant to know the whole truth, let them be acquainted with a little of it. This compassion proved to be unproductive. It opened the way to controversy. Today, whether a man knows the truth or not, he is ever ready to dispute about it.
One great good that results from non-speaking is the preservation of truth. Through silence truth is fully protected. 'Unstatable', 'indescribable', 'ineffable' - these words preserve the truth. One man says, "It is so" is not right, and he who says, "it is not so" is also not right. Both can be right if they make their statements conditional, and says that from a particular point-of-view this is so, and from another point-of-view this is not so. 'Perhaps it is so', 'perhaps it is not so' when neither of these statements quite represents the truth, the probability should remain unexpressed. We should then agree that truth cannot be expressed; the whole truth cannot be told. Such is the nature of truth that it is ineffable. Whatever we say is only a partial truth. By stating a partial truth, we in a way only do injustice to the whole truth. See it for yourself and say that truth is inexpressible. It is like a dumb man's taste of jaggery - he cannot describe it:
I believe that not to speak, to maintain silence, is a powerful and effective means of protecting the truth.