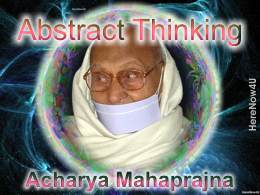 Whether a sadhak should live alone or in a group, is a significant question. The Agamas offer an insight:
"There are two approaches - scientific and popular."
No controversial issue can be resolved if viewed only from one angle. There are many ways of looking at it - at least two: the scientific approach and the popular estimate. The objective (scientific) approach embodies a truth according to which an individual comes into this world alone, dies alone, alone suffers joys and sorrows, and engages in spiritual practice alone. This bhavana is embodied in a Rajasthani couplet:
A man is born and dies alone
No companion in the world has he
This is the reality. By ignoring this truth, we create confusion. If some person thinks that he cannot do without me or that I cannot do without him, it is an illusion created by the mind. The fact is that nobody's business is stalled due to another person's absence. The cycle of birth and death goes on. Every person flows in this current for a while and then disappears, and the world goes on as before. What for all this worrying and restlessness at all hours of day and night? This problem arises because we fail to practise the anupreksha of aloneness. As a matter of fact, a man is his own master. Therefore he must learn to live by himself, alone. A strong man always lives alone. Does the lion of the jungle ever say to itself:
I am alone, helpless, feeble, without a family.
Does the lion entertain any such anxiety even in a dream?
The lion is a living being; so is man. Is man less mighty than a lion? He is endowed with limitless energy. Therefore he must not fear to be alone - never.
Saint Eckhard was sitting peacefully under a tree. A friend of his happened to pass that way. When he saw Eckhard sitting alone, he went to him and sitting beside him, said, "Perhaps you are bored sitting alone. So I thought I would come and sit with you." The saint said, "Brother: Who says I was alone? I was with myself. God was with me. Indeed, it is now that I am rendered alone: By coming here, you have effected a separation between me and my God." How deeply significant this outburst is: Only those who know the art of living alone, can really appreciate it. An individual tied to a group can neither appreciate it, nor can he experience the joy of living alone.
Through the practice of the bhavana of aloneness, it is possible to resolve the problem created by duality.
The Great Preceptors live in solitude at the beginning of their sadhana, but after achieving omniscience they live in the Order, deliver discourses, travel and establish contact with the people. The question arises as to why they do so. The answer is simple. Their karmic account is not yet closed - some karmic material particles remain to be worked out. To eliminate these remaining non-destroying particles and to awaken the public. This is the objective behind the institution of Orders by the Great Preceptors.
It is also necessary for a sadhak to inspire others to follow the path he has found. This effort on his part is also aimed at eliminating the remaining karmic particles which yet cling to him. The principal thing is that the sadhak should not be stubborn about any thing. Whatever path his guides show him, he should pursue it with total dedication. Thus, he will be able to live alone even in the midst of a crowd. If the path he follows is not right, his mind is congested even when he is alone. Therefore, to be alone in the psyche is the safer course.