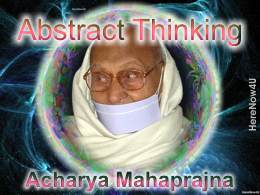 Anupreksha (contemplation) of Transitoriness - A Scientific Process
Whatever is perceivable by the senses is not eternal, it is changing every minute. Buddha said - "All is momentary. Nothing stays here but for a while." If the sadhak's vision is enlightened, he will witness truth in every particle of this world. That particle, which gives him a vision of truth, can alone be his teacher.
A disciple kept with his Acharya for years, without being enlightened. The disciple felt frustrated. His guru said, "Go away from here! If you continue here, you will learn nothing." So the disciple went away. As he was resting under the shade of a peepal tree, he saw a leaf fall down, and he was instantly enlightened. He returned to the guru and said, "It has happened!" The guru said, "How?" He replied, "As I sat under the tree, I saw a leaf fall and I suddenly realized that I would also fall someday, I would also die." The guru said, "You should have paid your obeisance there - that falling leaf is your guru."

Emperor Bharat, seated on a throne in his mirror palace, was observing his body. All of a sudden he became aware of the change taking place in his body. "Is this the same body I had in childhood? But what a transformation it has now undergone in my youth! Everything is changing. But the power behind all change is unchanging. It continues to be what it was before, and it will remain so." The emperor had a new vision. A glimpse into the transitoriness of one had made him aware of the transitoriness of all. He delved deep into this idea and achieved omniscience.
Such an event also occurred in Carlyle's life. He was past eighty. He had been to the bath-room thousands of time. But something happened there that day which had never occurred before. After his bath, when he was running the towel through his body, he observed the change in his body. How decrepit it had grown with age; but the all-seeing and all-knowing consciousness inside had not worn out. It knew no decay. He had a glimpse of the changeable and the unchangeable together.
The scientists say that after every seven years the whole body is changed. Thus, within the life span of 70 years, the body undergoes ten wholesale transformations. But such a change is seldom noticed. The most intimate thing, readily available to the sadhak is his body. Also around him is a whole world of animate and inanimate beings. He should specially observe his body and the world around him and feel for himself how this world is a big training school where he is being continuously trained. While practising the bhavana of transitoriness, he should observe how the world and all that is near him are changing from moment to moment. Not merely repeat the idea that all is transitory, all is transient; he should rather experience for himself the truth thereof and at the same time have a glimpse of the unchanging, eternal soul established within.