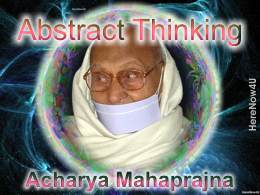 Aloneness is a truth. But the effort that man has put in repudiating it, he has not expended in any other direction.
The attempt at falsification went on and today it has reached a stage when the society is being looked upon as the highest or the eternal truth. Mankind seems to have accepted that society is the ultimate truth and the individual is merely a part thereof. The individual is nothing but a cog in a gigantic machine. Apart from it, an individual has no existence. This belief has put an end to the independent existence of the individual. It has dealt a severe blow to his freedom. Has an individual no independent existence? Is an individual merely a part of society, nothing else?
If the individual is merely a part of society, then whatever society offers should be acceptable to him. But the difficulty is that the individual is not able to accept joyfully what the society offers him. On the contrary, his mental tension is greatly increased. In his heart of hearts he feels:
"I am an individual. I have an independent existence. I am an entity in my own right."
On the one hand, there arises in the mind the idea of an autonomous being. On the other hand, the dense cloak of collectivity is spread all over him, In these circumstances, mental tensions go on increasing.
The remedy for avoiding tensions is --- the creation of a state of non-action. It can be created through meditation. It is also possible to create this state by experiencing aloneness while living in the community.
"I am alone. The rest is fortuitous, accidental."
The identification of one's being with the accidental, is activity. To look upon the accidental happenings as something separate from one's being, to experience it, is non-action.
Lord Mahavira practised the anupreksha of aloneness for six months. If a man is shut up in a cabin for three months and he contemplates upon 'I am alone', at the expiry of three months, when he comes out, he will be so transformed that the outside world would appear to him to be altogether unreal. He would say, "It is all false, unreal. The people's talk about their relationships is all-untrue. Untruth envelops all worldly ties. Aloneness is the only truth.