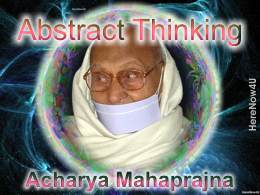 Today's youth has no love of study. I recognize that the implementation of an idea requires first of all intellectual maturity. With an increase in intellectual capacity, come many other things. In today's world, intellectual development has almost touched the ultimate limit. Every day, new dimensions are being opened. There has been much research and deep study on the commonest subjects.
Scores of books, as voluminous as the Chamber's Dictionary, have been written on the very simple-looking subject of 'unicellular beings." The person, who does not keep up-to-date with today's thought and development, who cuts himself aloof from it even for two weeks, lags behind. Man's knowledge is increasing at a tremendous speed.
In such a situation, if studies are neglected, how can a person keep pace with the age? How will our understanding of the age mature, It is just not possible. The reading of today's youth is confined to romantic and detective novels and stories dominated by sex, all which make little contribution to progress in life, without the maturity that comes from reading, nothing great can be accomplished. Take it for granted that loftiness always accompanies profundity. If you want to raise a big building, a palatial mansion of 50 to 100 storeys, you will have to dig the foundations very deep. You may raise such a building on a sandy foundation or no foundation at all, but it will not last for long; it will collapse.
For a strong house you need a strong foundation. There can be no elevation without depth. We spread out in three dimensions-length, height and breadth. Depth is required for extension in all these directions, and depth is not possible without intellectual development. A historical perspective will reveal that without profundity of thought, no individual has been able to make much progress in the material or spiritual sphere.
In the spiritual field, those people who have not made any attempt to go into the depth of meditation have not taught us anything new. All the progress made in the field of metaphysics, the manifestation of truth and its presentation before the world, has come about through spirituality, through spiritual persons who repeatedly dipped themselves in the ocean of meditation and went deeper and deeper into it. It is such people who have blessed the world with all kinds of gifts.
Whether it is electricity, or palatial mansions, or highways, or huge factories, or the comforts and conveniences of modern life and various kinds of appliances - all these have been given to the world by people who have gone deep into meditation and seriously thought about these matters. You will see that our farmers, the Indian farmers, have been cultivating their fields in the traditional way for hundreds of years. Many of them have not even heard of hybrid millet, of hybrid wheat or hybrid maize. They are not aware that altogether new varieties of corn can be produced. New kinds of fruit can be developed. Today, red guavas are being bred. Different kinds of fruit with all kinds of flavours are being produced. What is the basis of all these experiments? The basis is profound research in the fields of science and knowledge. Otherwise things would have gone on as before. Why? Because they had divorced themselves from study. Without study, there cannot be any development. Whatever progress man has made, it has been on the basis of studies. Action and knowledge are two things. Knowledge is depth and action the height thereof, or its expression. The manifest and the unmanifest are two things.